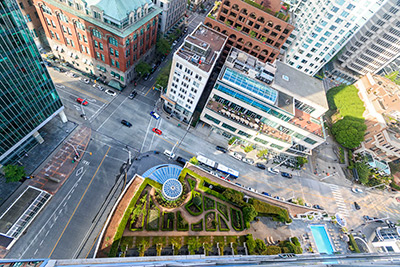 Aerial view of one of two roof gardens at the Fairmont Vancouver Waterfront hotel in Vancouver, British Columbia, Canada. The hotel grows organic fruit and vegetables for use in the restaurant kitchens along with bee hives that produce honey, also for use by the hotel's restaurants.

SNIPPETS FROM VANCOUVER, B.C.   TO BEE ... OR NOT  
The Fairmont Vancouver, B.C., Waterfront hotel's rooftop honey bees have a fun history. Actually, they're really on the pool level, but folks keep  calling it the rooftop. The five hives sit beside the hotel's organic garden, where, on some 2,100 square feet, the hotel staff grows a potpourri of fruits (apples, strawberries, blackberries, figs), vegetables (lettuce, onions, chard, garlic) and herbs (rosemary, oregano, bay). And of course, lots more.  
The produce is used by the hotel's kitchen. And then, there's the honey, used in ice cream, desserts, salad dressings, chocolate and, yes, Fairmont Stinger honey lager beer, which goes down smooth even in the morning (my only chance to taste it).  

But the fun story is the bees. There are also bees on the convention center rooftop across the street.  

So three years ago, one of the convention center hives got an itch to move. The swarm gathered into a black cloud and bounced across the street to the Fairmont's swimming pool, which probably wasn't the most popular event with guests.   

However, the bees didn't stay long, gathering themselves again and bouncing over the railing to a tree below. Luckily, the sous chef had a bee keeping history. He grabbed a pillowcase, gathered the bees and introduced them to their new home. "That was our highest producing hive of the year," said Michael King, who conducts public tours of the garden and hives upon request.
SIP AND THEN CHOW DOWN ON GRANVILLE ISLAND  
Years ago, I did a whisky tasting in South Africa and wondered why hard liquor tastings didn't exist closer to home. Now, thanks to a change in British Columbia laws, you can sip and compare your fav hard liquor. Enter Liberty Distillery on Granville Island. "There are three levels of government classification and we were high hazard, in the same camp as an oil refinery," said Lisa Simpson, owner of Liberty Distillery. Ten years of lobbying later, the liquor industry in B.C. got permission to sell liquor tastings. And Last November, Liberty started offering them.
While we sipped Truth Vodka, Railspur No. 1 white whiskey and Endeavour Gin, Simpson talked about her wares, adding that they use only local products. She admitted "white whiskey" is really moonshine...basically whiskey that hasn't been barrel-aged. But in the case of Liberty, think a kinder, gentler, more civilized moonshine. Instead of a corn base, they use organic barley and, considering it's 94 proof, the stuff was smooth.
"Ours is Irish style," Simpson said, "triple distilled and made with malted barley. In the evening when it's all bubbling and lit up, it's beautiful."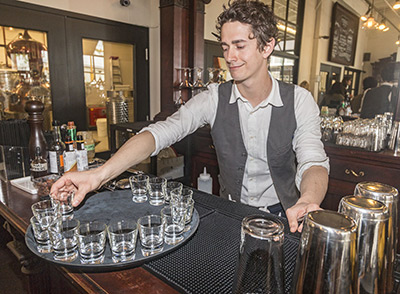 Liquor tasting at Liberty Distillery on Granville Island,
British Columboa, Canada. New laws now allow
people to purchase tastings at distilleries.
The whiskey was, indeed, milder than I expected, with a hint of the grain on your tongue and a surprising caramel finish. The vodka was, well, vodka. Pretty much tasteless but in a fresh, clean way, as it should be. And finally, the gin, which was infused with 12 local herbs that hang in a basket during the distilling process. My husband likes his gin untainted by any flavor other than juniper. But this was far more complex, with, yes, juniper, but also notes of citrus, mixed herbs and something peppery.
Thanks to the relaxed liquor laws, six craft distilleries have opened in the Vancouver area so far, with more on the way.
After this, it was off to Edible Canada, a restaurant on Granville Island. I really wanted the line caught fish and chips and, indeed, I begged a taste from a friend. The fish was tender and flaky, though the star was the rice flour tempura coating which was crisp and crunchy.
But, truly, I couldn't pass up the signature dish. So if you have a friend (or three) to share, do NOT miss the Fraser Valley duck poutine. This oxymoron of gourmet and plebeian tastes is served in a small frying pan, the duck confit mixed with cheese curds, duck gravy, fries and topped with two sunny side up eggs. Heart attack on a fork. But oh, so tasty.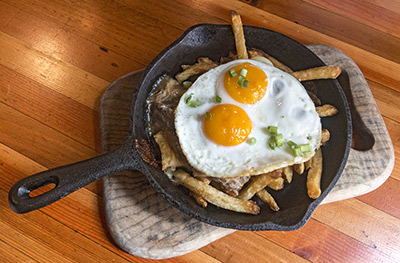 Fraser Valley Poutine made with duck confit, cheese curds,
French fries and topped with two sunnyside up eggs.
Presented in a small cast iron frying pan.
This is the signature dish at Edible Canada,
a cafe on Granville Island, British Columbia, Canada.
FIRST NATIONS HOTEL  
It wasn't all food. We took a digestive breather to visit Skwachays Lodge, which was a work still in progress and expected to open in June. The hotel, itself, is far more than the 40 foot totem pole out front.
Twenty-three of its rooms are low rent for native (called First Nations in Canada) people, many of whom are excellent artists. Several were working on pieces for the hotel, including Eric Parnell, a Haida artist who had carved and was now painting a huge wood boardroom table.
Eighteen of the rooms are for tourists and, upstairs, we found Northern Tuchone artist Richard Shorty painting a large, intricate feather across the wall of one room. All the guest rooms will have original First Nations artwork, carvings, paintings and blankets.
 "We're looking for folks who want an aboriginal experience," said  the hotel's general manager, Nesha Milicevic.         
To that end, an upper floor balcony will have a tent for a sweat lodge and just inside will be a smudge room where sweet grass will be burned to wash and ceremonially "cleanse" people in its smoke. The hotel's front desk shares space with an art gallery. A native focus restaurant, Salmon N' Bannock, is nearby and people can also reserve trips in canoes and other native themed tours.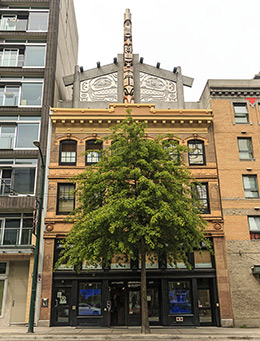 Skwachays Lodge, a First Nations (Native American) themed hotel in Vancouver, British Columbia, Canada,   with a view of its 40 foot tall Native carved totem pole. The hotel is First Nations (Native American) themed with Native artwork, a sweat lodge and sage room for the public to have an aboriginal experience.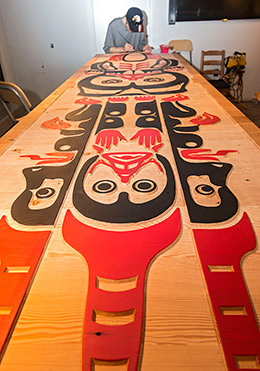 Haida artist Eric Parnell paints a boardroom table
that he carved out of cedar for the Skwachays Lodge
OKAY, BACK TO FOOD  
There are countless wonderful restaurants in Vancouver but Forage in the Listel Hotel caught my attention for so many reasons. Considering this is the heart of Vancouver, the prices were amazingly reasonable ... dinner appetizers are $5 to $8. Entrees are as low as $10 with the steak coming in at only $27. And it was all delicious, which is saying something when you consider I entered the place AFTER having already eaten dinner.     
"Gee, I thought you guys weren't all that hungry but you sure ate everything," said Listel rep Lise Magee.
Yes, we did. Starting with the kale and apple chips. The kale was crisp and slightly salty. The apple chips were crisp and sweet. The secret, we were told, is you have to massage the oil into the kale before baking it.
Then on to the roasted pork belly with tempura local ferns and lentils in ham hock broth. The pork was crisp with rich juiciness, the ferns almost melted in our mouths. And there was a platter of torched prawn ceviche that was another mouth melt.
Of course, we had dessert. The star was billed as "elderflower neufchatel cheese puff, ice cream, cordial, macerated rhubarb." A yummy combo of fruit and cheese flavors. After Facebooking all of this, a friend replied that I would come home weighing 500 lbs. Well, we WERE sharing.
Oh yes, and the place has eight wines on tap. Yes, wine. Chef Choi Welbert who, by the way, took all the pro quality photos of his food that slide across TV screens on the walls, explained that the wine comes in small barrels, the size of pony kegs. "Because no air gets to the wine, it stays as fresh as it was in the wine maker's barrels. And it saves having nearly two dozen bottles," he said, adding that a special darvon gas keeps out all the oxidizing air.
There is also, of course, local beer on tap including an intriguing label called R&B Chef Series Nettle, Mint & Ginger. Never did taste it, though. I was simply too full.  
FAMILY FARMS
In a world of huge, factory farms, it's neat to know there are still boutique farms, many of them handed down for generations. The southern edge of British Columbia, literally a stroll from the US border, is lined with these farms and food shops. Sadly, we had time to visit only three.
| | | | | |
| --- | --- | --- | --- | --- |
| | | Packing butter into one-pound forms at Golden Ears Cheese Crafters, selling butter, cheese, baked goods and crafts. The dairy products are made on site using milk from the family own dairy cows. | | The front of Golden Ears Cheese Crafters gift shop. Located in Maple Ridge, British Columbia, Canada, south of Vancouver at the Canada-US border. |
Golden Ears Cheesecrafters has its own dairy herd of 100 cows and has been owned by the same family since 1902. They make cheeses and butter for sale and if you want a snack, there's baked goods.
"Our Jerseys produce the highest butterfat. Normal is maybe 3.8 percent. Ours is five percent," said owner Jenna Davidson. "Our brie is triple cream without having to add any cream." Maybe that's partially because they feed cheese and butter scraps to the cows. Who knew grown up cows ate dairy. Behind the gift shop are rooms with shelves lined in cheese rounds. Hundreds of cheddars, goudas, plus tanks of bleu.   We watched the packaging of butter. It came out in three-foot mounds on a tray. The packers then stuffed the butter by hand into forms, shaved off the extra and set it aside to be wrapped. Yes, I bought some. Yes, it's creamy with hints of fresh dairy yumminess.
Hopcott Meats is another place owned by the same family for generations. There are 700 steers for the meat business, along with a cranberry bog, strawberries, raspberries, a corn maze in fall and more.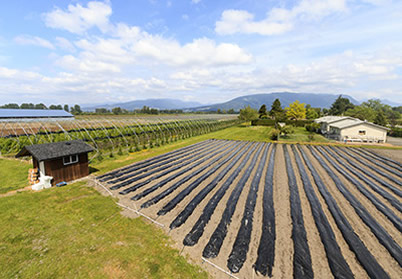 View of the Hopcott family farm with soon-to-be-planted strawberry beds,
various other berries and on the far left, the cow barns.
Hoppcott Meats, is a shop selling beef from the Hopcott family farm,
along with pork, lamb, poultry, sausage and produce.
Located south of Vancouver , British Columbia, Canada, near the US-Canada border.
"My grandfather bought this land in 1932 for $9,000," said  operations manager Jennifer Foxely. Of course, their main mission is meat. Among the steaks, sausages and whatnot are also smoked dog bones and specially prepared dog food.
And finally, we wound up at Vista D'oro (sic), a farm and winery. On his 4.5 acres, owner Patrick Murphy grows five varieties of wine grapes (one red, four whites) along with 40 varieties (2,000 plants) of heirloom tomatoes. It's all organic and fed with biofish, essentially liquified fish.
| | | | | | | |
| --- | --- | --- | --- | --- | --- | --- |
| | | Owner Patrick Murphy with a bottle of his "Murphy's Law" wine at Vista D'oro, a small family owned winery and grape orchard. Note the words "Murphy's Law" are upside down in honor of the Murphy's Law phrase, "Anything that can go wrong, will go wrong." | | Guest picnic lunch with fresh salad, local cheeses and meats served on the deck of Vista D'oro, a small family owned winery and grape orchard south of Vancouver, British Columbia in Langley, just north of the US-Canada border. | | |
| | | | | | | |
The tomatoes, alone, are a story. They're grown in pots and spend their days sitting on the ground of a horse riding ring where the sand absorbs so much heat, the plants are some 10 degrees warmer than they would be in a field. In western Canada, extra heat is a good thing.
This whole area is popular for farm/food tours and among the more quirky is the 15 km (nine mile) Campbell Valley wine run which features runners in costume. Last year's winner called his costume "One Night Stand." He was wearing a four-foot table with a three-foot tall lamp, a bottle of wine and a glass filled (for however long that lasted) with real wine. This year's race, by the way, is Sept. 21.
We finished the day with a country lunch on Patrick's deck featuring fresh walnut salad, roasted asparagus and assorted meats and cheeses from our other stops.
No, I did not weigh myself the next day.  
Further Information:
Guided tours are being developed by the Listel Hotel including one that would visit several distilleries for tastings and two more to forage for wild edibles in Vancouver's Stanley Park and wild mushrooms. For info on Vancouver and also a list of "foodie" tours:

Vancouver: http://www.tourismvancouver.com/
Vancouver Coast and Mountains: http://www.604Pulse.com  
Fairmont Waterfront Hotel: http://www.fairmont.com/waterfront-vancouver/ Fairmont garden/bee tour, offered daily to guests of the hotel every afternoon.
Information on the garden/bees: http://www.fairmont.com/waterfront-vancouver/dining/herbgardenhoneybees/
Listel Hotel: http://thelistelhotel.com/  
Liberty Distillery: http://www.thelibertydistillery.com/  
Edible Canada: http://www.ediblecanada.com/
Skwachays Lodge: http://skwachays.com/ 
Golden Ears Cheese: http://cheesecrafters.ca/
Hopcott Meats: http://www.hopcottmeats.ca/
Vista D'Oro: http://www.vistadoro.com/