A mother lode adventure gem hides in the far northeast corner of California: Modoc County. More officially, this gem is called Surprise Valley located in California's northeast corner. The First Americans called Surprise Valley 'The Smiles of God' and I concur!
Modoc is the only remaining county in California without a traffic signal and no wonder. It's the least populated county in the state, sequestered far away from the madding crowds. The worst traffic in this county would be a seasonal cattle drive. If you like the Big Open with plenty of elbow room, this area will rejuvenate your tired adventure bones. If you're looking for five star hotels with all the amenities, travel elsewhere.
SURPRISE VALLEY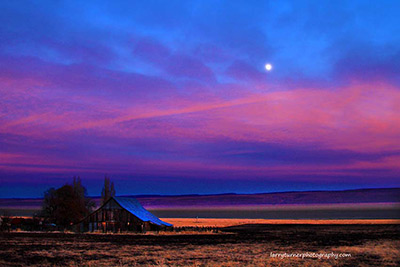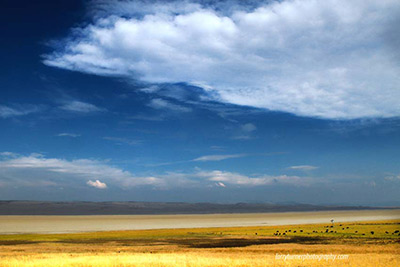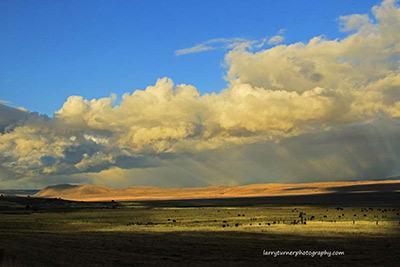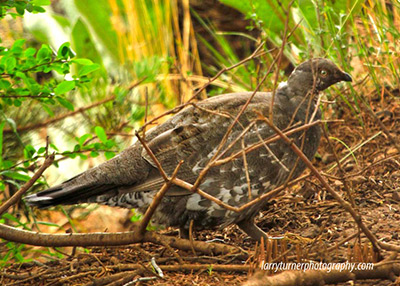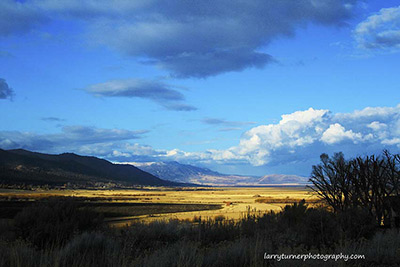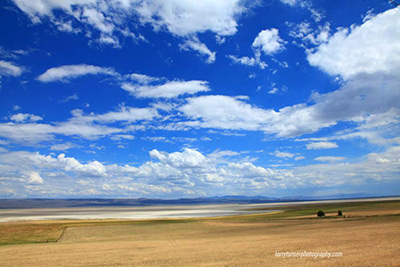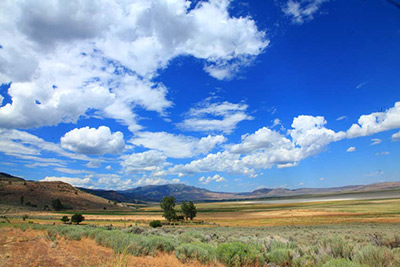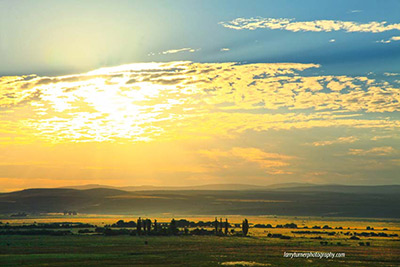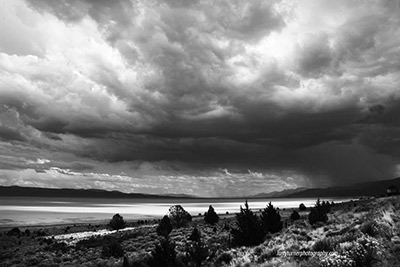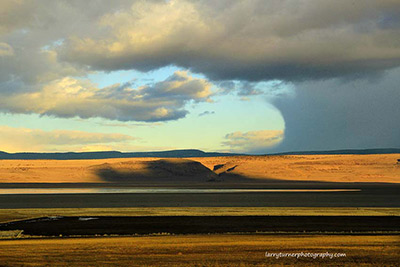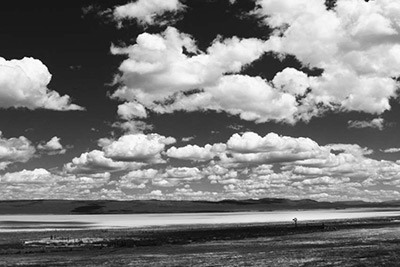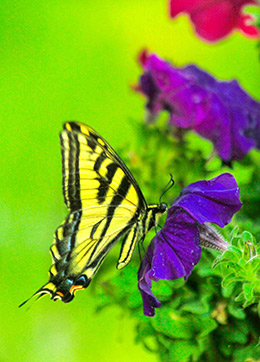 Surprise Valley was given this name and for good reason. The first settlers making the arduous trek along the Southern Route of the Oregon Trail in the 1800s were quite surprised to discover the lush eastern flanks of the rugged Warner Mountains in a fifty mile long valley, which is bordered on the east by alkaline lakes. Between the mountains and the lakes, these travelers found a zone of tall grass, rich soil, springs and creeks - perfect places for homesteading ranches and farms. The native Paiutes were 'surprised', too, as their ancestral lands were taken over by strangers as these natives were placed on reservations in Forts Bidwell and Cedarville. Such is history with the settling of the entire U.S.
Paiutes still live in the valley as do the ancestors of some of the first settlers. A variety of newcomers as well as escapees from the hubris of city life also populate this area. The valley's small population of one thousand includes mainly ranchers, retirees, artists and business folks.
RECREATION DESTINATION
The valley has been a recreation destination for history buffs, rock-hounders, hikers, fisherman, off-road vehicle users, back-country horseback riders, hunters, hot spring aficionados(www.svhotsprings.com), back-country explorers, and birders. "Burners" also pass through every Labor Day, on their way to the Burning Man event, 60 miles south of Cedarville in Nevada's Black Rock Desert.
On maps there is no mention of Surprise Valley. Four communities are listed: Cedarville (the only one with services), Eagleville, Lake City and Fort Bidwell. History indicates that the valley should have been part of Nevada, but surveyors wanted to map a straight line south to north and so it arbitrarily became part of California.
The valley is accessed by Highway 299, an off-shoot from Highway 395 near Alturas and by Nevada's Highway 447 which is accessed from Interstate 80 near Wadsworth. One paved road runs the length of the valley - County Road One. It's the side roads from the side roads that lead to a West seldom seen, a west of gravel and dirt roads.
WHERE THE PAVEMENT ENDS AND THE WEST BEGINS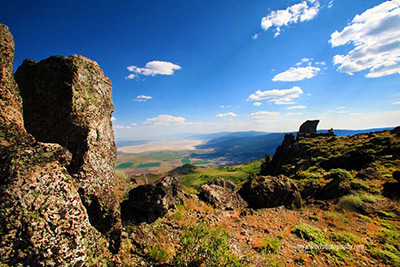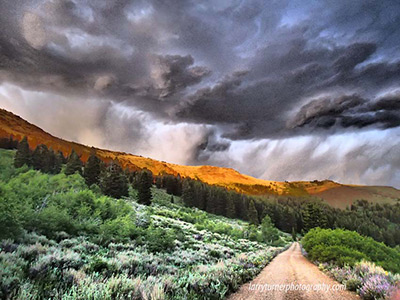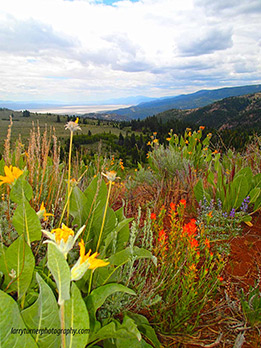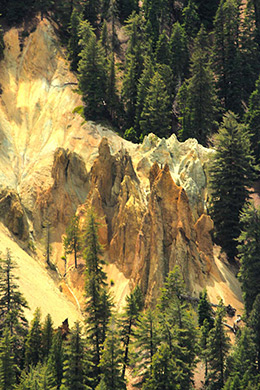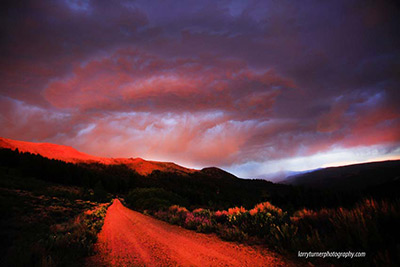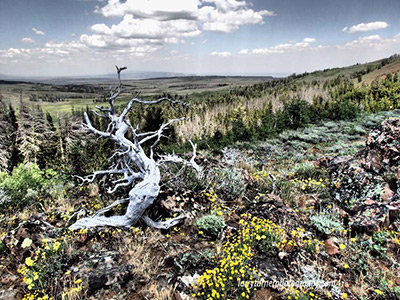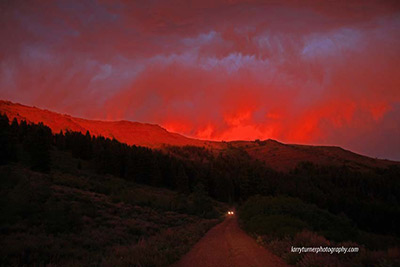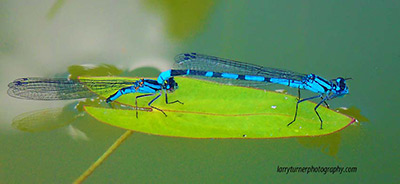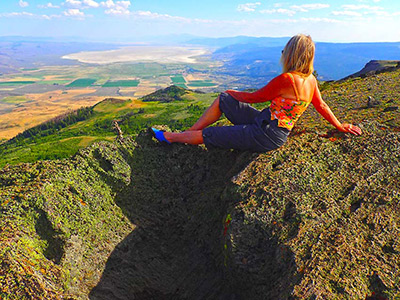 Surprise Valley advertises itself as 'Where the Pavement Ends and the West Begins'. It could also be paraphrased as 'Where the Pavement Ends and the Adventures Begin'.
It's always a mystery where these dirt/gravel side roads will take you. I've taken all the off-shoot roads from County Highway One - some partially paved - and will share where some take you. For others, I'll leave the discovery to you. Drive the appropriate vehicle - four-wheel drive with high clearance and extra supplies. If you fly in, the nearest airports are Medford, Oregon and Reno, Nevada where you can rent four-wheel drive vehicles.
My favorite off-shoot is Road 2 which leads north of Fort Bidwell to Mount Vida Vista and Lily and Cave Lakes. Just south of the Oregon border, a camp sits next to a stream and two great fishing lakes. If ambition strikes, hike or four-wheel drive to the top of Mount Bidwell where the view is spectacular and seen by few. Wildflowers are abundant through September. On a clear day, the 360-degree view includes Mount Shasta, Oregon's Cascade Range, Hart Mountain and Steens Mountain in Oregon as well as a host of mountain ranges in Nevada.
After picnicking, then fishing Lily Lake, take a side trip west six miles to New Pine Creek on the CA-OR border. Discover Stringers Winery where you can taste unique wild plum wines and spirits www.stringersorchard.com. Owner John also distills a spectacular gin.
OTHER TOWNS and ROADS LESS TRAVELED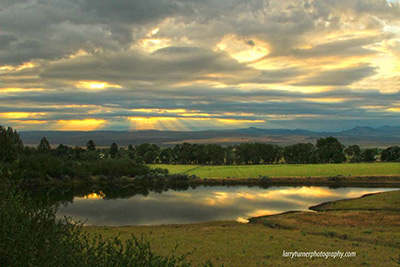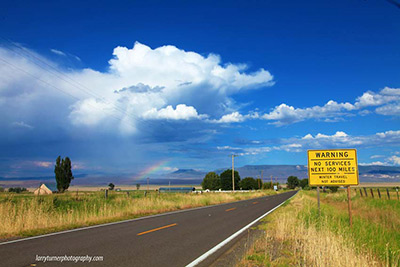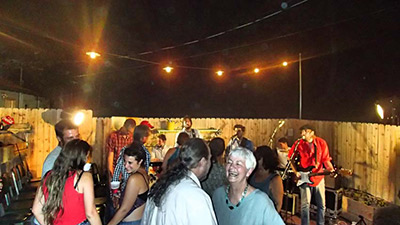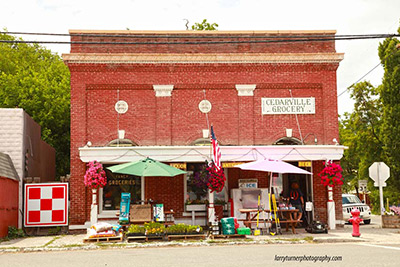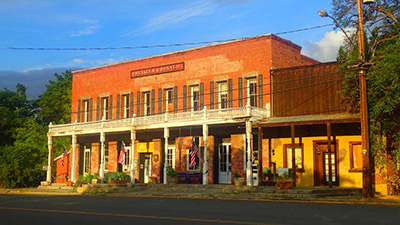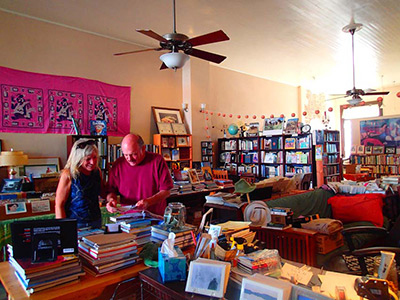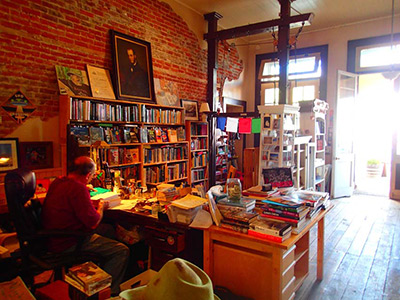 From Fort Bidwell, take County Road One to the Oregon border where it ends. Then head to the Little Bird of Adel and its charming store for lunch or dinner. I've visited with many a colorful character in this store. It is in this area where the corners of Oregon-California-Nevada meet. South of Bidwell, take Fandango Pass to cross to the west side of the Warners. The views looking back at Upper Alkali Lake are stupendous! Lake City is a beautiful little town. Park at the local church and take a stroll around the town and up the canyon along the creek.
Cedarville is the hub of the valley where supplies are available. The picturesque town also has four restaurants, a library, gas stations, two motels, an RV park, two grocery stores and a few other businesses. Most notable is one of the best independent bookstores in America - Michael Syke's Floating Island Bookstore. Maps are available here along with a plethora of info from Michael who, himself, is the author of numerous books. Several noted authors also live in the valley. The Warner Valley Weavers is a unique store in a fascinating old two-story building with an immaculate garden. And Good Things may be worth your visit as many vendors sell wares inside.
Highway 299 heads east from Cedarville to the Nevada border where the pavement ends. Cross the flat lunar landscape of Middle Alkali Lake along the Causeway. Drive out onto the playa, as the locals call it, set up camp for a night or two, and revel in vistas of the brilliant Milky Way and evening summer and autumn skies. These are some of the clearest night skies in America. Caution: Depending on the water year, be extra careful where you drive on the playa. Don't go during a storm phase as you may get stuck.
Nearby is the Surprise Valley Hot Springs. Nevada's Sheldon National Antelope Refuge can be accessed via this route and also by Highway 140 in Nevada, 80 miles distant. High Rock Canyon and a lesser-used entrance to the Black Rock Desert also connects off this route.
There is some wonderful hiking west of Cedarville off Highway 299. Campgrounds at Stough Reservoir and another at Pepperdine afford access to the South Warner Wilderness. Ride by horseback to beautiful Patterson Lake in the heart of the wilderness which are reminiscent of lakes I've seen in Montana's Glacier National Park. Tether your horses in a sea of wildflowers, swim, and, if you so choose, fly fish in the buff.
Road 40, south of Eagleville, takes you to the Emerson Lake Trail-head, another exploratory aspect of the South Warner Wilderness. You'll find wildflowers in the Warners that exist in no other part of the world.
AMERICA'S AFRICA and VALLEY ACCOMODATIONS
Lake City residents, Jan and Russ Winje, own The Cottage at Winje's Farm. "This area, more than any in the U.S., reminds me of Africa and my South African homeland - the vastness, topography and endless skies take me back home," says Jan. She operates their lodging Cottage that can be found by googling www.airbnb.com and typing in either Lake City or Fort Bidwell, CA. Jan has a unique South African Spasa Shop, featuring art and wares from her native country.
If you're not camping, stay at the JR Hotel, Sunrise Motel (which also has an RV park) or Surprise Valley Hot Springs. The local Modoc County Fairgrounds offers RV facilities as well. Between Cedarville and Eagleville, also find Cockrell's High Desert Lodging (www.highdesertlodging.com
TRANQUIL CREEK HIDEAWAY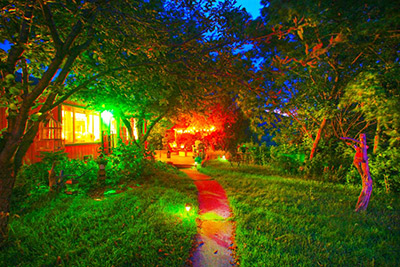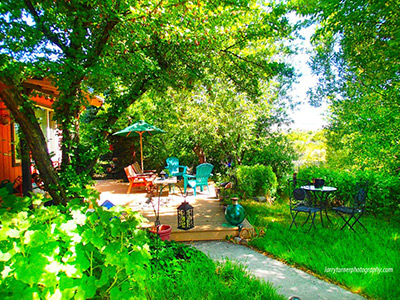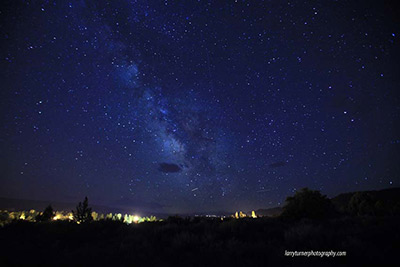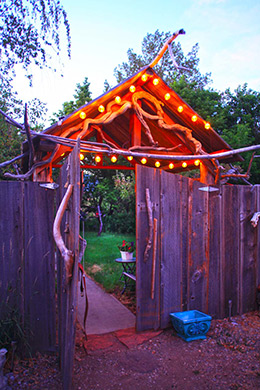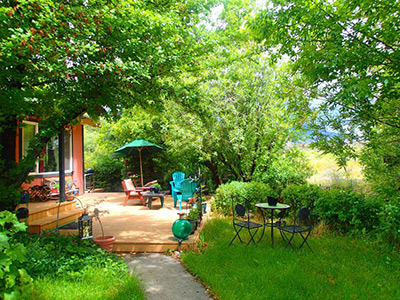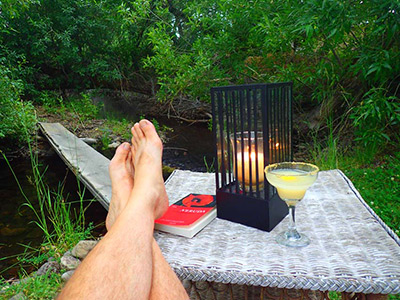 A unique place to stay in the valley is Tranquil Creek Hideaway in Fort Bidwell. The Hideaway can be found at www.airbnb.com and www.flipkey.com (type Fort Bidwell in the search bars of the sites). Sequestered away on lovely Bidwell Creek, it is an idyllic place for privacy and relaxation. The hot tub view of Bidwell Mountain and Bidwell's Old Schoolhouse (now abandoned) is superb, as are the night skies. There is reading, writing and relaxing along the creek, and catch-and-release fly fishing. The wrap-around patio offers a great view of the creek, as does the kitchen table inside the house. Cares drop away like autumn leaves when staying at this hideaway. It is rented as an entire house.