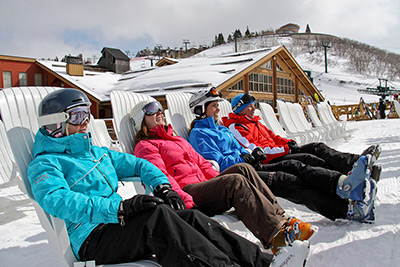 Skiers enjoy the sun at "The Beach,"
Deer Valley Silver Lake mid mountain.
Photo by Eric Schramm/Deer Valley

Okay, how can you NOT want to try Polygamy Porter, a Utah beer whose tag line is "Why have just one?"      
And there was the story of the "Boston" tea...er beer...party, complete with locals in colonial dress, and kegs being emptied into the Great Salt Lake to protest a tax on beer.      
These tidbits of information were all part of the Park City Food Tours, an historic journey down Park City's Main Street that included samples at four restaurants and, sigh, a spa treatment for my ski-wrinkled hands.      
What better way for an old silver mining town to showcase its food while still celebrating its history?      
Park City long-timer Shirin Spangenberg started the tours a couple of years ago. It's more than just a food sampling. It's a chance to learn about the city and also taste at restaurants that run the gamut from casual to gourmet. Plus, there's at least one extra: a hand treatment at a day spa, or a specialty olive oil tasting, or perhaps a pop into an art gallery.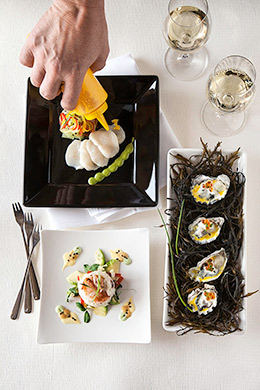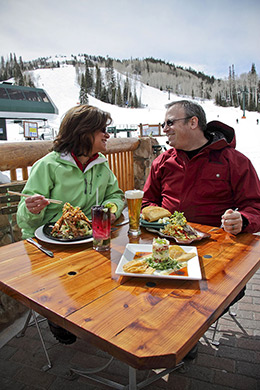 | | | | | |
| --- | --- | --- | --- | --- |
| | Not your grandpa's on mountain food. Gourmet fish appetizers at The Mariposa at Deer Valley Resort. Photo by Heidi Larsen/Deer Valley | | Gourmet food on deck at Deer Valley Resort. Photo by Eric Schramm/Deer Valley | |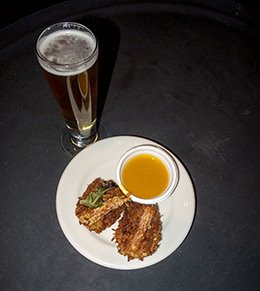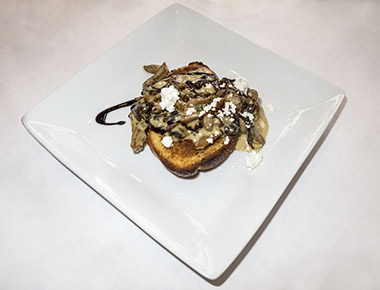 | | | | | |
| --- | --- | --- | --- | --- |
| | Hand breaded coconut shrimp with mango tabasco dipping sauce along with jalapeno cream ale, served at Wasatch Brew Pub along Park City Utah's Main Street. | | Mushroom taster featuring a wild mushroom saute over toast along with goat cheese, brandy cream and a balsamic reduction, at the 412 Bistro on Main Street. | |
And best, it all goes downhill, which is no small thing on a street that has a 215 foot vertical drop (that's like 20 stories) in just a few blocks.      
We started at the top inside Treasure Mountain Inn with its old photos of the early mining days.      
"In 1869, the First Transcontinental Railroad (sic) was joined just two hours from here," said Shirin. "Meanwhile, gold was being found everywhere, so folks looked here as well."      
Not much gold showed up but the consolation prize was silver...some of the richest strikes in US history. There are grainy black and white pictures along a hallway at the inn, showing miners and the town in its early days before a massive 1898 fire, as well as photos of early skiing.
We learned, among other things, that at the height of prohibition in this heavily Mormon state, there were 26 bars serving booze.
So it's fitting that our first stop was Wasatch Brew Pub.     
In 1986 Greg Schirf had an idea...open a brew pub for thirsty skiers. For this, he needed legislation, not easy to come by in Utah, where the question was "a brew...what?"      
So he found a friendly legislator, who slid the legislation into a bill so overloaded with other stuff that apparently no one noticed.
Over the years, Greg has approached all this with tongue firmly in cheek.      
There was then a move by the state to slap a four percent tax on beer. So Greg rounded up some guys, dressed them in colonial garb and emptied kegs of beer into Salt Lake. It made the newspapers and, yes, a compromise was struck.      
And of course, there's Greg's Polygamy Porter.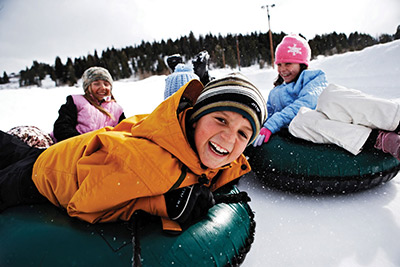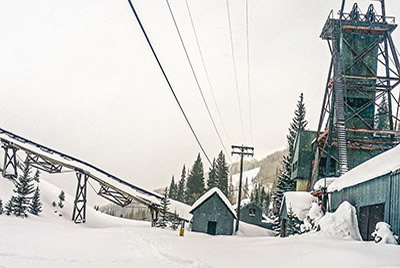 | | | | |
| --- | --- | --- | --- |
| | Children enjoy tubing at Gorgoza Park, Park City. Photo by Dan Campbell/Park City Chamber of Commerce and Visitors Bureau | | Top of Thaynes Shaft, left over from Park City's silver mining days. After the mine closed, this shaft and it's tunnel were used to transport skiers up the hill in the resort's early years. They travleled nearly three miles into the mountain, then took a miner's lift 1770 feet to the surface. |
At Wasatch, our food tasting included giant, butter-tender shrimp coated in coconut batter with a mango/tabasco dipping sauce. It was accompanied by a jalapeno cream ale that screamed Mexican chilies but without the burn. Yes, I had skied all day. Yes, I was famished. Yes, it was mouthwatering. I nearly ate the tails.      
Down the street, Shirin pointed out Red Banjo pizza, which, in an earlier life, was a bar with separate doors for men and women. The two doors are still there.      
From here, we went to the French flavor of 412 Bistro where the tasting of the day was a "wild forest mushroom sauté " on toast with a goat cheese brandy cream and balsamic reduction.      
"Forest mushrooms?"      
Japanese beach mushrooms, maitakes foraged from Washington state, and something called hog's hedge. Who knew there were that many tasty, edible fungi to be had? The dish was earthy, creamy, spirited but still mild.      
Then off to the Park City Museum where we roamed a room with early ski day relics, saw a giant sidecut of what the mines looked like in their heyday and learned about Thaynes Lift, a left-over mining train and elevator used for decades to take skiers up the mountain.      
Thaynes wasn't particularly convenient...three miles in an open mining car, then a spooky ride 1,770 feet up in an ancient mining elevator. The whole trip took 90 minutes and was a conversation piece and experience that few folks undoubtedly wanted to do more than once.      
Regardless of whether you do the food tour, make sure to visit the museum at some point in your stay.      
Next up: Talisker on Main, voted best restaurant in Park City by Salt Lake magazine three years running.      
Chef Briar Handley came out to chat about his braised pork belly that our group, eventually, voted best taste of the tour. With all that was going on...pork and pickled apples and celery and celery root puree and lobster roe in white wine...we were somehow able to taste each individual ingredient even as they blended into their own earthy (yep, there's that word again, but remember, earthy is what you want in winter) tapestry.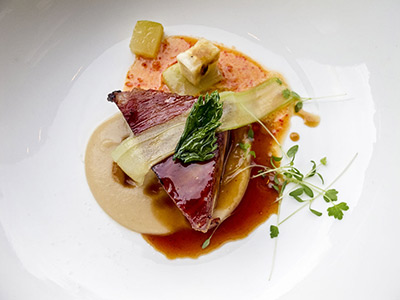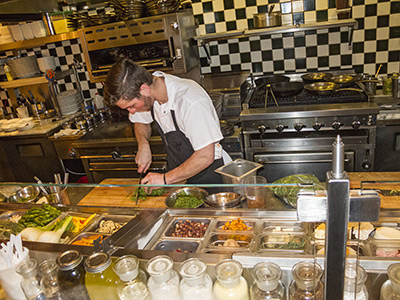 Talisker on Main's braised pork belly and other gourmet food preparation

Behind us we could see the restaurant's chefs preparing that night's food, which added to the special feel of the place.      
And, now, on to our final tasting at Wahso, an Asian grill built to replicate the feel of Shanghai, circa 1930.      
The place just drips antiques. There's a 1,000 pound, 600-year-old Ming Dynasty cat, Mongolian statues with horsehair mustaches, teak columns and an intricately carved wood ceiling.      
The offset to this opulence was a simple pear and endive salad sprinkled with currants, candied walnuts and topped with a citrus soy dressing. A perfect way to end the food portion of the tour.      
We were neither full nor hungry. It was just enough.      
But Shirin had one more surprise for us: Mountain Body day spa for a "hand wash."      
The treatment had four parts and, well, even the guys gamely participated.     
First, a moisturizer, then a grapefruit salt scrub, followed by honey butter, a rinse under the faucet and finally, creamy lotion which came scented (thank you no, not on top of grapefruit and honey) and unscented.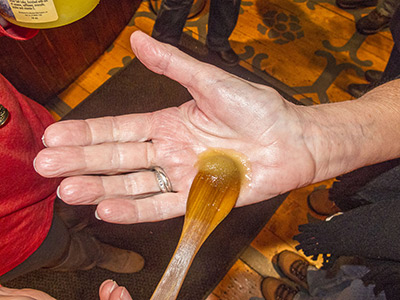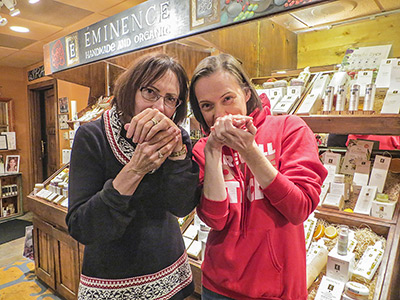 Enjoying the special hand treatment at Mountain Body day Spa as part of the Park City Food Tour.
Right photo by Shirin Spangenberg

We scrubbed and rubbed and rinsed. And my hands were smooth for the first time that week.      
Four hours had passed. Good food had been tasted. Nice beer and wine had been sipped. And now, our hands, along with everything else, were relaxed and blissfully hydrated.      
With all the skiing of the day, how nice to have eaten and drunk without a shred of guilt.  
INFO  
Park City Food Tours run year round. Tours are limited to 12 people max, take from two to four hours and occur in the afternoon before main dining hours. Tour prices cover food but not alcohol. The winter tours include:  
* Original Food Tour - $69, includes appetizer size tastings at four restaurants with a non food stop that might be an art gallery or a day spa    
* Gastrolounge - $59, includes stops at four Main Street lounges for food and drink.  
Contact: http://www.parkcityfoodtours.com   
PARK CITY SKI RESORTS      
Skiing in Park City dates back to 1920 when a few hardy souls took the mine train (which was still part of active silver mining) to the top of Thaynes Canyon so they could ski down. The first ski jump was built in 1930, followed by the first lift in 1946.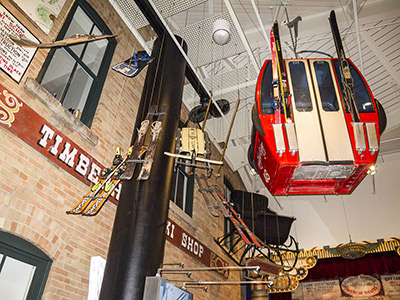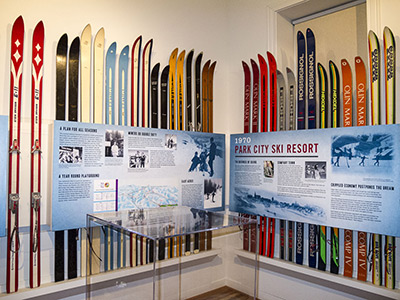 Historical displays of old gondola and skis at the Park City Museum

But it wasn't until 1958, with mining on the skids, that United Park City Mines did a study to see of it could branch out into the ski business and it wasn't until 1963, with a federal loan, that a gondola and chairlift were built, actually launching a real ski area. By 1982, mining was history but skiing was just really getting started.      
Along the way, the area sprouted Deer Valley (1981) and Canyons (which actually started in the late '60s as Park West and Wolf Mountain but reimagined itself as Canyons in 1997).      
So now, the area has three resorts. And while folks do have to choose, each area has its own personality.  
PARK CITY MOUNTAIN RESORT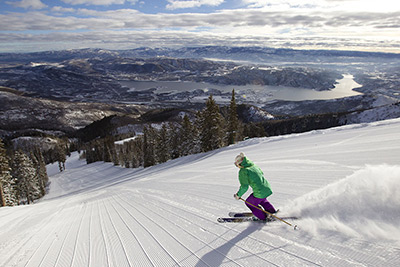 Skiing Deer Valley's famous groomed snow.
Photo by Adam Barker/Deer Valley

Eight peaks, nine bowls with 3,300 skiable acres, 3,100 vertical feet, 116 trails, 19 lifts.      
The seminal Park City resort, whose claims to fame include:  

* Five "Adventure Alleys" for kids. These trails through trees and shallow ravines are marked at the start by "snow bugs," original metal sculptures that look like kids' cartoons gone wild. The trails twist and turn and roll and, along the way, kids have fun while learning to turn and judge distance and all that good ski stuff.  
* Alpine Coaster. A rollercoaster (yes, a real 'coaster) that follows the hill contours and is more exciting that you expect, though each car has brakes so you can, if you wish, control the speed. Plus, you do this in your ski boots so you can just ski up to the thing. * Eagle zipline. Zipping through the trees and yes, also in your ski boots.  
* Ice skating rink at the base.  
* Seriously cool mining artifacts salted around the runs. Visit what's left of the Thaynes Lift exit and more. A dozen of these are marked on the ski map and have historical markers explaining their past.  * Jupiter Bowl, Park City's claim to expert terrain fame. * Night skiing.  
* Tubing center, not actually at the ski hill but part of the Park City Mountain Resort complex.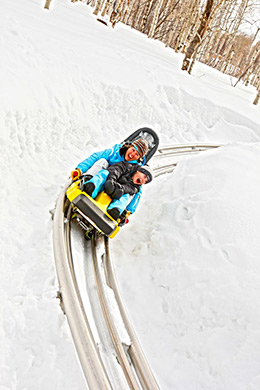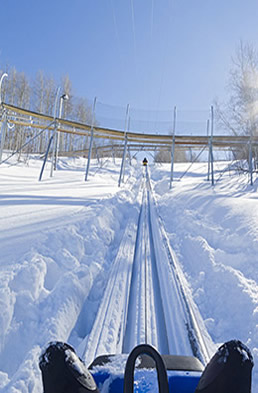 Park City Mountain Resort Alpine Coaster
Photo by Dan Campbell/Park City
Chamber of Commerce and Visitors Bureau

DEER VALLEY RESORT      
Five peaks with 1,750 skiable acres, 3,000 vertical feet, 90 trails, 21 lifts.      
This is the resort that invented ski glam. There were telephones on lift poles here in the early 1980s so skiers could stay connected, well before folks could pull a cell phone out of their pockets. There were ski packages that included butlers. And of course, there were gourmet buffets with half a dozen kinds of mushrooms.      
People shook their heads when the lodge opened with its peeled logs, brass bathroom fixtures and original oil paintings. But it didn't take long for other resorts to copy the idea.      
I personally once witnessed a ski guide stop one morning on a perfectly manicured run to pick up a chunk of ice and chuck it into the trees, lest some hapless CEO hook a ski tip on it.      
To this day, Deer Valley bans snowboards but, eventually, it did cut some expert runs and glade the forests for tree runs. So while powder hounds are cutting Utah's famed fluff to shreds at the other two Park City resorts, the "good stuff" often remains there for the ski-picking at Deer Valley.      
It's a good place for a day to relax. The mountains aren't too complicated, the runs are well groomed, comfy lodges are everywhere.      
Among Deer Valley's more interesting offerings is the "yard art" along Last Chance Run. Several homes worth in the $10 million range have added carved skiing bears, raccoons, a mountain goat, a totem poll and a moose in the front yard or hanging off the decks, along with two hand carved loggers halfway up a tree.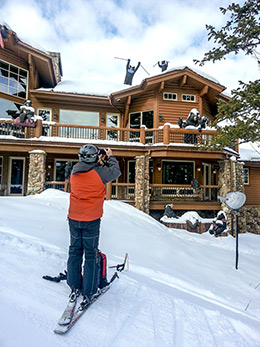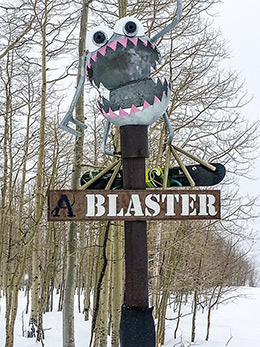 | | | | | |
| --- | --- | --- | --- | --- |
| | "Yard art" sculptures on the decks and front yards of multi million dollar homes along Last Chance Run at Deer Valley Resort. Here, a skier photographs carved bears atop the roof and along the railing of one home. | | "Blaster" metal sculpture featues a cartoon creature at the entrance to one of Park City's five "adventure alleys." These are trails through the trees for children to have fun on and learn ski techniques. Each alley has it's own "snow bug" sculpture. Here, the sculpture stands amid a light snowfall. | |
And on the horizon is an ambitious $50 million expansion to add up to 1,000 new acres with a half dozen new lifts, a new lodge and maybe yet another ultra upscale hotel.     
Plus, there is the gondola. Serious plans are in the works for a gondola from the town of Park City's Main Street up to Deer Valley's mid mountain area. Park City Resort already runs its own gondola so this would give the town two gondolas serving two separate resorts.         
Shades of Europe.  
CANYONS       
Nine peaks, five bowls, with 4,000 skiable acres,  3,190 vertical feet, 183 trails, 21 lifts.     
This was always Park City's sleeper...the place most visitors overlooked.      
What sets Canyons apart is...well, the canyons, which give impressive variety to the terrain. This is the kind of place you could spend a week exploring and never hit it all. Yes, there is easier terrain but THIS is where serious skiers in Park City come to ski. Nearly half the mountain is expert.      
Canyons borrows a bit from the other two resorts. For adventure, there's a zip line and for luxury, a bubble chairlift with heated seats. There are also terrain parks and a welter of nice lodges and restaurants.    
Contacts:  
Park City (the town) - http://www.visitparkcity.com/  
Park City Mountain Resort - http://parkcitymountain.com/  
Deer Valley - http://deervalley.com/  
Canyons - http://canyonsresort.com/