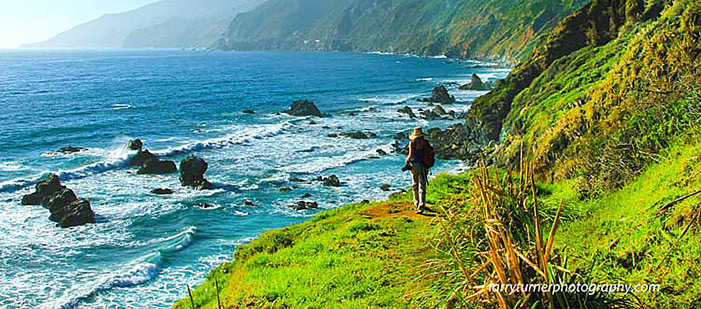 Big Sur, California

It has been a 3-week adventure traveling in April 2014, down California Highway 101 and 1 along the coast south from the Oregon border. We reached our southernmost camp at Morro Strand State Park, making it our eighth and final encampment. These words are written at campsite A. The view of the beach is perfection. The sun has come out drenching unique Morro Rock—home of the peregrine falcon—with morning light, as foreground to fog and clouds at Montana de Oro in the background.     
Our campsite is unique and campground host Jeanie says it's the best site though overlooked by most because of its proximity to the restrooms and the walking trail to the beach. Our tent is on a small dune which abuts the snowy plover protection zone for breeding and nesting purposes. Literally our tent is against the cable, directly facing the Pacific. Indeed, a room with a view and surprising privacy, too. It is amazingly quiet here during the week. Surfers come for the weekend when things amp up.    
We walk the beach daily for exercise, refreshment and photography. The coastline is quieter here, much less rugged than what we've seen driving south. The strands of waves that come in are lace-like, as they break on the gentle, ample beach. There is a constant conversation between the surf and shoreline. Our friend Kevin at Big Lagoon camp (where we stayed on the first leg of the journey) mentioned that when he took a motel room in Eureka one night, he couldn't sleep because he couldn't hear the surf. Shore birds are abundant.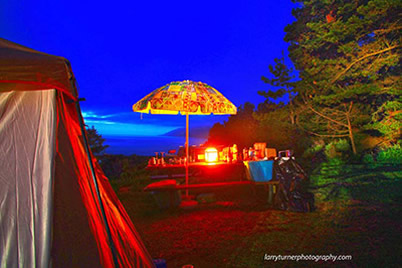 Big Lagoon Camp Big Sur Camp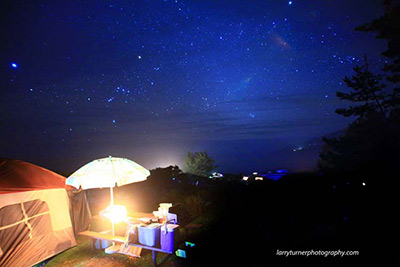 Starry damp night Westport Camp sunset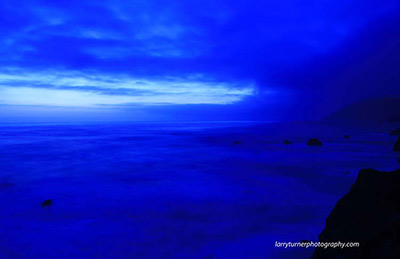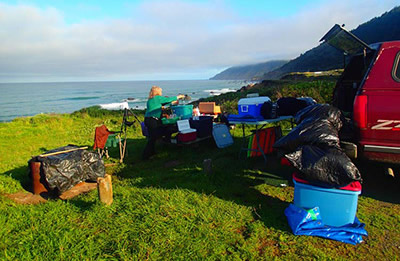 Westport Camp view Westport Camp

EIGHT CAMPGROUND STAY
Our eight campground stays: Big Lagoon (3 nights; our only encampment off Highway 101; the remainder were off Highway 1), Westport, Gualala, Sunset State Park (near Monterrey), Limekiln (Big Sur), Kirk (Big Sur), San Simeon State Park (near Hearst Castle) and Morro Strand. We've stayed mainly in state parks with the exception of one county park (Big Lagoon) and a private campground south of Gualala. Five nights were spent sleeping in the back of our pickup. The remaining nights we slept in my 5-star tent. Each encampment has had its own uniqueness, beauty and pleasure.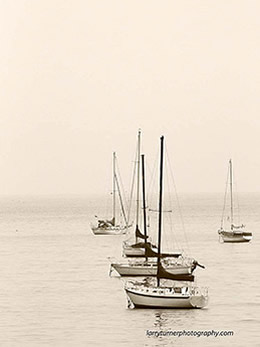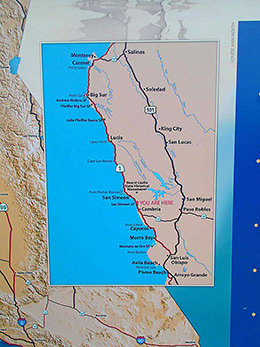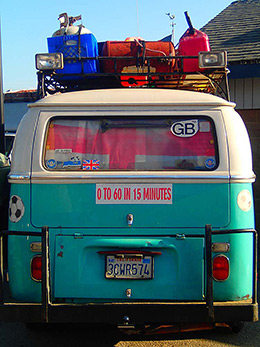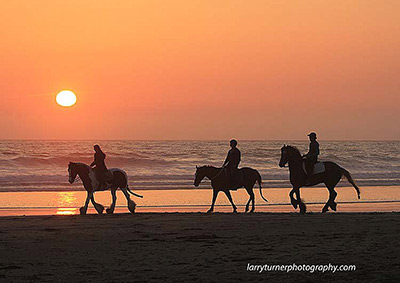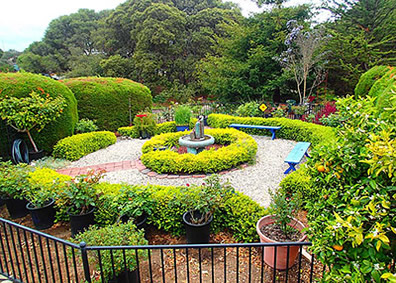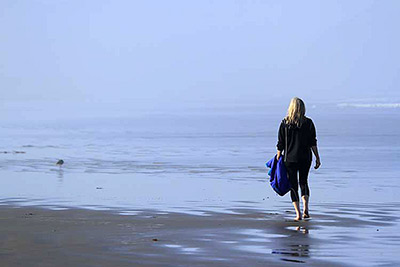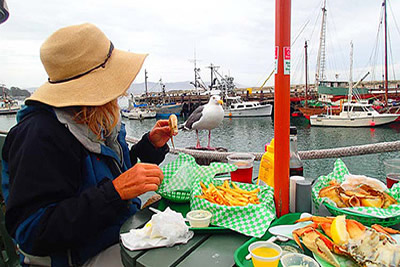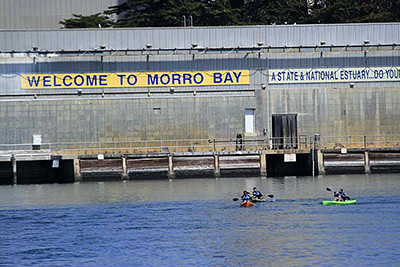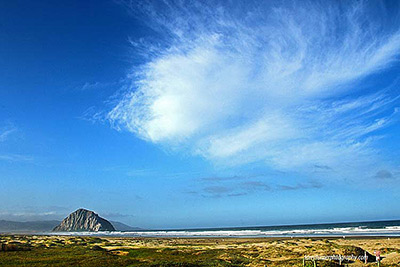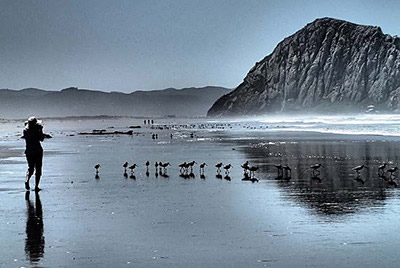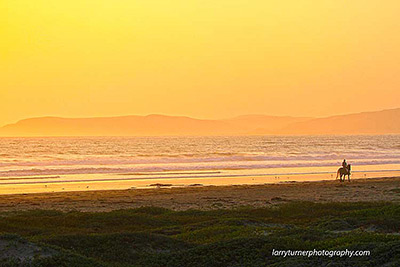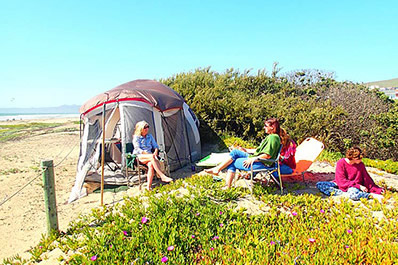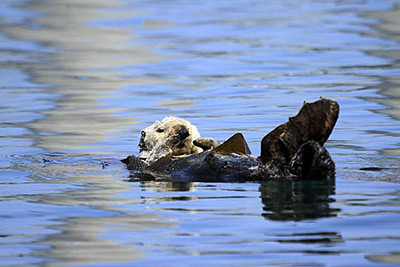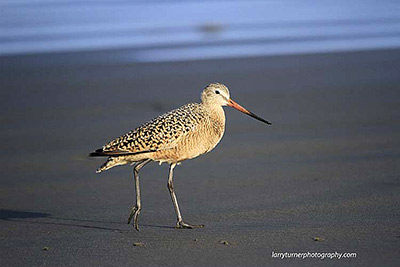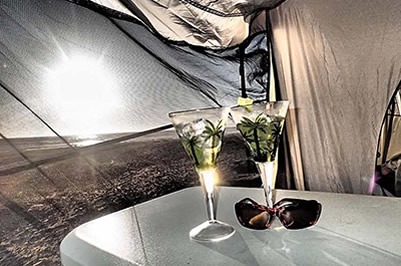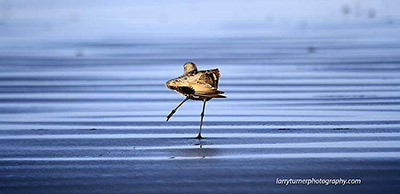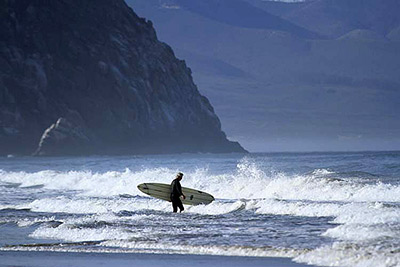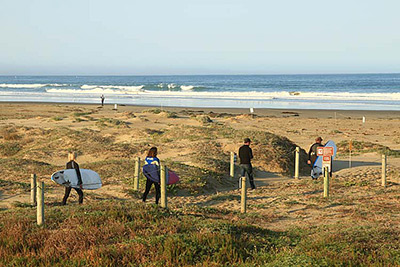 HIGHWAY 1
Highway 1 is one of the most picturesque highways in America. The coastline is spectacular with a combination of rugged, gentle scenery. Spring is a great time for travel because of the abundance of wildflowers, greenness and mild weather, and less traffic during these summer months.     
We intentionally started with no itinerary, as this is my favorite travel mode, to go with the whims of the wind, if you will. We stayed where we wished, as long as we wanted.
Our notion was to explore back roads as much as possible, and so we did. Literally, the first day—after departing Talent, Oregon—we left the main road to the coast, traveling a dirt path through Stout Redwood Grove, and ended up south of Crescent City. Yahoo!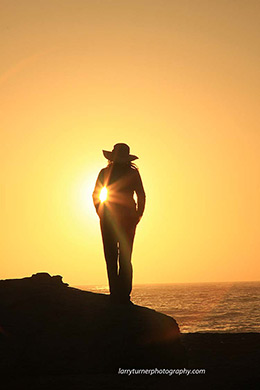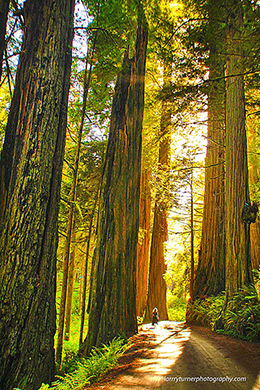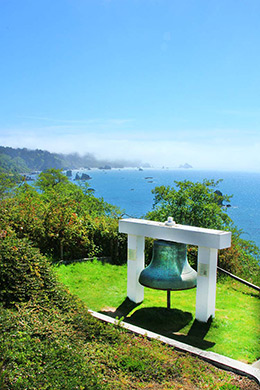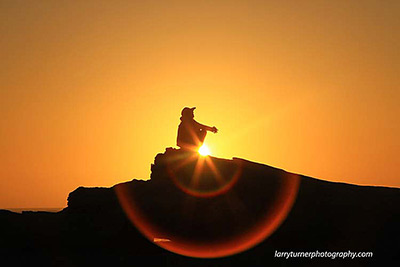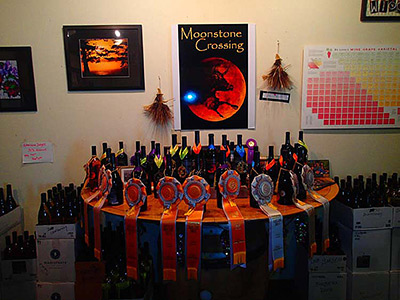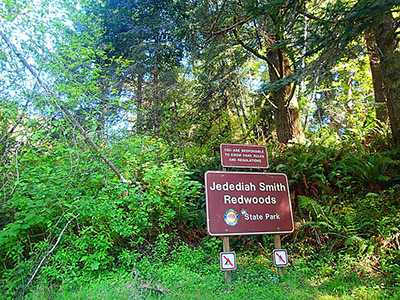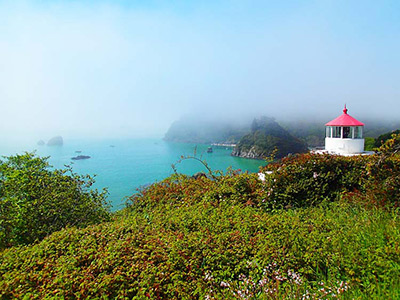 BIG LAGOON
The Big Lagoon camp was the perfect start. Our view was idyllic. The following day we explored the charming hamlet of Trinidad with its lighthouse, new dock, art shops, eateries (we had clam chowder) and the wonderful Moonstone Crossing (www.moonstonecrossing.com) Wine Shop with their whimsical wine label names such as Wish Upon a Star, Temptation of Angels and Midnight Caress.     
The day of our departure, we joined Kevin at the Arcata Saturday Farmer's Market. Try out their famous waffle and potato/gravy concoction, for which they're famous. We purchased some artisan bread  greens and fruit for the road.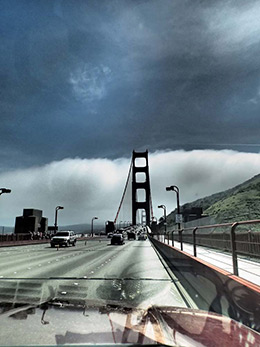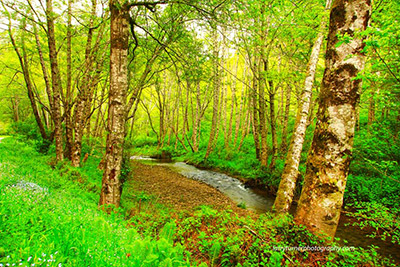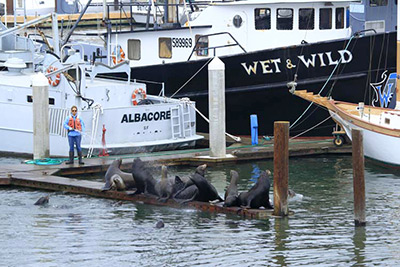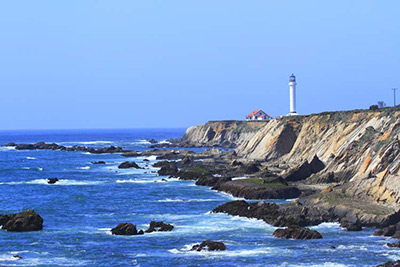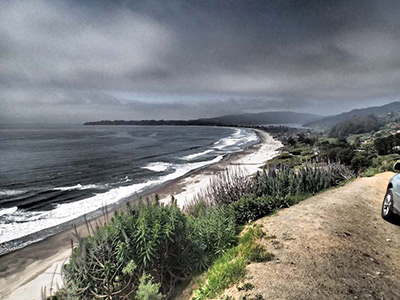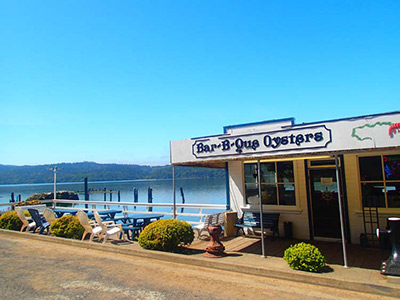 AVENUE OF THE GIANTS/REDWOODS
Driving south, we went through the Avenue of the Giants, the land of redwoods that will leave you awestruck. At Leggett, we left Highway 101 for the start of Highway 1, winding our way to the coast, north of Westport, where we had a campsite not to die for, because if you did, you would miss the glorious sunset which we experienced. We had cocktails on the bluff overlooking this magnificent coastline.     
Quaint, quiet and under-spoken Westport was our first stop the following day as we wandered the streets, getting in our morning walk. Passing through Fort Bragg, we made our way to Point Arena Lighthouse (a must stop), the town of Point Arena and the old, funky, charming Point Arena dock where we ate fish and chips, a great Manhattan chowder and drank a couple of Old Rasputin beers. Then we made our way past Gualala and found a private campsite for the night.
BODEGA BAY, TOMALES, STINSON BEACH
The following day, we traveled through Bodega Bay, Tomales, Tomales Bay, Point Reyes, Stinson Beach, San Francisco and Santa Cruz, en route to our Sunset Camp. We walked to the beach that evening and had it all to ourselves. This campground is a nice find is unique being right next to farm fields.  I fell in love with Tomales and Tomales Bay with fresh oysters and lamb sandwiches to be had. The countryside pulsated with spring green.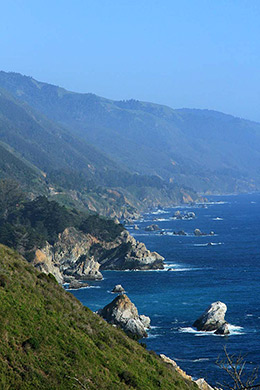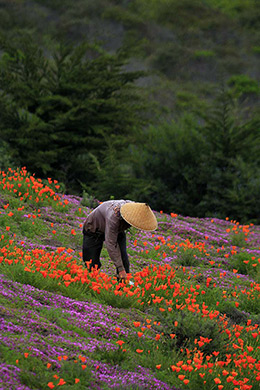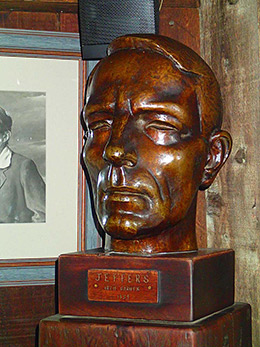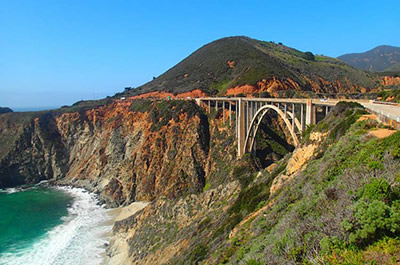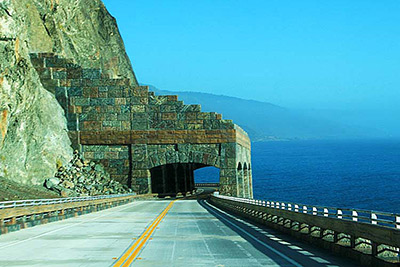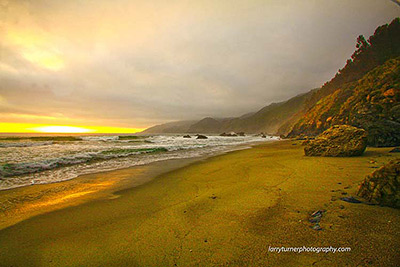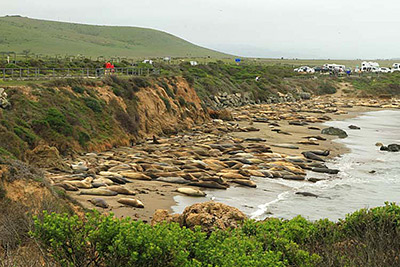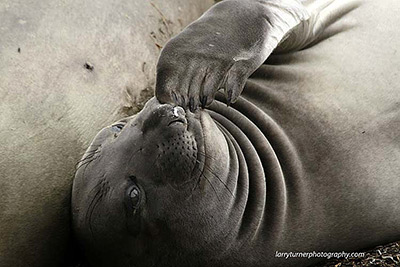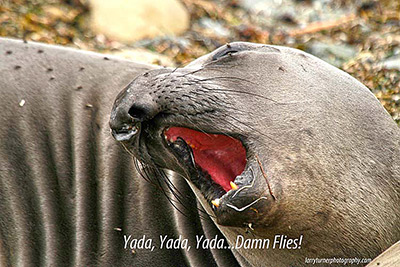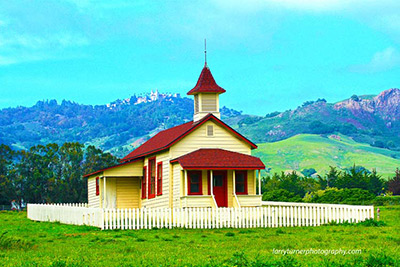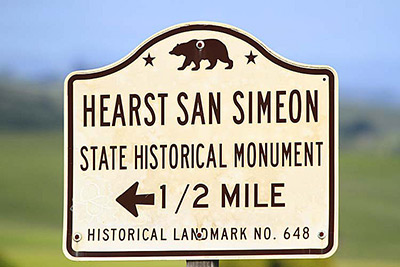 BIG SUR     
Departing at Sunset, we made our way to Big Sur, briefly stopping by Caramel-by-the-Sea. Forty years ago, it was charming. I couldn't wait to leave this time though because of tourists like me. I have no desire to go back. I remember back then photographing the Bing Crosby Open and pissing off Johnny Miller because my shutter went off prematurely when he was putting.     
The Big Sur coastline is as I had remembered it from years ago. Rugged, stellar, achingly beautiful, but with much more traffic. Our Limekiln and Kirk Creek encampments were blessed, as was our hike to a nearby waterfall and rocky beach explorations. This is a place to take a deep breath and exhale slowly. A place to enjoy a landscape that is utterly profound to the eyes and heart. Get one of poet Robinson Jeffers books and read about this area.     
I've never been to Disneyland and I have no desire to go there. Hearst Castle the same. But we did stop at the Hearst Ranch Winery after departing Big Sur and it was most enjoyable. I photographed the castle in the background and we stayed at nearby San Simeon State Park which was pleasant.  The following day we arrived at Morro Bay.     
The Morro Bay stay has been memorable with day trips to beautiful downtown San Luis Obispo, Morro Bay Harbor, Montana de Oro, Los Osos, Avila Beach, San Luis Bay and downtown Morro Bay.
SPRING TRAVEL
Spring travel along the California coast is perfect because of fewer travelers on the road, good weather and plenty of greenery and flowers. Temps were mild if not down right warm at times. June would be a good month to go, too, and July will have its own pleasures. Sometimes the fog will roll in during the summer, but by traveling a few miles inland, the sun will be shining.
IMPORTANT INFO:
http://en.wikipedia.org/wiki/U.S._Route_101 http://www.us-101.com/
http://en.wikipedia.org/wiki/California_State_Route_1
http://www.highway1california.com/
http://www.morrobay.org/
Book: Lonely Planet Road Trip: California Highway One
Book: Road Trip USA: Pacific Coast Highway
http://bigsurcalifornia.org/