Have you ever dreamed of climbing aboard a luxurious private train where your every comfort is taken care of, while enjoying excellent meals and beverages, sleeping accommodations, and sightseeing excursions?
Since American Orient Express/Grand Luxe Railtours (AOE/GLR) ceased operations, few people know that luxury trips like this are still available in the United States.
Chris Skow of Trains & Travel International, a Portola, California, agency, organizes such adventures. This one is operated by California Zephyr Railcar Charters' Bert Hermey.
While the AOE/GLR cars from the same era were updated with more exuberance than accuracy, these carriages are maintained with historic integrity, giving guests a true impression of the 1940s and 50s Grand Old Days of passenger rail.
We recently boarded the By Ways of California and Oregon tour train, billed as "Travel through the Feather River Canyon and over the entire BNSF Inside Gateway, Keddie Wye, to the Columbia River Gorge." The trip included many "rare miles", routes not used by Amtrak. Though a special treat for railfans, trips are planned to appeal to anyone who loves scenic train travel with first class service and gourmet dining.
These tours are more intimate than the much larger AOE/GLR groups, and the clientele is somewhat different. Hint: leave your Gucci loafers at home in favor of sensible walking shoes.
Day 0. The Hyatt House's upper-floor track-side rooms, across from Emeryville's Amtrak Station, provide an excellent location for train watchers. A constant stream of Amtrak trains, "Capitals" to Sacramento, and "San Joaquins" to the Central Valley, whistle off, as well as the long-distance "Coast Starlight" and "California Zephyr". Freight trains rumble through 24/7 providing sound effects through our open balcony window that are music to the rail fan's ear.
Day 1, June 4:
One of Train Travel Consulting's long-time clients, Edward Wizniak, had flown out from Washington DC to join us. We waited on the station platform, enjoying the cool morning fog, as an Amtrak Genesis locomotive glided in, trailing the private train. (Private trains operate under the auspices of Amtrak.) The cars are: "Colonial Crafts", in Pennsylvania Railroad colors, followed by four vintage stainless steel carriages, three of them for the original pre-Amtrak 1948 "California Zephyr." Amtrak's present-day Emeryville to Chicago Superliner "California Zephyr" was scheduled to depart this morning too, and the station staff, sorting out various departures and arrivals, can be forgiven for glancing at the signboards of our vintage train and announcing it as the Amtrak "California Zephyr" before correcting their error.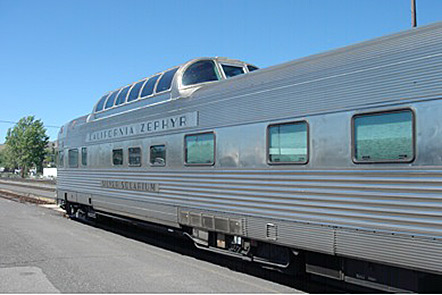 Silver Solarium
Everything on our route along San Francisco Bay looks entirely new and different from the forward facing seats in Vista Domes "Silver Solarium" and "Silver Lariat."
Heading east from the Sacramento Amtrak Station, we turn north on the former Western Pacific line, now freight only, through Marysville before beginning the climb up the 1962 Oroville Dam relocation bypass. Below and around us are parched dun-colored grassy hillsides.
Passing through a series of tunnels and crossing the 200 ft high North Fork Bridge, the train glides out into a suddenly green, forested dimension. Below are the shores of Oroville Lake, and soon we are rolling along the Feather River. With this abrupt change of scene a hush falls over our group of mesmerized sightseers.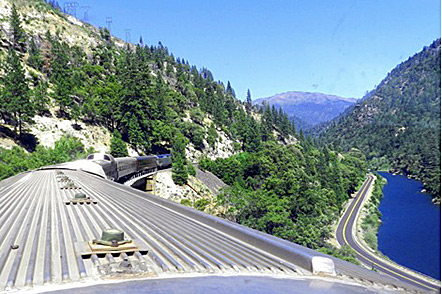 Feather River Canyon
We are assigned to a Bedroom C in sleeper-buffet-lounge "Colonial Crafts", one of eight three bedroom, one drawing room, buffet lounge cars built by Pullman-Standard for the Pennsylvania Railroad in 1949. Beautifully restored and maintained by Ron and Ellen Fishburn, its gleaming Tuscan Red exterior, with gold lettering and trim, contrasts dramatically with the stainless steel carriages following behind.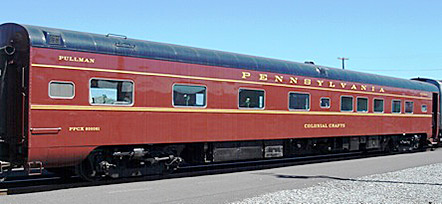 "Colonial Crafts"
Lunch is announced with Deagan chimes, a long time railway dining car tradition. Meals are served in the "Silver Lariat", recalling the days of the popular Union Pacific Dome Dining Cars. The golden days of the "California Zephyr", ending March 22, 1970, are carefully reproduced here. Linen tablecloths, plates, and napkins are decorated with the vintage train's Zephyr logo. The lunch and dinner menus exceed anything that we recall from journey's on "Zephyrs" of the 1960's. Meals are leisurely, and enhanced with complimentary wine.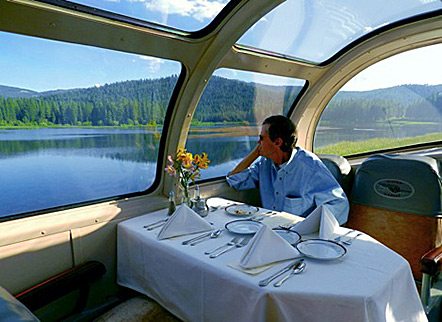 Dome Dining Car Silver Lariat
Swinging north at the famous Keddie Wye Bridge, we join the former Western Pacific Highline to Westwood, California, where it meets the BNSF Inside Gateway route to the Columbia River.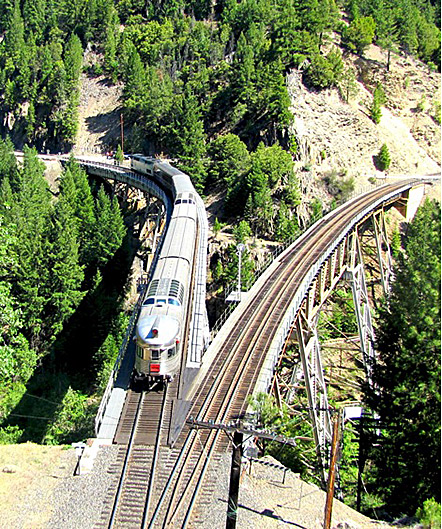 Keddie Wye Bridge
"Colonial Crafts" is located directly behind the engine, and the engine crew has access to the train through our car, while providing some interesting insights. "This section of track is not controlled by signals and track circuits. So it is up to our crew, and those of passing freights, to keep in touch with the dispatcher by radio or cell phone", an engineer tells us. He reminiscences about being chased by a wire haired terrier while piloting a heavy BNSF freight train.
We stop overnight at a siding in Westwood.
The ladder to the upstairs bed in the "Colonial Crafts" is perfectly vertical, with rungs for people with smaller feet than our own. The car attendant comes to the rescue with another free-standing ladder. Low-key but available as soon as you need them, the onboard staff are quiet and helpful. . Day 2 Sightseeing excursions by motor coach are included on the itinerary but not mandatory. A small group departs Westwood for Lassen Volcanic National Park.
Still on rare mileage tracks, we depart Westwood through seldom seen, and thinly populated back country, lush with spring grasses and wildflowers. Hovering over us to the west are the snow covered slopes of Mt Shasta, at 14,179 feet.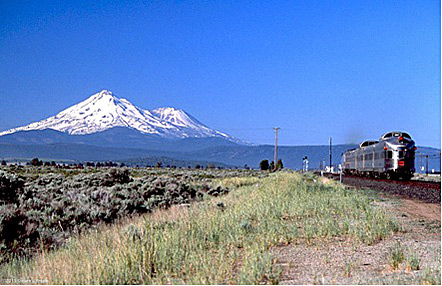 Passing nearby Mount Shasta
After sunset, the train crosses the Oregon border and slows to a halt at the BNSF Klamath Falls Yards.
Day 3 Leaving Klamath Falls, now on Union Pacific rails, we follow the route of Amtrak's "Coast Starlight" along the shores of Upper Klamath Lake with its white pelicans and bald eagles. Snow-covered Mt McLaughlin is reflected in the water. Rumbling along the pristine Williamson River, a fly fisherman's paradise, with views of Mt. Scott and Mt Thielsen to the west, we are again reminded of the incomparable forward view advantages of dome cars. At Chemult, we bear to the right, once again on rare mileage BNSF track, towards Bend, where we park for our third overnight rest in a location handy for exploring this high desert community. Some of the guests stroll into town for a movie.
Many of the passengers know each other from previous trips, but are welcoming to neophytes such as ourselves. Day 4: Departing Bend with its western skyline of snow-covered volcanic peaks, we slow for the crossings of the Crooked River Bridge and the Willow Creek Trestle then began our descent into another little-known scene. The Deschutes River Canyon track dives down about 3,000 feet through layer upon layer of rugged volcanic basalt rock. This wild and remote canyon is largely deserted, with the exception of the odd fisherman and white-water rafter.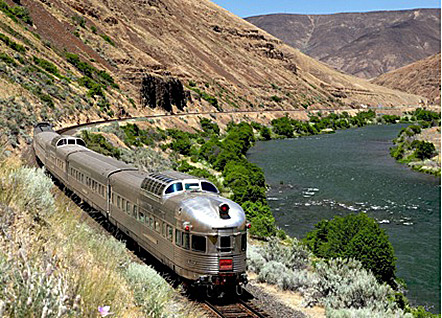 Deschutes River Canyon
If the scenery doesn't amaze you, there are lounge areas in the train where you can go for a quiet read. "Colonial Crafts" stocks a collection of 1950s Life magazines. Or you can visit one of the train's well-stocked bars for a complimentary libation.
The Lost Wagon Train of 1845 descended here, though how they managed this with ox-drawn prairie schooners staggers the imagination. Where the Deschutes River joins the mighty Columbia, we ease across to the north shore on the Oregon Trunk Rail Bridge and swing west downstream towards Portland Union Station, where we tie up for our fourth night.
Day 5: A very early morning departure leads us south, on rails shared with Amtrak, ascending the rich farmlands and orchards of Willamette River Valley, the ultimate promised land for the pioneers of the Oregon Trail. At Eugene, we begin the winding climb over densely forested Cascade Summit, where the surroundings change rapidly from rain forest to high juniper and sagebrush desert. At Chemult we turn south towards Klamath Falls, where guests board a waiting motor coach to Oregon's only national park at Crater Lake. A farewell dinner, with a sunset view of one of the world's deepest lakes, takes place in the elegantly rustic and historic Crater Lake Lodge.
Day 6: After one last overnight at Klamath Falls, the train heads south down the Sacramento Valley to its starting point at Emeryville. While this isn't rare mileage, it is rare scenery as the southbound Coast Starlight covers this area at night. Since Trains and Travel International has many repeat customers, they vary destinations each year. Trains and Travel International's beautifully illustrated website is at http://www.traintrips.biz/ Or phone 1 800 359 4870.
Options for 2014 include such itineraries as:
THE NAVAJO SCOUT FLYER Chicago-Santa Fe-Chicago June 8-14, 2014 FEATHER RIVER EXPRESS IV TO PORTOLA **PORTOLA RR DAYS FESTIVAL** Feather River Canyon in California AUGUST 8-10, 2014 VIRGINIA & TRUCKEE EXPLORER DOMES OVER DONNER PASS California-Nevada October 11-13, 2014
Please visit http//www.traintrips/biz for information about additional trips.
Trains & Travel International PO Box 313 Portola, CA 96122 1 800 359 4870 1 530 836 1944 http://www.traintrips.biz/ Chris@traintrips.biz