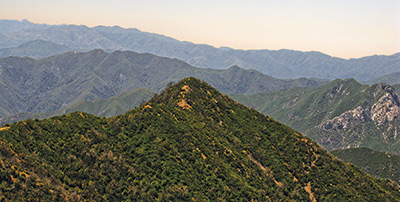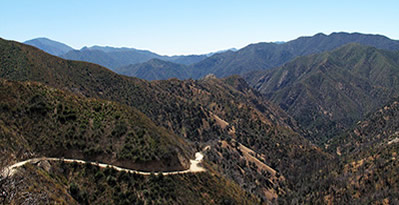 Tassajara Zen Mountain Center The road in

San Francisco Zen Center is thrilled to continue its distinguished spiritual engagement and community building with the public opening of this year's guest season (May 1 - September 14, 2014) at Tassajara Zen Mountain Center. As spring blossoms, the gates to Tassajara open to Zen and meditation seekers, yoga lovers, artisan foodies, and people looking to unplug and experience a truly serene environment; 7 months of the year Tassajara is closed to the general public for private Zen practice.
Nestled in a mountain valley, inland from the Big Sur coast in a remote part of the Ventana Wilderness, Tassajara has been long known as a place for self-discovery, healing and an escape from the stresses of everyday life. In 1967, Shunryu Suzuki Roshi (Founder of San Francisco Zen Center, Author of the seminal Buddhist book, Zen Mind, Beginner's Mind) established Tassajara as the first Zen training monastery outside of Japan. Suzuki Roshi searched for a mountain temple similar to the monasteries in Japan and China, and was able to purchase Tassajara through the support of the Zen community, friends, and patrons. Today, Tassajara is internationally recognized as the most remote Zen center in the United States and beckons as a top destination for Buddhist practitioners and vacationers alike.
Only accessible by 4-wheel drive vehicles via a 14-mile dirt road, Tassajara is an eco-efficient paradise garnering 100% of its energy from solar panels and the local hot springs. The hot springs have proven to be a main attraction of the Monterey/Salinas area following the native Esselen people's discovery of the springs in the 1870's; generations of settlers and visitors have come ever since seeking renewal and tranquility.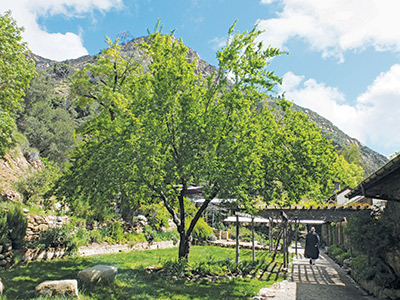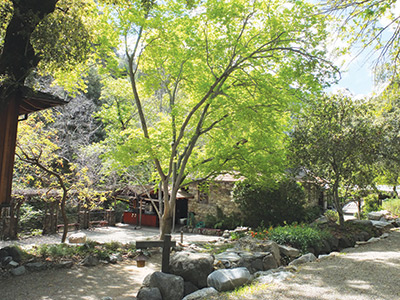 Flag Rock above the central lawn Courtyard by the Coffee and Tea Bar
For the forthcoming 2014 guest season, Tassajara utilizes its new eco-retreat center that was designed with the highest standards in green development, by architect Helen Degenhardt (JSW/D Architects; the retreat center was completed in 2012); all retreats will be held in the retreat center. In October 2013, San Francisco Chronicle highlighted Degenhardt's work at Tassajara in the Home & Garden section. The Tassajara Program Schedule 2014 offers disciplinary retreats in the following six specialty areas, all led by some of today's leading teachers: Body and Mind, Mindful Living, Creative Expression, Engaging Earth, Spiritual Practice, and Zen Study & Practice.
Tassajara offers a special opportunity for the general public to recharge, relax, and reconnect with themselves. Visitors soak in the hot springs, meander along the trails, savor Tassajara's celebrated vegetarian cuisine, stay in beautiful accommodations, participate in zazen (meditation), and enjoy the eclectic retreats offered by some of today's most celebrated teachers. Tassajara invites visitors to explore the variety of ways that Zen and other complementary practices can inform and enrich one's life.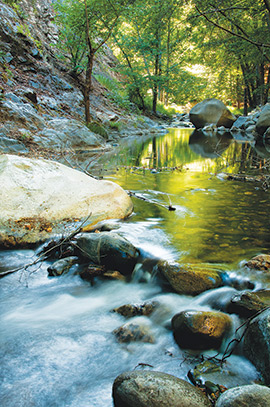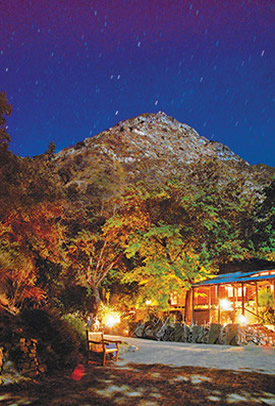 The Creek Zendo at night
Below is a list of the retreats scheduled for the upcoming 2014 Guest Season; additional detailed information can be viewed on www.sfzc.org/tassajara.
Body and Mind Retreats:
Zen and Swimming Dragon Tai Chi (May 1 - 8, 2014)
-Featuring Liping Julia Zhu (Certified Qigong and Tai Chi Instructor) and Connie Cummings (Resident Zen Buddhist Priest, San Francisco Zen Center)
Aligning with Stillness: Embody Freedom and Vitality through Yoga and Zen (May 5 - 8, 2014)
- Featuring Athena Pappas (Certified Iyengar Yoga Teacher) and Kanzan David Zimmerman (Zen Buddhist Priest and Program Director, San Francisco Zen Center)
Healing with Qigong (May 8 - 12, 2014)
-Featuring Liping Julia Zhu (Certified Qigong and Tai Chi Instructor) and Connie Cummings (Resident Zen Buddhist Priest, San Francisco Zen Center)
Healing Body, Mind, and Heart: Prajna Yoga and Zen Meditation (May 18 - 23, 2014)
-Featuring Djuna Mascall (Prajna Yoga Senior Instructor) and Jisan Anna Thorn (Zen Buddhist Priest, San Francisco Zen Center)
Enter the Dharma Gate of Repose and Bliss: A Zen Meditation and Triputi Yoga Therapeutics Retreat (May 28 - June 1, 2014)
-Featuring Lirio Ohlson (Yoga Instructor, E-RYT 500) and Shundo David Haye (Zen Buddhist Priest and Director, San Francisco Zen Center)
Messages from Our Bodies, Messages from Our Life (June 2 - 5, 2014)
-Featuring Purusha Hickson (Hatha Yoga Instructor) and Zenshin Greg Fain (Zen Buddhist Priest and Head of Practice, Tassajara)
Energy and Inquiry: The Merging Paths of Zen & Yoga (June 5 - 8, 2014)
-Featuring Rosemary Garrison (Renowned Yoga Instructor, DeLoach Vineyard Wine & Yoga Retreats) and Jiryu Mark Rutschman-Byler (Zen Buddhist Priest, San Francisco Zen Center)
Readiness of Mind: Lifestream of Yoga Nourishment Weekend (June 12 - 16, 2014)
-Featuring Donald Moyer (Founding Director, The Yoga Room, Berkeley, CA) and Shosan Victoria Austin (Zen Buddhist Priest, San Francisco Zen Center)
Reconnecting with the Flow of Life: A Yoga and Zen Retreat (June 16 - 19, 2014)
-Featuring Lisa Jansen (Yoga Instructor) and Shinchi Linda Galijan (Zen Buddhist Priest and Director, Tassajara Zen Mountain Center)
Satori and Salutations: Opening to the Heart of Zen and Yoga (June 19 - 22, 104)
-Featuring James Higgins (Yoga Instructor) and Unzan Mako Voelkel (Zen Buddhist Priest and Head of Practice, Austin Zen Center)
Zen y Hatha Yoga en Español, una buena combinación para liberar tu mente (June 19 - 22, 2014)
-Featuring Mireya Segura (Hatha Yoga Instructor) and Myozen Joan Amaral (Zen Buddhist Priest and Guiding Teacher, Marblehead Zen Center, Massachusetts)
Return to a Pure Mind and Joyful Heart: Practice and Breath in Zen, Vinyasa and Kundalini Yoga (June 27 - 30, 2014) -Featuring Ann Averbach (Founder, DiviniTree Yoga Santa Cruz and Santa Barbara) and Ango Sara Tashker (Zen Buddhist Priest and Director, Green Gulch Farm Zen Center)
The Healing Power of Stillness: Restorative Yoga and Zen (July 3 - 6, 2014)
-Featuring Britt Fohrman (Prenatal and Doula Expert) and Unzan Mako Voelkel (Zen Buddhist Priest and Head of Practice, Austin Zen Center)
Deep Restoration, Deep Healing: A Zen Mind, Yoga Body Retreat (July 11 - 13, 2014)
-Featuring Samantha Ostergaard (Iyengar Yoga Instructor) and Do-On Robert Thomas (Zen Buddhist Priest and Dharma Teacher)
Stepping Back-Stepping In (July 13 - 18, 2014) -
Featuring Patricia Sullivan (Yoga Instructor) and Eijun Linda Cutts (Central Abbess, San Francisco Zen Center)
Being Grace - Finding Effortlessness in All Things: A Yoga and Zen Meditation Retreat (July 18 - 20, 2014)
-Featuring Stacie Overby (Yoga Instructor) and Jokai Carolyn Cavanagh (Zen Buddhist Priest and Treasurer, Green Gulch Farm)
Thriving in Uncertainty: A Workshop in the Mindfulness Practice of Sensory Awareness (July 20 - 25, 2014)
-Featuring Lee Klinger Lesser (Sensory Awareness Expert)
True Body, True Self: Radical Presence through Zen and Yoga (July 25 - 29, 2014)
-Featuring Christy Brown (Yoga Instructor) and Ango Sara Tashker (Director, Green Gulch Farm Zen Center)
The Healing Power of Stillness: Restorative Yoga and Zen (July 29 - August 3, 2014)
-Featuring Britt Fohrman (Therapeutic Yoga Instructor) and Jeremy Levie (Zen Buddhist Priest and Head of Practice, Green Gulch Farm Zen Center)
Stepping Back-Stepping In (August 3 - 8, 2014)
-Featuring Patricia Sullivan (Yoga Instructor) and Eijun Linda Cutts (Central Abbess, San Francisco Zen Center)
A Weekend of Veda and Zen (August 8 - 11, 2014)
-Featuring Mas Vidal (Director of Dancing Shiva Yoga Ayurveda) and Jeremy Levie (Zen Buddhist Priest and Head of Practice, Green Gulch Farm Zen Center)
Dragon Song - A Zen and Vinyasa Yoga Retreat (August 11 - 14, 2014)
-Featuring Rex Stromness (Yoga Instructor) and Shundo David Haye (Zen Buddhist Priest and Director, San Francisco Zen Center)
Touching Earth, Creating Space: A Yoga and Zen Retreat (August 14 - 17, 2014)
-Featuring Janet Stone (Celebrity Vinyasa Yoga Instructor) and Ryushin Paul Haller (Zen Buddhist Priest and Senior Dharma Teacher, San Francisco Zen Center)
Balanced and Awake: Zen and Yoga to Harmonize Mind and Body (August 21 - 24, 2014)
-Featuring Letitia Bartlett (Professor, Clown, Mime, Yoga Instructor) and Kanzan David Zimmerman (Zen Buddhist Priest and Program Director, San Francisco Zen Center)
Dana Paramita - Cultivating the Generous Heart (August 25 - 29, 2014)
-Featuring Darcy Lyon (Certified Anusara Teacher and Expressive Arts Therapist) and Zenshin Greg Fain (Zen Buddhist Priest and Head of Practice, Tassajara Zen Mountain Center)
Body-and-Mind Study of the Way (August 29 - September 1, 2014)
-Featuring Darcy Lyon (Certified Anusara Teacher and Expressive Arts Therapist) and Zenshin Greg Fain (Zen Buddhist Priest and Head of Practice, Tassajara Zen Mountain Center)
Bringing Yoga and Zen Home: Creating and Sustaining a Home Practice (September 1 - 4, 2014)
-Featuring Jody Greene (Professor of Literature, Feminist Studies, and the History of Consciousness, UC Santa Cruz) and Shinchi Linda Galijan (Zen Buddhist Priest and Director, Tassajara Zen Mountain Center)
Manifesting the Wisdom of the Body: A Zen Mind, Yoga Body Retreat (September 4 - 7, 2014)
-Featuring Samantha Ostergaard (Iyengar Yoga Instructor) and Do-On Robert Thomas (Zen Buddhist Priest and Dharma Teacher)
The Mind and Body of Practice in Zen and Yoga (September 11 - 14, 2014)
-Featuring Shokuchi Deirdre Carrigan (Professional Dance, Yoga Instructor; Conference Coordinator, Green Gulch Farm Zen Center) and Ingen Breen (Zen Buddhist Priest and Member, Soto Zen Buddhist Association of America)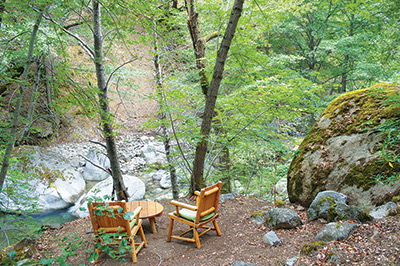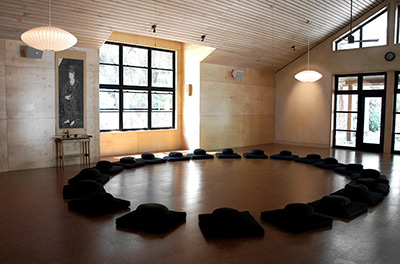 Seating overlooking the creek Seating in the Retreat Hall

Mindful Living Retreats:

The Four Foundations of Mindfulness and Recovery: Awakening Fully to Our Lives (May 12 - 15, 2014)
-Featuring Ryotan Cynthia Kear (Zen Buddhist Priest) and Ko-Shin Steven Tierney (Professor of Counseling Psychology, Addiction Specialist)
Finding Equanimity in a Difficult Profession: A Retreat for Lawyers (May 28 - June 1, 2014)
-Featuring Zenki Mary Mocine (Zen Buddhist Priest, Former Lawyer)
Know Yourself, Forget Yourself: The Mindful Leader (June 5 - 8, 2014)
-Featuring Jacki McGrath (Certified Professional Executive Coach) and Marc Lesser (CEO of Search Inside Yourself Leadership Institute)
Opening and Closing, Like Bird's Wings: A Mindfulness and Zen Retreat (June 30 - July 3, 2014)
-Featuring Nomon Tim Burnett (Zen Buddhist Priest, Guiding Teacher, Red Cedar Zen Community, and Executive Director, Mindfulness Northwest) and Lisa Hardmeyer Gray (Teacher, Mindfulness-Based Stress Reduction)
True Person Retreat: Discovering The Life You're Meant to Live (August 8 - 11, 2014)
-Featuring Sessei Meg Levie (Zen Buddhist Priest and Life Coach)
Getting to What Matters: More Love, Less Stuff (September 4 - 7, 2014)
-Featuring Andrew Mellen (Author, Speaker, Professional Organizer) and Kansan David Zimmerman (Zen Buddhist Priest and Program Director, San Francisco Zen Center)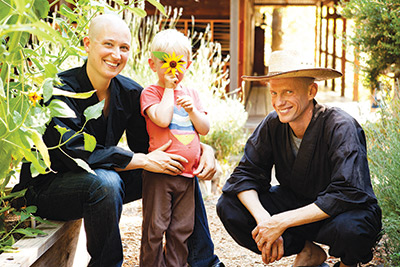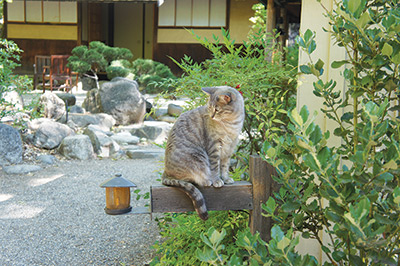 Residents Resident
Creative Expression Retreats:
Words Under the Words (May 23 - 28, 2014)
-Featuring Naomi Shihab Nye (Published Poet) and Ryushin Paul Haller (Zen Buddhist Priest and Senior Dharma Teacher, San Francisco Zen Center)
Meditation, Mindfulness and Songwriting (June 8 - 12, 2014)
-Featuring Jimmie Dale Gilmore (Grammy Award-Nominated Country Artist), Janet Gilmore, and Seido Jamie Howell (Dharma Entrusted Teacher)
Learning To Sit, Learning To Draw, Learning To See (June 8 - 12, 2014)
-Featuring Christine Bailey (Artist, Educator, Zen Practitioner) and Furyu Nancy Schroeder (Director of Children and Family Programs, Green Gulch Farm Zen Center)
Loving the Mountains: A Zen Photography and Hiking Retreat (June 12 - 15, 2014)
-Featuring Jokai Carolyn Cavanagh (Treasurer, Green Gulch Farm) and Shundo David Haye (Zen Buddhist Priest and Director, San Francisco Zen Center)
Brush Mind (June 22 - 27, 2014)
-Featuring Kazuaki Tanahashi (Internationally Renowned Calligraphist)
Practicing Poetry, Practicing Compassion (July 6 - 11, 2014)
-Featuring Jane Hirshfield (Internationally Renowned Poet)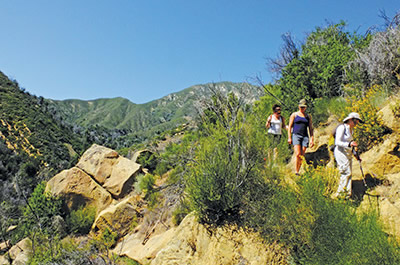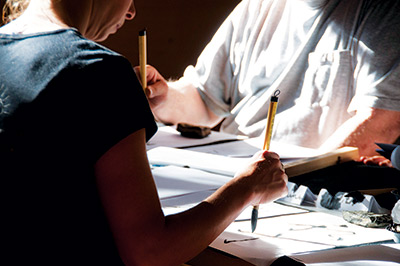 Hiking Calligraphy
Engaging Earth Retreats:
The Nature of Zen (May 1 - 4, 2014)
-Featuring Steven Harper (Wilderness Guide, Author) and Leslie James (Abiding Teacher, Tassajara Zen Mountain Center)
Wildflowers and Birds of Tassajara (May 8 - 12, 2014)
-Featuring Diane Renshaw (Ecologist), Myo-on Gloria Lee (Zen Priest, Gardener) and Daiyu Judith Randall (Zen Buddhist Priest)
The Zen of Baking (May 20 - 23, 2014)
-Featuring Dale Kent (Author, Tassajara: Dinner and Desserts) and Korin Charlie Pokorny (Zen Buddhist Priest and Chef)
Zen in the Kitchen (June 27 - 30, 2014)
-Featuring Dale Kent (Author, Tassajara: Dinner and Desserts) and Korin Charlie Pokorny (Zen Buddhist Priest and Chef)
Spiritual Practice Retreats:
The Spirit of Practice: Christian and Zen (July 18 - 25, 2014)
-Featuring Brother David Steindl-Rast (Catholic Benedictine Monk, www.gratefulness.org) and Ryushin Paul Haller (Zen Buddhist Priest, Senior Dharma Teacher, San Francisco Zen Center)
Being Bodhisattvas: Cultivating a Boundless Heart (July 29 - August 3, 2014)
-Featuring Pamela Weiss (Founder and Chief Wisdom Officer of Appropriate Response)
The Zen Poetry of Philip Whalen and Wallace Stevens (August 14 - 17, 2014)
-Featuring Zoketsu Norman Fischer (Poet, Author, Zen Buddhist Priest)
Presenting Suzuki Roshi's Teachings (August 29 - September 1, 2014)
-Featuring Sojun Mel Weitsman (Abbot, Berkeley Zen Center)
Courage and Intimacy: Exploring Women's Stories (September 1 - 4, 2014)
-Featuring Zenshin Florence Caplow and Reigetsu Susan Moon (Co-Authors, The Hidden Lamp: Stories from Twenty-Five Centuries of Awakened Women)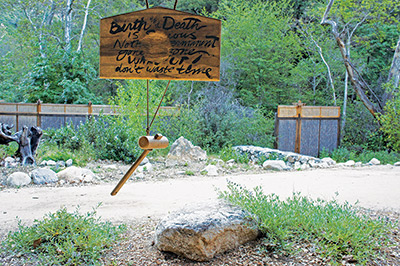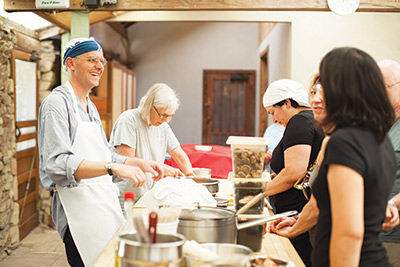 Wooden Han Cooking retreat

Zen Study & Practice Retreats:
Sangha Week (May 3 - 8, 2014)
-Featuring Kiku Christina Lehnherr (Abbess, San Francisco Zen Center -- City Center)
Sangha Week (May 11 - 16, 2014)
-Featuring Do-On Robert Thomas (Zen Buddhist Priest and Dharma Teacher)
Warm Hand to Warm Heart: Creating Connection, LGBTIQ Study Week (June 1 - 5, 2014)
-Featuring Jisan Tova Green (Zen Buddhist Priest and Vice President, San Francisco Zen Center -- City Center)
Contemporary Practice and the Fourth Monk - Study Week (July 14 - 18, 2014)
-Featuring Cynthia Kear (Zen Buddhist Priest)