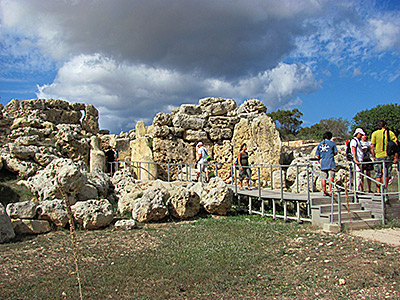 Ġgantija entrance

Looking up at the 20-foot high limestone megaliths, I almost believed the legend that giants had built this temple complex on Malta. The reality: Neolithic people raised it about 3600 BC – more than 1,000 years before Britain's Stonehenge and Egypt's Pyramids.
But how did Neolithic people with only flint, obsidian and bone tools build such megalithic temple complexes on Malta's small islands? Plunked in the middle of the Mediterranean 50 miles south of Sicily, Malta once had dozens of such temple sites. Today seven survive as the Megalithic Temples of Malta, protected as a UNESCO World Heritage Site – and Malta's most compelling mystery.
As most visitors do, I explored Ġgantija and Ħaġar Qim, the best preserved and most accessible temple sites on this island nation of just 122 square miles. Ggantija encompasses two temples on the smaller island of Gozo. Hagar Qim occupies a prominent coastal perch on the main island of Malta.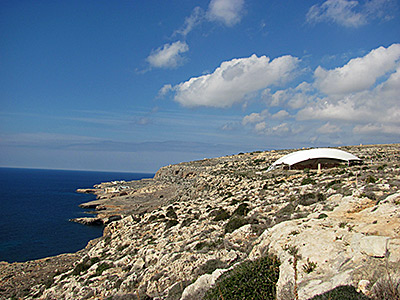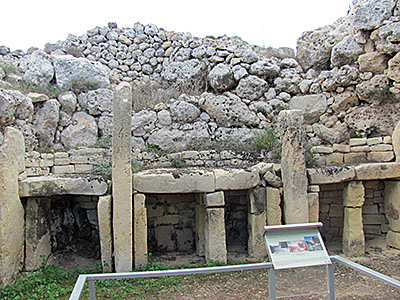 Ħaġar Qim coastal location Ġgantija interior apse

At first glance, Ġgantija in particular looks more like a huge pile of stone rubble than an ancient temple – as if giants had just dumped enormous rocks onto the ground in a peculiar pattern, leading to that legend. Indeed, Ġgantija means "giant's grotto" in Maltese. The largest megaliths rise 20 feet and weigh an estimated 40 to 50 tons.
The mystery, of course, is how did Neolithic people move these megaliths in an age before the wheel was invented? Many round rocks have been found, chiseled into spheres about the size of cannon balls. So the prevalent theory is that the temples' builders used these rocks as rollers to move the megaliths.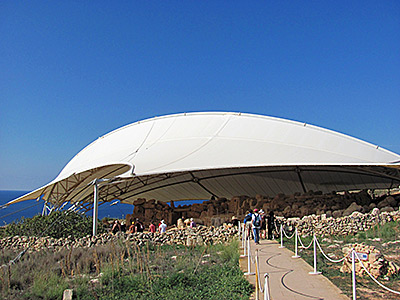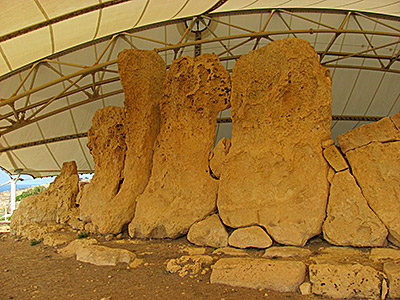 Ħaġar Qim UNESCO protective cover Ħaġar Qim eroded megaliths
But then how did the temple builders raise the megaliths upright and position them into semi-circular walls? There were no construction cranes, let alone metal tools, in those days. Marveling at the size of these megaliths, I found it hard to imagine how even hundreds of men pushing and pulling together could have accomplished this incredible feat.
Ġgantija is considered to be the oldest free-standing stone buildings known to man. As do all of Malta's megalithic sites, it faces southeast, although why is unknown. I entered its better-preserved south temple first, which has been dated to 3600 BC. Walking down the central passageway, I peeked and poked into the elliptical apses that create the temple's clover-leaf shape. Then I explored the adjacent north temple, dating to 3200 BC. Both contained rock altars, stippled with tiny circular holes and used for animal sacrifice, according to archeologists' findings. Many rotund figurines were also discovered, suggesting a fertility cult. A carved hole in one of the main altar's megaliths suggests Ġgantija may have included an oracle where a priest/priestess prophesized while in a trance.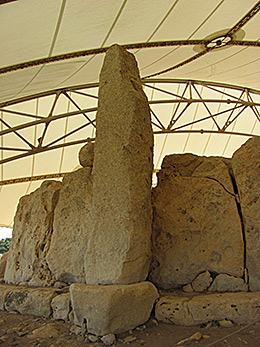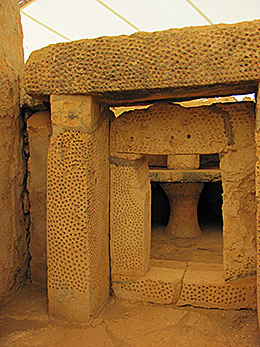 Ħaġar Qim tallest, 20 foot high megalith Ħaġar Qim stippled portal entrance into apse
Ħaġar Qim ("standing stones" in Maltese) dates to the same era as Ġgantija and occupies a much more scenic location overlooking the Malta's rugged coast. Since 2008, it has been protected by a huge synthetic canopy to prevent further weathering and erosion of its limestone towers – which unfortunately diminishes the magic and photo ops.
Here the famous "Maltese Venus" and "Fat Ladies" statues were discovered in 1839 – reinforcing the idea of a fertility cult. However, the rotund "Fat Ladies" also puzzled because none had heads – just holes where heads with peg necks could be inserted. And male heads as well as female were found, creating another question mark in Malta's megalithic mystery. Did the figures switch heads and therefore sexes during different temple ceremonies?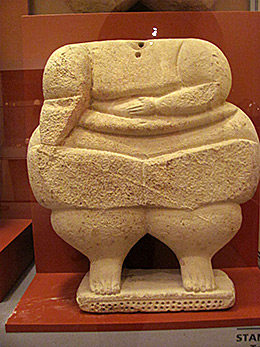 Fat Ladies statues in Valletta's Archeology Museum Fat Lady statue in Valletta's Archeology Museum

The statues are now in the extensive National Archeological Museum in Malta's capital city of Valletta, where most visitors come. Nearly half arrive via cruise ships, which line the base of the city's fortified walls during peak cruising months. The 11th smallest country in the world, Malta receives an amazing two million visitors a year – but only two percent are Americans. Another reason I chose to visit Malta.
The British in particular love to vacation here: same language, electrical plug outlets and left-side driving! English is an official second language, thanks to British rule from 1800 to 1964. However, the Brits came after the Phoenicians, Greeks, Carthaginians, Romans, Byzantines, Arabs, Normans and Knights of St. John – all of whom shaped Malta's intriguing history.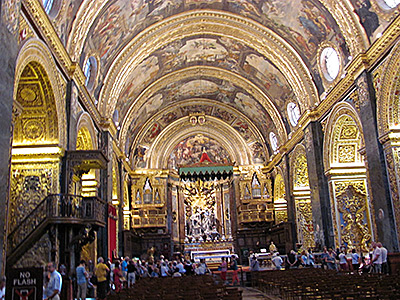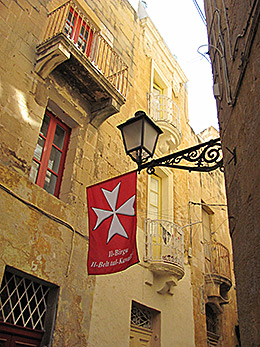 Valletta St. James Co Cathedral Maltese Cross Knights of St John flag

The Knights of St. John's legacy can be another reason to visit Malta. Originally founded during the Crusades to protect Christendom in Jerusalem, the Knights retreated first to Rhodes in the early 14thcentury and then to Malta in 1530. Continually battling the Ottoman Turks, the Knights finally won a decisive victory in the 1565 Great Siege of Malta. They continued to fortify and enrich Valletta and other Maltese cities over the next 200-plus years – until Napoleon took over in 1798.
The wealth of the Knights – all from noble families across Europe – is on lavish display at St. John's Co-Cathedral in Valletta. Built to honor each of the Knights' eight langues with opulent side chapels, the Baroque church boasts incredible artistic treasures, including Caravaggio's masterpiece, The Beheading of St. John. The Knights' most enduring mark: the eight-pointed Maltese Cross.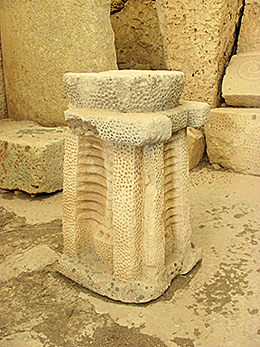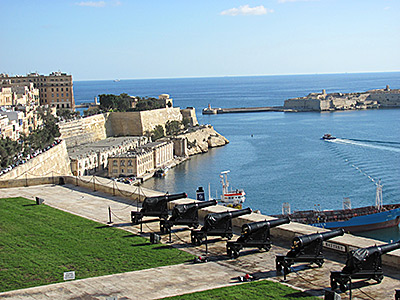 Ħaġar Qim stippled sacrificial altar Valletta's Grand Harbor

Important Information:
Currency: Euro – Malta joined the European Union in 2004 and adopted the Euro in 2008.
Malta's Megalithic Temples: Ġgantija, Ħaġar Qim, Mnajdra, Tarxien, Ta' Ħaġrat and Skorba http://whc.unesco.org/en/list/132
Malta Tourism, The Knights of St. John and St. John's Co-Cathedral:
http://www.visitmalta.com/
http://www.visitmalta.com/en/knights-of-stjohn
http://www.orderofmalta.int/history/58340/the-ancient-langues-of-the-knights-of-st-john/?lang=en
http://stjohnscocathedral.com/