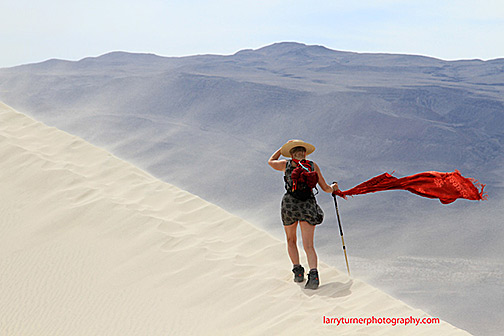 Eureka Sand Dunes

Mammoth Lakes, California, is one of my favorite adventure locations in the world. During the long winter ski season (with the highest average ski resort mountain top snow pack—measured in inches—in the USA), you can ski and board until your heart is content. Then if you want a break from that contentment, you can take day hiking/adventuring trips from Mammoth second to none in the world.
Last April my friend Lynette Shirley and I attended the 50th Anniversary of the North American Snowsports Journalists (www.nasja.org) Association's Annual Meeting at Mammoth (www.MammothMountain.com), one of America's premiere ski and snow boarding areas. Mammoth is located in the mighty Sierra Mountains, adjacent to Highway 395 at Mammoth Lakes, near Bishop, California. Getting there is relatively easy. There are two daily flights from LA as well as daily flight service from San Francisco, San Jose and Portland, Oregon. We drove to the annual meeting though because of all of the possibilities for camping, exploring and adventuring en route to and near Mammoth.
I love snow and mountains and I love the desert, too. Mammoth has this unique location whereas you can access both quickly. Use Mammoth as your base and make daily explorations to such places as Death Valley National Park and the Ancient Bristlecone Pine Forest, in addition to getting your fill of ski and boarding days. Sun and snow, sun and desert! My kinda' place!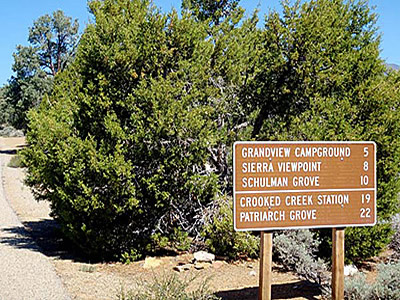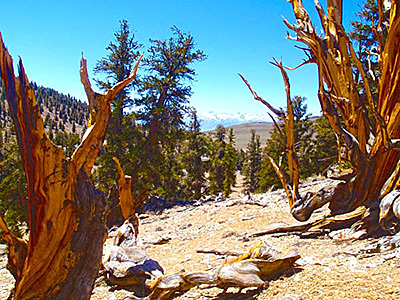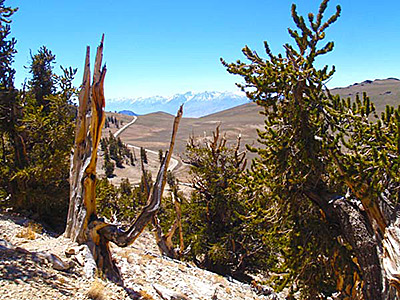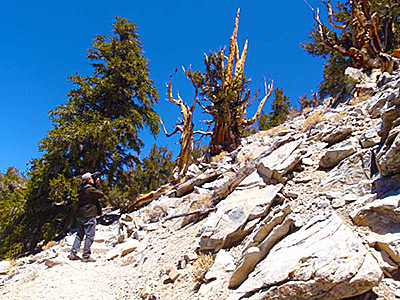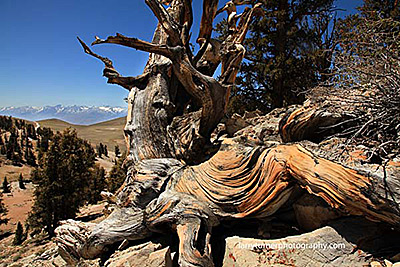 THE WORLD'S OLDEST TREES: BRISTLECONES
During our travels from Surprise Valley, California, we stopped in Fallon, Nevada for a week of camping, food supplies and other essentials: ingredients to make gin and tonics which can be good for what ails you after a long day's hike. We toookNevada Hwy 95, cut off to the west at Hwy 6 and then headed south down Hwy 264 through Dyer, Nevada, a remote farm and ranch community along the California border. This is a great drive pepperd along the route with wild burros and horses. Nevada's tallest mountain, 13,140' Boundary Peak at the northern end of the White Mountains was part of our scenery as well. Nevada has the most mountain ranges in America: 400 plus.
At the suggestion of a local county commissioner, whom we met at the grocery store, we spent a night in the charming little berg of Dyer, sleeping at the local fairgrounds in the back of our pickup. The following day, we made our way into California, taking Hwy 168 which leads to the Bristlecone entrance near Westgard Pass (road 4501). The 38 mile Ancient Bristlecone Pine National Scenic Byway (the last 13 dirt), ends with the world's largest bristlecone pine named Patriarch, located in the 11,200 foot Patriarch Grove. This is a reltively young tree when compared to the world's oldest tree: Methuselah at 4725 years. In an attempt to protect this tree from vandals, park officials have placed no signs that lead to it. We were fortunate to see it because of a knowlegeable friend's directions. In Schulman Grove, we took the Methuselah Trail.
Make this a full day trip. You'll never regret it when you cast your eyes upon these beautiful, remarkable natural specimens of wonderment. You can camp at Grandview. In winter, depending on snow accumulations, the road is subject to closure in different locations. Check out the conditions by calling ahead to the BLM office in Bishop.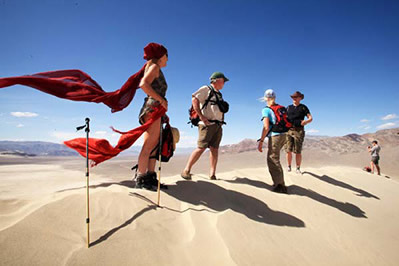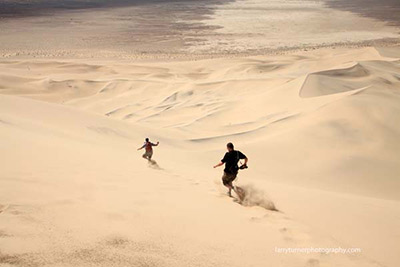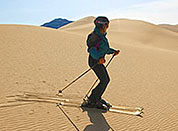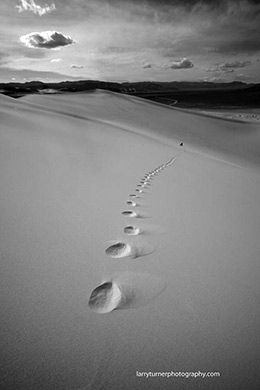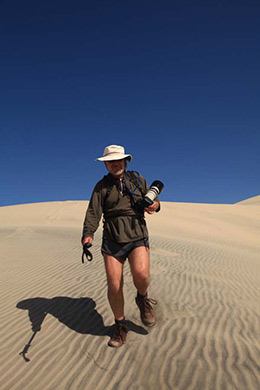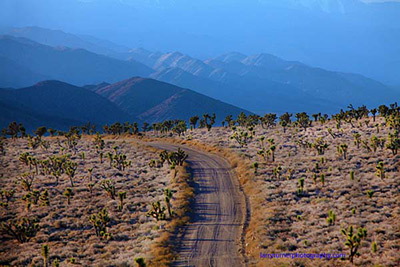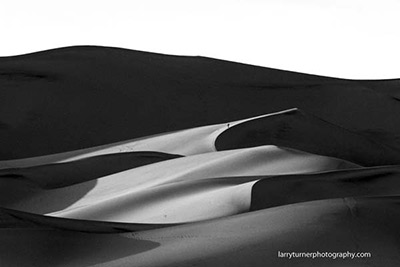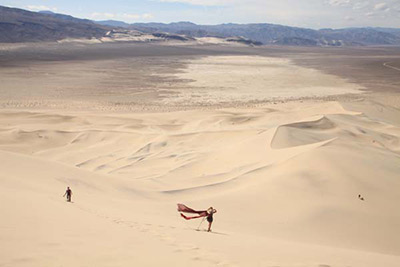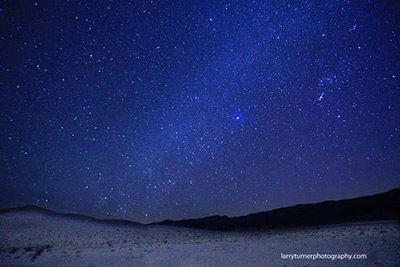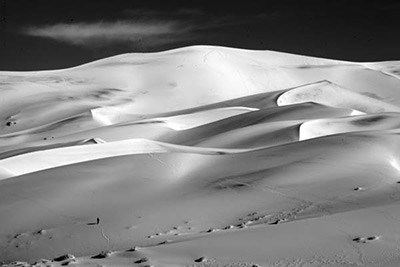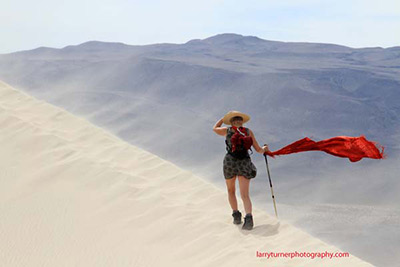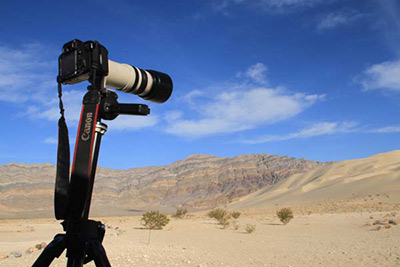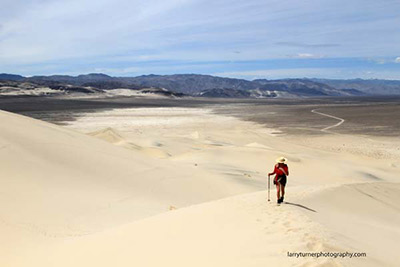 EUREKA SAND DUNES: AMERICA'S TALLEST
Along with the Great Sand Dunes of Colorado, Eureka Sand Dunes in the northernmost part of Death Valley National Park are the highest dunes (700 feet) in the US. This is a real back country gem. After leaving the bristlecones, take Hwy 168 toward Big Pine and just before Big Pine, California, take the Death Valley Road which works its way to this isolated and unique series of dunes, three miles long and a mile wide. The camping is primitive but there is a privy, fireplaces and picnic tables. Take plenty of water and some tire repair goop just in case you get flats. The night skies here are brilliant, singing with the twinklings of countless stars. The dunes also sing when the wind tumbles silicon laden sand down its steep pitches. Check out this National Geographic piece on the subject: http://channel.nationalgeographic.com/channel/videos/singing-sand-dunes/. There is a lot of hiking and exploring in and around the dunes and the photo ops are endless. A walk to the highest point will take upwards to two hours. Running down the face of the dunes is like being a carefree 10-year-old again. Give it a try. Yahoo! But unlike a 10-year-old, at the end of the hot trek, this is where the gin and tonic might come in handy. Death Valley has some of the hottest temps on the planet.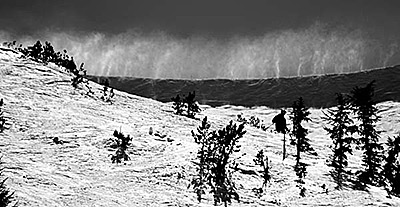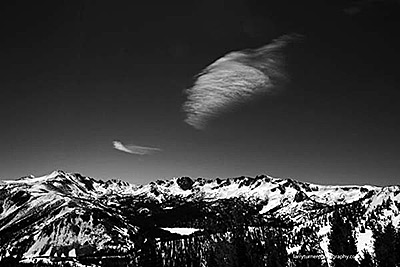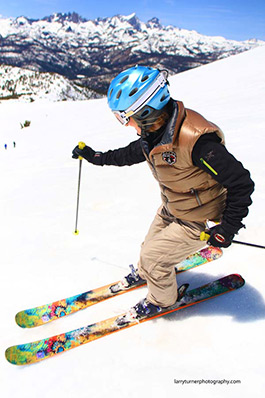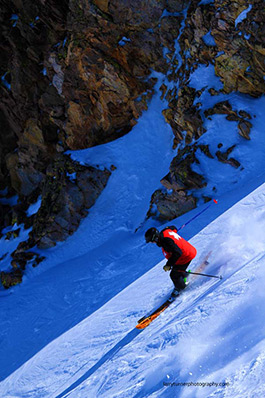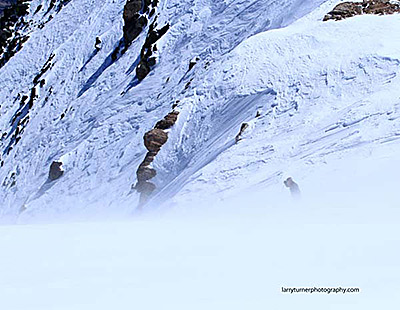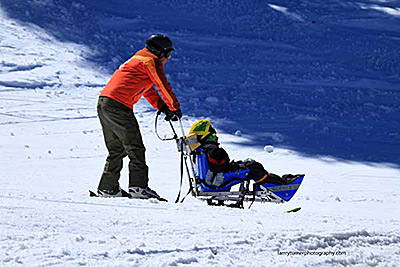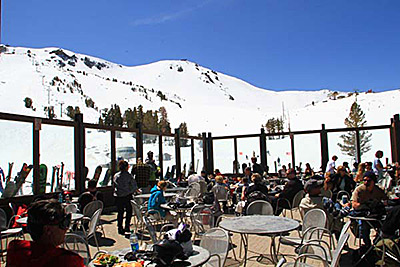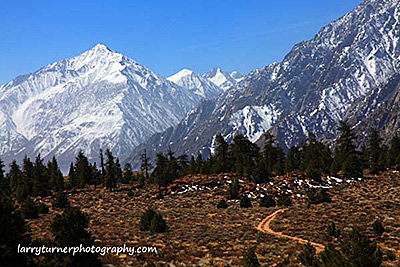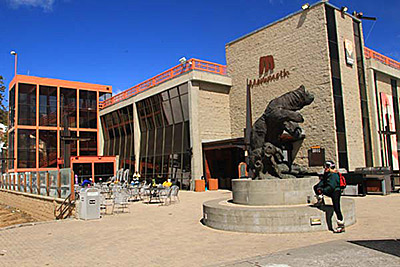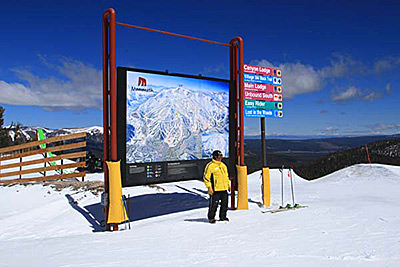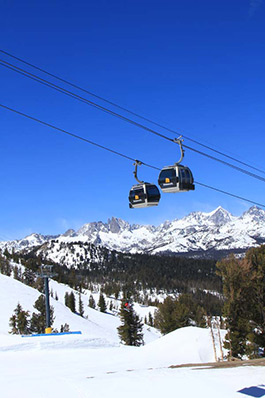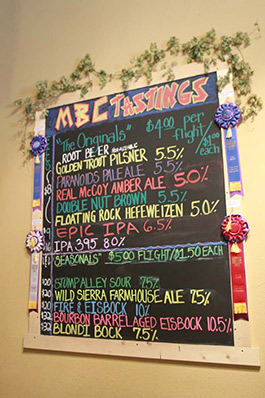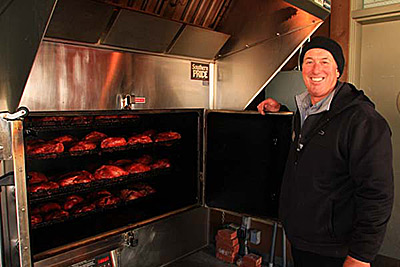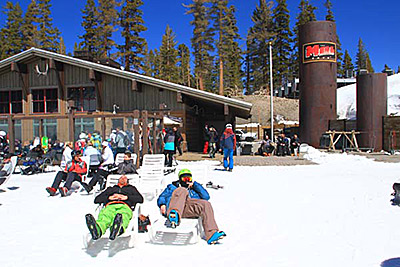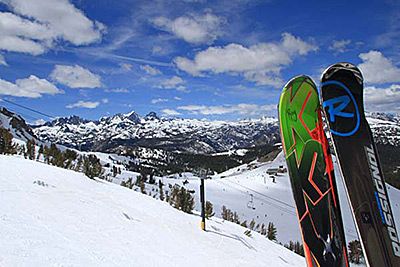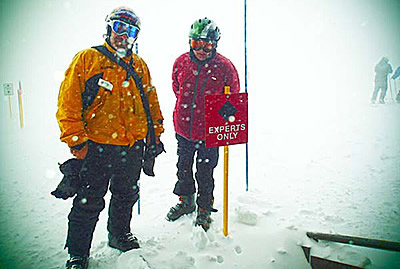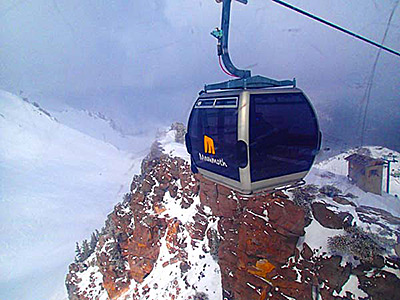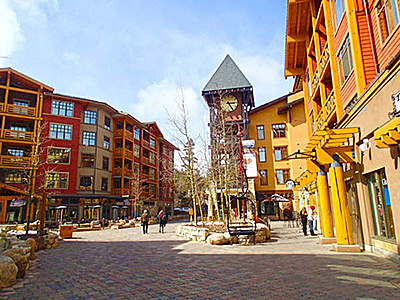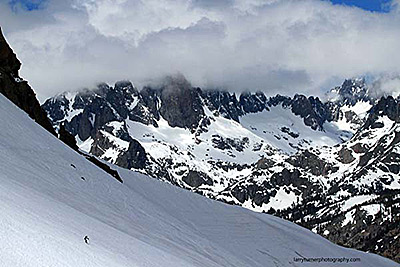 SKIING MAMMOTH
After a good dose of heat in Death Valley, the snow of Mammoth is easy to access, less than 100 miles away. We had our desert fix. Now we were about to get our fix of spring snow. All seasons are magical in Mammoth but April has a special charm because of the potential of spring skiing conditions. And we were not disappointed except for a couple of days when high winds closed down the gondola—which empties you out at 11,000 plus feet in alpine nirvana. But the rest of this mammoth mountain was open. Spring break was over, so there were fewer skiers and boarders on the mountain. When the gondola opened, the winds were still fierce on top. Friend and fellow journalist Lee Juillerat mentioned, "This was the first time in my life when I went off the steep face of Scotty's run and the wind arrested me, like a vortex whereas I was suspended, barely moving downhill. I kinda liked it!" It was great to spend the week with fellow journalists...skiing/boarding/gathering story lines/sharing memories/making new memories. Snow conditions were a potpourri of everything, from divine corn snow on the Outpost 14 side of the mountain to the exhilarating free falls off Upper Road Runner and Skyline into places named Cornice Bowl, Dropout Chutes, Wipeout Chutes, Climax and Paranoid Flats- all places where you have to be on your A game. A friend and fellow journalist with a 'balls to the wall New Hampshire' attitude caught an edge on one of the chutes and the mountain took him like a rag-doll to the bottom. Whew. Hats off to you Carey for taking the run, and surviving it. Mammoth is mammoth and it has everything—terrain wise—for the boarder/skier. And the view will take more than your breath away. Once at the Top of the Sierra, I took the ski boundary edge that took me beside the Dragon's Back to the Dragon's Tail and I ended up at the Tamarack Cross Country Ski Center, which has no lift. It took a phone call, a couple of beers and Lynette driving from the Main Lodge to pick me up an hour later. I needed the rest. Make sure that you stop at The Mill for lunch. It's one of the best slope lunches at a ski resort anywhere. The special smoked/barbecue chicken/beef/pork with a hefty salad will leave you hankering for more. And you'll have ample energy for skiing the remainder of the day.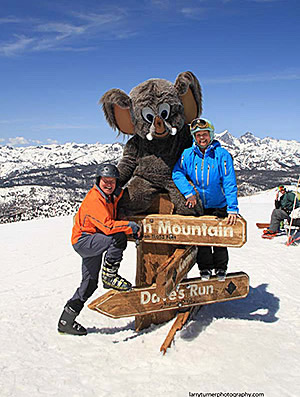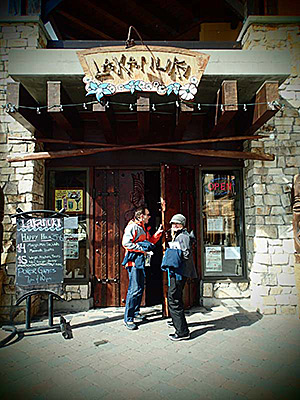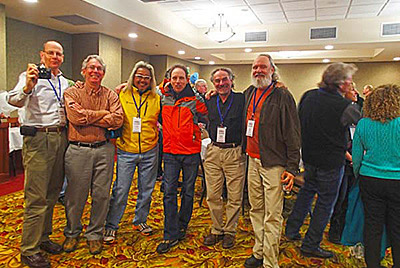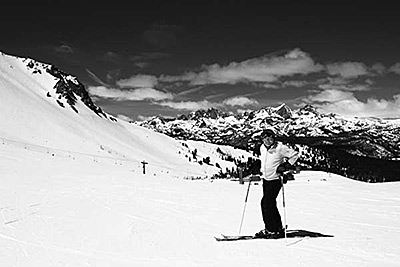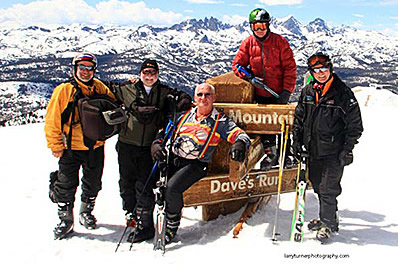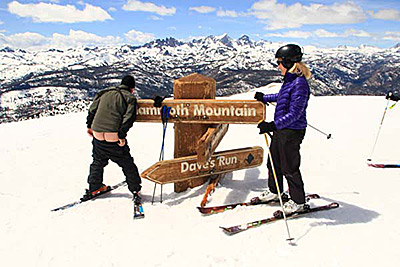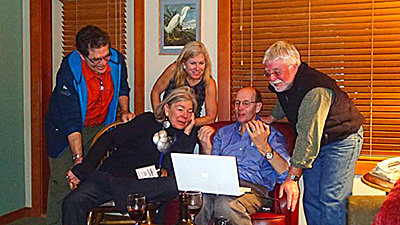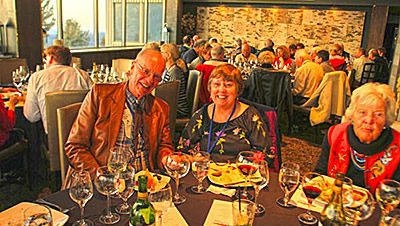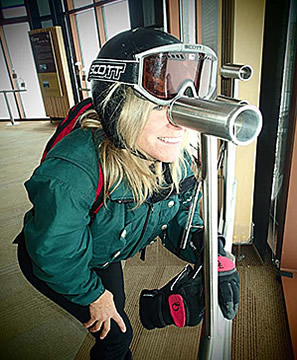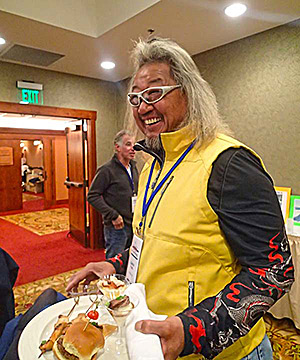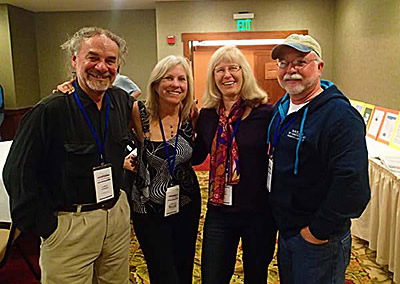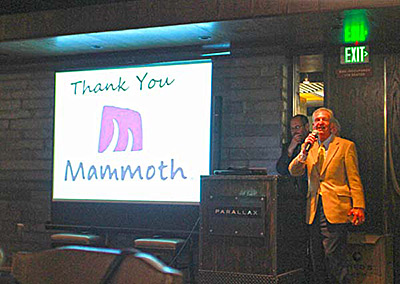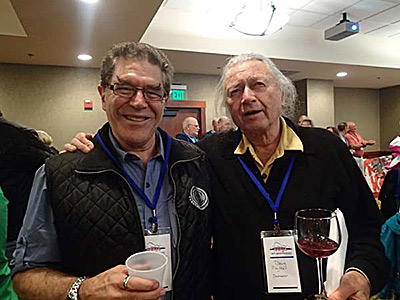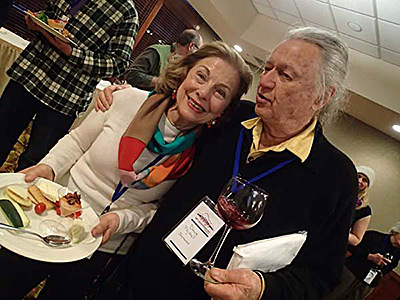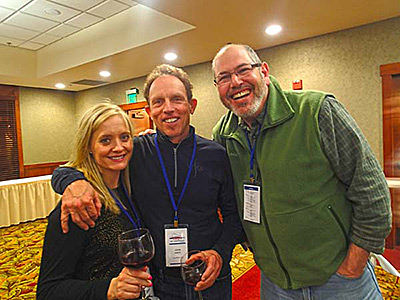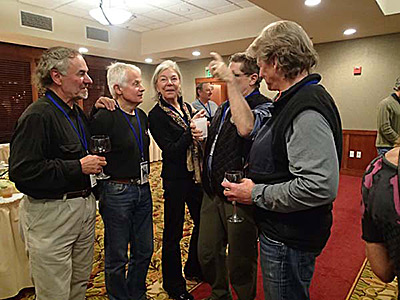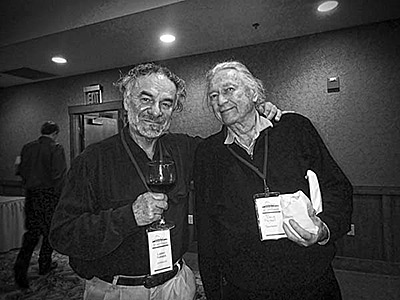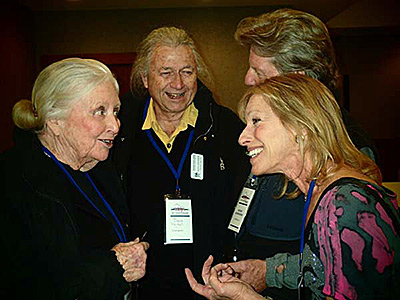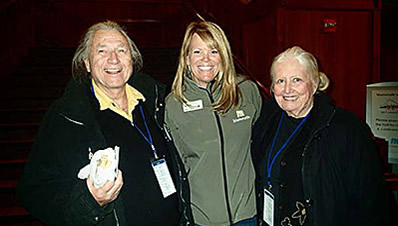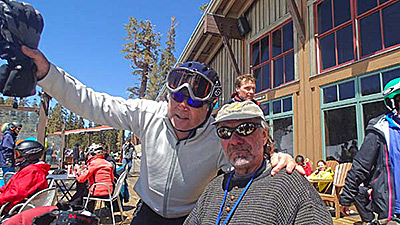 NASJA 50th MEMORIES
The memories of this trip will always reside sweet in my soul: Eating lunch and skiing with Peter Hines in divine sunshine. Chatting with my friend Doug Pfeiffer, the father of freestyle skiing, and reminiscing about his hometown of Quebec City where we had been together seven years ago. Our final gala evening when dressed to the max, we took the gondola to McCoy Station for food, drink, an unforgettable sunset, awards, camaraderie. The ever accommodating, extraordinary skier and Mammoth public relations guru, Joani Lynch, whose positive attitude reminds me of my late friend Andrea Mead Lawrence, America's first alpine skier to win two Olympic gold medals (the '52 Oslo Games) Like Joani, was a resident of Mammoth Lakes. Naval Academy grad friend and Vietnam fighter pilot veteran—and former NASJA national President-- John Naye with his new family. Skiing with 70-plus year old Roy Rodriquez (another former NASJA Pres.) like darts down Mammoth's face. Wonderful visits with our webmaster and co-highonadventure owner Steve (and his wife Lynn) who is the new President of the Society of American Travel Writers. Tasting a plethora of beers at the Mammoth Brewing Company-the highest brewery on the West Coast-with brew names like IPA 395, Epic and Real McCoy. Catching the last light on the Sierras—like Ansel Adams did in the nearby Range of Light Range, named after him—from our friend's condo. Seeing Bob Cox—our former NASJA Pres. and journalist extraordinaire—who has been fighting a courageous and valiant battle against dreadful cancer. Always wondering what fellow skier Curtis Fong's wardrobe would be for the day. Visiting with ski/boarding friends throughout the US and Canada, and talking shop with them. Such memories.
Leaving Mammoth and the surrounding area is like leaving an old friend, knowing that there will be time in between, but also knowing you'll be back to see each other again. Knowing also, there will be other areas to explore nearby for the first time.
Www.MammothMountain.com www.bishopvisitor.com www.MammothBrewing.com