At corner 13 (called 50-50), we were pulling 4 plus G forces and nearing 80 MPH. Briefly, a thought entered my mind as we were sideways, 'Holy sh_t, I hope that this ends soon as I may soil my pants!'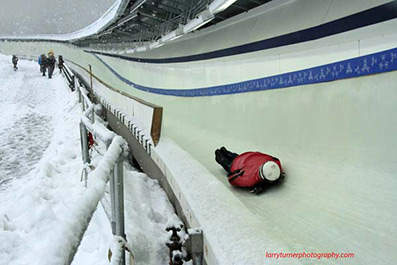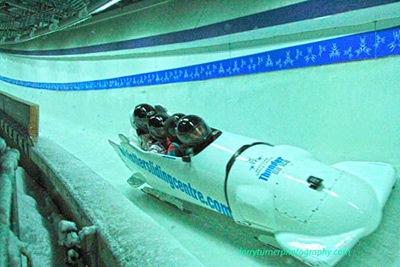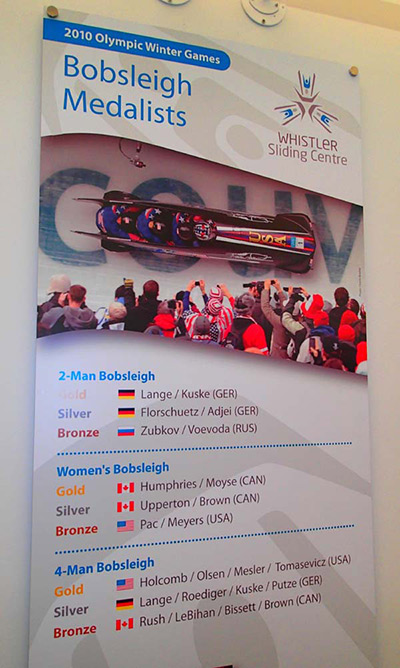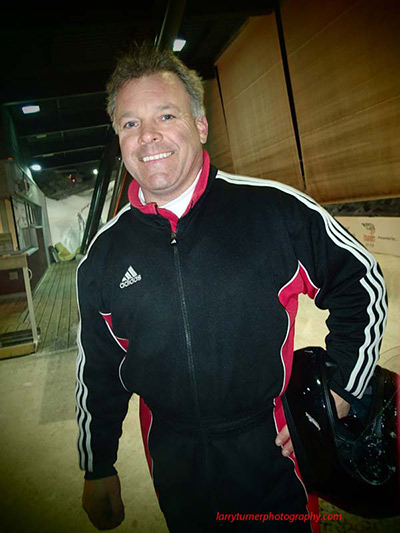 Confessions of my introduction to the bobsleigh world, running the world's fastest course (albeit, reduced in half lengthwise for the general public; www.whistlerslidingcentre.com, site of the sliding events for the 2010 Vancouver Winter Olympics), nearly equaling the fastest times of the recently completed 2014 Sochi Winter Olympics.! And I was seated directly behind Pat Brown (who has just returned from the Sochi Games as a bobsled judge), the coach of the 1988 Jamaican Bobsleigh Team featured in the movie Cool Runnings.  Brown also coached the US Women's Bobsleigh Team and the South Korean and Greek teams at different Winter Olympics.

My recent bobsled ride with driver Pat Brown, famous coach of the Jamaican Bobsled
Team, featured in the movie Cool Runnings. John Candy played Pat's character.
This was the biggest less than one minute rush that I've experienced my entire life!
Our team was the fastest of all the general public teams for the month. Yahoo!
The late John Candy portrayed Brown. After the run Brown said, "The movie wasn't exact to the facts but it did create a larger world audience for this extraordinary sport." Briefly after my 'Holy' thought, we crossed the finish line in a flash. The attendant at the end of the run belted out, "You're the gold medalists.!" Our 40.38 seconds was the fastest time of seven four-man teams that evening and the fastest time of the week for all general public teams.  My traveling partner John Paulsen exclaimed, "Wow! Let's do it again! That's the most exhilarating experience that I've ever had!"
Yahoo! A perfect ending to an adrenalin filled week plus at Whistler, BC, Canada skiing, bobsledding (next time we hope to try the skeleton and luge) and zip-lining along with some major r&r at the spa and other places, including our Worldmark digs The Cascade. 
ZIPLINING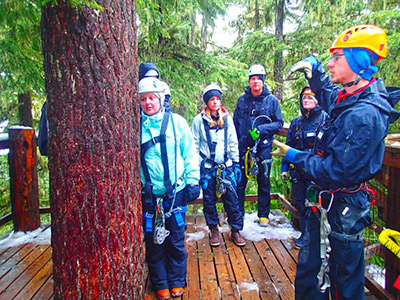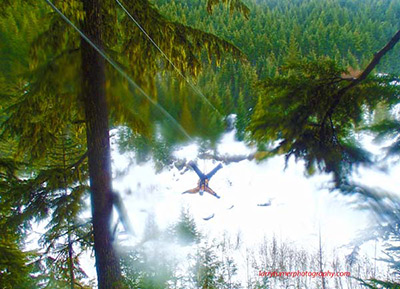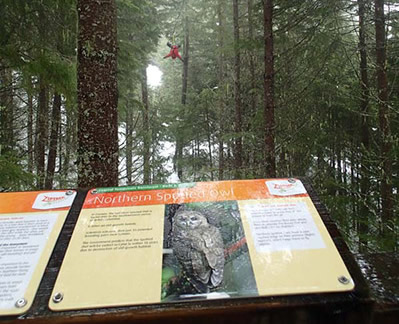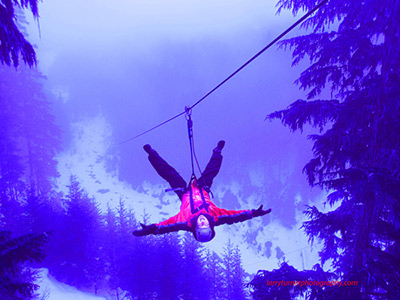 Earlier in the day, we ziplined (www.ziptrek.com) with a group of several other tourists, taking Ziptrek Ecotours' Bear Tour, five ziplines with four treetop bridges that zip over snow-laden Fitzsimmons Creek with stunning views of the old growth forest and this lovely watershed. John did the entire five ziplines upside down, like a kid let free to roam in a candy store. I did four upside down. Like the bobsled, but not nearly as fast, it is an exhilarating and unforgettable experience...and the Ziptrek guides have a treasure trough filled with eco knowledge which they share at each departure station. These pioneers of ziplining give year-round tours so check them out and give them a go when visiting this remarkable alpine landscape. At $89 for youth or seniors and $109 for adults, it's well worth the thrill and knowledge.
WHISTLER/BLACKCOMB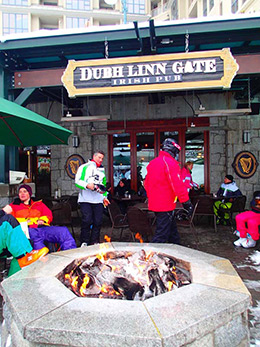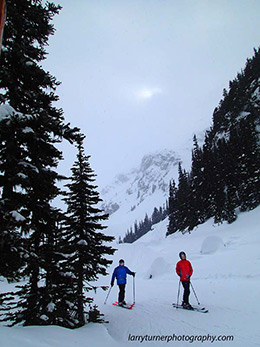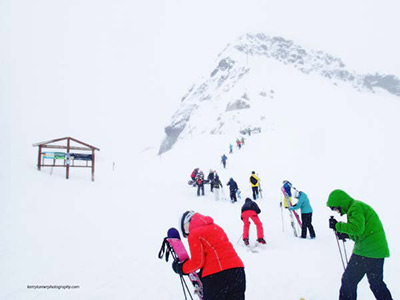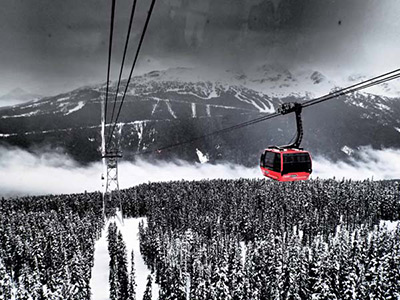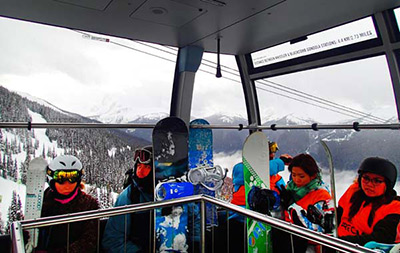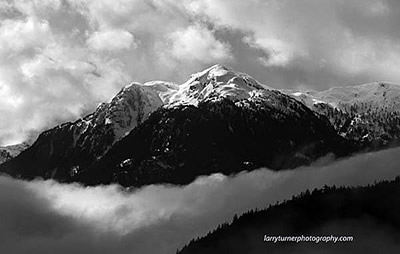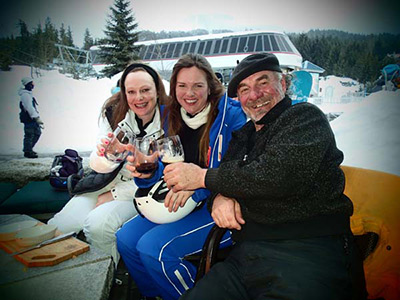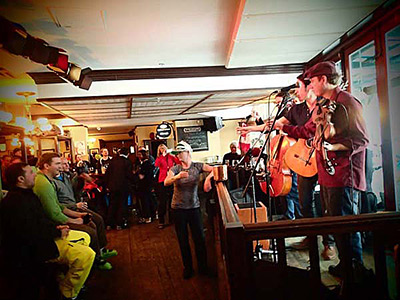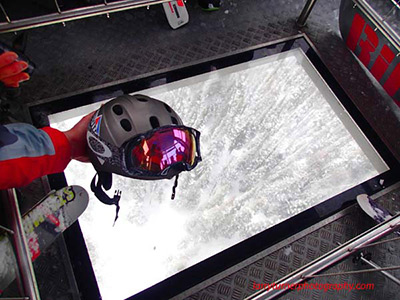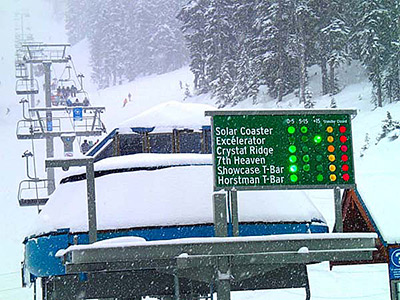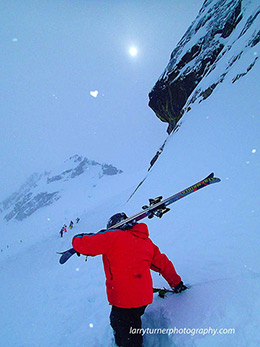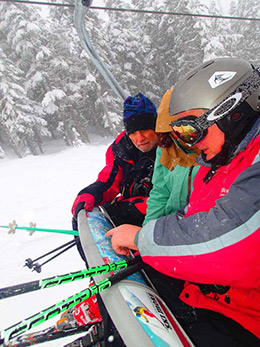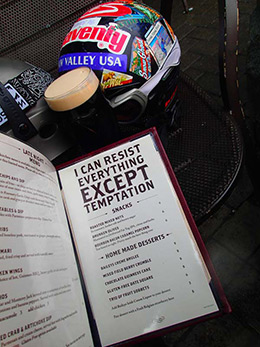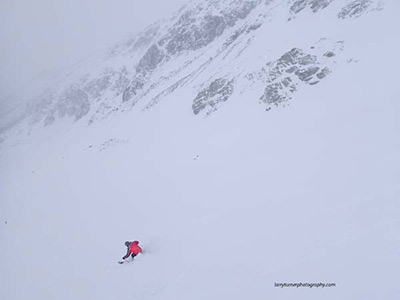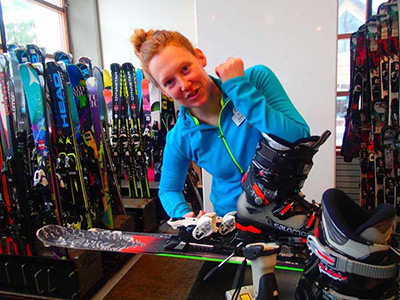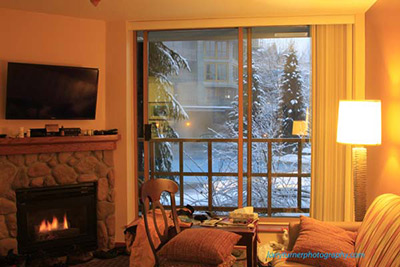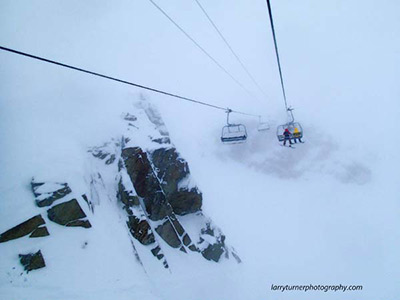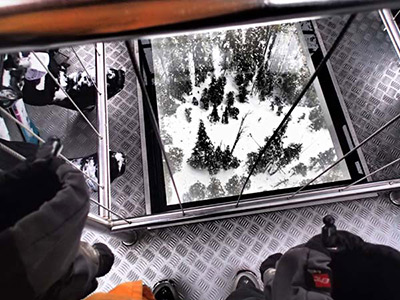 This is one of the premiere ski/boarding/snowsport mountains (two mountains separate, yet connected)) in the world and the site of the 2010 Winter Olympic Game skiing and sliding events. Skiing was the main reason for our journey and we had the pleasure and challenge of five days in all kinds of conditions, from the best to the worst. An abundance of late winter/early spring snow came during our stay. We skied both Blackcomb and Whistler Mountain, which are tied together by the world's highest and longest free span gondola, including one with a see through bottom (I had the pleasure of three crossings on it!).  Both mountains are accessed by gondolas and lifts from Whistler Village.
During our second day out, we were greeted with two feet of fresh dry powder at Blackcomb's 7th Heaven. Yippee! As John said, "If this is the only run that I get, my day is complete."  We had several runs carving fresh, gleeful tracks, the first skier tracks of the day by anyone on Angel's Dust and Hughes Heaven.  I had to laugh because I photographed John making fresh lines with my camera's underwater setting...a setting which I had used many times while snorkeling in Hawaii last year. By day's end we were so pooped out that it was hard to lift a pint of Guinness at the Dubb Linn Gate Irish Pub at the base of the Blackcomb Excalibur Gondola! We overcame that thought and had a second round! With happy faces, we walked back through picturesque Whistler Village to our condo with snow falling and promising more.
The following day, we made our way to Blackcomb's famous Glacier Bowl which includes a gondola ride, the Glacier Express Chair, the Showcase T-Bar, then a trek by foot to the entrance of ski heaven.  Visibility was iffy but we had freshies and we had deep ski pleasure.  On the run-out, with a bit of speed, I did a face plant...my first of the season. We went back for seconds though, without regret. The following day was a rest and spa day, thankfully.
SCANDINAVE SPA
A week skiing/snowsporting Whitsler requires at least one day off. The mountain is immense with so much terrain that you will ski yourself toward exhaustion...so plan a break. After a leisurely sleep in morning and a late breakfast, we made our way to the Scandinave Spa (www.scandinavespa.com). Let the muscle, bone and everything else relaxation begin! This spa is the quietest that I've ever attended...and they remind you of that with appropriate signage. My spa itinerary was simple: sauna, cold pool, hot pool (104 degrees) and steam room. Repeat,  then time in the solarium (bring a book to read, if you wish) where muscles and cares melt away like autumn leaves. A couple of more repeats, then you're done and ready to attack the slopes the following day! The Spa offers a variety of massage options, too.
MUST THINGS TO DO AT WHISTLER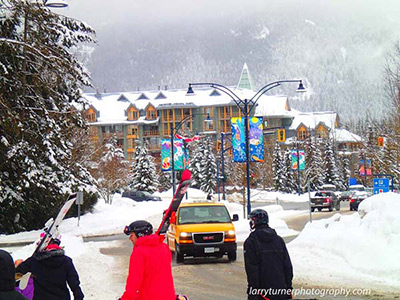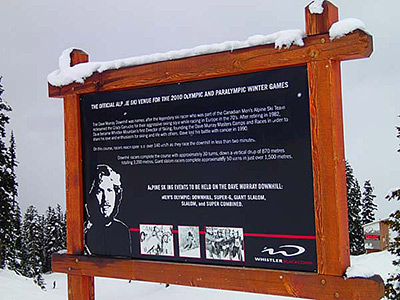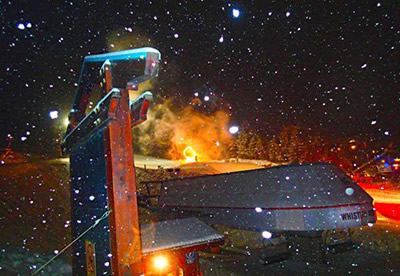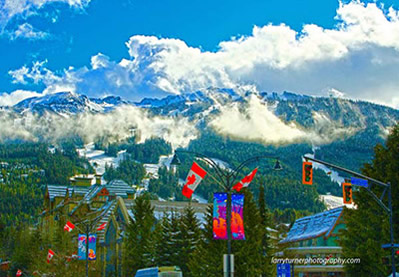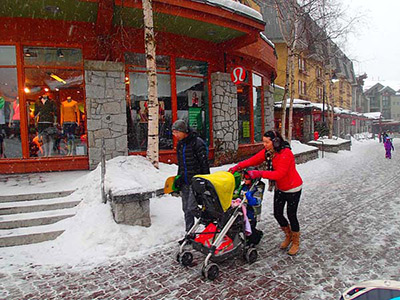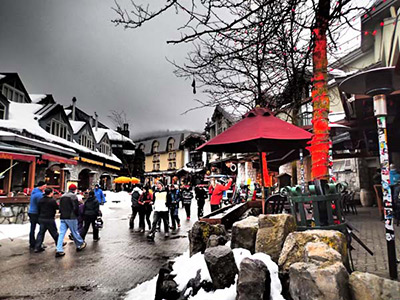 In addition to the offerings which I've already written about, here are a few more suggestions when visiting Whistler/Blackcomb: attend the Fire and Ice Show on Sunday ( http://www.whistlerblackcomb.com/events-and-activities/winter-activities/fire-and-ice-show.aspx) where you'll witness boarders and skiers jumping through a ring of fire with an assortment of aerial tricks, stroll through Whistler Village and the Marketplace where you'll find all kinds of shops and pleasure offerings, ski Whistler's Dave Murray Downhill Run (this is where the 2010 Olympic alpine ski events took place), ice skate at the Medals Pavilion, check out the outdoor offerings of www.canadianwilderness.com (which includes snowmobiling, snowshoeing, dog-sledding, and fondue evenings by snowmobile and snowcat), take a horse drawn sleigh ride (www.blackcombsleighrides.com) and if you are a thrill seeker, take a 160 foot bungee jump (www.whistlerbungee.com).
The Spring days are getting longer and Whistler is calling. Go for it!