Groomer makes it's way along the ski slope at Sun Peaks resort. Photo by Jayson Ryland/Sun Peaks
Women ski differently. And, yes, they learn differently.
Sure, there's always the she-jock who runs with the boys. The rest of us...not so much.
I'll never forget my first women's clinic. It came not long after a ski class where I was one of two women among half a dozen men. We hit a ridge and everyone froze.
Laurie White skis with one of her clients in the Ski Sisters program at Sun Peaks Resort, BC, Canada. Photo by Louise Christie for Ski Sisters.

"Are you wimps? Are you weenies?" the (yes, male) instructor shouted. "I'm gonna get this great snow and you won't get anything if you don't hurry."

Whereupon the guys dived into it. And us two women? We were still immobile with fear.

Fast forward a few weeks later to Whistler and a women's clinic. It was icy and we had to come around a high ridge. Yes, we all stopped dead in our tracks.

"Yvette," I've watched you ski all day," the (yes, female) instructor said to me. "I know you have the skill to do this. Just follow and do what I do."

And I did. Along with all the other shaking women behind me.
So it comes as no surprise that the focus of Laurie White's Ski Sisters program at Sun Peaks Resort is building confidence.
"I would see these women, mostly around age 50, and they weren't smiling. Their husbands had run out of patience and headed for the black (expert) runs. Their kids left them in the dust. And they were stuck on the green (beginner) runs."
Laurie remembers this kind of situation personally, all too well. She didn't even start skiing seriously until her early '40s, so she knows what it's like to be a novice skier as an adult.
"I understand mature women...how their bodies work and what they need," she explained.
And so, we set off to remake the skiing of this mature woman (meaning me).
It's important to find your balance on the slope," she said while demonstrating. "Once your are balanced over the mountain, you can adjust to the pitch and I can take you into anything."

I shook my head, not quite sure how to achieve this.

"Everyone has a milking stool behind them. You need to make like you're going to sit on that stool."

It meant I was supposed to bend my knees. I'd heard that so many times before. But the visualization of the stool helped.

We worked our way through what other instructors have called early weight transfer...shifting weight to the downhill ski even before the turn starts. But more important, being patient and riding the turn through while keeping that bent knee stance.

Yeah, I'm queen of the zigzag survival turn.

But suddenly, I had more control.

Skier and snowboarder coming through the powder at Sun Peaks resort. Photo by Adam Stein/Sun Peaks
"I start on the green runs and work this slowly," Laurie said. "These women say, 'I always ski greens. I can't even ski a blue'."
"But I take them on ever more steep runs and at the end of the morning, I point to a sign and say, 'You just skied a black'."
Ski Sisters is all about having fun," Laurie continued. "It's not about going out and just doing regular lessons. I take the women out and we go at their pace and we teach them how to use all parts of the terrain on the mountain, maybe step out of their comfort zone. And they end up having such a good time.
And, frankly, they finally have a ski story of their own.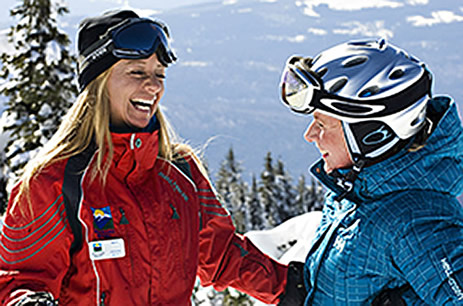 å
Women having fun on the moutnain. Photo by Adam Stein/Sun Peaks
"Women never have a ski story. Their husbands talk about conquering some double black run, the kids talk about skiing bumps but the women...?
"This puts adventure and fun into their skiing and if the conditions are right, I get them into powder or trees quickly."
We took off down a tame blue run and Laurie skied beside me.
"Breathe!" She shouted.
Not quick shallow breaths but deep ones with an exhale that goes to your feet. This gets your weight down to your toes and balances you on the hill. And honestly, it really helps.
The balancing, it turned out, was the crux of it all.
So we graduated from blue runs to Sun Peaks' milder blacks. And then, she said, "You are ready."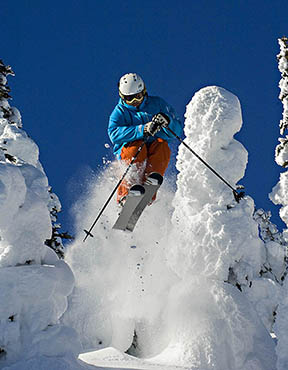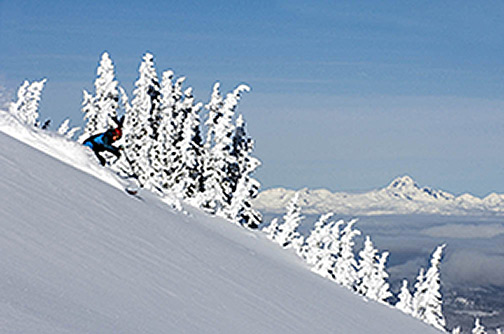 Skiing powder at Sun Peaks. Photos by Adam Stein/Sun Peaks

We headed up Crystal Chair, turned right and up to the start of Headwall, a double black run that looks and feels like, yes, a wall.

And we took off. I bent my knees, I held the turns, I balanced. I even remembered to breathe.

And I did short swing turns down that sucker. No stopping. No zig zagging, just respectable turns down a run that usually scares me silly.

I went back several more times in the next two days, just to make sure it was all real. And it was.

Laurie White, head of Ski Sisters. Photo by Adam Stein/Sun Peaks
INFO
* Sun Peaks Resort's ski season runs November to April. There are 3,678 skiable acres with 124 trails, 11 lifts and a vertical drop of 2,894 feet spanning three mountains. This makes Sun Peaks the second largest ski area in British Columbia after Whistler and third largest in all Canada.
* Non-ski activities include dogsled tours, snow shoeing, snowmobiling, rides in the snowcat groomers after the lifts close, tubing and ice skating.
* Of special note are the night activities which include: * A once-a-month full moon nordic ski, three miles to a cabin for live music, chili and fondue. * Sun Peaks' signature weekly torchlight fondue where people take the lift up to the on-slope lodge, then after dinner, ski down by headlamp.
* A weekly, easy, half mile snowshoe campfire tour through forest trails for S'mores or for hot dogs and S'mores.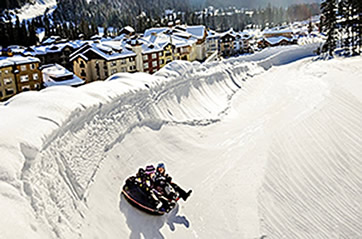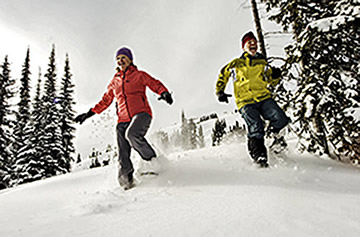 Tube Time with the village in the background and snowshoeing. Photos by Adam Stein/Sun Peaks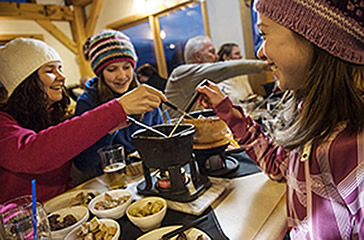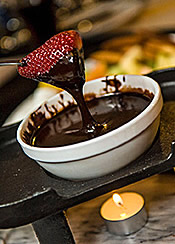 Sun Peak's signature event ... fondue dinner accompanied by live music
at the mid-mountain Sunburst Lodge,
followed by a guided descent down the lit slopes of 5 Mile run.
Photos by Adam Stein/Sun Peaks

CONTACTS
Sun Peaks Resort: www.sunpeaksresort.com
Ski Sisters: contact Sun Peaks Snow School at www.skisunpeaksresort.com