One of our favorite activities while riding trains is meeting interesting people.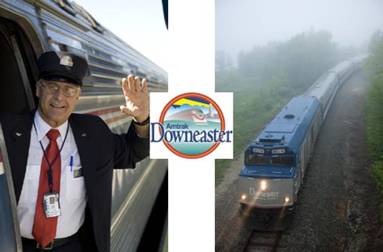 Photos courtesy of Amtrak
Dinner in the Diner provides a unique opportunity to meet and chat with travelers from other walks of life and other countries. You'll often be seated in a booth for four, and getting acquainted is as painless as introducing yourself and asking, "Where are you folks headed?"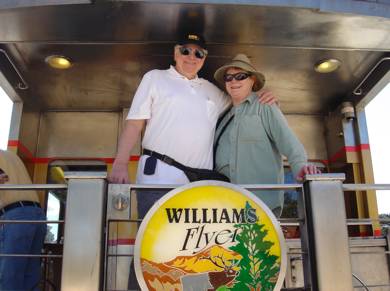 Authors Ted and Sylvia Blishak who you'll often meet on trains in the US and Canada.
It's rare to be seated with incompatible companions, but if that happens, we'll tell you how to deal with that later.
Here are some of our experiences.
As the Coast Starlight headed north from Klamath Falls, an Australian couple sat across from us, and presented us with an educational treatise on the reasons why we Americans drive on the "wrong side" of the road.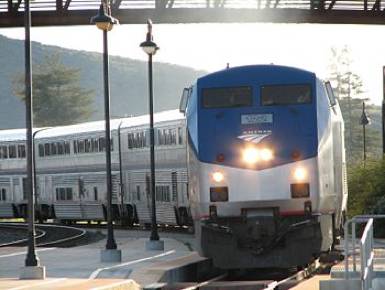 "Your train engineers sit on the right side of the cab, as do Australian and other Commonwealth country's automobile drivers, because most people are right-handed. Early American cars had right-hand drive. But Henry Ford, faced with the cost of buying a patent from another manufacturer, decided it would be cheaper to tool his assembly line for left-hand drive."
This was the Aussie couples first experience with traveling by sleeping car in the US. "How should we pay for breakfast?", he wondered.
"Meals are included in your ticket price," Ted answered, "but not gratuities".
"These onboard workers all have jobs, don't they?" he replied, and then asserted, "We don't tip in Australia."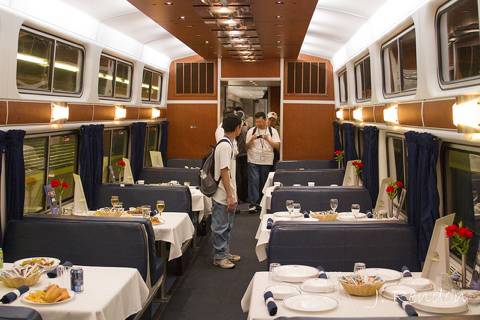 Continuing on to Portland, a Canadian on the way home to Vancouver revealed, during lunch; that like many travelers, he thought the US and Canadian governments should step in to upgrade the poorly-maintained North American railroad tracks, expand passenger rail routes, and build trains that are faster and more comfortable.
Changing trains in Portland, we boarded the Empire Builder.
At lunchtime, we met a couple from North Dakota who are dry wheat farmers. When we asked them to explain, they replied, "We keep half of our farm planted with drought-resistant wheat and keep alternate strips fallow; alternating every year. We can eliminate a lot of runoff and evaporation by renewing a mulch covering after each rain storm, so the soil retains moisture. That way, we utilize two years of accumulated moisture for a single crop while keeping the alternate strips fallow the following year, so the soil gets a rest, and we avoid the need for irrigation."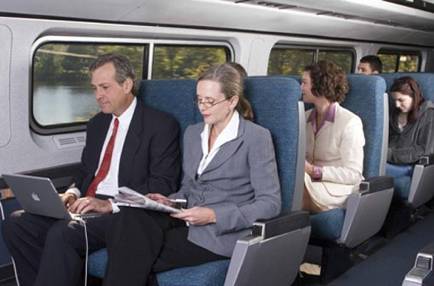 By the next morning the train begin rolling along the edge of the mighty Mississippi where trees were just beginning to glow with autumn yellow.
We were seated at lunch with an alarming-looking man with unkempt longish hair and scraggly teeth. He turned out to be an intelligent and well-spoken Alaskan salmon fisherman who told us about sea boundary disputes among fishermen and the differences between wild-caught and salmon farmed inland. "Farmed salmon have smaller tails and pale flesh, which is often dyed before it's sold to look more appetizing," he said. "But from a distribution standpoint the farms are closer to consumers than Alaska is."
In business class on the Pennsylvanian, we sat across the aisle from a 24-year-old woman who had her entire earlobe, her nose, lip, and tongue pierced and adorned with silver jewelry. This was our first conversation with a pierced and tattooed person. She explained, "Whenever I travel I like to get something pierced as a memento. I just had my lip pierced in Johnstown, PA."
A number of more conservative-looking young women stopped by to compliment her and ask about piercing. She displayed a work-in-progress across her back, entitled "Guardian Angels" which was dedicated to her parents.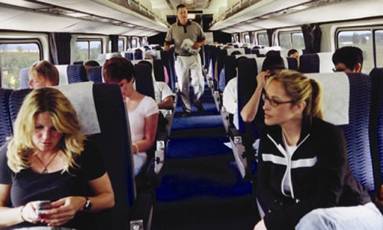 If you are not in a sociable frame of mind, you can have a special request added to your reservation for meals to be delivered to your seat. If you have a bedroom, you can pre-arrange room service, or request it before a particular meal.
Now here are some ways you can escape from undesirable table companions (a rare, but uncomfortable happening.) For example, at a lounge car snack table, a gentleman sat down as we were finishing breakfast.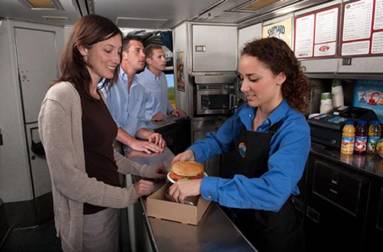 "Which political party do you belong to?" he asked. Unprepared for such personal questions, we told him. He then began, "I don't know if you listen to (naming a very controversial and politically incorrect individual). A lot of people don't agree, but I think he has some very sound ideas."
"We were just finishing," Ted said, and we went back to our seats.
In another case, we were seated with a person who had a bad cold, and went to find a waiter to explain that our health was at risk.
Should you encounter an undesirable dining companion who doesn't display such an obvious reason to move, and if there are other seats available in the dining car, you might approach the waiter diplomatically rather than explaining that the troublesome individual has bad breath. Just say, as you hand the waiter a tip, that you'd prefer to sit on the shady side (or the sunny side) of the train. If no other tables are empty, ask the waiter if you can be reserved for a later sitting.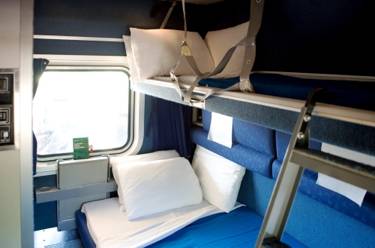 If you are in a bedroom, it is possible, even after you have given your order, to ask that your meals be delivered to your room. Sylvia did this once when stricken with a sudden sneezing allergy attack.
The dining car staff will package your meal, then have your car attendant provide room service.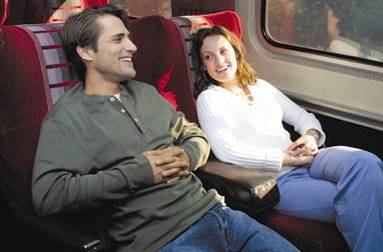 Passengers in coach class might depart the dining car in favor of the lounge car's cafe for a lighter meal.
While meals in the dining car are complimentary if you have booked a bedroom on Amtrak or VIA Rail Canada, your hard-working dining car waitress will hope for a gratuity. And she's motivated. If she treats you right and keeps you happy, she deserves her tip.