As owners of a travel agency, we plan very detailed, customized train trips for our customers.
Now it was our turn to plan a vacation for ourselves. Planning as we go is too much like work, so we prefer to have everything scheduled well ahead of time. Ted confirmed our own rail/drive October vacation to the National Parks of Utah and Colorado far ahead in April, using all of the tools at his disposal. Streets & Trips to plan our driving route, Excel spreadsheets for budgeting and to keep our dates of travel in order, and of course the Internet for collecting information about parks, highways, and hotels. Amtrak, rental cars, and hotels were booked on our Agency's Global Distribution System computer. Stops for dining, sightseeing, and overnight were noted on maps colorfully highlighted with marking pens. We'd had months to anticipate this perfectly planned trip to new and scenic destinations, and we wanted nothing left to chance.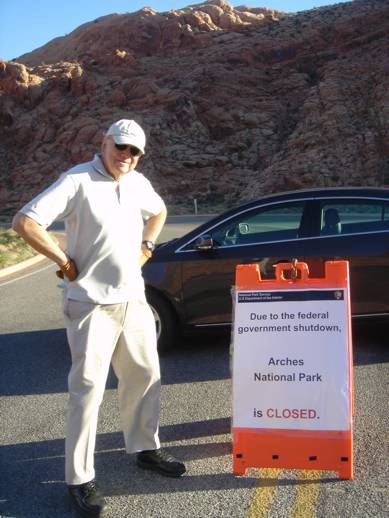 Three days before departure, Ted learned quite accidentally while double-checking our reservations, that Amtrak's California Zephyr could not deliver us to our first destination, Grand Junction, Colorado. Due to severe storm related flooding near Denver, the train was being diverted via the northern Overland Route through Wyoming to reach Denver and points beyond to Chicago. All of the intermediate stops on its usual route between Salt Lake City and Denver were not being served for the duration. Amtrak offered us an alternative, a six-hour bus ride -- after our train's 3:05 am arrival in Salt Lake City -- to Grand Junction. Not the best way to begin a vacation, we decided.
Ted quickly changed from Plan A to Plan B, having us disembark Amtrak in Salt Lake City. Hotel, Amtrak, and rental car confirmations were quickly redone.
Amtrak's Coast Starlight departed Klamath Falls at 10:00 pm on a mild Autumn night. We were welcomed aboard by our car sleeping car attendant who presented us with sparkling wine. We changed trains in Sacramento.
On arrival in Salt Lake City the morning of October 2 (at 3:06am) we rested for a few hours at the Marriott Springhill Suites. Picking up a USA Today outside our hallway door, we were jolted by the front page headline, "Government shut down, national parks closed, visitors barred from entry, campers evicted by rangers."
So, once again Ted's accurately detailed itinerary was due for a change, Plan C this time. "I plan trips all day at work. I didn't want to be doing it on my vacation!" he grumbled. After an attack of discouragement, irritation, and near despair, we recovered from our shock and looked at our mapped out route again. The first stop on our itinerary was Arches National Park. Adjacent to it is Dead Horse Point State Park. Perhaps the latter might have similar scenery. Looking at maps and on line photos, our enthusiasm was restored as we found that this and many other state parks offered spectacular scenery as well as opportunities for hiking.
So Plan C was put into place with some rerouting and changes to several hotel reservations. Going on-line with both of our laptops, we rerouted our tour to bypass national parks and monuments and concentrate on our newly discovered destinations. Fortunately, our driving route was hardly modified, and very few overnight accommodations needed to be changed.
At Hertz Salt City International Airport, we picked up our rental Buick Lacrosse, and soon were on our way south on I-15, taking advantage of the HOV (High Occupancy Vehicle) lane to Spanish Fork. As residents of Klamath County, Oregon, we rarely have an opportunity to drive on the Interstate Highway System, and were astounded at the speed of the traffic flow. Speed limit, 75mph, cruising speed 80mph, passed by vehicles traveling at who knows what velocity, fifty eight miles through the urban sprawl between Salt Lake City and Spanish Fork, the cold, forbidding-looking Wasatch Mountains towering over us to the east.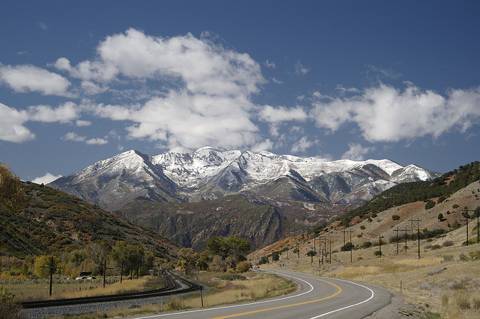 The Lacrosse did its best to smooth out the crumbling road surface, but it was a relief to exit I-15 onto US 6 across Soldier Summit, 7477 feet, and down to Helper, Utah. After a stop of coffee with Indian Fry Bread at the Balance Rock Eatery & Pub, we finally reached the open country of US 191 east of the Wasatch Range.
The Holiday Inn Express in Moab, Utah's front desk was prepared for national park bound travelers such as ourselves, as well as the passengers of two tour busses -- one with travelers from Japan. We were handed power bars, bottles of water, and a list of alternate sightseeing options in the Moab area, which lures visitors from around the world to visit both Arches National Park and Canyonlands National Park.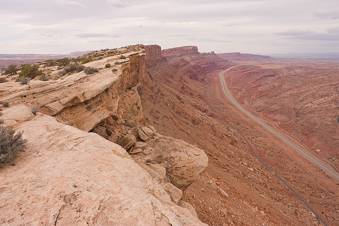 Moab, once a major uranium mining town, is now about national parks, mountain biking, and rock climbing. The Moab Fault, running north and south, rises right across the ancient Colorado River, resulting in the river carving deep canyons through the red rock at the north edge of town.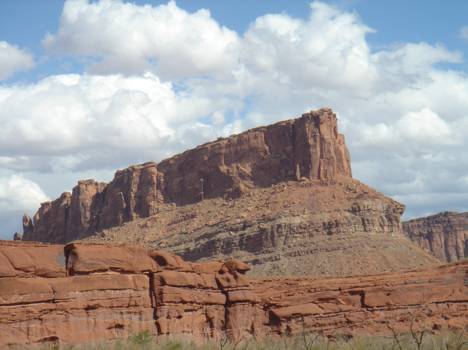 Downstream, towards the mine and mill at Potash, Utah, the cliffs are a magnet for rock climbers. This spectacular reef was photographed just across the Colorado River from the Intrepid Potash Mill.
Upstream, a parallel bike trail is under construction, with the goal of keeping the swarms of cyclists off the narrow, curving, Route 128, the Dinosaur Diamond Prehistoric Highway.
The next morning heading north towards Dead Horse Point State Park, we stop at the entrance to Arches National Park. The closed sign has Ted mildly disappointed.

Fortunately not all the awesome scenery is inside the national parks. On the way to Dead Horse Point State Park are huge rock formations such as these two, named after the Civil War ironclads, the Merrimac and the Monitor.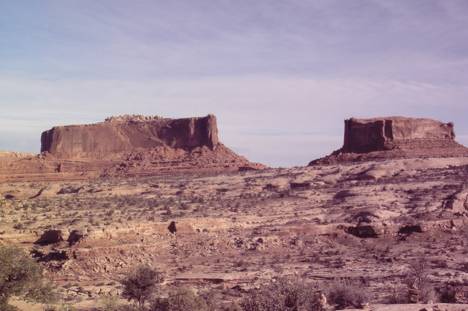 One of the familiar tour busses pulls in behind us. A gray-haired Japanese gentleman is sporting a new cowboy hat.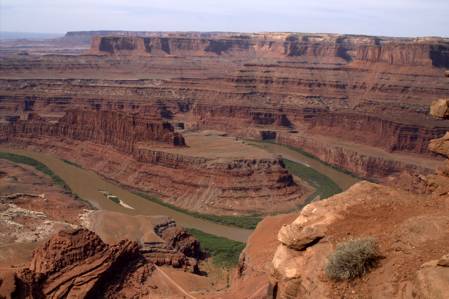 The Colorado River downstream from Moab, as viewed from Dead Horse Point, is a peninsula on a high bluff overlooking Canyonlands National Park. The ground and rocks were once sand dunes which petrified over the millennia. Called Navajo Sandstone, this red color is produced by traces of iron.

The next morning departing southeast on US 191, we observe a sudden change of landscape from desert to green agriculture, then desert rock formations with pale stripes. There are ridges like small mountain ranges, each a different color and shape. These wide open spaces are huge beyond description. Cameras can't begin to capture the vastness.

Wilson's Arch, unaffected by the National Park Service shutdown, is available for all to see, rising a few hundred feet above highway 191 south of Moab. Travelers pull over for a look; some people hike up to the base of it.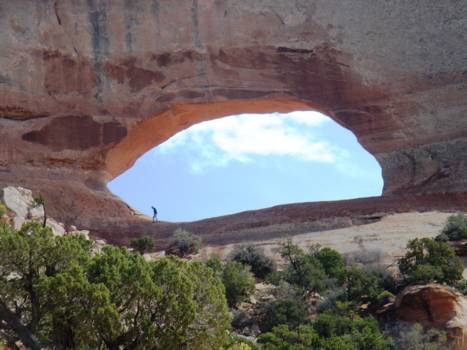 | | | |
| --- | --- | --- |
| | At the turnoff for the Needles Overlook into Canyonlands NP, a large flatbed truck with "Interstate Barricade" painted on the side arrives to close the road. But wait a minute, the Needles Overlook is not even inside the park borders. Can they prevent us from even looking into Canyonlands NP from outside? This is going too far. | |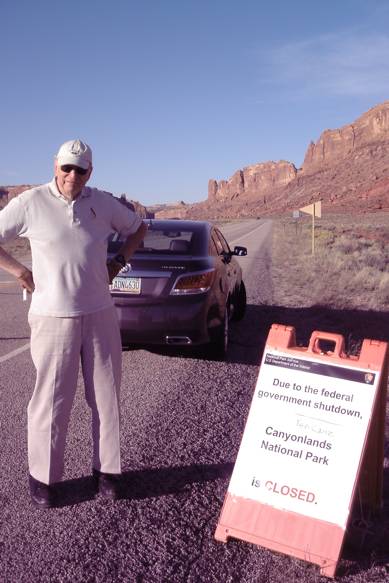 We drive in anyway, and after a sudden blizzard clears, are rewarded with this view of the Needles District of Canyonlands NP.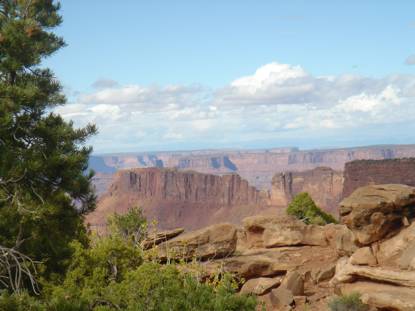 | | | |
| --- | --- | --- |
| | After an overnight stop at the Inn of the Canyons in Monticello, Utah, we head south towards Goosenecks State Park. Tour busses are bringing passengers here rather than to the nearby closed National Bridges National monument. The San Juan River – far below the bluffs visitors stand upon -- looks like a tiny stream. It is on such a large scale that one can't see how many gooseneck curves there are! We learn later that it's possible to join a raft trip through here -- not an enterprise for the claustrophobic. There are bare, straight rock walls coming out of the water and just a few beaches. This view is looking down 1000 feet into the San Juan River Canyon: | |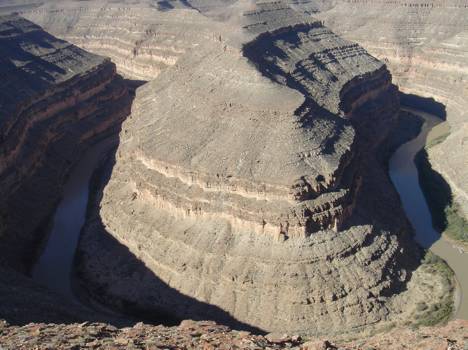 The trip has turned into an opportunity to observe little-known scenes we would never have learned about if things were normal. We hear German, Japanese, and Eastern European accents, and meet some hikers from South Africa. All seem to have recovered from the disappointment of the closed parks, though still puzzled by the behavior of our federal government..
Next are the Abadjo Mountains, solid sandstone forms resembling castle walls and fortresses. At least 75 miles in each direction, all the way to the horizon, is empty country without a sign of civilization. The scope of these open spaces boggles the mind, even of people like us from sparsely populated Oregon.
Going through a corner of the Ute Mountain Indian Reservation in New Mexico, we are outsiders given the invisible treatment by the locals. In a minimart on the reservation, the clerk says "Thanks, Boss" as Ted pays. This is said without any obvious negative attitude, as if it were the Ute equivalent of "Sir".
As we approach the desert flats of Cortez, we see the raised hands and fingers of the bizarre formations in Monument Valley, and the iconic Shiprock (below) in the distance.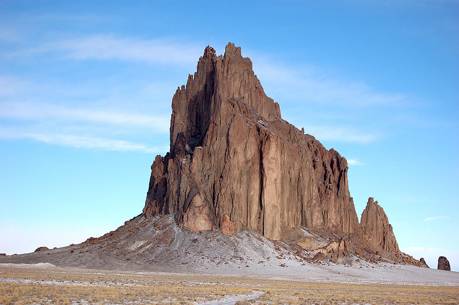 No paved roads get even close to fantastic Shiprock. Geologists explain that it is the innards of an ancient volcano that formed and exploded underground.(The Navajo Nation at one time offered rides over it in hot-air balloons.) Dikes of black lava spread like the spokes of a wheel around the formation. Curiosity has us taking an unplanned side trip to Ship Rock, AZ, the town, but we find ourselves in an enormous traffic jam as we enter the city limits, learning later that this is the weekend of the Northern Navajo Nation Fair.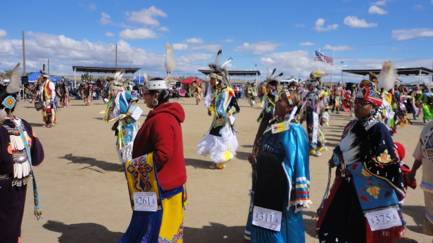 After extricating ourselves from the inbound bumper to bumper traffic, we head north to our planned stopover in Cortez, CO, at a very upscale Holiday Inn Express.
Beyond Cortez, the scenery changes to yellow aspens, juniper, and ponderosa-covered hills. We stop at little settlement called Dolores for gas and attempt to find brochures of Colorado State Parks. The people we encounter seem grouchy. Not only is nearby Mesa Verde NP closed, but the land beyond is all National Forest. The already-fragile economy in this area is now hit with layoffs from all these federal enterprises, as well as a threat to local tourism.
On the way to Lizard Head Pass, rising 10,222 feet, we stop at 9,000 feet to enjoy a picnic next to an empty flagpole at a deserted log cabin, the Department of Agriculture's San Juan National Forest Service office. The "Fire Danger Today" sign below is followed by a blank space.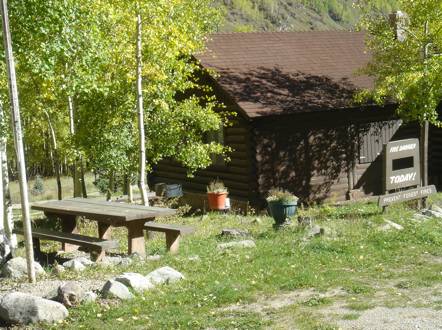 Rocky Mountain peaks seem to pop out, without warning, from behind the trees. They are snow-covered and, according to the map, over 14, 000 feet high. Locals call them "Fourteeners".
Ouray, (pronounced Urey) a former mining town, is now a quaint village of vintage storefronts. Our stop, the St Elmo Hotel, has a For Sale sign in the window.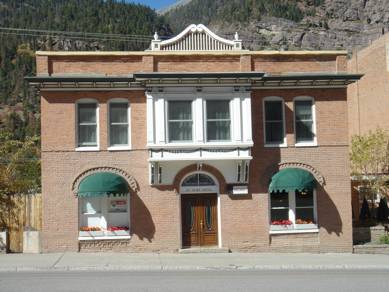 Inside are perfectly chosen ancient furnishings, lamps, and pictures on walls. A menu for the Bon Ton restaurant downstairs is provided in the room, and as soon as I see "Bread pudding from my old Southern recopies with chocolate chips, port-marinated raisins, served with hard sauce and a scoop of ice cream" I elect to skip the $37 filet mignon dinner, order a small house salad as the entree, and relish bread pudding for dessert. Served piping hot, it is a dish I'll never forget.
Monday morning we are seated, enjoying high mountain views, with other guests for breakfast. On this, the 6th day of the government shutdown, everyone seems to have put personal politics aside, disgusted with a faceless entity known as "The Federal Government". Our breakfast companions are from nearby Ship Rock and Grand Junction.
None of the buildings here in Ouray look out of place, even newer ones are designed to architecturally blend in. There is no evidence of chain stores, all seem to be locally owned. Charming. But with a former liquor store closed and for sale, the economy is a problem here.
The City of Ouray maintains a park close by called Box Canyon. Difficult to describe and nearly impossible to photograph, it is an ancient fault caused when one side of the granite bedrock lifted and the other sunk. The crack between is perhaps 25 feet wide and 150 feet long. Accessible by metal grill stairs, there is a roaring spring-fed torrent that drops 285 feet through a tubular stone structure which opens just before water plunges into a dark pool. Ted had visited on his cross country trip in 1959, and has always wanted to take me there.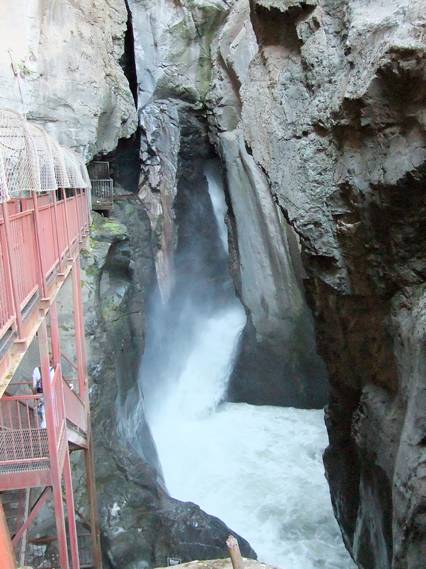 Here at Ouray we learn about Mouse Chocolates, a must stop. Many round hand-crafted candy and "scrap cookies" are on display. The latter are flavored with sweep bits and scraps that go unused during the candy-making process -- nothing is wasted. Thus there will be differing flavors of candy in the cookies each day. We enjoyed strong Sumatran coffee and the unforgettable cookies with a view of the surrounding canyon walls. A German tourist couple are lost in their iPhones, apparently unaware of their immediate surroundings.
Heading towards Grand Junction, CO, we stop in Montrose, where I pickup a Denver Post to check on the shutdown news. After the vending machine swallows my 50 cents, I notice the date, October 1, nearly a week old. Leaving town we pass a sign to Grand Mesa. From here, it appears to be a low lying distant mound.

As we drive closer, we are amazed by the enormity. We begin to climb, and climb, and climb. Grand Mesa rises 5,000 feet above the surrounding valley, has a maximum elevation of 11,333 feet, and is the largest flat-topped mountain in the entire world with an area of about 500 square miles.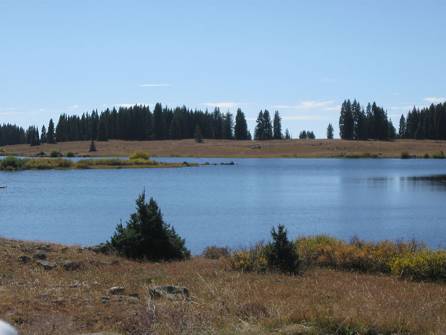 Over 300 lakes, including many reservoirs created for drinking and irrigation water, are scattered along the top of the formation.
We overnight at the Marriott Residence Inn at Grand Junction Airport. The inn serves an extravagant evening snack, more than adequate for dinner. After breakfast next morning Ted drives over to the Hertz Rental Counter at the Grand Junction Airport to try to find out how to downshift this La Crosse and turn its radio and CD player on. The thick owners manual has not proved fruitful in explaining these little details. The pleasant young man working there gives Ted a hands-on lesson for the operation of the unique automatic transmission control lever and the convenient infotainment system touch screen (which had refused to respond to our tentative touches), and we were soon on our way to Green River, UT.
Deciding to follow old US 50 instead of I-70, we enjoy a smooth and nearly deserted highway from out of the past. The State of Colorado maintains their portion, but crossing over the border into Utah found us on a series of potholes connected by broken pavement. With relief we return to I-70, finding it to be fast and virtually deserted.
Stopping at Thomson Springs, UT, where our map promised a city park, we found a small patch of green grass, neatly signed Thompson Springs City Park, surrounded by a collection of seemingly deserted and unmaintained (but picturesque) structures.
Overnight in Green River, UT, at the aptly named River Terrace Inn, our deck is overlooking the meandering Green River. Grassy tree lined banks create an oasis in this otherwise bleak desert country. After sunset a rare astronomical conjunction of the moon, Venus, Mercury, and Saturn lit up the night sky.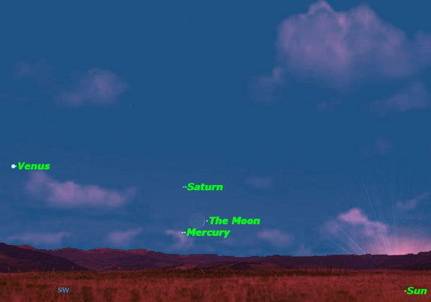 Sadly, the Green River, UT, economy appears to be alarmingly blighted, with many derelict motels and only one open filling station. But the River Terrace Inn is quite nice and the $95.36 rate includes a full, freshly prepared breakfast.
As we leave Canyonlands country heading back to Salt Lake City, we muse that if Amtrak were operating, we would be enjoying a fine dinner in the dining car and a restful night in a bedroom before awakening on the approach to Reno. But we do the best we can under changing circumstances and return our rental to the convenient Hertz location at the Marriott Downtown Salt Lake City, check in to an elegant room, enjoy room service, and later call a taxi to transfer us to the Amtrak Station for the westbound California Zephyr. The taxi lets us off at the Salt Lake City Intermodal Hub, which includes stations for Amtrak, Greyhound, Front Runner commuter trains, and TRAX light rail service. Very European. (TRAX even serves the Salt Lake City International Airport.)
After the train's 1130pm departure, we settle into our large lower berth and drift off to sleep as we begin our non-stop run to Elko, NV, 263 miles in four hours 33 minutes, 58 mph start to stop. (Not too bad for an American train.) We arrive into Sacramento ahead of our scheduled time of 213pm, and since the Zephyr does not pick up passengers here, it leaves ahead of schedule. We board a taxi for the short ride to the Residence Inn, where we relax and dine before our midnight departure on the Coast Starlight to Klamath Falls.
The Sacramento Amtrak Station, a classic 1926 reminder of the glory days of passenger trains in America, is in the process of architectural restoration.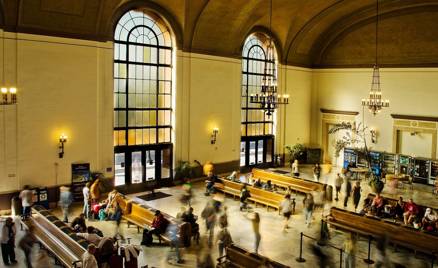 The station interior (pictured here at an earlier time) is now full of scaffolding to facilitate the work being undertaken, causing the passenger waiting space to be visibly claustrophobic. We elected to wait on a bench outside, next to the Sacramento Regional Transit District (RT) platform.
The Union Pacific Railroad, for reasons unknown, recently moved its tracks approximately 1000 feet beyond the station building, creating a long trek for luggage carrying passengers. Amtrak has responded by offering an electric cart service to carry their passengers from station to trainside.
As we settle into our freshly made Superliner Sleeper bed, Ted anticipates our 2014 National Parks vacation.
"It's already planned in detail," he muses. "All I'll have to do is put in the 2014 dates -- assuming the government is operating at that time, of course."