A riveting diary of a decidedly non-hiker who hikes up her skirts and hikes the entire Pacific Crest Trail with her husband. Porter is in an emotional and professional crisis transitioning from his position as a no-longer highly revered hospice physician who decides to take on this new physical crisis to wrestle with his own personal emotional crisis.The author is also in a personal crisis, but assumes the role of a supplicant to suffer her husband's seemingly narcissistic demands and possible depression. In her own words, she goes on this adventure to save her marriage. The title of the book is telling—I Promise Not to Suffer. She does nothing BUT suffer, both physically and emotionally.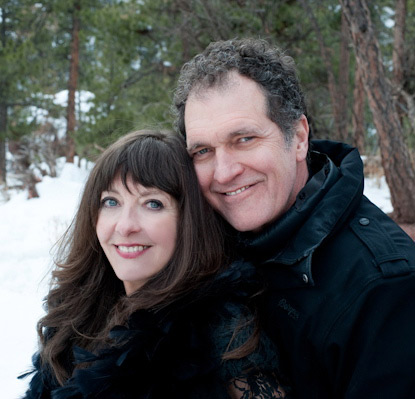 Gail and Porter Storey

Gail Storey is not a hiker. This brave woman did what many women would not even dream of. She gave up her work as a writer/editor, sold her comfortable home of many years, abandoned her girly skirts, pumps, makeup and even long hair to begin the life-changing adventure of her lifetime. All to save what was most important in that life—her marriage. After her husband, Porter quit his job as the medical director of the premier nonprofit hospice in Houston, he announced he was going to hike the 2,663 mile Pacific Crest Trail from Mexico to Canada. "And while he was doing that, I'd be doing what?" Long story short, she refuses to let him go alone.
Once Gail sells their home and they move into a loft, Porter takes charge of designing and carefully calculating and constructing lightweight gear and planning dried food stores that they will need while on what is planned to be a six month journey. He also affectionately names all their gear: for the tarps, the sleeping bags—Blueberry, Vireo, Charcoal, Moonglow.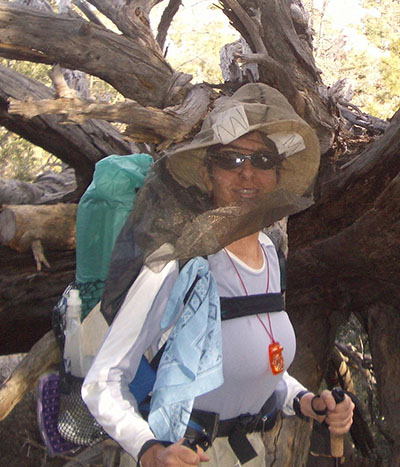 Gail in her bug hat

Gail's approach to this account of pending torture is delightful and frank. As Porter is making the lightweight gear for the trek, he tests Gail's back pack on her. "Where do my boobs go? Doesn't anyone make a back pack in a 32 D?" Lovingly, Porter readjusts his design and solves her problem with a kind of cross-my-heart version of a newly designed back pack. What a guy!
They begin at the Mexican border with Porter's lightweight gear and well-laid plans for friends to ship them supplies to towns along the way. Their adventures are sometimes sublime, often hairy and occasionally downright terrifying. You have to read it to believe it.
In the first chapters, I saw Porter as self-centered and narcissistic. He was going through his own extreme professional and personal crisis and Gail, rather than cast him off to do this trek on his own, made a choice to go through it with him, whatever it took. (BTW, I would've done the same.) There's nothing like total physical, emotional, mental, spiritual threats and challenges to forge iron-clad bonds between people. Love is tough, and these two people drew closer and so love, adore, trust and respect each other.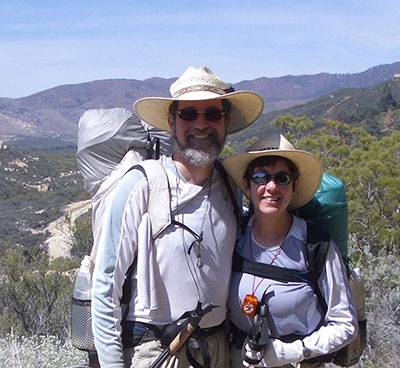 Porter and Gail on the trail in southern California

After much wrangling with herself, Gail finally left the PCT after three months and flew back to Houston from Fresno where she recouped. Her body had just plain worn out. Meanwhile, her mother was dying of cancer and Gail felt the need to be at her side.
Porter soldiered on. Over the next months, she would fly in to meet him "for conjugal visits" while he was still on the trail and to bring him supplies. He did achieve the whole 2,663 miles and they went back to Houston where this book was written from their journaled experiences.
These two people went on a vision quest, a spirit quest and it seems they found themselves together—and together, and were generous enough to share it with the rest of us. I continue to digest this adventure. It lingers with me.
If you love lists, as I do, check her appendices which provide a detailed account of what they took and how they went about their planning. If you're of a mind to brave the PCT, check these carefully. But it's for armchair hikers as well as those of you out there who are seriously planning a PCT adventure. One of their "go-to" sources was "Yogi's PCT Handbook" by Jackie McDonnell, but this is also a "go-to" for more than just what to take and how to plan. It's a heartfelt spiritual guide to conquering the Pacific Crest Trail.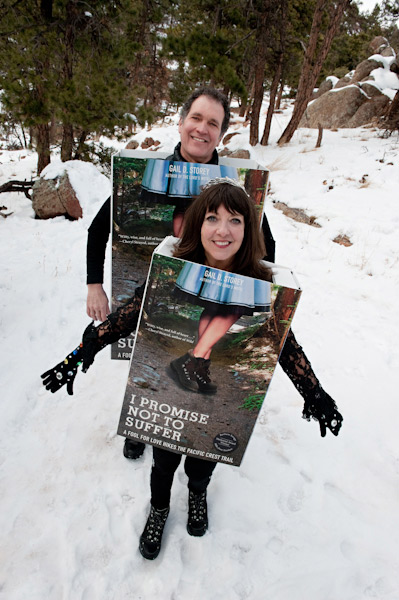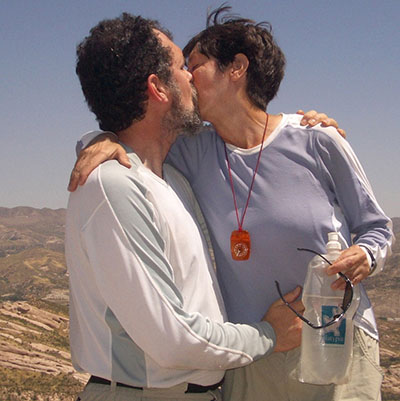 | | | | | |
| --- | --- | --- | --- | --- |
| | A little publicity never hurts | | Things between them started out well | |
Thus begins the remarkable saga that at times seems to alienate the two, certainly taxes their endurance and patience but eventually brings them together closer than ever. Storey weaves an extremely personal diary-like tale of the detailed preparations, the excruciating experiences, the physical difficulties, the camaraderie and kindness of other PCT hikers, the frustrations, angers, dangers not to mention the exquisite "sex under the tarp" these two experienced together. It is a riveting story and an agonizing journey for both. The outcome proves sweet and life-affirming.