Travel in early fall is a great option for avoiding crowds in France while enjoying warm and sunny days. My wife and I wanted to lounge and swim for a week on the Riviera (Côte d'Azur) and then drive north through the Rhone Valley, stopping for several days in interesting towns, before ending our three-week sojourn in France's Alsace wine region. It didn't take long to settle on an itinerary that proved to be ideal: Saint-Tropez, Arles, Beaune, and Colmar. The driving time totaled less than twenty hours. Open-leg flights to and from France via Nice and Strasbourg provided convenient access from the United States. The one-way car rental was available at no additional charge.
Saint-Tropez
Sitting on a beautiful curved peninsula overlooking its graceful bay north to the mainland, Saint-Tropez is a vacationer's delight. The village's narrow lanes wind up from Old Port to an ancient castle and fortress with inviting views over the town and sea. The port has a surprising blend of open-bowed boats of resident fisherman and yachts of the rich and famous who prize Saint-Tropez' charm.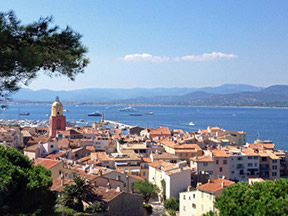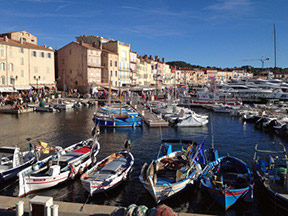 Saint-Tropez Village, Bay, and Port
We stayed in the old town section in an apartment that provided easy access to the port and beaches to the east. The waters here in late September were warm for swimming, with uncrowded shores. A pedestrian coastal pathway extends eastward from the port, providing access to many isolated coves perfect for a dip in the sea.
Bicycle rentals were readily available, and we discovered a safe pleasant biking lane that circled clockwise around Saint Tropez bay from the village to Sainte-Maxime. Port Grimaud provided a convenient seaside stop for lunch during our cycle tour.
A drive southwest on route D-559 provided access to a serenely gorgeous section of coastline with beaches and villages between Cavalaire-sur-Mer and Le Lavandou. We took a day to explore, finding two inviting beaches hidden by steep forested hillsides descending to the sea.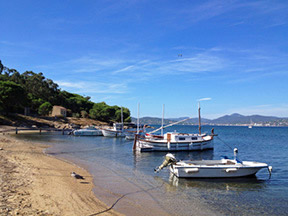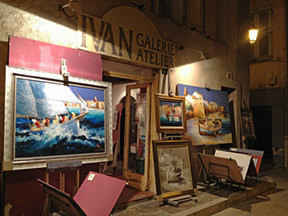 Coastline Beach and Art Gallery of Saint Tropez
On another day we took a one hour boat tour of the bay, encountering many sloops sailing in the brisk afternoon wind. We stopped at Sainte-Maxime's port, and then glided along the coastline east of Saint-Tropez to view seaside estates such as Brigitte Bardot's and the prior residence of Pointillist painter Paul Signac. On debarking back in Saint-Tropez we availed ourselves of the nearby museum, l'Annonciade, to appreciate its collection of paintings by Signac, Matisse, Seurat, Braque, Bronnard, and Derain. As we later relaxed at a portside café, we agreed that Saint-Tropez had become our favorite Côte d'Azur village.
Arles
Just upriver from the Rhone's delta region sits the fantastic town of Arles with its array of Roman sites, narrow lanes of old homes and apartments, and many medieval churches. We rented an apartment in the ancient quarter, just steps from the Roman Arena. Over 1,900 years old, today it's the site of weekend bullfights. Situated atop Arles' highest hill, the well-maintained structure provides picturesque views of the town and the river.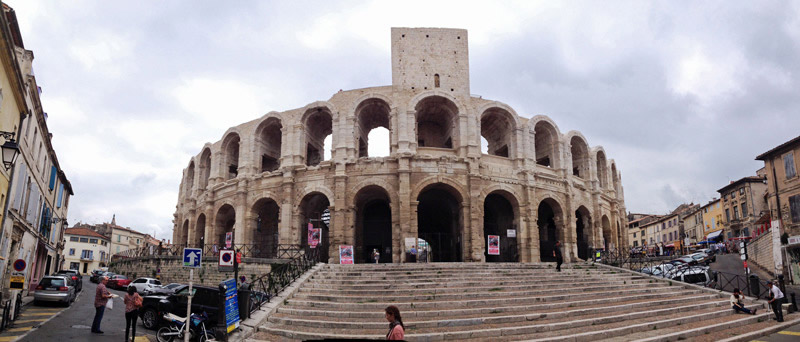 Arles' Roman Arena
After touring the arena we wound our way down rue des Arènes to place du Forum, originally the Roman center of town, now a café-crammed plaza bursting with energy among shady sycamore trees. It was here that Van Gogh hung out in the 1880s and painted Starry Night. This was a great place to soak up the ambiance and enjoy a plaza lunch. The nearby place de la République and St. Trophime Cloisters and Church also merited our visit. We finished our day's explorations with an enthralling visit to the Roman structure underlying the Place du Forum. This site was the ancient city's cryptoporticos. Constructed by Julius Cesar about 40 B.C., these were the administrative, judicial, and economical offices of the ancient city.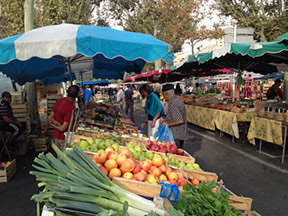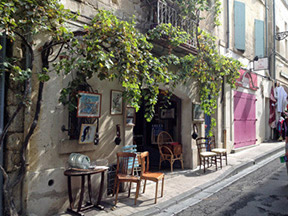 Arles Street Market and Local Shops
On another day we toured the protected wilderness region of the Rhone's delta, the Camargue. Here we found a very rewarding hike on the trails surrounding Capelière, the administrative center and museum for the Natural Reserve. We sighted many birds, frogs, fish, and insects along the marshy rivulets and ponds. At the bank of the large body of water titled Etang de Vaccarès we had the good fortune to watch a flock of grand flamingos feeding in the shallows. Further explorations provided citing of wild horses that inhabit the region, the small white

Camargue horses

. This ancient breed is believed to have existed here for thousands of years. We were also pleased to find a number of Camargue bulls. This wild breed of black, curved-horn cattle is also native to the region. Today
they live semi-wild, tended by mounted herders called gardians.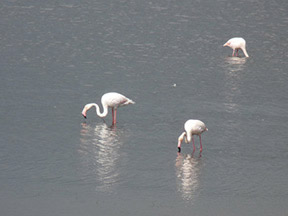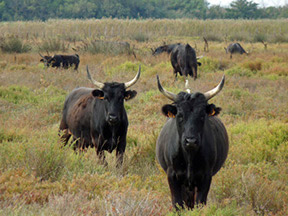 Camargue's Fauna: Giant Flamingos, Bulls, Wild Horse [Photos by Rita Furnanz]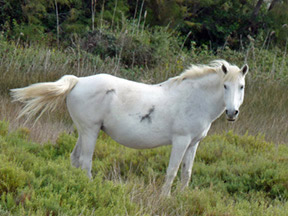 Beaune
Rolling hills of vineyards surround the historic walled city of Beaune, wine capital of Burgundy. The medieval town's heyday was the 15th century when its dukes controlled a vast area stretching to Holland. Today's visitors enjoy Beaune's preserved architecture, ancient wine-tasting cellars and the famed site, Hotel Dieu. This medieval charity hospital was built in 1443 by ruling chancellor Rolin as tribute to his realm after the devastating losses of the Hundred Years' War and the Black Plague.
We rented an apartment in the center of old-town and started a relaxing day of exploration with a visit to Hotel Dieu. Its bland exterior walls enhanced our surprise as we viewed the exquisite main courtyard highlighted by colored roof tiles. The rewarding self-guided tour included visits to historic wards that housed an array of patients from paupers to the rich. Other interesting rooms included the chapel, kitchen, and pharmacy. After a tasty local lunch with a glass of Burgundy, we enjoyed Beaune's array of other sites: a walk along the ramparts; visit to the 12th-century cathedral Collégial Notre-Dame; and a delightful tour of wine cellars and wine-tasting stations at Marché aux Vins. It was a great means to end the day before an excellent dinner at La Ciboulette near the northern town gate.
A vineyard and village tour provided another relaxing and enjoyable day of Burgundy exploration and wine tasting. On the ten-mile circle route we visited the villages of Savigny and Pernand-Vergelesses, surrounded by steep hills of vines. We ended at Aloxe-Corton where we ate our sack lunch on the steps of its church overlooking immaculate vineyards.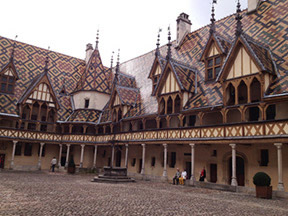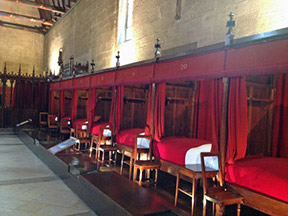 Beaune's Hotel Dieu Courtyard and Ward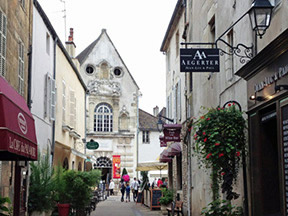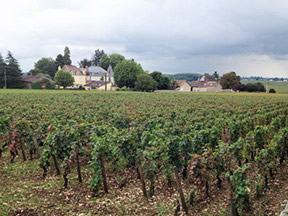 Beaune Street Scene and Nearby Burgundy Vineyard

Colmar
Situated as the capital of Alsace's wine route, Colmar provided the perfect end for our south to north France sojourn. It is one of Europe's most charming cities, known for its well-maintained display of centuries-old French and Germanic heritage. We were fortunate to have found an apartment in the midst of the Little Venice area. Here the canals of the Lauch River are lined with beautiful homes sporting Colmar's unique half-timbered facades and shuttered windows.
Colmar provided a busy and eventful day of explorations. We started with a visit to the Unterlinden Museum with a widely varied collection ranging from painting to winemaking history to the renown Isenheim Altarpiece. This 1515 masterpiece consists of three hinged, interlocked images: the nativity, crucification, and resurrection of Jesus Christ. Other town highlights of our tour included Maison des Tetes, a home decorated with 105 faces, Maison Pfister, a richly decorated merchant's house from 1537, the Dominican Church and Saint Martin Cathedral, the old Customs House, and the Market Hall with its lively stalls of produce, meat, and fish. We ended our day with coffee and aperitifs along a canal in Little Venice, followed by an incredible lamb shank dinner at nearby Le Petit Gourmand, 9 Quai de la Poissonnerie.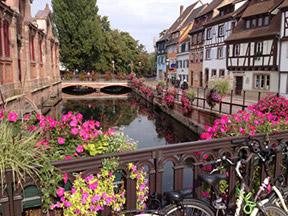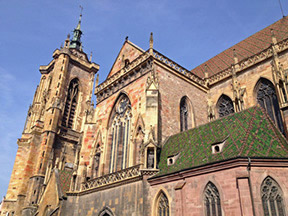 Colmar Canal and Cathedral
On the last day of our trip we drove among vineyards to visit four fantastic Alsatian wine villages, providing excellent opportunity for tasting and purchase of Alsace's world-famous Reisling. The uniquely dry climate (23 inches of annual rainfall) perfectly suits this excellent white wine grape. We started early at the trip's northern extremity in beautiful Riquewihr. We then traveled south to Albert Schweitzer's home village of Kaysersberg, then to Turckheim, and ended at our favorite village, Eguisheim. This almost perfectly round medeival village provided an enchanting self-guided tour of flower-bedecked homes along the ancient wall before heading along picturesque lanes and squares to central Place du Marché. The Alsace region provided a perfect ending to our France sojourn.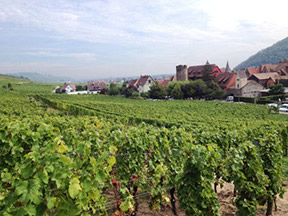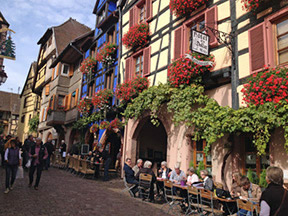 Riquewihr's Reisling Vineyards and Main Lane
References
Travel book and useful Web sites:
-

Rick Steves France

(available at books stores & www.amazon.com, covers all except Saint Tropez)
- Saint Tropez
- Arles
- Camargue
- Beaune
- Colmar
- Alsace Wine