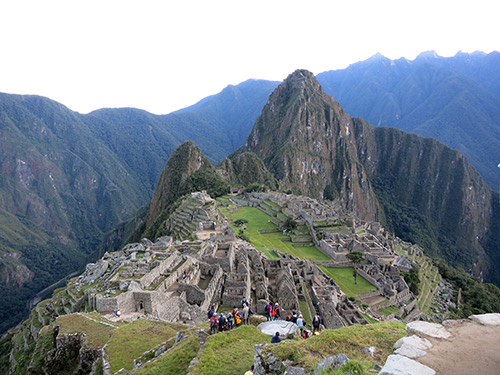 Classic Machu Picchu
A day earlier I'd been dazed and amazed while wandering through the fabled "Lost City of the Incas." Now, from my perch on Huayna Picchu, the knobby-topped peak that towers above Machu Picchu, the ruins took on a different perspective.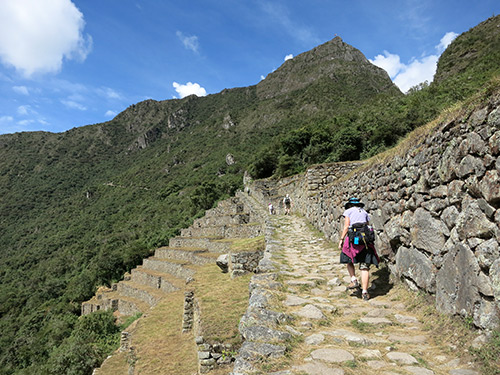 Trail to Sun Gate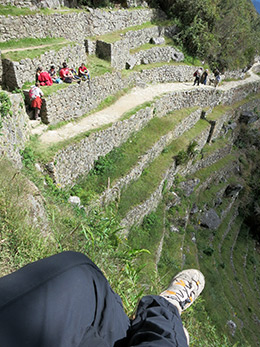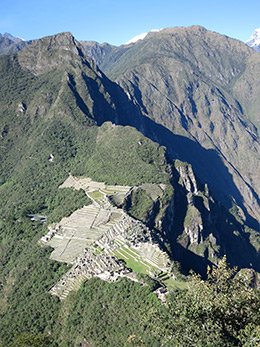 Kicking back at Sun Gat Machu Picchu from atop Huayna Picchu
The previous day our group had arrived early enough to watch the rising sun spray shards of diamond-like rays across the mountains and into the city. Just as sunlight poured over us—as if on cue—a flight of swallows swooped overhead, the sounds of their wings stirring the silence. As the sun nudged higher, its beams mixed with clouds to create an ever-changing kaleidoscope of subtly textured shadows along Machu Picchu's archeological treasures.
Even through I'd never been to Machu Picchu, the sight was familiar, embedded in my visual imagination from seeing the scene in postcards, photos and documentaries.
"Pinch yourselves because you're lucky," Cesar, our guide, instructed. I pinched hard, and jumped. I really was here.
Sparkling Machu Picchu (Lee Juillerat)
Visiting Machu Picchu had been a longtime goal. I'd read about the mysterious 15th Century Inca city that had been forgotten for 400 years until explorer Hiram Bingham was guided to the ruins in 1911. Two other times I planned to visit Peru and Machu Picchu, but both trips fell through. So when a third opportunity surfaced, I jumped on it.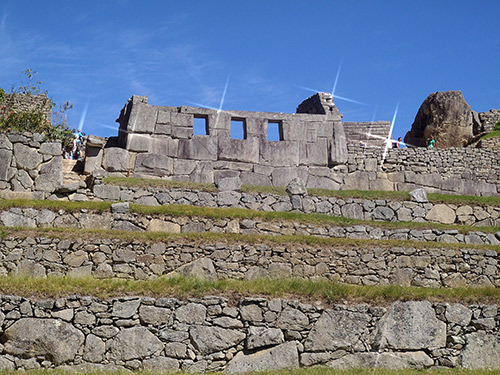 The Three Windows (Lee Juillerat)
Later that first morning, Cesar led us to the Temple of the Sun, Room of the Three Windows, Intihuatana (or hitching post to the sun), Guardhouse, Sacred Rock and other sites. With passion and pride, he explained their significances and, more enchantingly, the often conflicting theories on why Machu Picchu was created and abandoned. For me, focusing was difficult, the details obliterated by an overwhelming sense of wonder.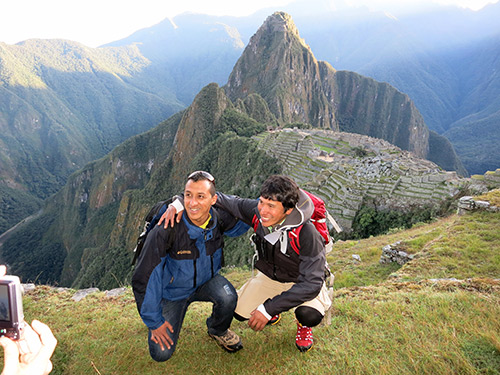 Two guides, Manuel and Cesar
Most Machu Picchu visitors stay three or four hours, then leave. Thanks to planning by our trip organizer, we stayed longer. We had arrived in Aguas Calientes, the touristy-kitschy town a 20-minute bus ride away from Machu Picchu, an evening earlier. The next morning we caught a pre-dawn bus for that first day's visit. That afternoon some of us walked to the Intipunku, the Sun Gate, where the Inca Trail passes through a pair of stone gates. We were stunned by our first views of Machu Picchu.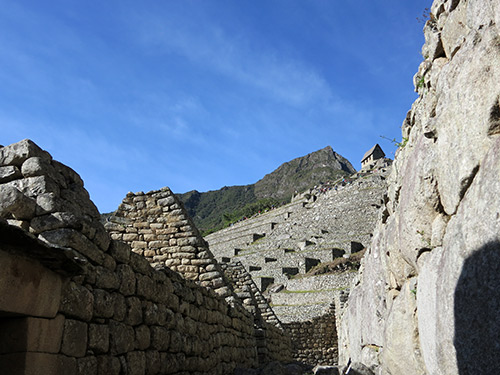 Inside looking out
Delectable dining (All photos below by the author)
Ceviche. Really fresh, delectable ceviche.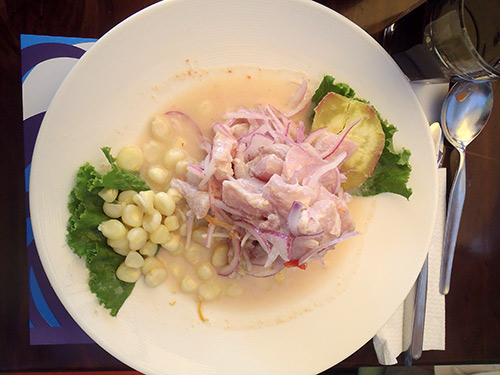 Ceviche, really fresh
Ceviche is a seafood dish typically made from raw fresh fish marinated in citrus juices with spices and seasonings. Many countries claim they originated ceviche, but archeological records point to Peru, where ceviche is celebrated with its own national holiday.
I relish ceviche, so it practically jumped off the menu onto my plate my first night in Peru. Over the next two-plus weeks, with a group of other travelers, ceviche and other dishes that are transforming Peru into a "foodie" culture, filled my plate.
One ceviche came with an unnamed local fish. Another time with sea bass, yet another with trout. Trout also became a theme. Smoked trucha causa, or trout with golden mashed potatoes mixed with a yellow pepper cream and layered with avocado, smoked Andean cheese, caviar and crispy leek julienne. Trucha ahumada, or sheets of smoked trout with goat cheese, Dijon mustard, fresh dill, arugula and fries. I was hooked on all things trout, including Chupe de trucha, a traditional trout soup with Andean cheese, vegetables, eggs and milk.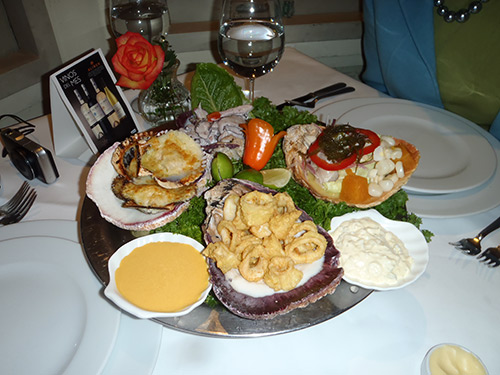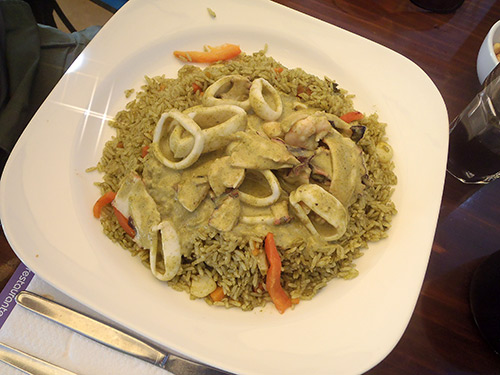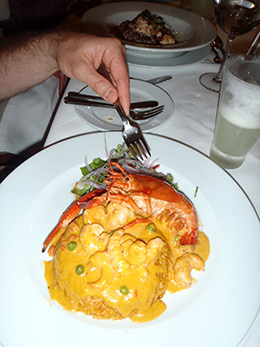 Meals were not only delicious tasting, but visually sumptuous
I learned that alpacas are more than animals with fur that makes cushy soft sweaters, scarves, hats and gloves. Alpaca costera, a sirloin tip alpaca topped with grilled edam cheese, aguaymanto sauce, yellow pepper, brandy, mushroom and more was mild and meaty.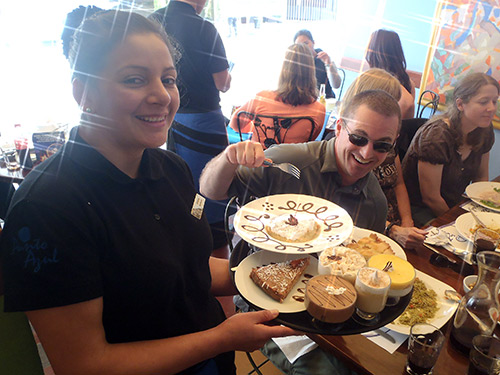 Mmmm ... dessert
But there was more, so much more: Peruvian Thai, a pappardelle al dente in a sauce of coconut milk, red curry, fried vegetables and thin chicken strips flavored with ginger and regional chili. Raviolis de acdhya, which included Swiss chard, giant raviolis, crunchy pecans and cream cheese filling in a light carrot sauce.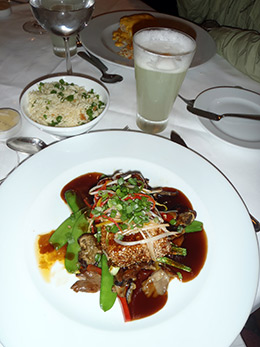 Tuna steak loh, yummmers
At a stylish Lima restaurant on a pier overlooking the Pacific Ocean, my waiter enthusiastically endorsed tuna steak loh, a sweet and sour tuna in a sesame seed crust with Japanese eggplant, oriental vegetables served with parsley and garlic rice. I've thanked him a thousand times since.
Somewhere scribbled on lost notebook pages and the backsides of misplaced slips of paper are notes from other meals, including yet another ceviche. Those pages may be lost forever. If I spilled any of the incredible sauces on those pieces of paper, I probably ate them.
Whether in restaurants, the cafeteria-like setting of a lodge in the Amazon Basin or from soups and rice dishes concocted by guides along the Lars Trek, group members and I were repeatedly satiated with an ever-varying buffet of taste-tempestuous foods.
Well, not every time.
As part of one night's meal, our group shared bites of guinea pigs, or cuy. Guinea pigs, it should be noted, aren't pigs and they aren't from Guinea. They're rodents that originated in the Andes, the mountain range that bisects Peru. Hiram Bingham's journal tells of Father Cobo, a 1600 Jesuit priest. When staying in villages, guinea pigs that ran freely on cabin floors were caught, killed, skewered and barbecued. During our travels, especially in remote areas, guinea pigs were frequently seen scampering about yards and dirt-floor houses. They're probably not just pets.
Our guinea pig samples were small, but even one bite was revolting. I'll stick to the ceviche.
When You Go
My Peru trip was arranged by Margo McCullough, the travel agent for Cruisegirl. She worked with G Adventures in designing the trip details that varied from the usual offerings. She works with individuals and groups in planning custom vacations. For information contact Margo McCullough, Cruisegirl, margostravel.com and www.facebook.com/Cruisegirl.travel .
While several companies offer trips to Peru and Machu Picchu, our trip was handled efficiently and effectively by G Adventures. For more information visit their website at www.gadventures.com. For people heading to Machu Picchu, good reads include "Last Days of the Incas," by Kim MacQuarrie; "Turn Right at Machu Picchu," by Mark Adams; and the classic "Lost City of the Incas," by Hiram Bingham. There are several excellent all-around guidebooks, but I relied on "Fromer's Peru Day by Day," which is filled with maps, ideas on ways to see the sights and encouragement that travelers modify schedules to fit their whims.
About the Author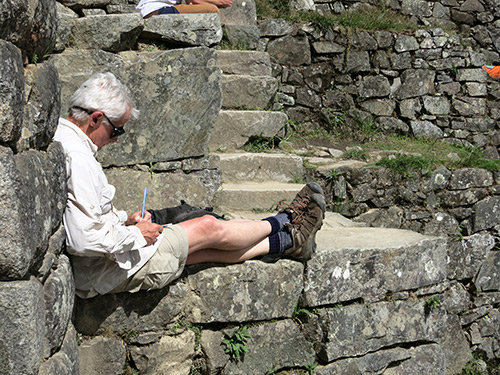 Lee Juillerat works for a daily newspaper in Southern Oregon. He is also a frequent contributor to various magazines and newspapers, including Alaska Airlines in-flight magazines, Northwest Travel and others. He has written or co-authored books about Crater Lake National Park. He can be reached at 337lee337@charter.net.