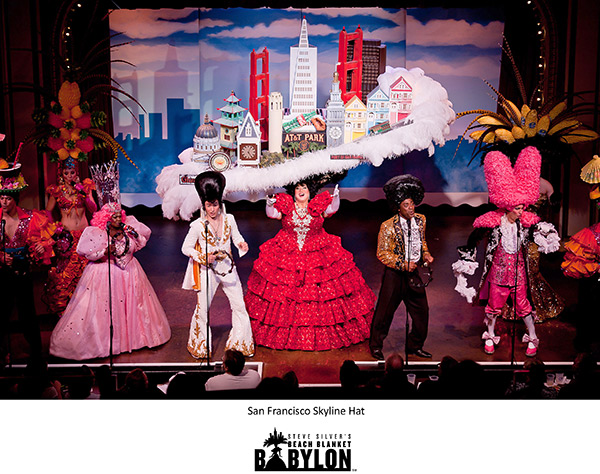 Top tens are trendy, but can we have a top twelve, a top twenty, thirty? San Francisco defies short lists of fabulous places to visit and things to do and food to eat. Tens are just not enough. But here's my short list.
San Francisco opens its Golden Gates for a multitude of enjoyments. There are some attractions and adventures you must (must) experience when you visit San Francisco, even though it's tough to sort out the top tens in this amazing city. Here, in no particular order are the top ten Must-Dos while you're visiting. But only after you've gotten your CityPASS, which we'll call #1.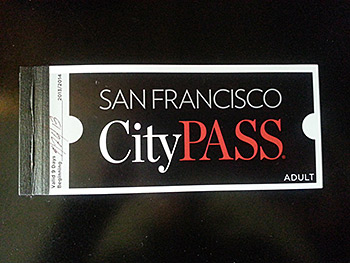 Before you set out to explore the city, get yourself a CityPASS booklet. For up to nine consecutive days, it gets you into and onto most everything worth the SFO experience at a huge discount. Go to www.citypass.com for a substantial savings deal for many SFO venues which are mentioned here as well as bargains at major stores such as Macy's and bloomingdale's. Good for ground transportation on all Muni vehicles including cable cars. You can also buy CityPASS booklets at any of the participating attractions which are noted below as well as at www.costco.ca/San-Francisco-CityPASS. Caution: Do not tear out the tickets from the booklet. Just carry it with you in tact. Consider it your bargain passport to San Francisco.
2. The ExplOratorium on Pier 15 (CityPASS friendly) The ExplOratorium, a visionary hands-on museum of sciences, art and human perception for children of all ages from one to 100, opened in a new and spectacular facility on Pier 15 in April of 2013. With three times the space of its previous home at the vast Palace of Fine Arts, this museum expands to more than 600 exhibits and interactive experiences that will bubble up giggles, oh, my goshes and perceptive awarenesses you never knew you had. You could spend all week here. Give yourselves some time since you'll be leaving wishing you had more.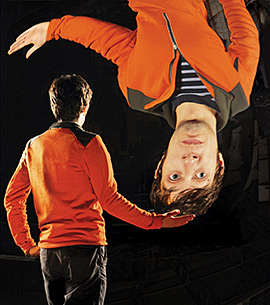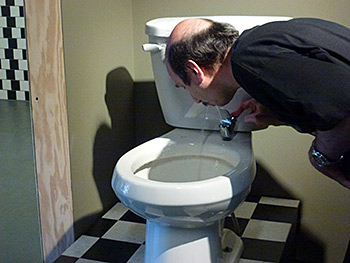 The ExplOratorium IS a museum of human perception, after all...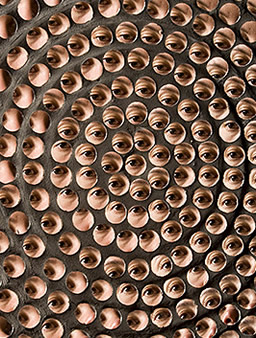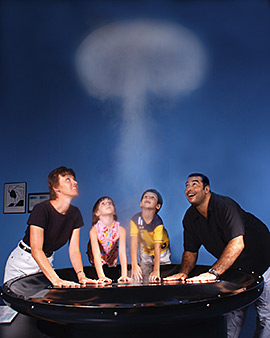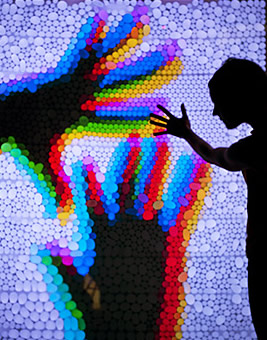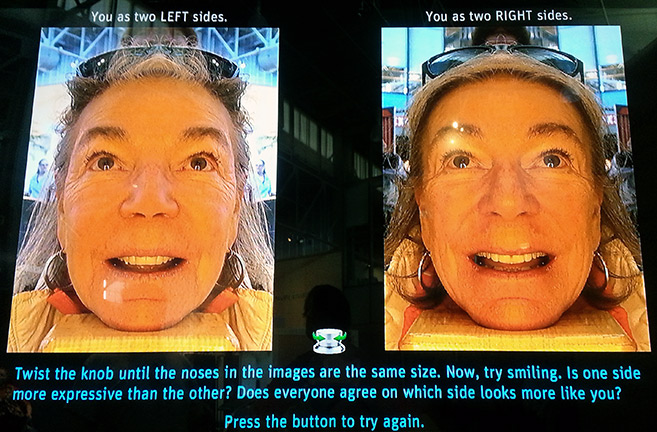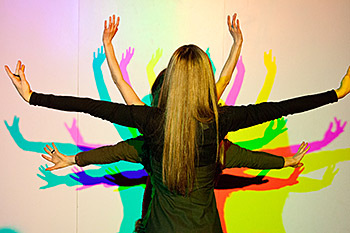 Colored shadows
The Hyatt Hotel San Francisco, on the Embarcadero across from the Ferry Building, has partnered with the the museum for an attractive package for families. http//fishermanswharf.hyatt.com, www.exploratorium.edu. The Hyatt lobby bar is the best place to gather for an easy meal in a stunning surrounding.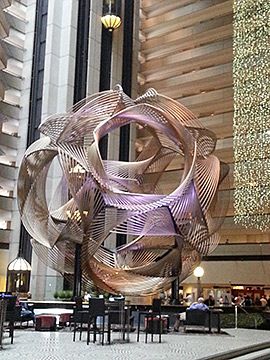 Hyatt Hotel San Francisco Lobby Bar
3. Red and White Fleet How can you visit San Franciso and not get out on its Bay? The Red and White Fleet, in operation since 1892, with its knowledgeable guides (who provide tours in 12 languages) will take you under the Golden Gate Bridge, the Bay Bridge, around Alcatraz, and, in the evening, on a sunset cruise complete with a pass under the Bay Bridge to see and photograph the Bay Bridge Illumination Project. Red and White Tours leave from Pier 43 at the end of Taylor Street. sales@redandwhite.com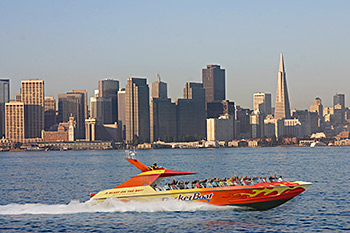 The Rocket Boat docks next to Pier 39
4. Bay Bridge Lights The Bay Bridge Lights light sculpture by Leo Villareal shines from dusk until 2am on the western span of the San Francisco Bay Bridge and viewable from San Francisco and points north, but not by drivers crossing the bridge. The best vista is from the water. (See Red and White Tours above.) The switch was thrown on the undulating LED art installation on March 5, 2013, and is scheduled to continue to dazzle the populace 'til March 2015. But no one can believe that anyone would ever let the city remove this installation. It has become as "iconic" as Coit Tower or the Golden Gate Bridge itself.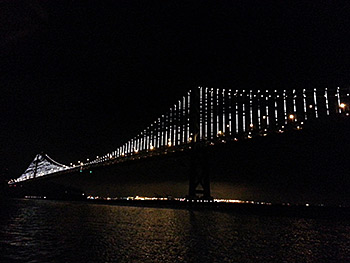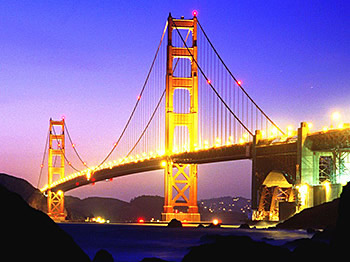 | | | | | |
| --- | --- | --- | --- | --- |
| | | San Francisco-Oakland Bay Bridge | | Golden Gate Bridge |
5. Pier 39 (Many attractions CityPASS friendly) Buckle up and get blown away on a roller coaster ride around San Francisco Bay with the Blue & Gold Fleet in their Rocket Boat ride. Trips leave from Gate 4 at 10:30am. Wear your waterproof jackets. (images) And don't miss the newest addition to the Pier, 7D Experience. Another buckle-up adventure, but this one is virtual where you'll have lasers to interact with the 7-D video presentation of robots, zombies and more. Be forewarned: it's a rather violent ride. Visit the Aquarium of the Bay, a calmer experience with the new River Otters exhibit and more.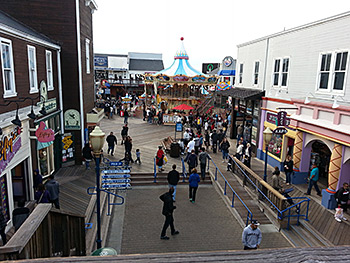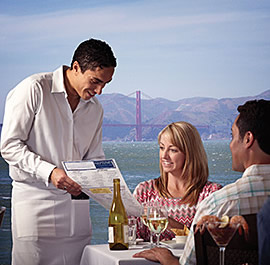 Pier 39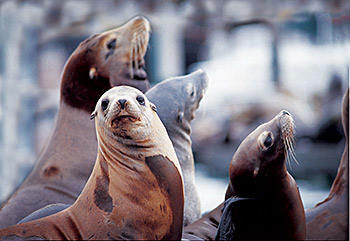 "Moon jelly" and resident sea lions at Pier 39
Have a comforting sourdough bread bowl of chowder at Boudin's and Irish coffee at the Gold Dust Lounge at nearby Fisherman's Wharf.
6. Cable Cars (CityPASS friendly) Yet another must is riding the cable car through the streets of San Francisco. The San Francisco cable car system is the world's last manually operated cable car system. An icon, a symbol of what IS San Francisco, California, the cable car system forms part of the intermodal urban transport network. Hours: Wednesday hours 10:00 am–5:00 pm. Address: 1201 Mason St, San Francisco, CA 94108 Phone: (415) 474-1887 www.sfcablecar.com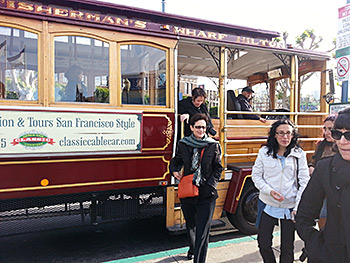 Cable car
7. de Young Museum (CityPASS friendly) Founded in 1895 in San Francisco's Golden Gate Park, the de Young Museum has been an integral part of the cultural fabric of the city and a cherished destination for millions of residents and visitors to the region for over 100 years. The DeYoung showcases international art from all continents. We were privileged to enjoy their April exhibition, "The Girl With the Pearl Earring: Dutch Paintings from the Mauritshuis," a stunning collection including the star of the show, which sparked the best-selling novel of the same name.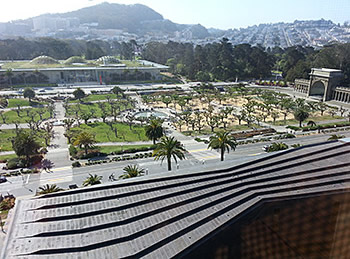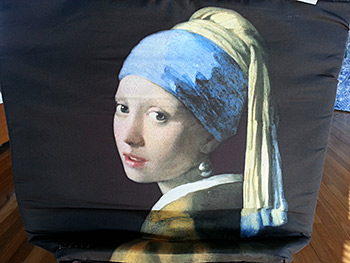 | | | | | |
| --- | --- | --- | --- | --- |
| | M. H. de Young Memorial Museum | | The Girl With the Pearl Earring | |
| | | | | |
| --- | --- | --- | --- | --- |
| | 8. Beach Blanket Babylon "World's Longest Running Musical Revue." The show – a musical spoof known internationally for its extravagant costumes, outrageous hats, show-stopping numbers and hilarious puns of pop culture and political character – has been seen by over 5.5 million people, including HRC Queen Elizabeth II, Prince Charles and Camilla the Duchess of Cornwall as well as some of Hollywood's biggest stars. The only constant about the show is change as it tracks current news and events and parodies all with equal scorn. | | | |
9. Farmer's Market The farmers market is open three days a week—Tuesdays, Thursdays and Saturdays. On Tuesdays and Thursdays, the smaller markets occupy the building along the Embarcadero; on Saturdays, the much larger market is held both in front of the Ferry Building and on the rear plaza overlooking the Bay. Find exotic foods, fresh produce, fine arts, fancy crafts and wonderful people.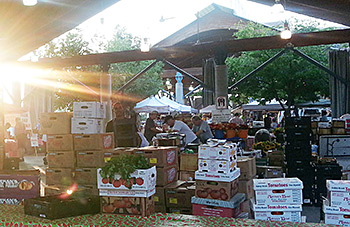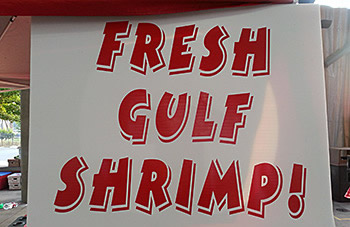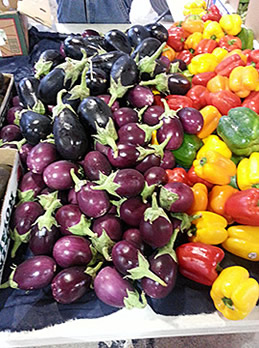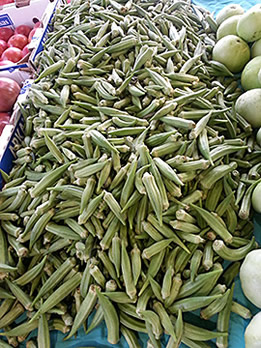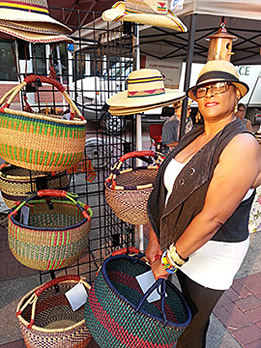 10. Off the Grid Fort Mason Center Welcome to California's largest evening Street Food market. OtG:FMC is staged every Friday at the historic waterfront campus of Fort Mason Center. This year Off the Grid has a fresh new theme that focuses on new and innovative food trucks. Vendors include bar services from Alembic and Magnolia Brewery. - 32+ Food Innovative Vendors
- 4 Bars featuring classic cocktails, craft beer and local wines.
- A reserved lounge for Popup Prix Fixe Dining
- Live Music All Night. The collective vibe is like a huge block party and the food and drink choices are all over the map. Not to be missed. So if you're in the city on a Friday night and want an adventurous dinner, head out to Fort Mason Center for an Off the Grid San Francisco experience.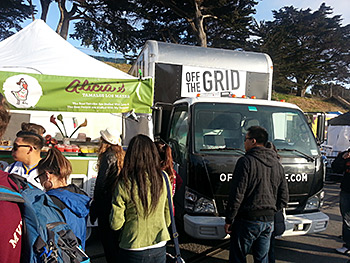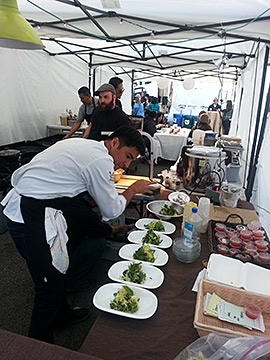 Addendum: BTW Did you know that SFO airport has a Yoga room? This first of its kind amenity is located in the recently refurbished Terminal 2 just past the security checkpoint next to the Recompose Area. So if you're in between flights or delayed, swing in for some contemplation and chill. www.flysfo.com