Klamath County, Oregon
To quote this project, here are the words from http://dayshoot30.org/about/:
" On July 15, 1983, over 90 photographers spent 24 hours capturing daily life throughout the state of Oregon. Project Dayshoot was the name of the venture, and it produced a book called One Average Day. To commemorate the 30th anniversary of Project Dayshoot, the original photographers—as well as new contributors—will capture still and motion images across Oregon on July 15, 2013. Any proceeds from the sale of materials relating to this project will benefit the Oregon Historical Society." This was basically a shoot inspired by the Day in the Life book series which included the Day in the Life of America and many other countries. More info on this project can be found at https://www.facebook.com/Dayshoot30


Klamath kayaking
I was asked by Brian Burk from the project to document my home county of Klamath. This was my first story for High on Adventure and what better way to launch. Originally I was going to document Lake and Klamath counties but by circumstance I ended up staying along the Wood River in the central northwest quadrant of Klamath County, next to the county's heart and the only national park in Oregon, Crater Lake, the deepest lake in America at nearly 2000 feet. I dedicated my day and evening to documenting the project in this neck of my county though I live on the far south end of the county a mile from the California border. By the circumstance of my location, I documented recreation, landscape, tourism and ranching, as these are the prime activities in this part of the county. One exception is the Klamath water issue which affects the entire county. I arranged a high noon meeting with three major players from similar and different interests at Crater Lake for a shoot. Crater Lake, both symbolically and realistically, is the Mother Lode of water for our county.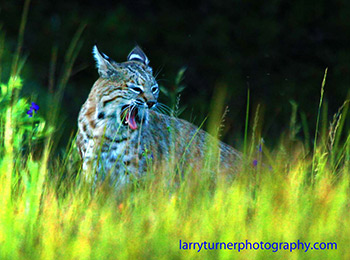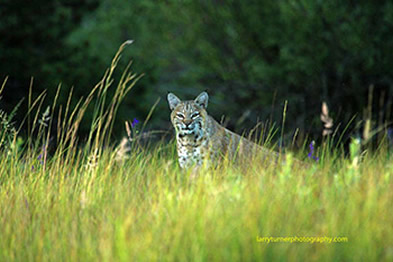 Bobcats
FIRST STORY on MY HOME COUNTY


I was born and raised—and still live—in this, one of America's most beautiful lands with unlimited recreational/adventure/tourist possibilities.
MIDNIGHT SHOOT
At midnight sharp, I took my first series of photographs. They were of my kayak tethered to a small dock at Wood River Retreat where I was staying (541-892-7980 for info). The 30 second time exposure rendered the Milky Way, heavenly stars, the deep quiet of the river and a portion of my kayak. Immediately to bed I went as I would get up in the twilight hour.
WOOD RIVER BEAVER, KAYAKING, FLY FISHING
In the first light, I awoke and quickly turned on the coffee maker. After a splash of cold water on my face, I went to the patio and my first dawn shot was before my eyes: an industrious beaver moving a large piece of aspen up the river. Grabbing my camera, I reeled off several shots. Soon-after, I captured (with my pants on) several frames of the neighbor across the river (Christy Snook) as she paddled her light custom made canoe upriver. She does this everyday, just as a jogger jogs and a walker walks. Christy rents out kayaks and can be reached at 541-281-7775.
The Wood is a great (and safe) river to kayak, beginning at its' Kimball Park headwaters, just a mile from Wood River Retreat. I also love to kayak downriver to Fort Klamath. Canoes work well here, too, as do rafts and small oar boats.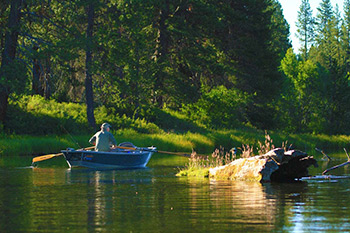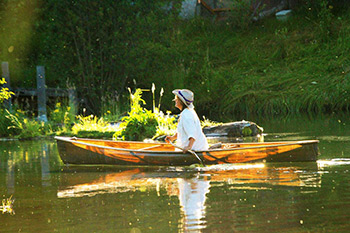 Wood River fly fishing guru Chris Engle met me at 7am and I photographed him from my kayak as he fly fished in his boat. The Wood has a world-class brown and rainbow trout fishery, including many in the 20 plus inch range. The drake, hopper and caddis fly hatches are renown.
Kayaking back to the Retreat, I quickly made a smoothy and then I headed to the Wood headwaters where I was able to capture the last two kayakers that Christy had outfitted for the day. The cobalt blue and emerald green water of the headwaters reminds me of Belize. The temperature of the water though reminds me of Alaskan glacier melt! Kimball Park is located on the Dixon-Sun Mountain Pass roads a few miles out of Fort Klamath. Campgrounds are available there, too. Make sure you bring your bug dope!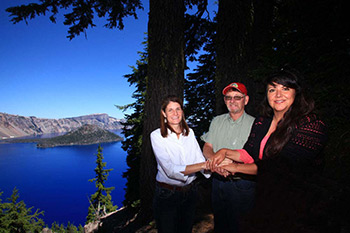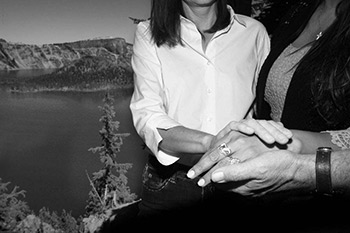 Klamath water user components Cooperation
CRATER LAKE NATIONAL PARK
At high noon on the rim of Crater Lake, I met and photographed Becky Hatfield Hyde (off-project water users), Taylor George (head of PR for the Klamath Tribes) and Steve Kandra (project water users). Symbolically, they placed their hands with each others, showing solidarity toward working on the Klamath Basin's water issues. Just Google Klamath Basin water crisis and you'll find plenty to read.
Most of the remainder of the day I spent hiking, exploring and photographing Crater Lake, truly one of the landscape marvels of the world. I'll let the photos do the talking.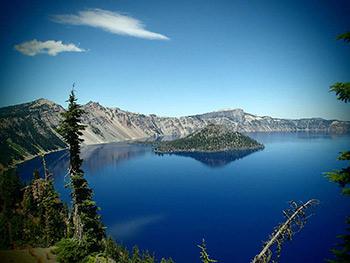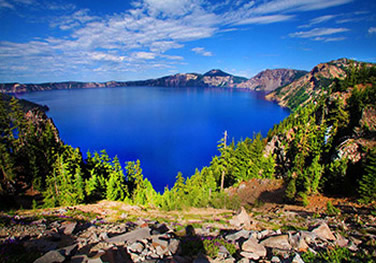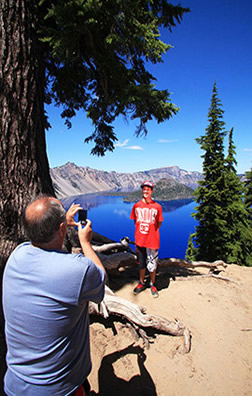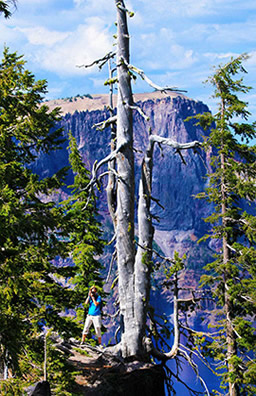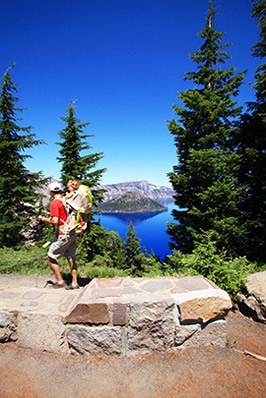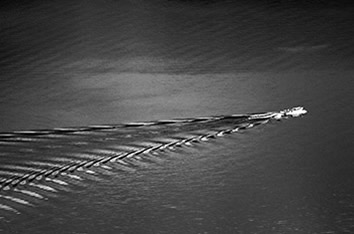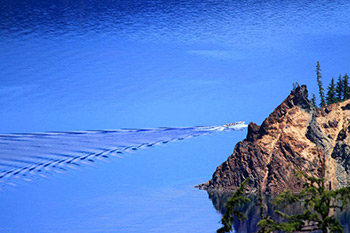 DAY ENDING: KAYAKING ON WOOD RIVER
Leaving Crater Lake, I made my way back to Wood River Retreat where I made a small dinner and a stiff gin and tonic (Tangueray, thank you very much; Bombay is for martinis!) as the day temperature had reached 90. Traveling down the river, I photographed bald eagles, night herons, great blue egrets, great egrets, mergansers and flycatchers. As luck would have it, the following evening while kayaking in the same stretch of the river, I photographed a bobcat!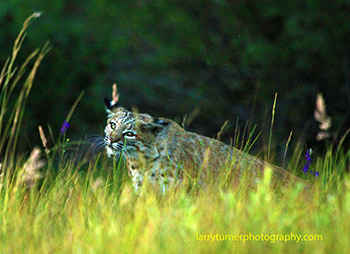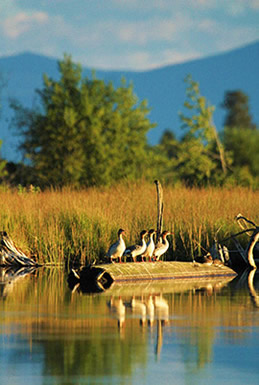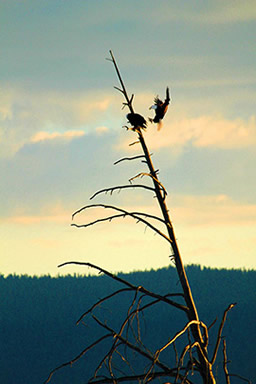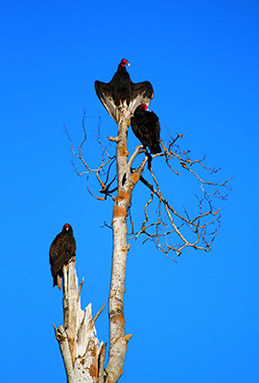 | | | | | | | |
| --- | --- | --- | --- | --- | --- | --- |
| | Mergansers | | Bald eagles | | Turkey vultures | |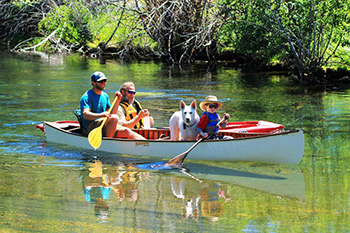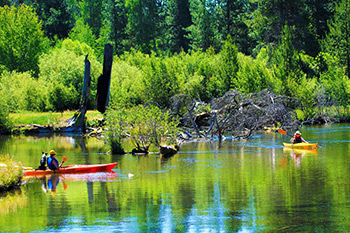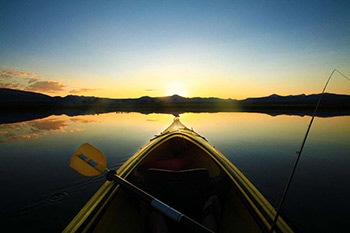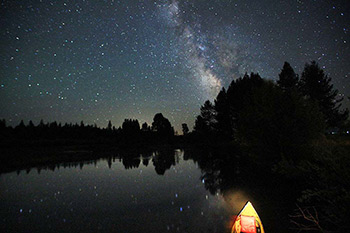 The Oregon Day Shoot ended, just as it had started, with night photos of the river, stars and kayak. It was a great 24 hours. My home county is as beautiful a place that you'll find in the world!
Important Info:
www.dayshoot30.org
www.discoverklamath.com
www.magazine.discoverklamath.com
www.craterlakenationalpark.com
http://en.wikipedia.org/wiki/Wood_River_(Oregon)
Wood River Retreat Lodging (541-892-7980)