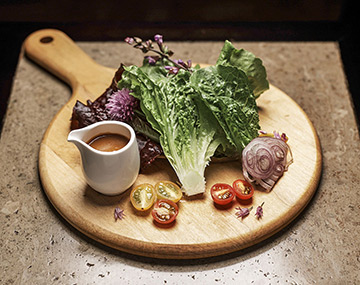 It was the "2-Hour Salad" that got my attention.
Two hours from dirt to table.
Brian Scheehser, head chef at Trellis Restaurant, thought it was only logical to have something on the menu that showcases his "back 40"...or actually, in this case, back 10.
The restaurant is in Kirkland, WA, across Lake Washington from Seattle. The farm is another half dozen miles east in a vest-pocket farming valley near the foothills of the Cascade Mountains.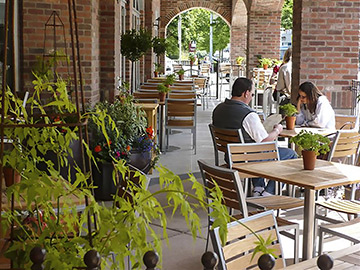 Trellis dining patio
Scheehser leases the land and has been growing crops for this and his previous restaurant for 14 years. It's 10 acres of just about anything you can think of that comes out of the ground: onions, tomatoes, kale, chard, carrots, peas, beets, corn, artichokes, asparagus, radishes, turnips. And that's just the veggies. There's also blackberries, raspberries and the largest blueberries I've ever seen, along with six varieties of apples. And also the edible flowers...nasturtiums, marigolds.
You get the idea.
Farm to table isn't all that new. But the "2-Hour Salad" is such a cool idea, I had to visit the farm and then eat the just-picked result. When Scheehser met me at the edge of his fields, it was one of the Northwest's unusual 90-plus degree days. Bottles of water in hand, we wandered the crops.
Though it seems like a lot of produce, Scheehser says his plot only supplies 10 percent of the restaurant's needs. He gets as much as he can of the rest of his menu locally, trying to keep a 200 mile radius for what he has to buy. The protein...beef, lamb, chicken, fish, whatever ... also comes from this tight radius. The fish is local and includes only wild salmon when available and no endangered species. The meats come from the Northwest and, at the farthest, California.
"Of course, there are things we can't grow in the Northwest...oranges, lemons, other tropical foods," he said.
Those come from California. But Scheehser absolutely refuses to use anything from out of the country.
And, being from the East, he makes one exception to his west coast only rule.
"We've got to have lobster occasionally."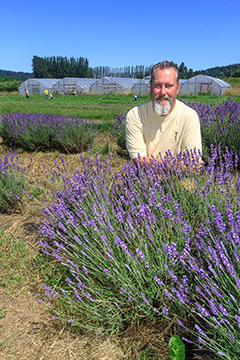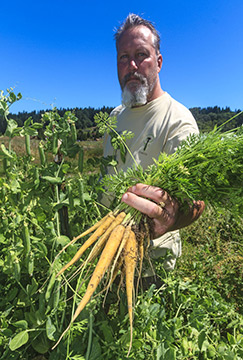 Chef Brian Scheesher in the lavender and heirloom carrot fields
Scheehser grew up in Massachusetts and studied at the CIA (that's Culinary Institute of America) in Hyde Park, NY. He's been in the Northwest for 21 years, 13 of them as executive chef of the Sorrento Hotel in Seattle.
Sturdily built and looking younger than his 56 years, Scheehser fits the farm image well. It's not until he hits the kitchen, chopping onions, placing carrots and skillfully building an artistic salad that he takes on the image of master chef.
Six years ago when Kirkland decided to replace its old hospital with a toney hotel (and lots of other yuppie-upscale buildings) Scheehser came aboard as executive chef.
But handling food is miles (literally) away from farming.
"Yeah, I had to learn how to grow things," Scheehser said.
Why? It wasn't to plug into the recent trendy farm-to-table craze, but, rather, a more practical aim.
"It started out as a desire to grow affordable food for the restaurant and also, to know where it's coming from. And to have some control. I would get a 10 pound box of tomatoes and maybe not all of them were ripe, or I couldn't get the variety I wanted."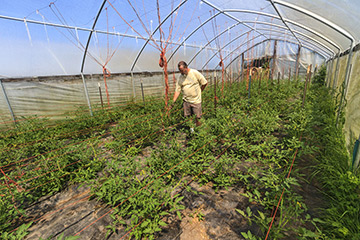 Scheesher in the tomato hothouse
While the farm isn't certified organic, it practices organic techniques. No chemicals are used. Everything is "salmon safe," meaning whatever runoff goes into the water table will not emerge eventually into any stream or lake that will harm the fish.
The only amendments are fish fertilizer and compost, which he creates himself with whatever weeds and leftovers are pulled from the fields.
And there's the rest of it...the crop rotation, the seed harvesting and some truly interesting stuff.
Like what he does with carrots.
We walked to his carrots which, by the way, were doing way better than mine back home.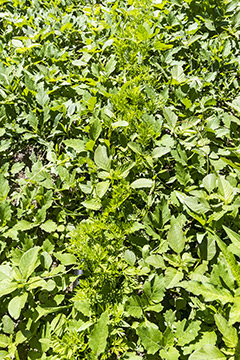 Carrot top ground cover
I looked down and there was a mat of green. It took a few seconds to pick out the line of thin hairy sprigs among the leafy ground cover.
"When it gets hot, the sun dries the soil out, but if you have low weed cover and let them grow together, it keeps the soil moist and lets the plants establish a hardier root base."
The carrots would get an inch or so taller and then Scheehser's crew (four men who also work at the restaurant) would pull the weeds.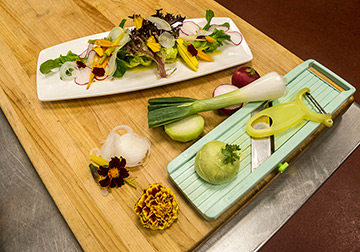 Two-hour salad with mandolin and veggies
As for crop rotation..."I start with 4,000 to 5,000 heads of lettuce in the spring. When that finishes, I plant tomatoes and then, finally, a winter crop of more lettuce, chard and kale."
The seed program started a couple of years ago. Now Scheehser gets many of his seeds from tomatoes, leeks, winter squash, beans and other greens.
And there is so much more you would never expect.
Like when to add the compost. "If it's too wet, it will clump when it gets into the field."
Sigh, I learned that one myself the hard way. The clumps in my garden were the size and density of softballs and had to be broken up by hand.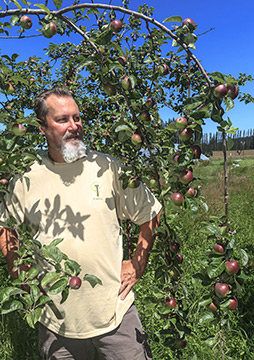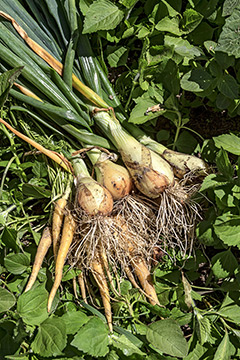 Ripening apples plus Walla Walla onions and heirloom carrots
Other things?
"You need to know when to plant and when to stop planting and start to weed, then when to harvest and when to stop and prepare the soil for the winter."
It's so much stuff many home gardeners learn the hard way.
And now, finally, it was time for our reward.
We drove to Trellis, where we were greeted with tall glasses of fresh strawberry lemonade. You could taste the sweet bite of fresh, local berries.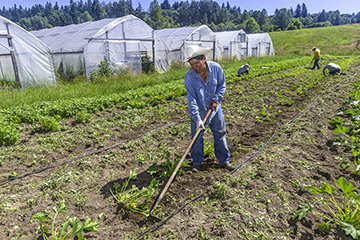 Weeding the vegetable garden
Then it was off to the kitchen where Scheehser laid down a bed of tender red bib lettuce, along with baby frisee (a kind of endive), kohlrabi (like a mini cabbage), thinly shaved onion and radish, paper thin slices of baby carrots topped with marigold petals, then drizzled with a white balsamic dressing.
Later in the season there would be tomatoes, baby squash, squash blossoms, and other harvest goodies.
Then, when the seasons end, so will the "2-Hour Salad." In fact, if you look at the online menu, it doesn't even list this salad. But it IS under specials at the restaurant.
Video of chef Scheehser making his two-hour salad
Along with the salad, Scheehser whipped up one of his cheese boards. Again, this is a home-made product. He goes to a creamery in the nearby small town of Duvall and personally supervises the creation. We had the base jack cheese, then a carrot-nasturtium cheese that had been made with jack, then blueberry basil and finally, a creamy pepper jack made with bell peppers.
The carrot-nasturtium had a bit of the sharpness of the original jack but also a distinct carrot flavor, followed, unexpectedly, by the spicy finish of the nasturtium. The blueberry cheese had absorbed the sweetness of the fruit, leaving an interesting salty herbiness. And the creamy pepper cheese tasted distinctly of its flecks of red and yellow pepper.
I went home with visions of Scheehser's glistening Swiss chard and ripening apples dancing in my head.
And yes, more than a bit of carrot/kale/onion envy.
INFO
Trellis Restaurant is located in The Heathman Hotel, in Kirkland, WA, a city across Lake Washington from Seattle. www.heathmankirkland.com/trellis/trellis-restaurant.aspx