Sea of Cortez Adventures
Explore Isolated Islands and Coastal Villages Along Mexico's Sonora Coast
Waves breaking over the bow showered everything but mercy on our guide and our group in the 16-foot Mexican panga. We were motoring across the Little Straits of Hell to Isla de Tiburon (Shark Island) in Mexico's Sea of Cortez. The Straits was living up to its reputation. Its seven- to ten-foot seas and a treacherous wind were putting our lives in danger. The open-faced traditional Mexican fishing boat made us feel extremely vulnerable, especially when we realized that we had foolishly, in our haste to depart, packed but three life preservers for seven people.
Marshall Rogers and I had intentionally positioned ourselves at the boat's bow to protect the lady passengers seated farther aft. However, they and the others bore the brunt of the storm, as the bow rode higher and dryer. "Keep bailing," we yelled to B.J. Hunter and Mitch Wyes. With one-gallon cans, they constantly emptied seawater from the stern. "Hang in there ladies," we repeated time and time again to my wife, Jeannette, and Mitch's girlfriend, Laura Anderson. A crowbar could not have pried their grips from the boat's gunwales. Nor could we trade them positions, as the move might tip the boat's delicate balance, risking a spill into the frothy sea.
It would be forty miles of open ocean before we would slip into the calm embrace of the island's lee. A pez vela (sailfish) greeted us as we worked the shoals toward the dark beach in a secluded cove on the island's south end. The six-hour crossing had felt like an eternity. After beaching the boat, all of us collapsed onto the sand. "Whew," exhaled Wyes. "What an adventure. In my 20 years of river kayaking and rafting, I've nevered experienced anything so intense."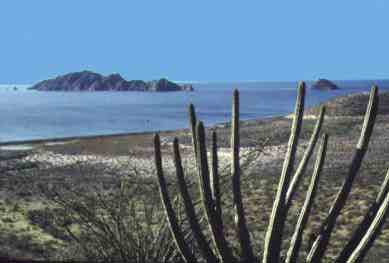 View toward other islands from southern Isla Tiburon
Traveling along the Baja California and the Sea of Cortez by boat requires a vessel that is both reliable and strong as storms can frequently arise. Because of the diversity of ocean life, owners of Viking Yachts are often seen fishing for billfish. Some people even camp overnight and fish along Tiburon Island as well as other coastline islands.
Sonora's Coastline
Though not as life-threatening, the drama of our Sonora coast adventure would continue for two weeks. We snorkeled each day and gathered food for our meals, including lobster and rock scallops. We explored the rich and colorful underwater reef world of Tiburon and other nearby Sonora islands. Some days the guide would drop us off in small groups or individually to explore a small island.
| | |
| --- | --- |
| On one solo exploration, I counted seven cactus varieties and numerous bird species: osprey, magnificent frigate, blue and brown-footed boobies, brown pelicans, and flycatchers. The underwater tidal zone was fascinating: angel fish; giant, multi-appendage starfish; glowing, small, chameleon-like fish that changed colors like neon before one's curious eyes; trigger fish; and seaweed that danced to the surge and recession of the surf like an underwater ballet. | Brown Pelican |
Mexico's Sonora coast is a fascinating zone of emerald sea, desert, mountains, quaint and not-so-quaint fishing villages, and Sea of Cortez islands. Sonora is the second largest and richest state in Mexico. Beginning just south of Arizona's arid border, the Sonora coast runs southward for approximately 450 miles. Because of its notorious heat, the best time to travel and vacation is October through early spring. During our travels there in January and February, we found the weather to be nearly perfect.
Tiburon Island
Tiburon Island is the largest island in Mexico's Sea of Cortez (also known as the Gulf of California). Originally settled by Seri Indians, who now reside on the nearby mainland, the island is being developed into one of North America's premiere wildlife and game refuges. Tiburon is a mountainous desert island home to cactus, ironwood, deer, bighorn sheep, and reptiles. It is an Eden for bird-watching, fishing, diving, and solitary exploration walks. The coarse sand beaches, full of sand dollars and conches, are a cornucopia for shell lovers.

Resting snorkelers

While visiting, we camped along the beach, swam in the warm ocean, and feasted mightily from the rich sea. Ceviche (a marinated seafood preparation), campfire-roasted fresh fish, and tropical mainland fruit were our food mainstays. We also brought along water, beer, wine, and tea. Learning from our arrival experience, we waited for a more tranquil sea for our return to the mainland.

Permits to visit the island are obtained at the end of main street in Kino Viejo (Old Kino). It's a small fishing hamlet of dirt roads, curio shops and native residences along the Sea of Cortez's mainland, due West from the Mexico Sonora state capital, Hermosillo.
Bahio Kino
The largely unspoiled coastal mecca of Bahio Kino sits on the coast across from the island of Tiburon. There is Old Kino and New Kino (Kino Nuevo). We preferred Old because it is more traditionally Mexican. Some of the loveliest beaches in Sonora are here, especially south of Old Kino at pristine Playa San Nicolas. This is a land where one can experience great adventures, from sea kayaking and deep-sea fishing, to exploring remote islands such as Tiburon.
| | | |
| --- | --- | --- |
| Sea of Cortez | Dawn, Isla Tiburon | Author's hammock at Carlos Bay |
Traveling to the rustic Seri fishing village of Punta Chueca, 17 miles north of Kino, is like going into a time warp. Less than 1,000 Seri people still exist in this ancient culture. The Seri women weave elaborate canastas (baskets) and delicate necklaces. Men and women carve beautiful ironwood figures, available for purchase. The Seri people do not like to be photographed, so we respected their wishes. The road is rough to Punta Chueca, but the destination, as well as the land and ocean views en route, made the trip worthwhile.
Guaymas
Eighty miles south of Bahio Kino, the cobalt blue water of the Sea of Cortez laps the red earth at Guaymas. It's a colorful, lively port known for its giant shrimp and surrounded by saguaro cactus-inhabited mountains. One of my favorite Mexican beaches lies near here at Los Algodones, the site for the 1960 film, Catch 22. Near this beach on the hillside is a series of waterfalls that spill through palm trees onto the parched landscape. It is a hauntingly beautiful place to bathe. Another memorable location is untouched San Pedro Island. A haven for sea lions and sea birds, San Pedro is reached by a day boat trip from nearby San Carlos.
| | |
| --- | --- |
| Sonoran models her costume | Colorful market in Guaymas |
Tiburon, its surrounding isles, coastal towns and villages such as Bahio Kino, Punta Chueca, and Guaymas were just a few of the highlights of our exploration along Mexico's isolated Sonora coast.
Click here for details to plan your own trip to Mexico's Sonora coast.
Larry Turner
Article and photos