Australia's Great Barrier Reef


Relish the Reef from Whitsunday's Fantasy Islands
| | |
| --- | --- |
| Stepping onto the tarmac as we arrived at Hamilton Island's small airport, images from the Fantasy Island television series played in our heads. We wanted to shout the show's opening line, "de plane, de plane." With palm trees swaying in the breeze, we were greeted warmly by our porter. He gave us a private tour of the island from his fringe-covered cart before settling us into our beachfront studio. Only minutes later, lying on the beach and basking in the sun, we watched as windsurfers and catamarans zipped over Catseye Bay. We knew we had picked the right base for our Great Barrier Reef explorations. | |
Fantasy Islands
The Whitsunday Islands sit midway along the 1,200-mile extent of Australia's Great Barrier Reef. Stretching for 100 miles northward from mainland Queensland's town of Mackay, they sit pyramid-like, bordered by fringing reefs, and vibrant, turquoise-blue waters. Only seven of the 150 islands have vacation resorts, and among these, Hamilton and Hayman Islands are commonly recognized as the resort stars of the chain. Each island has a single proprietor who has done the utmost to create a unique version of paradise, which takes advantage of their island's charms.
Hamilton Island

Hamilton has accommodations for 2,000 visitors, rooms ranging from moderate to luxurious. This is the only island near the Great Barrier Reef that has direct air connections to Sydney, so it is accordingly popular. Well laid out, Hamilton feels private, with accommodations bordering beautiful Catseye Bay, away from the airport and main boat harbor. Over 80% of the island has been carefully preserved in its native state, with beautiful beaches, bush trails, and spectacular lookouts.
The island has the greatest range of activities of any Queensland resort. Over the course of several days, we took advantage of Hobie cat sailing, windsurfing, surf kayaking, snorkeling, twilight sail charters, and hiking. Also offered are daily boat tours with scuba diving or snorkeling on the Great Barrier Reef, 47 miles northeast. Six restaurants provide a good variety of cuisine and pricing, and shoppers have a number of boutiques to peruse.
Hayman Island
Hayman prides itself as being one of the most exclusive resorts. Guests are brought to the island by luxury yacht on a 60-minute cruise north from Hamilton. The Fantasy Island feeling was even more intense as we debarked and were met by a greeting line of the island's personnel, then personally escorted past beautiful lagoons, swimming pools, and gardens to our room. The accommodations for 500 guests ring a white-sand beach and lagoon. Service is at the highest level, with island staffing outnumbering the guests. Six restaurants and multiple boutiques provide a good variety. Complimentary water sports gear includes catamarans, kayaks, and windsurfers, all of which we gladly put to play. Hayman's hilly 900 acres also provide great bush hiking to isolated beaches. Hayman provides access to the Great Barrier Reef, 20 miles to the east, via seaplane, helicopter, or boat.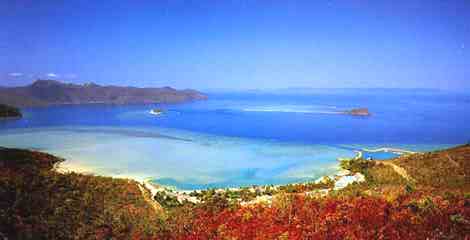 Photo Courtesy: Hayman Island
The Incomparable Reef
However, you get there, be sure to make the day trip to this area's main attraction, the Great Barrier Reef. The Reef actually consists of 2,900 individual reefs loosely aligned north-south for 1,200 miles and situated an average of 30 to 60 miles east of Queensland. The Reef is the world's largest living organism, composed of billions of coral polyps, sheltering countless plants and animals. The Reef has the world's largest variety of corals (over 400 species) which grow profusely in all six major growth forms, ranging from antler-like "staghorn" to "brain" and "plate" formations.
We traveled to the reef in a small seaplane operated by Coral Air Whitsunday, which stopped at Hayman Island to pick up a planeload of just six passengers. We flew over the Whitsunday Islands, then over a beautiful section of the reef, landing in Hardy Reef Lagoon, where Coral air has a sole access permit to operate. The seaplane was a particularly good choice for the journey, since the seas and winds where strong that day, but the private lagoon was calm due to its surrounding reef. Leaving the anchored seaplane, we boarded a small boat and cruised to our private afternoon snorkeling spot. Our able pilot then became a frogman, guiding his guests on an adventurous snorkel among coral plateaus, heads ("bommies"), and channels. The variety overwhelmed us: large, colorful coral formations, gorgonian fans, and a never-ending array of fish, including tangs, sea trout, wrasse, bass, butterfly fish, angel fish, Moorish idols, and parrot-fish munching audibly on the coral.
Fringing Whitsunday Reefs
Although the Great Barrier Reef is the main attraction, we found the fringing reefs in the northern Whitsundays just as interesting to explore. To our inexperienced eyes, we seemed to enjoy almost as broad a variety of coral and fish life. The added benefit was neighboring beaches for sunning and picnicking. Hayman Island has a particularly beautiful range of fringing reefs. We took advantage of the island's water taxi that dropped us at empty beaches where we experienced wonderfully, private, afternoons of snorkeling and beach lounging. They left us with a first aid kit and handy portable telephone for calling when we wanted a pick-up back to the resort.
A Perfect Parting
We found the ideal cap to our multi-day stay in the Whitsundays — a twilight sail on a large seagoing catamaran with other Hayman Island guests. The friendly captain gave a hand at the wheel to one and all. Tropical island and sea vistas passed as we sipped champagne and sampled hors d'oeuvres. As the golden orb started it final descent below the horizon, we were treated to the most beautiful sunset of our lives, cementing our vow to return to the Whitsundays and the Great Barrier Reef.
Click here for details to plan your own trip to Australia's Great Barrier Reef.
Les Furnanz
Photos: Rita Furnanz