| | |
| --- | --- |
| When You Go: Aspen, Colorado | |
Getting There: Aspen's Sardy Field Airport is just four miles from the town of Aspen and eight miles from Snowmass. Connections are made from Denver International Airport, 220 miles east of Aspen. United Express and Aspen Mountain Air (800-877-3932) make daily connections from Denver. American, Delta, Northwest and United service Eagle County Regional Airport, just 70 miles from Aspen. Web links are listed in this magazine's Airlines page.
Scheduled and chartered bus, limo and van services are available from Denver and Eagle airports. Ground transportation can be made through Colorado Mountain Express 800-88-ASPEN), High Mountain Taxi (800-528-8294) and Aspen Limousine and Bus Service (800-222-2121). The Roaring Fork Transit Authority (RFTA) offers free service from Sardy Field to the four ski areas in the valley. Routes and Schedules are available by calling 800-854-5588. You really don't need a car in the Aspen area, due to the great network of shuttle buses. However, if you prefer a car, you can find the Web links and 800 phone numbers in this site's Autos page.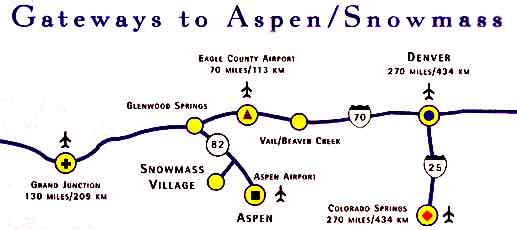 Courtesy, Aspen Skiing Corporation
Staying There: There are a variety of hotels, inns, and condos available in the town of Aspen and Snowmass Village. Prices can be spendy, but we were able to find reasonable rates at the Grand Aspen Hotel, just a block from the Silver Queen Gondola. If you need more pampering, you can bask in the luxury of a five-star hotel at the St Regis of Aspen, right next door. Call Aspen area Central Reservations at 800-290-1325 or visit their Web site below to pursue Aspen's lodging options. The most complete guidebook treatise on Aspen can be found in The Colorado Guide, by Bruce Caughey. It includes suggested lodging, eateries, and activities.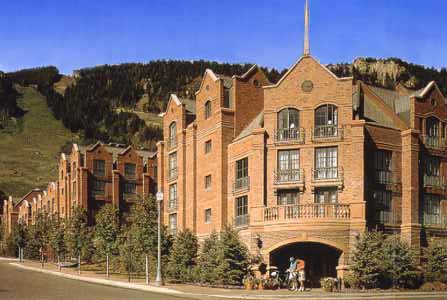 Courtesy: St. Regis Hotel, Aspen, CO
Aspen and Snowmass Village are a gourmet's delight with international cuisine found in the finest restaurants. Want French? Try Aspen's favorite bistro, the Cache Cache, for some wonderful fish entrees. A few restaurants have been around since the old mining days: The Mother Lode, with Italian seafood and pasta; Ute City Bar and Grill, with American-French dishes; and the Hotel Jerome, featuring game and seafood.
Aspen is a cultural metropolis, with nearly 50 art galleries and artist studios; an art museum with a year-round program of exhibitions, lectures and discussions; the internationally renowned Aspen Music Festival; the Aspen Historical Society; and the Wheeler Opera House built in 1884 which hosts foreign films, lectures and music groups. The Anderson Ranch Arts Center is located in Snowmass Village.
Snowmobiling, dog sled rides, horse-drawn carriages and sleigh rides, hot air balloon rides, ice skating, backcountry hut skiing and cross-country skiing are some of the many adventures that can be experienced during your vacation.
Fast Facts:
Aspen Mountain, Buttermilk, Aspen Highlands and Snowmass are the four ski areas in the Roaring Fork Valley. The ski season runs from late November to mid April. Lift tickets are good at all four areas. 1999 prices are Adult: $59/day; Child (7-15) $37; Young Adult (13-27) $55/day; Seniors (65-69) $55/day. Children under 6 and seniors over 70 ski free. There are multi-day discounts and multi-day tickets ordered from their Web site receive additional discounts.
Aspen Mountain: Elev: 11,212 feet. Vert. Rise: 3,267 ft. Longest run is 3 miles. Ski Terrain: 675 acres. Lifts: 1 gondola, 1 high-speed quad, 2 quads, 1 high-speed double, 3 double. More Difficult: 35%; Most Difficult: 35%; Expert: 30%. No Easiest Trails. No Snowboarders.
Aspen Highlands: Elev: 11,657 ft. Vert. Rise: 3,635 ft. Longest run is 3.5 miles. Ski Terrain: 675 acres. Lifts: 2 high-speed quads, 1 triple, 3 double. Easiest: 20%; More Difficult 33%; Most Difficult: 17%; Expert:30%. Snowboarding Terrain: 1 terrain park, 1 boardercross course.
Snowmass: Elev: 12,510 ft. Vert. Rise: 4, 405 ft. Longest run is 4.16 miles. Lifts: 7 high-speed quads, 2 triples, 6 doubles, 1 surface, 2 platter pulls, 2 magic carpets, 3 handle tows. Easiest: 7%; More Difficult: 55%; Most Difficult: 18%; Expert: 20%. Snowboarding Terrain: 2 halfpipes, 1 terrain park, and a 4-mile run with terrain-park features.
Buttermilk: Elev: 9,900 ft. Vert Rise: 2,030 ft. Longest run is 3 miles. Lifts: 1 high-speed quad, 5 double, 1 handle tow. Easiest: 35%; More Difficult: 39%; Most Difficult: 26%; Expert: none. Snowboarding Terrain: 1 halfpipe, 1 terrain park.
Useful WWW links:
Resort Guides:
Ski Guide Resort Directory: Resort summary, ski conditions, activities, shopping, lodging, dining
Aspen and Snowmass Village: Resort guide. Everything you need to plan your winter vacation
Yahoo Get Local Aspen: Links to edducation, arts, recreation, sports, lodging, and more
Aspen Central Reservations: Lodging packages, lift tickets, ski rentals