WHEN YOU GO:

Ski Utah Interconnect
Adventure Tour


Photo credit: Ski Utah
Getting There: The Salt Lake International Airport, just 10 minutes from downtown, handles more than 700 flights from 11 airlines daily, including non-stop flights to 67 cities.. The 1-800 phone numbers and web sites for these airlines are available on this magazine's Airlines page.
The Ski Utah Interconnect Adventure Tour is located in the Wasatch-Cache National Forest, about 25 miles southeast of Salt Lake City.The five-area tour starts and ends at Park City Ski Area. To get to Park City from the airport or downtown SLC, take I-80 east and exit at 224, following the signs approximately 5 miiles to the ski area.
The four-area tour starts and ends at Snowbird Ski and Summer Resort. Located in Little Cottonwood Canyon, the resort is on State Highway 210. From the airport, take I-80 east to I-215 east. Exit 6200 South (Hwy 210) and follow signs to the ski areas.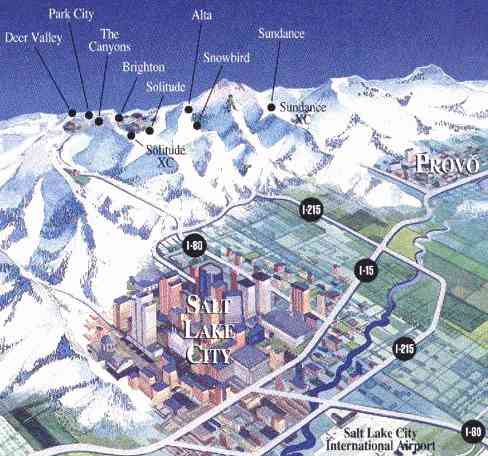 Map Credit: Ski Utah
Staying There: There are over 11,000 hotel rooms in Salt Lake City, with prices to match almost any budget. A variety of lodging is also available in the Park City area, with excellent shuttle bus connections to the ski areas. If you are taking the four-area tour, you may want to stay at Alta or Snowbird resort. For a current list of available choices at all of these locations, contact the Salt Lake Convention and Visitors Bureau at 801-521-2822, or click on the websites below.
Transportation to the slopes can be achieved by rental car or through the many ski shuttles that operate in the city. Information on these companies are available in the web links below. For car rentals, the 1-800 phone numbers and web sites are available in this magazine's Autos page.
Ski Utah Interconnect Adventure Tour:
The Ski Utah Interconnect Adventure Tour takes advantage of the fact that Park City, Brighton, Solitude, Alta, and Snowbird are only seperated by several miles. Miles of breathtaking ridgelines, steep peaks and silent snowfields are the tour's main drawing cards.
- Anticipated tour season is late December to April.
- Two guides lead each tour of up to 12 skiers, maximum. Rodd Keller is lead guide.
- The exact route of each tour varies slightly dependent upon weather, number and abilty of skiers,
and snow conditions.
- 1998-99 season tour price: $150. Includes lunch, all lifts, return transport, and tour completion pin.
- Skiers need to be at an advanced level, not necessarily expert, and in good physical condtion.
- An attitude for adventure is a definite plus in skier enjoyment of the tour.
- Both five-area and four-area ski tours are available.
Call (801)534-1907 for more information or to make reservations.
Useful WWW sites for Salt Lake region:
Official Site of the Utah Ski Association: Ski Utah site with links to resorts, lodging, events, transportation
Salt Lake Convention and Visitors Burea: travel info, walking tour of Salt Lake City, lodging, dining
AMI On-the-Snow: Comprehensive ski info with snow reports, equipment, weather, news
www.pcski.com: Park City Ski
www.skisolitude.com: Solitude
www.skibrighton.com: Brighton
www.snowbird.com: Snowbird
www.altaskiarea.com: Alta
Utah's Powder Paradise: Snowbird and Alta Ski Resort -- recent High On Adventure article