Kirkwood Resort: A Diamond in the Rough
I peered over the lip of the small cornice on Sentinel Bowl, envisioning my run through the creamy powder. My instructor, Tania, was asking each of us what we were thinking as we assessed the slope below. "Keep your body square to the hill and punch that pole plant," I told myself, then shared this with the rest of the group. Others offered their own plan of attack. "Make lots of turns," said the woman to my left. "Keep my speed down," volunteered a lady behind me. "All good ideas," said Tania, "but have you ever just thought of having FUN, think of nothing but the pure pleasure of skiing?" What a great idea!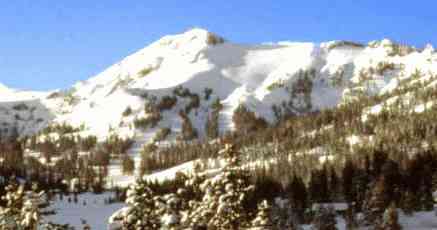 Photos Courtesy of Kirkwood Ski Resort. Photographer: Greg Hanson
Tech Workshops for Women
I had come to Kirkwood, California with a group of fellow writers with the explicit intention of tearing up the slopes. Kirkwood's Communication Manager, Tania Magidson, had encouraged me to take Eva T's Tech Workshop for Women scheduled that Friday. I had taken clinics before, but the concept of a clinic for women taught by women was the hooker that had me re-addressing my priorities and saw me signing up for the class.

Eva Twardokens
Photo: Debra Dietz
Eva T's workshops are anchored by two-time Olympian, six-time U.S. Champion, and 1996 World Technical Champion, Eva Twardokens. The women are divided into groups of eight based on skiing ability and specific goals. Each group is led by one of Kirkwood's skilled female ski pros, with Eva spending at least one hour throughout the day with each group. She provides tips, drills, and personal feedback to help each skier improve her technique.

Photo: Steve Peache
Usually women are left to learn on their own. Dad and the kids race, but where does that leave mom? Taking a clinic in a non-threatening, non-judgmental, supportive environment is just the ticket to give ladies the confidence they need to ski more challenging terrain and conditions. "I teach them skills they can take home with them," Eva stresses. "When the weather is bad, when they aren't excited about skiing, or just feel their skiing is off kilter, they can practice my drills and challenge themselves on the easy slopes. Learning to ski technically well is something they can be proud of," she emphasizes. "It lets them ski the mountain, rather than letting the mountain ski them."
Offered eight times throughout the 1997/98 season (Dec. 26, 27; Feb. 14, 15, 19, 20; and March 13, 14), the clinics are designed for intermediate to expert skiers. They include a three-hour ski workshop, a get-together, and raffle prizes. Price for the workshop is $65/day with an all-day lift ticket. This year Eva hopes to start with an early morning breakfast, a talk about the day to get everyone psyched, stretching, and a fun obstacle course to be run in the afternoon.
A Black Diamond Can Be a Girl's Best Friend
Nestled high in the Sierras in a pristine Alpine Valley, Kirkwood enjoys a peaceful setting with beautiful vistas of towering snow-laden peaks. The views may be tranquil, but the skiing is far from it. For the extreme skier, there are thigh-burning double-diamond bump runs off The Wall chair, exhilarating jumps off The Sisters into All the Way and tight lines through the trees off Sentinel Bowl. The Sunrise Chair is your access to the narrows -- Bogie's Slide and One Man, and Two Man Chutes.

Half of Kirkwood's terrain is intermediate. The back side of the mountain is a great place to let your skis run on Elevator Shaft. A great confidence booster are the sweet slopes off the # 5 Chair on Race Course and Lower Zachary. You'll feel like you pitched a perfect game when you ski Home Run in smooth giant slalom turns.
Beginners have easy green runs off the Bunny Chair and advanced beginners can play on Hay Flat and Snowkirk off the #1 Chair.

Photo: Alex Hammerlein
Kirkwood's chutes, long gullies, and vast bowls make it an ideal snowboard playground. Two years ago Kirkwood opened a freestyle park to add more excitement for snowboarders. Located beneath Capel Crest Chair, 'boarders can push radical tricks and maneuvers in its quarter pipes, table-top jumps, snake, and large spine jump. There are thrills a minute as riders negotiate turns, banks, gates, and each other.

Kirkwood has the highest base elevations of any Northern California resort. The peak stretching to 9,800 feet is a magnet for more than 450 inches of snowfall each winter. There's so much terrain, that even on warm spring days fresh powder can be found on the northern facing slopes like The Wall and Chamoix.
There's More than Downhill Skiing
| | |
| --- | --- |
| Kirkwood is not just a downhiller's haven. The expansive Kirkwood Meadow offers some of the best cross-country terrain in the Sierras, with three interconnected trail systems and 80-kilometers of groomed track. Trails wind through the meadow over flat and rolling terrain that is ideal for skaters, beginners, and children. For the undaunted, Kirkwood's Alpine terrain is the ultimate for the telemark skier. Two-time World Master's Champion, Debbi Waldear, oversees the Cross-Country School that offers a variety of lesson packages for the beginner, skater, and telemarker. | |
Skiing not your pastime? Snowshoeing is a great alternative to cross-country skiing. The Caples Creek Trail is one of the most popular snowshoe treks at Kirkwood, offering panoramas of 10,000 foot peaks, majestic granite walls, waterfalls, and interesting sights like beaver ponds. Rentals are available at the cross-country center.
Kirkwood offers excellent clinics, not only for women, but for skiers of all levels. From Learn-to-Ski or Snowboard packages, private lessons, or recreational racing, Kirkwood can satisfy the learner in you. Their Pro Turn Clinic is a 90-minute session in a fun and informal atmosphere. The skier chooses the terrain to ski and is guaranteed to have a minimum of four runs. The clinic addresses each individual's need, rather than the group as a whole.
Silver Anniversary

Since its opening in 1972 with four lifts and the Red Cliffs Main Lodge, Kirkwood has expanded and upgraded the chairlifts, has cut an extensive trail system, built condominium and conference facilities, and added some fine dining establishments. Kirkwood has blossomed into one of the west's premiere ski areas. This year, on its 25th Anniversary, the resort encompasses 12 lifts, 68 runs, 2,000 vertical feet and 2,300 acres of incredible skiing terrain.

I'll Be Back...

Kirkwood is high on my list of favorite winter escapes. With its majestic peaks, diverse terrain, and comfortable surroundings, I'll be buckling my boots again to ski this mountain.
Click here for details to plan your own adventure to Kirkwood, California.