Jazzed on Theme-Cruising the Caribbean
Strolling the S/S Norway's Olympic Deck, we gazed starboard at the moonlit Caribbean Sea. As the Norway sailed westward-bound toward tomorrow's destination of Cozumel, we excitedly discussed today's activities -- sunning and swimming on Grand Cayman Island's Seven-Mile Beach, Italian cuisine dining in the Norway's Le Bistro restaurant, and enjoying three great sets of jazz. That evening we had heard some phenomenal music: Joe Williams, the great blues and jazz singer; Stanley Turrentine, the talented saxophonist; and Diva, the all-women big band. Now we were looking forward to tomorrow's tour of Mayan ruins at Tulum, snorkeling at Xel-Ha lagoon, and excellent dining and jazz back on the Norway.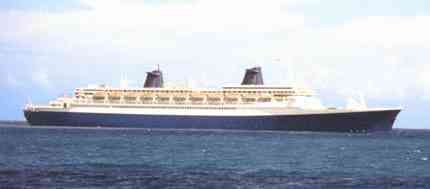 Photo: Rita Furnanz
With Norwegian Cruise Lines (NCL) theme cruises, you pick the theme and itinerary that best match your taste. When we first heard of NCL's Floating Jazz Festival, we knew it was the right cruise for us. The most difficult decisions of each day were selecting activities at each port-of-call and choosing jazz sets after dinner. Tough choices! Theme cruising the Caribbean was a great way to go! Music theme cruises include jazz, rock oldies, blues, big band, Dixieland, and country music. Sports theme cruises include pro football, pro hockey, pro basketball, pro baseball, motor sports, and fitness. Choose your favorite theme and see the Caribbean with a group of passengers with similar tastes for enjoying music or sports with the stars of their trade.
The S/S Norway and NCL Theme Cruising
| | |
| --- | --- |
| Courtesy: Norwegian Cruise Lines | Photo: Rita Furnanz |
Cruise-director, Sara Ryan, filled us in on the details of the Norway and NCL theme cruises, which were started with the first Floating Jazz Festival in 1983. The S/S Norway is an ideal cruise ship for music theme cruises, due to its large theater and three large lounges. The Norway is the Caribbean's largest cruise ship, longer than the Empire State Building is tall, carrying 2,000 passengers and a 900-person crew. Originally built as a French trans-Atlantic cruiser in the 1960s, NCL purchased the Norway in the 1970s and refurbished it at a cost of $150M. It is the only remaining steam ship in the cruise industry (hence, S/S Norway). NCL has built theme cruising to the point of running ten music theme cruises and six sports theme cruises each year, the largest selection of any cruise line company. Most theme cruises line-ups are planned and coordinated by an outside firm, such as HOSS Inc.which plans the jazz, big-band, blues, and Dixieland cruises. The itinerary for the theme cruises includes a variety of eastern and western Caribbean destinations.
The Islands

Starting and ending in Miami, our cruise itinerary included Ocho Rios in Jamaica, Grand Cayman Island, Cozumel, and Great Stirrup Cay in the Bahamas. NCL owns the cay, which is ideal for soaking up the rays and snorkeling in blue-green, fish-filled waters. The other three ports of call include a broad range of tours and activities available to passengers "going ashore." On Jamaica we opted to take a luxury yacht cruise from Ocho Rios along the Jamaican coast. We stopped at Dunne River Falls to climb the falls and swim in the cove. The last stop was for coral reef snorkeling off of James Bond Beach (yes, they shot a film here).


Photo: Rita Furnanz
| | |
| --- | --- |
| Photo: Rita Furnanz | The week-long cruise itinerary was well organized. Upon leaving Miami, we had a full evening and the entire next day at sea. This allowed time to get to know the ship and really get into the jazz theme. The following three days we anchored at ports of call, followed by night-time cruising to the next port. Two large tender boats would efficiently ferry passengers from the anchorages. We then enjoyed our second full day at sea, a welcome respite, followed by the day at relaxing Great Stirrup Cay. On the final day we debarqued by 11 a.m., well-rested, and ready to reserve a spot on next year's jazz cruise. |
All That Jazz
For a jazz fan, no other venue can quite compare with NCL's Floating Jazz Festival. This year's lineup of groups filled the theatre and three clubs with jazz sets running from 8:30 p.m. to 1 a.m. each evening. A smattering of remembrances gives a feeling for the experience...singer Joe William's rendition of Louis Armstrong's It's a Wonderful World, saxophonist Stanley Turrentine's solo on Don't Mess with Mr. T, and trumpeter Clark Terry's light-hearted chatter with the audience. New York's Johnny Frigo drew standing ovations with his wildly inventive violin solos, as did guest violinist Rob Thomas. Pianist Junior Mance played a wonderful version of Jobim's Wave. All-woman big band Diva got the crowd going with Ella Fitzgerald and Duke Ellington medleys. The "Meet with the Stars" discussion gave us good insight into the musciians' careers. Added to all this, we greatly enjoyed developing new acquaintances with fellow jazz fan passengers, such as Portland performing jazz pianist, Jean Ronne.
| | |
| --- | --- |
| Photo: Les Furnanz [Rob Thomas, John Frigo] | Photo: Les Furnanz [Diva, No Man's Band] |
The Cuisine
| | |
| --- | --- |
| The delicious cuisine was a major cruise highlight. Each evening saw a new theme menu. The Bon Voyage Dinner, Captain's Gala, and Farewell Dinner provided excellent continental cuisine. The other evenings included Caribbean, country and western, Italian, and French cuisine themes. With at least five selections for each course, we never lacked new taste treats. The Norway has two large dining rooms, each with two seatings, as well as Le Bistro, available by reservation. The service staffs were top-rate. Other opportunities for great food and snacks included the ice cream bar, midnight buffets, the Chocoholic Extravaganza, and a beach barbecue. Our challenge was to keep our waist lines from reflecting the excellent food. Mercifully, the jogging deck, fitness center, and port-of-call activities kept us burning the calories. We can't wait for next year's cruise to sample more excellent cuisine, phenomenal jazz, and the warm Caribbean. | Photo: Rita Furnanz |
Click here for details on Norwegian Cruise Lines' 1998 theme cruises.
Les Furnanz