Chile's Ruta de Vino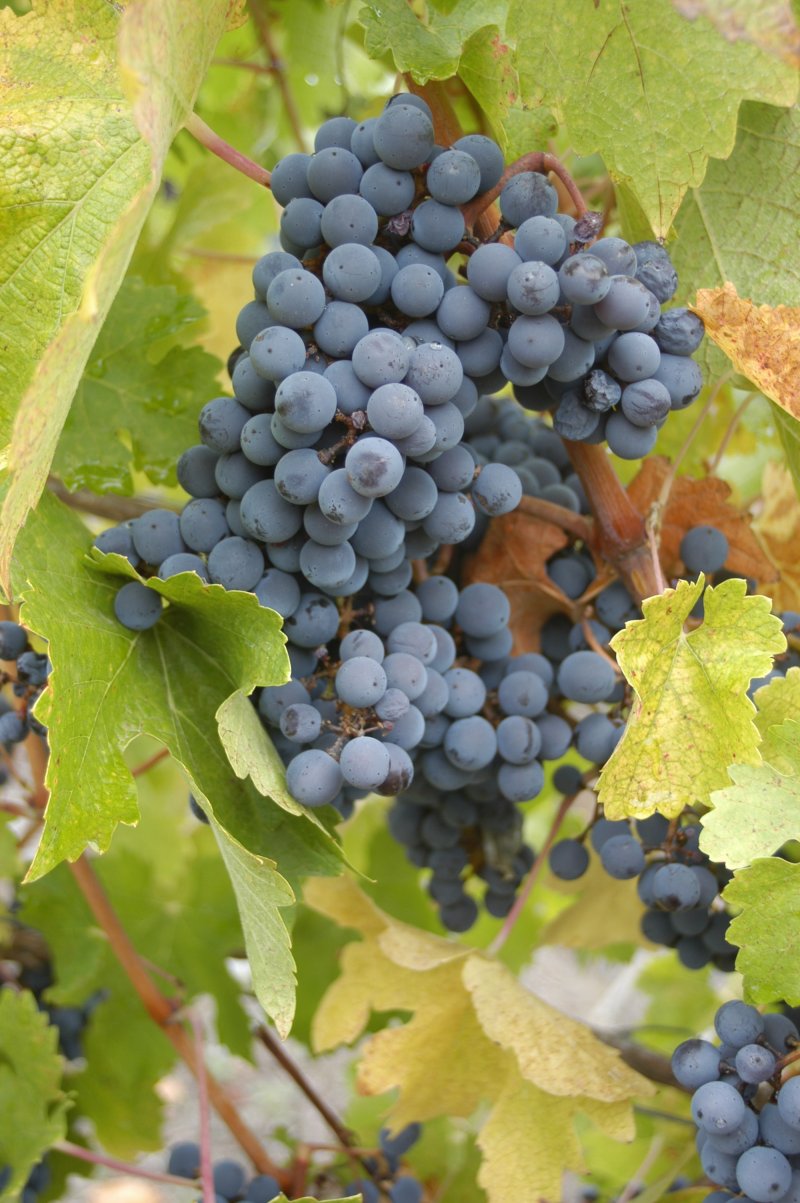 Wine Tasting in Chile's Valle del Maule
Story and Photos by Lee Juillerat
I doubt it was what Rodrigo Sepulveda, the export manager for Balduzzi, one of Chile's finest makers of wine, had in mind when he generously handed me a bottle of aged Grand Reserve 2000, a dreamy smooth blend of Cabernet Sauvignon, Merlot, Carmenere and Lagrima Christa. This just after a sumptuous late lunch that included fresh salmon fillets soaked in lemon, ravioli-like shells stuffed with tomato sauce and garnished with mushrooms and, for dessert, raspberries with papaya. Each course, of course, was served by a maid in a black dress and white apron with the appropriate Balduzzi wine – Chardonney Reserve with the salmon, Grand Reserve with the pasta and a delicately sweet Late Harvest with dessert - in the Balduzzi's family colonial-styled estate home on the grounds of their San Javier winery. All this after a lingering tour of the vineyards, park-like grounds, efficient production area and musty cellars.
| | | |
| --- | --- | --- |
| | | |
| Wine themed art at Balduzzi estate | Last Look at the Salmon | Rodrigo Sepulveda with Grand Reserve |
| | |
| --- | --- |
| From Balduzzi I visited another regional winery, Vina Gillmore, before driving the rental car back to Talca, where I spent another night before catching an early morning a taxi to the bus station and boarding an old but sturdy bus (it looked borrowed from the movie, "Romancing the Stone") for the two-hour ride over paved and unpaved road to Vilches. Vilches is the village that's the taking-off place for Altos del Lircay, a Chilean national park known for its parrots and beech trees. At the end of the bus line I hefted my backpack and carried in my arms the Grand Reserve and other bottles of wine the mile-plus distance up the rocky road, which under a heavy pack seemed even steeper, to a mountain cabana that was serving as a temporary home for my daughter, Molly, who was working as a volunteer park ranger. | |
| | Molly at her table |
That night she concocted a mishmash of noodles, sausage, onions, zucchini, garlic, red peppers, carrots and spices into a meal that, possibly assisted by my unassailable hunger, made the lunch at Balduzzi's seem like a visit to McDonald's. And, quite probably, that taste memory was assisted by several glasses of the Grand Reserve.
Wine drinking and making are taken seriously in Chile, where the wines are seriously good. Americans are familiar and comfortable with wines from Chile. They're tasty and often inexpensive. Chilean wines are easy to find, from specialty neighborhood wine shops to the shelves at Fred Meyer and Grocery Warehouse outlets. Likewise, Chilean wines are popular and highly regarded in Europe, including the United Kingdom, Germany, France and Italy. Now Chilean wineries want to create that same sense of familiarity in untapped markets, in countries like China, Japan and Russia.
"In Chile there is a war of prices," Balduzzi's Sepulveda told me during my winery visit. He should know. Balduzzi is one of Chile's major wine producers. "It's more important for the Chilean wines to focus on the foreign markets where there are more people with more income."

| | |
| --- | --- |
| | |
| Balduzzi wine tasting | Wine-to-be at Vina Vinos |
Chili produces about 5 percent of the world's wine and depends on its international market. Chilean wineries export more than 70 percent of their products. Premium wines are mostly sent out of the country while Pais, from grapes originally brought to Chile and planted by Spanish priests as early as 1548, stay in country. One winemaker described Pais as a "rustic variety for rustic people."
Sepulveda said Balduzzi, like most Chilean wineries, exports 80 to 85 percent of its wine to 25 countries in North America, Europe and Asia, with about 8 to 10 percent of that volume going to the United States, primarily through East Coast distributors. "We're starting to sell our wines in Texas and Colorado and, soon, California and the Pacific Northwest."
Like Sepulveda, Rodrigo Baeza of Vina Vinos Del Sur, my first stop that day, believes Chile's future in wine sales lies in undeveloped markets with millions of potential wine drinkers, including China, Japan and Russia. "Our main markets are Germany and the U.S.," Baeza said, noting his company's brands - which include Carpe Diem, Rucahue and Concepcion - already make their way to Denmark, Finland and other countries not known for having large numbers of wine drinkers. "We are trying to get into the Russian and Chinese markets. We look forward to doing that."

| | | |
| --- | --- | --- |
| | | |
| | Workers harvesting grapes from Vina Vinos Del Sur vineyards | |
Baeza said Del Sur is shipping only about 4,000 cases a year to China, but he envisions significantly increasing those numbers as efforts continue to "educate" potential customers about wine.
"Wine is a very competitive business because there are a lot of countries around the world producing wines," Sepulveda said, echoing Baeza. "China could be very important, and we are looking at Japan and Russia, too. We want to help create a demand for wine in those countries."
Balduzzi and Del Sur are two wineries in Valle del Maule, or the Maule Valley, a wine-growing region about three hours south of Santiago. The Maule Valley, one of the country's eight wine regions, is important because it produces nearly half of Chile's grapes. Chile's winemaking history is impressive, one that dates back to 1548, when Francisco de Carabanetes, a Catholic priest, planted vines he carried from Spain. The quality improved with the introduction of French vines and investments by foreign companies, included Miguel Torres of Spain, Baron Rothschild of Bordeaux and, more recently, various American wineries. "All the foreign investment is very welcome," Sepulveda said.

| | |
| --- | --- |
| | Another Maule Valley winery, Gillmore Winery & Vineyards, is a boutique winery. But general manager Daniella Gillmore Esturillo emphasized that foreign markets are fundamental. All of Gillmore's organic wines are reds, including Cabernet franc, Cabernet sauvignon, Merlot and Coppere, a blend. "We are not in the race to be the cheapest," Esturillo said, noting Gillmore exports 70 percent of its wine. Existing export markets include Brazil, Columbia, Germany, the United Kingdom, Denmark, Finland and, assuming start-up efforts succeed, the U.S. |
| Daniella Esturillo pouring wine | |
Gillmore is seeking other markets, too. Its grounds include a 14-room guest house, located just steps away from a varietal garden with 32 types of grapes. "The idea is you come here and have the whole wine experience," Estruillo explained. "Normally we have a lot of people who know about wine We have a lot of people coming from the states because they want to learn how to make wine on their own" through week-long programs. The high season is from December through April.

While Gillmore isn't looking at radically new markets like Japan, China and Russia, Del Sur and Balduzzi are. Signals of change are especially evident at Balduzzi, partly because of its size. Along with photographs of smiling Americans and Europeans at their winery, Balduzzi brochures show company president Jorge Balduzzi, a third generation family member, sharing smiles and hoisting wine glasses with Japanese, Chinese and other Asian country representatives.
Because Balduzzi and other wineries send most of their wine overseas, the bottle labeling process is different from U.S. practices. Once bottled and placed in large cases, Balduzzi wines sit unlabeled until orders are received from exporters. Balduzzi already has an assortment of labels in different languages. If their hoped-for new export markets are successful, new batches will include Chinese, Japanese and Russian labels.
All Chilean wineries, including those in the Region del Maule, are eager for tourism. Buses ply the Ruta 5 Sur, the freeway that connects the region with Santiago to the north and Chillan to the south. There are currently 15 wineries in the area, with most open to visitors from near and far. Individuals can tour wineries or, more easily, book tours along the Ruta del Vino. Half-day trips last four hours and include trips to two wineries with tastings and an optional lunch. Full-day tours take seven hours and include stops at three wineries with tastings, lunch, a visit to the Villa Cultural Huilquilemu, or Huilquilemu Museum and, on some tours, visits and walks at Altos del Lircay. Ask about the cabana, and maybe bring a bottle of your favorite Chilean wine for your own superb lunch. I have no doubt Rordigo
When You Go
Chile is regarded a safe and friendly country to visit. Efforts to encourage and promote tourism are expanding, as are efforts to create foreign markets for its wine. For information about the Ruta del Vino, visit the Website at www.chilewineroute.cl. For information about Vina Balduzzi visit www.balduzziwines.com; Vina Gillmore visit www.gillmore.cl; and Vina Vinos del Sur visit www.vinodelsur.cl. Excellent information is also available from the very helpful staff at Vinos de Chile Corfo in Talca, www.vinosdechile2010.cl.


***
Lee Juillerat is writer-photographer based in Southern Oregon. Along with working for a daily newspaper, he is a freelance contributor for a variety of regional newspapers and magazines, including Northwest Travel, Oregon Coast, Range, the Capital Press and Northwest Wine Guide. He can be contacted at lee337@cvc.net.