Easter Island

Story and photos by Lynn Rosen and Steve Giordano

| | | |
| --- | --- | --- |
| | | |
| 15 Moai (carved from compressed volcanic ash). | | Airplane circling to land |

Easter Island or Rapa Nui, as its natives call it, is one of the world's richest and most remote archeological sites, inhabited by about 3,000: 1,000 natives and 2,000 Chileans. 2,300 miles from South America and 2,500 from Tahiti, its nearest neighbor, 1,200 miles away, is tiny Pitcairn Island with 48 inhabitants.
Visitors from the U.S. traveling to Rapa Nui make at least a day's journey or longer. Its remote location has, over history, contributed to its culture, art forms, customs, language and connection to the world at large.

Its stone giants on average stand 13 feet high and weigh 14 tons, large heads on male torsos fashioned after the penis, carved from volcanic ash, called moai. They stand on sacred pedestals called ahu. Do not walk on these platforms. Most all of the moai are erected around the coast and face inland towards their villages with their backs to the sea.

Easter Island's airport was built in 1966 and only since 1967 have 6 large planes a week been bringing tourists to the island from Santiago and Tahiti. Prior to '67, Rapa Nui saw only one boat a year arriving from mainland Chile.
Visitors stay in a number of local hotels, simple bed and breakfasts or private homes. The Otai Hotel, (56-32-100-250), otarirapanui@entelchile.net Te Pito o Te Henua is across from the post office where your passport can be stamped with official Easter Island stamps for $1 US. The Otai is the oldest and best lodging on the island, with beautiful gardens, a pool, many meandering clusters of lovely, simple rooms, close to the bay and within walking distance of the main village of Hanga Roa. The food (breakfast included, lunch and dinner optional - and yes, there is a bar - don't miss the local pisco sours) is fabulous. No need to worry about eating anything nor drinking the water. All is safe, fresh and delicious, especially the heavenly freshly squeezed mango/papaya/banana/strawberry juice every morning.
Visit the Easter Island Foundation shop right next door. It features local artist's carvings, jewelry, fabrics and more. Marcia, the woman who keeps the shop, shares island lore. Profits from the shop contribute to the foundation for local scholarships and research.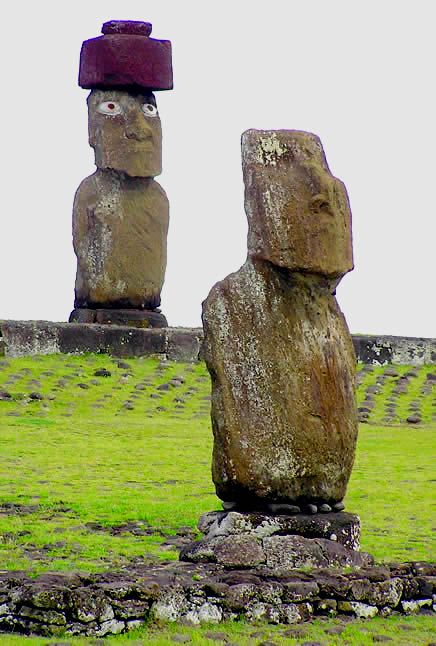 Two Moai standing guard

Although one could spend more than a month visiting everything on this 64 square-mile island, here is a thumbnail travel guide for a few days visit on Rapa Nui.
On your first day, hire a guide, arrange for a picnic lunch and drive to the statue quarry, Rano Raraku, as early as possible. If you get there early, you'll be spared the crowds and enjoy the remarkable site of the birth of the moai, the monoliths of Easter Island. There are nearly 400 moai at the quarry. Many are still connected to the rock mountain where they were originally carved.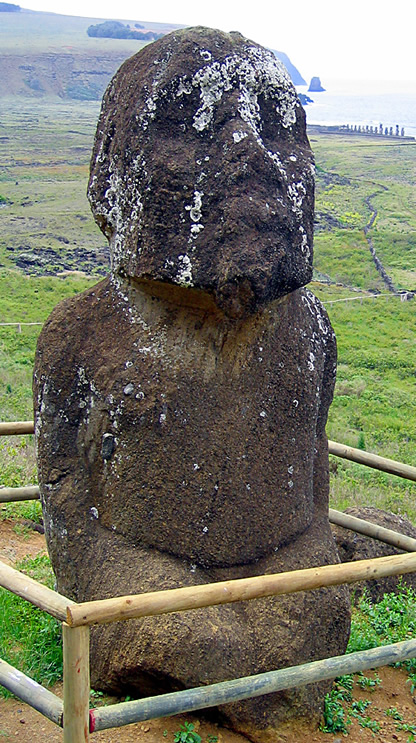 Kneeling Moai

Visit the only kneeling moai, known as Tukuturi. One of the first carved moai, this statue has legs and feet, unlike the more simply carved upright statues on the island.
| | |
| --- | --- |
| | |
| Tripped, Buried and... | Tilted |

Some are found fallen mid-way on their way down the mountain to find their way to their final destinations. Many are half-buried with their heads standing above ground.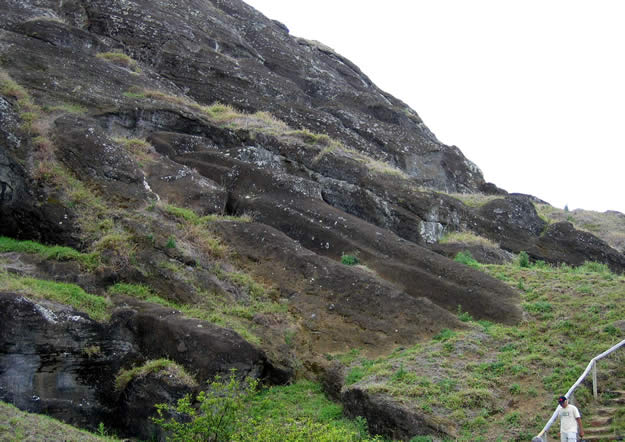 El Gigante embedded on hill

Also see the largest moai ever carved, El Gigante, 65 feet and 270 tons. He is still ensconced in his original carved mountain-side bed.
Note that the hiking trails in the quarry can be steep and a bit difficult. It's not handicapped friendly. Wear appropriate footwear and carry water. Once you've enjoyed this incredible site, enjoy a picnic lunch at the base under a canopy of eucalyptus surrounded by many arts and crafts stalls.


Next, visit the most famous site, Tongariki, just below the quarry, to view and photograph 15 erect statues and significant petroglyphs.

| | |
| --- | --- |
| | |
| A Topknot with petroglyph | A Statue on its face |

On your way back to Hanga Roa, you can stop at Vaihu, Hanga Te Tenga and Akahanga. Depend on your guide for inside information.
| | | | |
| --- | --- | --- | --- |
| | | | |
| Petroglyph of Birdman | Photos of Orongo including cliffs | Island of the "Birdman" competition | Stone Housing |
On your second day, visit a most sacred site on the island, Oronogo. See the ceremonial stone houses that housed those male athletes participating in the ancient Birdman ritual. In this competition, athletes climbed down the thousand-foot cliff, swam more than a mile through shark-infested seas, retrieved a seabird egg from the distant island, swam back, climbed back up the cliff and presented the egg to their sponsors. The winner became the Birdman for a year and presided over the island.
On your way back to Hanga Roa, visit the Englert Museum. It was named after a German-Chilean priest who was instrumental in collecting archeological information and restoring monuments. View the only intact moai eye ever found as well as a moai Hyerdahl used to test moving methods. The gift shop is spectacular with many local carvings, weavings, books and jewelry.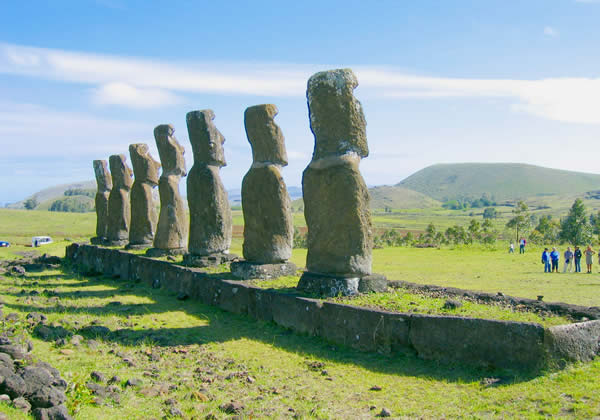 Backs of the 7 Ahu Akivi statues

On day three, travel to Ahu Akivi. Seven stunning moai stand on their sacred platform or ahu. Be sure to view them from the back as well as the front.
| | |
| --- | --- |
| | |
| Puna Pau, the topknot quarry | A topknot with groove |
The red scoria topknot quarry, Pun Pau, features more than 30 abandoned sacred topknots meant for the standing moai. For the red color, Rapa Nui mixed the stone with honey and blood.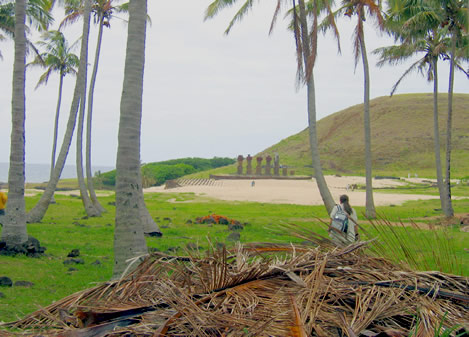 5 statues on the sand
Make sure to visit a fabulous swimming beach, Anakena, next to a spectacular ahu with statues, coconut palms, petroglyphs and camping amenities. The water is clear and warm, the beach inviting and clean. Plan to stay for a picnic or an afternoon. There is also another beautiful swimming beach cove just south at Ovahe.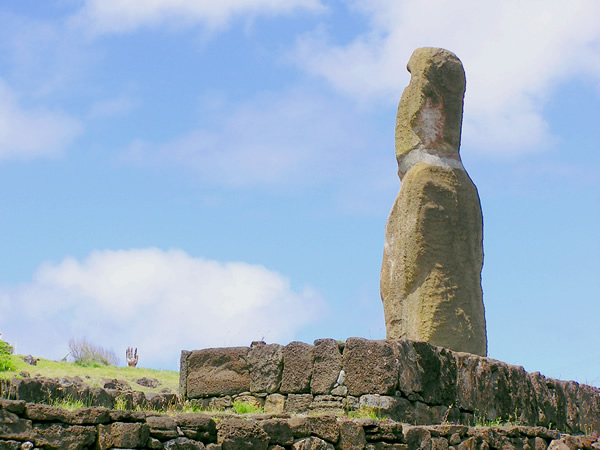 Hand waving at statue
If you have time, on day four, put on your hiking shoes and walk the north coast of the island along the water. Take a taxi to the beginning of the trail, there are no roads. Make sure to take water and food and make arrangements to be picked up at Anakena about six hours later. It is a wild and raw part of the island.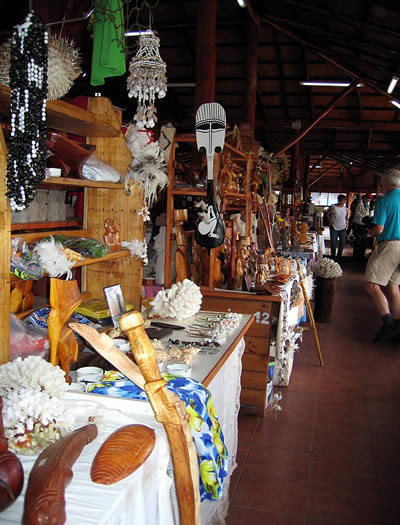 The Mercado in Hanga Roa

Don't leave town without shopping for souvenirs at the Mercado and Feria as well as at local shops along the village streets in Hanga Roa.
And enjoy the pisco sours (sort of like a margarita), wonderful seafood, fresh vegetables, fruits and Chilean wines at local restaurants. See the following websites for more information.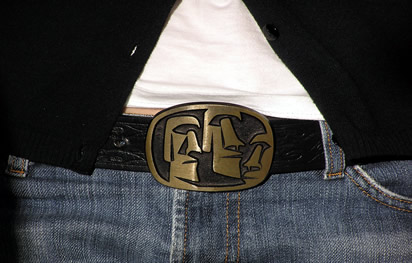 Moai Belt Buckle

Websites
Easter Island Home Page www.netaxs.com/trance/rapanui
Easter Island Foundation www.islandheritage.org
Visit Rapanui www.visitrapanui.cl