Big Mountain and Cafe Kandahar:
Montana Delights
Article and Photos
by
Larry Turner
Andy Blanton lives for food, snow and seasonal sprinklings of fly-fishing.
The Executive Chef of Big Mountain, Montana's Café Kandahar—one of
Montana's finest—can literally ski to the front door of his work if he wishes. On some
bluebird, powder days, he does just that.
"Nothing like the poetry of powder on a perfect run, followed by preparing some
of my favorite culinary delights and challenges," laughs the self proclaimed ski and fly
fishing bum with a degree from one of America's most prestigious culinary schools: the
Culinary Arts Institute of Louisiana in Baton Rouge.
Blanton is rapidly developing a name in the culinary world with many offers
elsewhere. "I'm happy and content here though. Why leave when you live in paradise?"


| | | |
| --- | --- | --- |
| | | |
| | Skiing Big Mountian | |
Big Mountain—outside Whitefish and near Glacier National Park and the Canada
border—has long been known as a wonderful and less crowded ski mountain. "Our
variety of terrain, long runs, sunny days, spectacular views and snow quality will
compete with anyone," says Brian Schott of Big Mountain Resort. "Plus the fact
Montana folks are friendly and fun to be around."
In early spring this year John Paulson and I traveled via Amtrak from Portland,
Oregon to Whitefish, an unforgettable trip of immense beauty—traveling along Columbia
Gorge near sunset, through the night into Washington and Idaho, awakening to a glorious
Montana Rocky Mountain sunrise east of Libby. If time avails itself, train travel is a
perfect way to start a ski vacation. The Empire Builder—the name of the route we took,
which eventually ends in Chicago—passes through and stops in Whitefish. Schott picked
us up and transported us to The Kandahar Lodge where we stayed for three nights.
| | | |
| --- | --- | --- |
| | | |
| Martin Griff...Big Mountain appetite | | Barry Warsch, Florida, Summit Break |
| | | |
| --- | --- | --- |
| | | |
| Downtown Whitefish | Whitefish Decor | Bon Appetite! |
Located at the base of Big Mountain Ski Resort, The Kandahar is the perfect ski
lodge, offering 50 rooms in four styles. Mine was a studio, finished in pine with leather
furniture, down comforters, a writing table and other amenities. The antique furnished
Kandahar lobby—with the constant crackle of fire from the simple and beautiful river
rock fireplace—is a great place to read, relax and converse. Nearby is the aptly named
Snug Bar, sequestered to the side of the lobby—a perfect place for après ski drinks and to
hash over the day's experiences on the slopes. The walls of the Snug are adorned with
new and old ski and sailing photos—both passions of Kandahar's owner Buck Love. The
large outdoor hot tub of Kandahar's Wellness Center I used before and after skiing each
day.
CAFÉ KANDAHAR
Reading the Kandahar's bio handout on Blanton was fascinating. "Success is
achieved when one becomes content with the delicate balance of both working and living.
The marriage of success and inspiration is the ultimate goal, thereby enriching one's life
with happiness, forming a stimulating environment where the freedom to be creative is
encouraged," it read. Followed by a summation from Blanton," The heart is the source
for inspiration. Staying immersed in creativity and keeping a strong work ethic is the key
to maintaining a love for what you do."

| | | |
| --- | --- | --- |
| | | |
| Chef Andy Blanton | Kandahar Lodge Lobby | Curtis Fong |
| | | |
| --- | --- | --- |
| | | |
| Kandahar Cafe | Apre Ski Snug Bar | Hellroaring Saloon |
After the Culinary Institute, Blanton took a position at the Commanders Palace in
New Orleans where he honed his skills even deeper, learning the value and satisfaction of
realizing the four basic taste buds in every plate with details placed on visual appeal,
texture, palate feel, presentation and flavor. The diversity of Blanton's culinary skills is
analogous to skiing Big Mountain's 3000 plus acres, offering glades, trees, chutes,
solitary powder, big zippidy-do-dah runs, velvety cruisers—and all with views that keep
the postcard business thriving.
| | | |
| --- | --- | --- |
| | | |
| Mono-ski Guru | "Comes with a View" | |
A generous snowstorm took place our first day on the mountain. Having skied
Big Mountain before, I had prompted John on the views we would experience of the
endless Canadian Rockies, the incisor toothed Glacier Park Range, the inviting Bob
Marshall Wilderness to the southeast and the Flathead Valley below us. None did we see
that first day as the storm encircled and restrained us. The following day though
belonged to the epicurean ways of the mountain Gods. Fresh powpow, perfect groomers,
factor 30 sunshine, "los you know what to the walls" kind of a ski day. First tracks by
skiers and boarders were filled with hoops and hollers. I swear some didn't end until
their last runs. When all said and done, John and I skied to the backdoor of the
Kandahar, placed our skis in lockers and headed to our individual rooms where we
freshened up for an equally epicurean event about to take place: dining with fellow
members of the North American Snowsport Journalist Association at Café Kandahar.
Café Kandahar's menu is Modern American Cuisine, Classic French and
Traditional Louisiana. The Café's wine selection is second to none in Montana. The
Café has won the Wine Spectator Award of excellence since 1998 and the Wine
Enthusiast Award of Unique Distinction in 2004.
The pairing of wines with our multi-course meal that evening was unparalleled
leading Paulson to remark," In all my travels, I've never had better matches with wine
and food, especially with the openers (appetizers)."
We tasted six world-class appetizers that included bronzed sea scallops, paneed
sweetbreads, Flathead Valley elk carpaccio, paneed loin of rabbit, wild
mushrooms/caramelized onions and roasted Mississippi quail. The quail was prepared
with andouille stuffing, dxelle mushroom cake, warm cane syrup and 50-year aged sherry
emulsion. Gourmet soups and nutritious salads were followed by main entrees that
ranged from $22 to $53. I selected the canard deux facon (a seasoned duck breast with a
spiced ginger-vanilla jus). Others tried a variety of entrees, including elk roulade,
crawfish ravioli, and grilled buffalo tenderloin. The selections were perfect,
commiserating nicely with our poetic ski day.
BIG MOUNTAIN
Big Mountain Ski Resort is impressive no matter how you look at it. The views
are spell bounding. Looking in any direction—especially north and east--, one feels
immediate kinship to the world's greatest mountain ranges. Big Mountain occupies a
stellar sky roof bedroom in the heart of the Rocky Mountains northern most US location.
One unique aspect of the Mountain—giving it a continuing presence of a winter
wonderland—are the snow ghosts that linger throughout the ski season at the higher
elevations. Snow ghosts are build-ups of rime ice around trees, creating ghostly and
imaginative figures.
| | | |
| --- | --- | --- |
| | | |
| | Big Mountain Turns | |
Adding to the pleasure of our three Big Mountain ski days was the amount of ski
elbowroom, which we enjoyed. Many times our small group had long runs all to
ourselves. Even when the mountain has larger crowds, one can easily slip away into
private ski zones. Some of my favorite speed runs were Moe-Mentum (named after
Olympic American gold medallist Tommy Moe who spent his formative years at Big
Mountain), the Big Ravine, Toni-Matt and Moose.
Big Mountain's superb telemark skier Lisa Jones shared with us one of her
favorite places: Good Medicine, a powder/glade/corn snow retreat tucked away between
the groomed Big Ravine and Toni-Matt.
| | |
| --- | --- |
| | |
| | Big Mountain Snow Ghosts |
Big Mountain has an interesting mix of skiers from all walks of life. It is a local's
mountain—almost retro-like—that lures skiers from around the world. The skiers and
boarders have two things in common: they're serious and they like to have fun. They ski
hard, but they're polite. The mountains ski ambassadors—such as retired 65-year-old
surgeon Mike Doroughty—were very helpful with their knowledge and suggestions.
I saw monoboard skiers—a first for me--, blind skiers (I took several runs with
one and he was superb), paraplegic skiers, skiers with retro costumes dating back to the
50s and 60s—replete with straight, narrow skis. If I had looked closer, I might have seen
bindings with straps attached and God forbid, a one buckle Scott boot (which I proudly
have a pair of, and bright yellow to boot!)! The bulk of the Big Mountain skiers and
boarders rely on modern equipment and dress but it was a pleasure to see that some
things are timeless and never need changing. Give me a good mountain, affordable ski
passes, a friendly service staff with a sense of humor, courteous fellow riders, and it
really doesn't matter what walk of life you hail from, what you wear or what you ride on!
Big Mountain is comfortable, like an old friend that is reliable, generous and
unpretentious. The Summit House—accessed by the quad Glacier Chaser chair—and bar
is nothing fancy except for the view that may cause you to spill tears of joy in your
Moose Drool beer. The Hellroaring Saloon and Bierstube—both steeped in funk and
character—are two great places to wet your ski whistle during and after a day on the
slopes. Big Mountain's Day Lodge Outpost was renovated and is open for this ski
season.
Big Mountain—averaging 300 plus inches of snow a year—has 93 marked runs
along with a vast amounts of tree, glade, chute and bowl skiing, along with a terrain park
and half pipe. There is night skiing along with alpine night races every Wednesday and
Thursday night telemark races. During each ski season, there is a Moonlight Dine and
Ski event connected with the full moon each month. Call Big Mountain (800-858-4152)
for details. The Mountain also offers snow cat adventures for the backcountry ski
enthusiast.
WHITEFISH
The small city of Whitefish and Big Mountain are spoken often in the same
breath. It is a lively city with a history that has evolved through early day trapping,
timber, the Great Northern Railway (1891), farming, ranching, land speculating, fishing,
mountaineering and tourism. As one person said," It's a great place to get away from the
rat race!" It is a modern day mosaic of friendly businesses, art galleries, unique lodges,
imaginative eateries, historical buildings (including a Frank Lloyd Wright designed
business), summer and winter outfitters and even a microbrewery. Don't worry
espresso/latte drinkers, that's available, too. Glacier National Park is 25 miles away,
Kalispell (the main airport) 15 miles and the Canadian border (Port of Roosville) 55.
| | | |
| --- | --- | --- |
| | | |
| | Amtrak: Portland to Whitefish | |
Along with the Kandahar Lodge, my favorite place to stay in Whitefish is the
Grouse Mountain Lodge (800-321-8822). A big plus about the Grouse is that their 18-
hole golf course becomes a cross country (stay on their manicured trails only) ski course
during the winter months with a Nordic center nearby. Several years ago during a stay,
my son and I enjoyed this amenity immensely. Often we finished our alpine day with a
Nordic ski—snow frosting on the cake, sort-a-speak.

Big Mountain, Kandahar Lodge and Café, and Whitefish: three peas in a beautiful
winter pod. Plan your harvest this winter!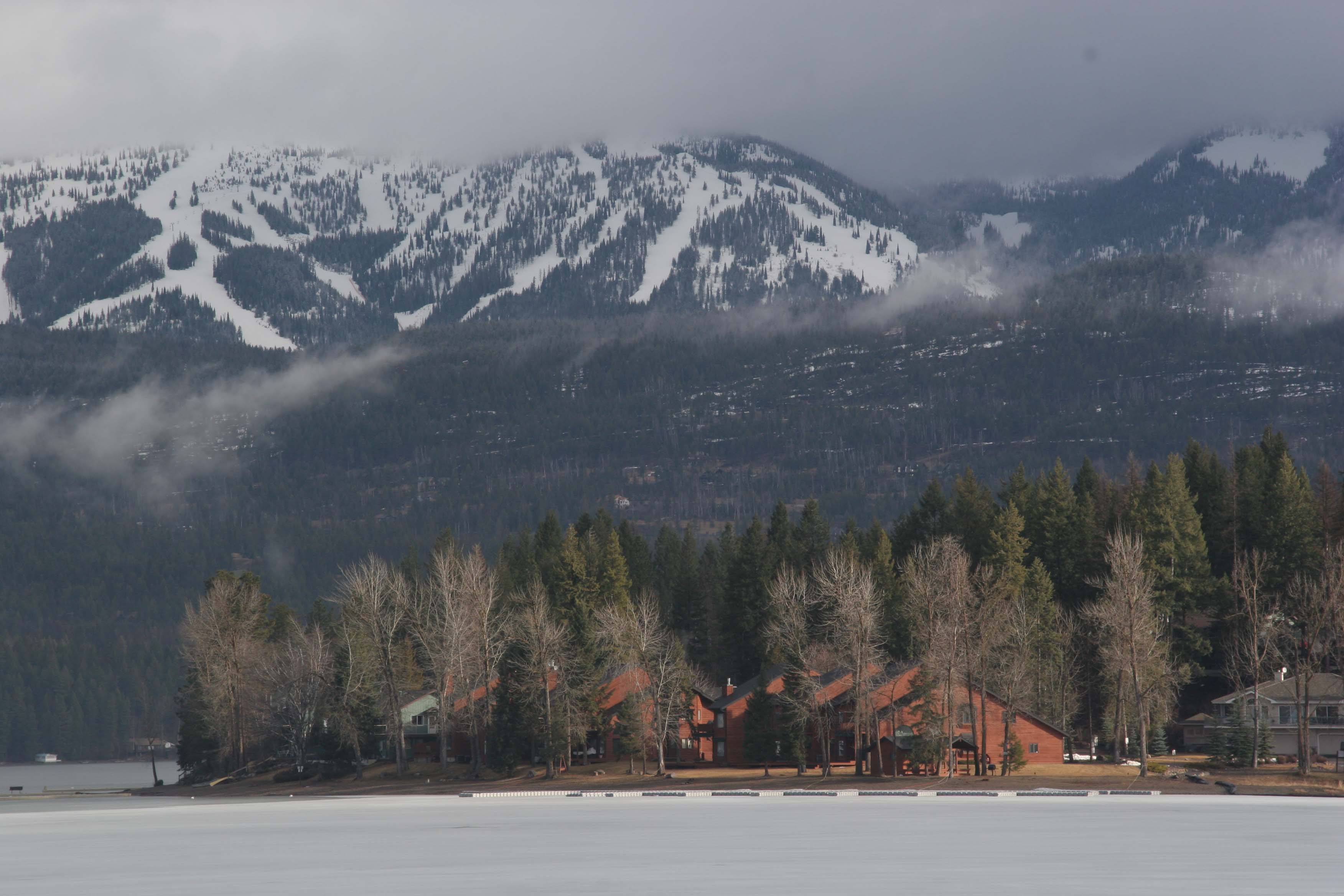 Big Mountain, Montana
IMPORTANT INFORMATION: Big Mountain Resort: 800-858-4152,
www.bigmtn.com; Kandahar Lodge: 800-862-6094, www.kandaharlodge.com; Amtrak:
800-USA-RAIL, www.amtrak.com; Whitefish Chamber of Commerce: 877-862-3548,
www.visit@whitefishchamber.org. Glacier Park International Airport (GPI) is 19 miles
from Big Mountain. Call 1-800-858-4152 for reservation and planning advice.
Recommended Big Mountain reading: Hellroaring by Jean Arthur. ISBN # 0-9645477-8-
3 or call 800-893-0963 (406-862-9678)
Prints may be purchased by contacting Larry at Skiturn789@yahoo.com.