A moving sea of white and blue ice flowed beyond the Fairmont Le Manoir Richelieu Hotel's fourth story window.

It was a hypnotic and odd scene: the mighty St. Lawrence River's frozen winter grip relenting to the first urgings of Spring.
Jigsaw puzzle like flotillas of ice, singular icebergs and massive sheets were being transported by the powerful river's Atlantic current. The strong inland tides-as great as 20 feet 1000 miles inland-created reverse currents as I witnessed intrusions of ice heading back upriver like an ice breaker ship slamming and penetrating the frozen flows until succumbing to exhaustion.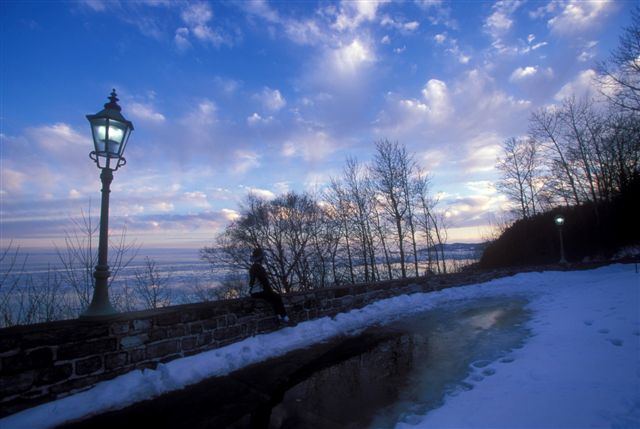 St Lawrence Seaway
It was unusual visual entertainment after a robust day skiing the charming family oriented ski mountain resort Mont Grand-Fonds located in Quebec, Canada's southern Charlevoix region.
Though the room had a television, its company was never needed in this land of compelling views. Charlevoix was designated a UNESCO World Biosphere Reserve in l989. Located a hundred kilometers east of Quebec City along the St. Lawrence Seaway, Charlevoix is a riveting landscape of summits, picturesque countryside and fascinating tidewater. It was forged by the impact of a 15 billion ton meteorite 350 million years ago.
Charlevoix and Quebec's Eastern Townships would be Amy Hartell and my ski home for 10 blissful days. Six resorts later, we reluctantly boarded the plane for our Oregon return.
CHARLEVOIX, LE MASSIF AND GRAND FONDS
| | | |
| --- | --- | --- |
| | When U.S.President William Howard Taft visited the Charlevoix Region, he called it"…as intoxicating as champagne but without the morning after headache." | |
| Eastern Township Dog Sledding | | Snowshoes at the Ready |
Charlevoix is a land of charming villages perched on the flanks of the Laurentian Mountains in the heart of the Canadian Shield, the earth's oldest landform.
It is a region noted for fine cuisine, fishing, whale watching, artisans and skiing. A large percentage of the region's French Canadians are descended from Normandy, France.
Le Massif is Charlevoix's premier ski center. Receiving an average of 21 feet of snow a year, Massif has a vertical drop of 2525 feet, the highest east of the Canadian Rockies. Le Massif's breath taking views above the St Lawrence Seaway has earned it accolades as "Best Quebec Ski View" in Ski Canada Magazine and "Most Scenic Ski Area" in the New England Ski Journal. It is also noted for tree skiing, powder, cruising and mogul runs. A host to World Cup races, Le Massif has Eastern Canada's only National Alpine Ski Training Center and is also a major hub for telemark ski competitions.
| | | |
| --- | --- | --- |
| | | Whereas Le Massif is a giant of a ski mountain, Mont Grand Fonds is the mellow, friendly nearby distant cousin. Its south-facing trails provide plenty of sunshine and granular, corn snow. It also has a network of 15 cross country trails, snow shoeing trails, inner tubing, a snow park for snowboarders and dog sledding. Its funky, old wooden buildings fit like one's first pair and favorite skis. Nothing fancy here. Just a fun ski area for everyone |
| Skiing Mont Grand-Fonds | Lunch at the Top | |
| | |
| --- | --- |
| Charlevoix's first resort community-established in 1760 when new visitors were welcomed to manor houses-was in the Point-au-Pic area of La Malbaie, located on the shores of the St. Lawrence River. Charlevoix began prospering at the 20th century's start when luxurious steamships-called White Ships and floating palaces-transported the elite society of Montreal, Toronto and New York to this region. The grand hotel Fairmont Manoir Richelieu was the social meeting place for these travelers. Today it is no less the same-except the "elite" title is moot-thanks to a $140 million project in 1999, restoring the hotel to its glory days. Across the street from the 405-room grand hotel is the Casino de Charlevoix. | |
| | FAIRMONT LE MANOIR RICHELIEU |
A favorite eatery in nearby Point-au-Pic is the Bistro le Sous-Bois. One evening we had a veritable feast of Atlantic salmon gravlax, smoked duck risotto and Normandy style apples feuillete.
EASTERN TOWNSHIPS
The opening line in a local tourist brochure caught my attention: "If paradise exists, it surely must be the Eastern Townships." At the end of our four-day stay in Sherbrooke and the surrounding area, I would not argue the statement.
Located 60 miles south of Quebec City and 32 miles east of Montreal, Quebec's Eastern Township is akin to New England as it straddles the U.S. border at New Hampshire, Vermont and Maine. It is the home of six ski resorts (four major) out of Quebec's 70 ski areas.

Our spacious and delightful Hotel Cheribourg was the base from which we skied Sutton, Orford and Mont Owl's Head. Our late arrival did not allow us to night ski Bromont

Owl's Head Ski Resort
Local resident Roger Laroche(carnetduski.com) would be our guide. We were in good hands with his lively and poignant sense of humor-a friendliness and humor we would encounter throughout Quebec.
In explaining Mont Orford, he said," The mountain is like a banana split: three main hills (scoops), bananas in the way you folks ski, and you make my day so you're the cherries."
The Eastern Townships (including all of Quebec) is not known for the dry, light, champagne powder of western Canada. Artificial snowmaking is normal. Ice and soft snow is common. Like Roger said," If you can ski here, you can ski anywhere."
There are ample days though with fresh snow and other conditions that create sublime skiing. We hit Sutton on a slushy Spring-like thaw day after record winter low temperatures. No problem. We slathered on the sunscreen, pared down to basic clothing gear and exhausted ourselves sloshing from glade to glade, sous-bois to sous-bois.
The day at Owl's Head was memorable with the spectacular views of Lake Memphremagog. It was a "let the after burners go on the well groomed runs" kind of a day. Orford had equally impressive views in this land of predominately (70%) deciduous forests of maple, walnut, poplar, birch, oak and beech (an autumn trip is a must!). Orford's vertical drop is 1772 feet and is known for fast, challenging runs. One of my favorite runs was Grande Coulee with its long, wide, undulating qualities. Bromont offers night skiing with 75% of its 53 runs illuminated.
Mount Jay, Vermont is less than a half hours drive from Mont Owl's Head and Mont Sutton if one wants to do a rare double-country ski in a day.
The Eastern Townships mountains are the northernmost Appalachians, among the world's youngest. Glaciers scoured and polished this region, leaving behind thousands of lakes and ponds.
| | | |
| --- | --- | --- |
| | | |
| Maple Sugar Shack Snack | Red Fox Dreaming of Dinner | |
New England charm with a French twist abounds everywhere. Loyalists-those who wanted to remain loyal to the British crown, fleeing north from young America-settled this zone, followed by Irish Catholics, Scots and later the French Canadians. The architectural heritage is New England. Covered bridges, quaint farms, country stores and churches and round ox-blood red barns abound. Orchards, maple syrup making, cheese, vegetable farming and wine vineyards are commonplace, making drives to the ski resorts on country roads delightful.
If you ask a farmer the question: "A quelle distance sommes-nous de la station de ski?" (What distance are we from the ski area?), don't be surprised if he gives you a jar of honey, a pint of maple syrup, fresh cheese or a few pounds of his prized apples to accompany your drive. Viva le Quebec! Viva le Quebecois!
USEFUL INFORMATION
Eastern Townships: www.easterntownships.cc, www.easterntownships.cc/ski,1-800-355-5755
Charlevoix: www.tourisme-charlevoix.com, 1-418-665-4454
Quebec: www.bonjourquebec.com, 1-418-528-8063
Lodging: Fairmont Le Manoir Richelieu 1-418-665-8900, www.fairmont.com; Eastern Townships Auberge Lakeview Inn 1-800-661-6183; Hotel Cheribourg, www.cheribourg.com, 1-888-550-1488

.