SESTRIERE, ITALY-I had seen the scene a hundred times. It led to a world of high adventure in my childhood, youth and adulthood.
It prefaced the swashbuckling Errol Flynn with his dandy sword work on the high seas and John Wayne as he galloped across the arid Southwest chasing bad guys.
On the high slopes above Sestriere, Italy-home of the 2006 Winter Olympic alpine events-there it was in the distance: 3820 meter Mont Viso, the formidable snow covered Alp that Paramount Pictures uses as the opening scene in all of their movies. The literal depiction in the movies is viewed from France's Valle del Po.
| | | |
| --- | --- | --- |
| | | |
| | Italian Alps | Sestriere Mountain View |
Our guide, Giancarlo Favro, gave us a history lesson as we ate lunch in the thin Italian Alp air along the French border. We had been hiking all morning to this vantage point where the 360-degree view is a perpetual sea of mountains and peaks.
"Where you stand now was once part of France," says Giancarlo. "In 1816, it became Italian soil." In the distance, he points out 3130-meter Mount Chaberton. "That was once Italian soil and the highest fort in Europe. Around 1900, the top was blasted off and large guns installed. During WW11, French mortars destroyed the eight gunnery towers."
We had Sestriere mountain to ourselves this day: three Italians and two Americans. In a couple of months, the bare ground will be covered with snow and skiers. In February 2006, skiers from around the world will converge here, competing in the alpine medal events. Less than 20 miles away in the quaint village of Pragelato, the Nordic combined, ski jumps and cross country events will transpire. Host city Torino-70 miles distant-will feature the hockey and ice skating venues and the main Olympic Village, though Sestriere will have an Olympic Village, too.
"We're known for our skiing," says Giancarlo. "However, the off season is my favorite because there's less people and often, you have the mountains to yourself."
We saw few hikers on our trek. Giancarlo led us through arnica wildflower meadows. In this, the Piedmont Region of Northwest, Italy, arnica flowers are harvested (where not protected), pressed in jars of olive oil and used in healing applications. "I use the oil all of the time, giving relief from a 20 foot mountaineering fall I took two years ago," says Giancarlo.
We saw and photographed the sedum species sempre vivo, which lives upwards to 300 years. The bay laurel trees reminded me of my home state Oregon. This region is noted for herbs, elixirs and specialty liquors.
Exiting the mixed deciduous-evergreen forest, we skirted glacier cairns and slipped into the treeless tundra zone. Seventy-year-old Rosy Arnaldi from Torino bounded up the slopes with us like a thirty-year-old. Her blond hair and sweet beautiful blue eyes danced with life. "The mountains of this region give me deep life and vitality," she says.
Later in the afternoon while exiting the mountain, we stopped at a high chalet for a refreshing beer, toasting our companionship for the day.
SESTRIERE
Sestriere is a year round destination resort. Once, it was the sleepy hamlet Sestriere Borgata. It boasts the highest elevation golf course in the world. Our Hotel Miramonti room afforded a lovely view of the verdant course with a jagged Alp rock massif backdrop.
| | | |
| --- | --- | --- |
| | | |
| Entering Sestriere's Skiing Village | Sestriere with Imposing Backdrop | Close to the Edge |
Sestriere ski resort was founded by Torino the auto giant Fiat family in 1934. The first two hotels built here were of fascist architecture-bunker-like concrete structures that are not overly appealing to the eye. The large round towers built into the structures offers some relief from the dullness.
Sestriere is a world-class ski resort. They hosted the 1997 World Ski Championships. The mountain is unique as the heart of the Milky Way-a ski circuit that covers 250 miles of slopes, including the nearby ski resorts Cesana, Sansicario, Claviere, Sauze d'Oulx and Montgenevre in France. Sestriere is noted for abundant snow but also has extensive snowmaking.
In the off-season, Sestriere is a peaceful town during the week but comes to life over weekends. There's ample entertainment, dining, shopping, walks and cultural displays. During our visit, a Piedmont regional arts, crafts and products faire occurred.
The cuisine of this region is superb. Our favorite eatery was Giancarlo, Marisa and Luciano Valsesia's Ristorante La Baita. Located in the heart of Sestriere, it is known for regional Piedmontese cuisine, including deer/ wild boar in civet, rabbit with bacche di ginepro and Pietmontese risotto. This winsome restaurant has been one of the favorites of Alberta Tomba, Mark Girardelli and Serge Bubka.
| | | |
| --- | --- | --- |
| | The Valsesia's daughter Antonella gave us samples of the perfumed grappas of the region. Grappa is a spirit derived from grape seeds and stems. We sampled this distinct liquor with prune, myrtle, and Barolo wine and rose flowers. The last sample was the wonderful Genepy, an elixir of herbs famous in the mountainous region of Piedmont. | |
| | | |
Don't leave Sestriere without dining at the Ristorante Colombiere. We were treated to a sumptuous feast by Italian Olympic Executive Board Members Evelina Christillin (Deputy President) and Francesco Jayme (Sestriere's mayor). `Try their verde e bufala (green salad with a round ball of mozzarella) and costolette d' agnello all 'aceto balsamico (lamb chops in a velvety wine sauce).
PRAGELATO
Monique Beton of the Sestriere-Pragelato Tourist Offices guided us to an unforgettable day in nearby Pragelato, her hometown and the Olympic site for cross country/ski jump and Nordic 2006 events.
| | |
| --- | --- |
| It is an utterly charming, beautiful mountain town that neighbors Parco Naturale Val Troncea, an Italian national park reminiscent of Yosemite and Crater Lake in the United States. Equally captivating are the 18 hamlets around Pragelato. | |
| | View of the Val Troncea |
Ranger Silvia Alberti guided my companion Amy Hartell and I into this rugged park of larch, pine, serpentine rock, poisonous but rarely seen small vipers, ermine, wild boars, wolf and recently introduced vultures. Robust, informative and humorous, she introduced us to the botany and biology of the Park. When we asked about her dialect, she deadpanned," The Italian language is an opinion." The Germans bombed part of the Park in WW11."They didn't like us here because we were the Partisans who opposed Hitler and Mussolini."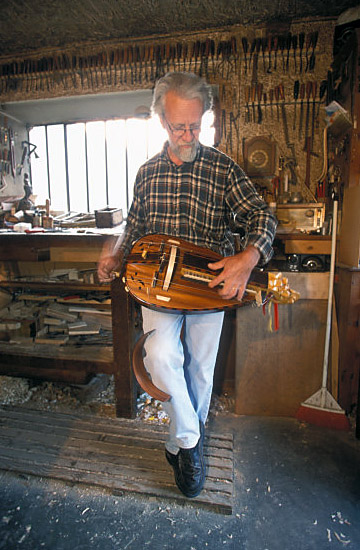 Guido Ronchail making a Hurdy-Gurdy
The Park is a bounteous mix of alpine meadows, architectural ruins, deep forests, engaging trails, lakes and lofty peaks. Leaving the Park, we were treated to regional cheeses and meats and drinks at Luca Passet's Passet Hotel in Granges. She was dressed festively in her regional costume. We photographed her in front of a water fountain, circa 1614, next to her business. This was followed by lunch in the lovely mountain hamlet of Pragelato, Alleve'. The major Mr. Marin greeted us, saying," Our greatest asset is the naturalism of this area without industry." We clapped and cheered as native dancers were demonstrated in a small nearby pavilion, orchestrated by the rare musical instrument hurdy-gurdy. Later we would visit the home and workshop of Northern Italy's master hurdy-gurdy maker and wood sculpture Guido Ronchail. His studio is at 1 Villa San Giovanni, Pragelato.
Luca Passet in Festive Finery

Regional Cusine at Passet Hotel

Tasting Wine in the Hamlet of Pragelato,
Alleve'
FORTRESS OF FENESTRELLE
| | |
| --- | --- |
| A must see when visiting this region is the extraordinary Fortress of Fenestrelle, less than a half hour from Pragelato. It is called the great Wall of the Alps. We were in awe over the enormity of the structure, an imposing edifice that includes three fortresses, three redoubts, two bastions, all joined by a covered staircase with 4000 steps. Began in 1728 to protect the newly created Kingdom of Piedmont, construction ended in 1837. At one time 4000 workers were employed on a daily basis. Napoleon occupied Fenestrelle in 1798, using it as a prison. It is the largest fort in Europe. Tours are three hours. In the summer live theater productions take place on the grounds. | |
| | Fortress of Fenestrelle |
Leaving Fenestrelle en route back to Sestriere, Monique stopped at her friend Franco Aimo's hotel and restaurant Albergo Lago Del Laux. Entering the property, there was a small pond surrounded by people of all ages fishing for trout with Herculean bamboo poles, a rare scene out of Old Europe.
Aimo, gleefully like a kid, showed us his cowbell collection of all sizes from #0000 to #12. "You don't want to sell them, " he said. "It will bring you bad luck. You trade or give them away." He generously gave us a bottle of Coutandin Ramie, a red wine with a limited bottling of 800.
The picturesque scene, the Old World meeting the New and the generosity and sense of humor and life of the Italians made Amy and I almost simultaneously say," Let's come back for the 2006 Winter Games."
No matter the season, Sestriere and Pragelato beckon the adventurous traveler.
INFORMATION: www.sestriere.it; pragelato@montagnedoclit; sestriere@montagnedoc.it;torino.info
WHERE TO STAY: Hotel Miramonti; www.hotelmiramontisestriere.it-Via Cesana; 3-Tel.+39 0122 755333. Albergo Lago Del Laux, tel. 00.39.0121.83944.
BOOKS: Lonely Planet's Italy, ISBN # 1-86450-352-1