Croatia's Sparkling Dalmatian Coast
Adriatic Waters, Forested Islands, and Medieval Villages
We quickened our pace as twilight descended, hurrying along the coastal pathway for our first views of the fabled town. Around a bend the panorama expanded; we gasped; slowed our pace; and then stopped frozen, taking in the scene. Hvar stood like a medieval maiden crowned with its castle-fort alit, its walls trailing like locks of hair down to the 13th-century town. Scores of fishing boats bobbed in the harbor as families and couples strolled along its marble promenade.

St. Stepjan's four-story bell tower beckoned us toward the central town square rimmed with cafes. Here local children excitedly scrambled in a pickup soccer game. We walked through the ancient town wall gate and got lost in the maze of cobbled alleyways that climbed up towards the castle. Three- and four-story stone houses and palaces towered above, many with inviting first floor shops or restaurants. Each lane brought new architectural surprises: sculptured porticos, ancient wooden doors, and bridges spanning the alleyways. We had entered a time warp to the middle ages.


Evening lights, Hvar town and harbor
Later that evening as we dined on tasty Mediterranean dishes at a harborside terrace restaurant, we agreed that the island town of Hvar had become our favorite among an incredible array of Dalmatian Coast discoveries. Images from two weeks of exploration filled our minds: crystalline-blue Adriatic waters, forested islands and rugged coastline, red-tiled towns and villages, and friendly Croatians.

Join us for a quick review of the highlights — "the Mediterranean, as it once was."

Sailing and Ferrying

— Definitely Not the Adriatic Blues

Since we had only two weeks to get to know Croatia's 200-mile long Dalmatian Coast, we focused on the southern half from medieval Dubrovnik north to ancient Split, a stretch particularly noted for warm waters, consistent sailing winds, and scores of beautifully wooded islands. Thanks to the invitation of some friends we started our explorations by sailing for a week aboard a chartered sloop from Dubrovnik. Sailing offered the opportunity to experience the beauty of the Adriatic Sea up close, including otherwise inaccessible island coves and villages. For our second week my wife and I took advantage of the convenient ferryboats that connect Dubrovnik to Split and the major islands, enabling an interesting itinerary of sites steeped in the region's history. The sail/ferry combination proved to be an ideal mix. Sailing enthusiasts who have purchased their own used Viking yachts can enjoy Croatia's Dalmatian Coast with no schedules or time limits. Such an experience would be any yacht owner's dream!

Maestral? Bora? Scirocco? We didn't understand the terms until we experienced these sailing phenomena firsthand. The Adriatic's maestral northwest thermal winds blew most summer afternoons; at 12-18 knots they provided ideal sailing. Although generally rare in summer, we experienced two days of sailing gusty northeast bora winds raging down from Croatia's mountaintops. While light southern scirocco winds are also infrequent in late summer, we experienced these Saharan winds on our last day back to Dubrovnik, causing us to forego sailing and to motor into our destination. Ah well -- we weren't going to complain about great sailing for five of our six days at sea.
| | |
| --- | --- |
| Chartered sloop quayside at Slano | At the helm, upwind sailing |
The week's sailing was accompanied by anchorages in beautiful fishing village coves, each with one or more great restaurants: Slano and Kobas on the mainland, Lopud Island's village of Lopud, Mljet Island's harbors of Okuklja and Polace, and Korcula Island's harbor town of Lumbarda. After a day's sail we'd hike and sightsee or swim and lounge. A major highlight on Mljet Island was a trip by shuttle from Polace harbor to scenic Mljet National Park for a mountain bike tour around its salt-water lake, Veliko Jezero, with its tidal flow Soline Canal and a 12th-century Benedictine monastery islet.
| | |
| --- | --- |
| Lopud's castle-fort | Kobas resident shows off lobster catch |
Another of the week's highlights was a side trip from Lumbarda by taxi to medieval Korcula. The walled and towered pedestrian village dating to the 1400s encompassed a small hilly north-facing peninsula with both western and eastern harbors. The crowning attraction was St. Mark's Cathedral at the central square. A network of twenty crosshatched alleys emanated outward from the single street that divided the village. One of our best meals was enjoyed at a terrace restaurant just inside the village's southern gate tower where we had the good fortune of being serenaded by a local girls singing chorus.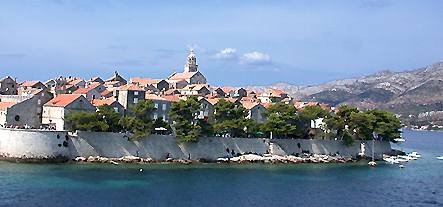 Walled village of Korcula
As for ferrying, what could be better than a comfortable 250-foot four-decker boat cutting through the Adriatic at 20 knots with lounges, salons, and outdoor terraces? Ferries connect Dubrovnik and Split to all of the nearby major islands, including the four largest: Brac, Hvar, Korcula, and Mljet. Peppered with historic villages, harbor coves, forests, olive groves and vineyards, this quartet ranks with the Mediterranean's most attractive isles. We ferried from Dubrovnik to Hvar Island where we stayed at a small hotel on serene Podstine Cove neighboring to Hvar Town, our Dalmatian favorite. Another ferry trip took us north to alluring Split on the mainland.
Dubrovnik
| | |
| --- | --- |
| There couldn't have been a better place to start our explorations of Dalmatia than the walled town that's been coined the Adriatic's "Crown Jewel." We entered Dubrovnik through Pile Gate and were bowled over by the wide marbled pedestrian boulevard, Placa, and the spouting 15th-century Onofrio Fountain. The remarkable Pieta sculpture above the nearby Franciscan monastery invited us to explore further into the complex to find its cloister and pharmacy dating from the 1300s. The far eastern end of the boulevard expanded into Luza square bordered by entrancing Gothic, Renaissance, and Baroque structures such as the clock tower, Sponza Palace, St. Blaise's Church, the Rector's Palace, and Cathedral of the Assumption of the Virgin. | Dubrovnik's walls roofs, and harbor |
When we hiked a circumnavigation of the town's incredible walls Dubrovnik's beauty and significance really struck home. There was no overlooking the warring history when we were atop the huge walls measuring up to 60 feet thick and 80 feet high. First built in the 1200s as protection against the Venetians and other marauders, the walls and towers were enhanced in the 1400s against the Turks and again in the 1600s against the Austro-Hungarians. The circumnavigation provided unforgettably impressive views of the bordering Adriatic Sea and the town's tiled roofs and boat-packed harbor.

The Heart of Dalmatia

— Split, Solona, Trogir
| | |
| --- | --- |
| Peristyle entrance court, Diocletian's Palace, Split | Split, the second largest city in Croatia, boasted a beautiful palm-lined harbor and a treasured old town dating back to Roman times. The emperor Diocletian built a huge retirement palace here around 300 AD. The Roman walls, imperial quarters, and mausoleum survived to this day, intermingled with medieval homes, alleyways, and churches juxtaposed with the original Roman structures. It's no wonder that UNESCO has named the palace a World Heritage Site. We most admired the Peristyle's marbled Roman imperial entrance court and its bordering 12th-century St. Dominus Cathedral built with Romanesque columns, altars, and sculptures within the octagonal structure of Diocletian's mausoleum. |
Other sites near Split equally warranted exploration. We stayed for several day just outside the medieval walled village of Trogir, 20 kilometers from Split, and spent relaxing days wandering its narrow streets, enjoying its cafes, and making side trips to nearby Split and the huge Roman ruins of Solona.
While Dubrovnik made for a perfect start to our Dalmatian sojourn, Split and area made for a perfect ending. We won't wait long before returning to Croatia's Dalmatian Coast — "the Mediterranean as it once was."
Click here for details to plan your own trip to Croatia's Dalmatian Coast.
Les Furnanz
Photos by Rita Furnanz