Playing With History in London

A City Where the Past is Present
It was an historic day in ways I never anticipated.
I had been in London a few days enjoying the usual suspects – Buckingham Palace and the changing of the guard, St. Paul's Cathedral, Hyde Park, the National Gallery, a city tour via a double-decker bus, London Bridge, the Houses of Parliament, Piccadilly Circus, 10 Downing Street, an evening play in the theater district.
For some reason I hadn't visited the Tower of London, and there hadn't been time for Westminster Abbey. So, on my final day, I planned to spend a few hours at the Tower, maybe an hour at the Abbey – a nice, relaxed day with lots of free time to wander, maybe even make a side trip to Harrods and the Hard Rock Café for an obligatory T-shirt visit.

Harrods and the Hard Rock, happily, remain unknowns. They'll have to wait. That's because I spent the whole day touring the enthralling Tower and Abbey.

Thanks largely to Shakespeare, much of London and England's history is told in his canon of plays. When Shakespeare was starting his career in the 1580s, the Tower was infamous as a fortress, prison for high-ranking citizens, and a place of sudden, violent death. The Tower figures prominently in several plays, including "Henry VI, Part III" and, most memorably, "Richard III." But the Tower, as I quickly learned, is much more.


White Tower at the Tower of London
Photo: Historic Royal Palaces Ent. Ltd.
I joined a tour given by "Beefeaters," the popular name for wardens outfitted in regal navy and red Tudor outfits. With them and on my own I spent endlessly fascinating hours touring the Tower.

"Beefeater" wardens, the White Tower
Photo: Historic Royal Palaces Ent. Ltd.

A major highlight was the White Tower, the central keep begun in 1078 by William the Conqueror. The largest structure of its day, William built the White Tower as a military stronghold, his residence, and a means to impress his new English subjects. It even contained St. John's Chapel, one of London's oldest churches. The White Tower remained a royal residence until the 1500s when it became the notorious prison for England's most important "enemies," many of whom were executed, including Sir Thomas More, Anne Boleyn, Edward V, and the Duke of York. Today the White Tower is the location of the Royal Armoury, Britain's impressive national museum of arms and armor.

Other Tower of London highlights included: Bloody Tower, where Sir Walter Raleigh was held prisoner and where Richard III is said to have murdered young princes Edward V and Richard in 1483; Beauchamp Tower, a jail fabled for inscriptions carved into its walls by prisoners; Tower Green, where two of Henry VIII's wives, including Anne Boleyn, were beheaded; and the Duke of Wellington's Barracks, where the truly bedazzling Crown Jewels are exhibited.

Jewels usually don't impress me, but only someone truly jaded can fail to be wowed by treasures like the Royal Sceptre, which contains the 530-carat Star of Africa, along with trinkets like the Imperial Crown of State and the Queen Mother's Crown.
Nowhere else does London's sometimes bloody history of heraldry seem so passionately alive as at the Tower. Unlike prisoners who were uneasily dragged to the Tower, I had to drag myself away after several hours. I wanted to continue my history lesson at Westminster Abbey.
The Abbey is an architectural wonder where English sovereigns are coronated and some of the country's most famous monarchs, poets, scientists and statesmen are buried or memorialized, including Benjamin Disraeli, Queen Elizabeth I, Mary Queen of Scots, Isaac Newton, Charles Darwin, Geoffrey Chaucer, Charles Dickens, and Rudyard Kipling. Among them, too, is Ben Jonson, buried upright in accord with his request for a 2-by-2 foot grave.
It's believed the first church on the site along the Thames River was built in the 7th Century before being replaced by other churches and finally the Abbey, started in 1050. Over the centuries the abbey has proven a Mecca for travelers and more recently for tourists.

The abbey is a cluttered hodgepodge of memorials, glass ceilings, tombs, sculptures, plaques, panels, statues, and stonework that includes carved figures of dragons and griffins. Following my morning at the Tower, the most personally impacting Abbey sights were the vaults of monarchs and the honored, many whose histories and deaths were intricately laced with the Tower. For example, the buried here include the two young princes reportedly murdered by Richard III.

History is not only preserved, but also served at the Abbey. The Coronation Chair, for example, has been used for crowning all but two English monarchs since 1308. Royal weddings are held here. A hole in the Royal Air Force Chapel from a German bomb that exploded during World War II has been deliberately left unrepaired. More recently, funeral services for Princess Diana were held at the abbey.


Westminster Abbey tower & facade
Photo: Rita Furnanz
Lessons of English history were on my mind when I left the Abbey at closing time. It was just a short walk to Leicester Square, location of the official half-price theater ticket booth. The night before I had bought a ticket for a play starring John Malkovich. This night, scanning the availability list, my eyes focused on a notice for Richard III. A few hours later, luck of luck, I was sitting dead center in the fifth row viewing the drama about England's most despised monarch. Surely Richard III's notoriety is largely due to Shakespeare's telling of a conjectured story, one where Richard announces, "I am determined to prove a villain, and hate the idle pleasures of these days. Plots I have laid, inductions, dangerous, by drunken prophecies, libels and dreams."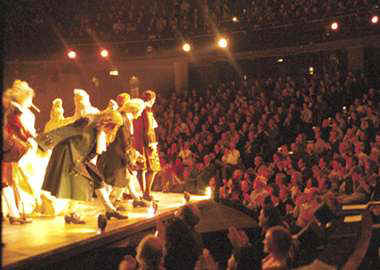 Curtain call at the National Theater, London
Photo: Mark Wilkinson, NT, London
It was a day I could have never prophesied, a day when history intermingled with reality. It was a day where I learned London's history is ever present.
Click here to plan your own trip to London.
Lee Juillerat