Antarctica Adventure


Cruising the Icy Continent in Tux & Snowpack Boots

We knew we were in for something special as my wife, Jan, and I stepped onto Orient Lines' Marco Polo docked in Buenos Aires, Argentina. Our insecurities on crossing Drake Passage and dodging icebergs started to ease. The ship was built for arctic cruising with a strengthened hull, a 20-knot capability, and an experienced crew. Onboard equipment even included a helicopter to chart our path through the ice floes. Nine expert guides and lecturers, knowledgeable in everything polar from geology to penguins, would lead our explorations.
| | |
| --- | --- |
| However, as we set sail down the long Buenos Aires Estuary, an eight-hour passage to the South Atlantic, we knew this wasn't just a sail around the bay. We were to cruise to the Falklands, cross Drake Passage to the Antarctic Peninsula, then return around tempestuous Cape Horn to Ushuaia, Argentina, the world's southern-most town. We remembered that until 30 years ago only the most ardent explorers such as Shackleton, Amundsen, and Scott, had set foot on the White Continent. | The Marco Polo (photo: Orient Lines) |
The Falklands


Stanley Harbor view (photo: Orient Lines)


We made our first stop in the windswept Falklands, a British dependency composed of 400 islands with less than 3,000 inhabitants. A visit to the small island of West Point captivated us with its Rockhopper penguin colony and population of six (one family). Our second stop was in Stanley, the smallest and most remote capital in the world. With about 2,000 residents, it claims most of the Falklands population. In the 1800's, it was a regular stop for the clippers sailing around Cape Horn. We explored Stanley's tidy streets lined with white homes sporting colorful rooftops — red, green, blue, silver. The town's small Anglican churches reminded us of those we'd seen in England. A visit to the town museum rewarded us with an interesting overview of the islands' history including the War of 1982 with Argentina. The highlight was our visit to the Whale Bone Monument in the town square and meeting the friendly residents in fun-loving pubs such as Deano's and Victory Bar near the harbor.
Crossing Drake Passage
Fifteen to twenty-foot seas are considered "light" in the Drake Passage. It's no place for the "weak of heart" (or "weak of stomach"). Fortunately, we had "light" seas as the Marco Polo sailed gracefully towards the Antarctic Peninsula. With an incredible display of wildlife, we were kept busy racing from side to side of the ship, sighting occasional whales and several albatross and petrel species, hugely beautiful soarers that seemingly followed our nearly 1,000-mile passage. Although difficult to catch on film, we were rewarded several times with sightings of breaching whales. The wildlife viewing activity kept most of us passengers in reasonable shape and in good spirits, allowing us to continue enjoying the Marco Polo's great food and drink.
| | |
| --- | --- |
| Wandering Albatross (photo: AAD) | Breaching Whale (photo: Orient) |
Antarctic Swim at Deception Island
Deception Island at the northwest end of the Antarctic Peninsula is quite recognizable on a map as an 8-mile-wide "C" shape, the result of a collapsed volcanic cone. We sailed to the island's naturally protected inner bay, Pendulum Cove, through roaring Neptune's Bellows, named for its harbor-entrance, gale-force winds. The calm harbor, now abandoned, had been home for settlements of Norwegian whalers, British scientists, and Chilean explorers.
Volcanic eruptions in 1967-70 destroyed the Chilean station. It was quite dramatic to wander through the remains and think of the scientists' frantic run for their lives over a cinder pass to the British station. The good side of the continued volcanic activity was the creation of thermal pools, allowing a few brave souls to experience a swim in Antarctica. Unfortunately, our timing wasn't perfect, as tidal flooding with 38-degree F seawater made for a very quick dip. As a summer snowstorm arrived, we said a hasty good-bye to our swimming hole at Pendulum Cove and sailed back through blustery Neptune's Bellows for the overnight cruise to Lemaire Channel.
Summer Day in Lemaire Channel

Narrow, steep-walled, glacier-lined Lemaire Channel proved to be a trip highlight. The Captain had cautioned us that the 7-mile-long channel is often clogged with floating ice, making passage impossible. However, it was our day — we easily navigated the channel as we spotted whales, seals (unique Weddell, Crabeater & Leopard species) and many species of petrels, gulls, and terns. Overcome by the beautiful ice display, we marveled at the warm mid-50s F temperature — as good as it gets in Antarctica's Dec/Jan summer.


Icebergs (photo: Orient Lines)
New Year's Eve in Port Lockroy
Our anchorage for New Year's Eve was Port Lockroy, on a small island close to the Antarctic Circle. The British had set up a WWII station here and now continued its operation as a scientific outpost. The station crew of two scientists operated only during the three months of summer. A plus for us explorers was the opportunity to meet them and use their mail office to send post cards with an Antarctica postmark.
| | |
| --- | --- |
| Gentoo Penguins (photo: G. Grover) | Zodiac shuttle (photo: Orient Lines) |
Highlights at Port Lockroy included exploring a Gentoo Penguin rookery, witnessing a New Zealand sailor excavating his sailing vessel from twelve months of ice entrapment, and reveling in the midnight summer light on the Marco Polo deck. Of course, we won't ever forget the ship's exquisitely rollicking Millennium New Year's Eve dinner and celebration.
On the Continent at Paradise Harbor
We rose early the next morning and found ourselves sailing across Gerlache Strait to Paradise Harbor, our first opportunity to put foot on the continent of Antarctica. The captain had said he was always "on edge" here, viewing Paradise Harbor as a somewhat dangerous venture into the icebergs. We passengers appreciated his caution, while we also greatly anticipated the harbor's overwhelming display. The harbor proved to be the most beautiful of all the sites on our voyage, a bay filled with icebergs, many lined with seals napping in the sun. As a bit of ice knowledge, we learned how to tell new vs. old bergs. We discovered firsthand that new bergs are smooth while old bergs have a pockmarked surface, displayed when the berg flips after the bottom has melted for quite a time.

Crabeater Seal (photo: Orient Lines)

The captain never anchored the ship during our stay in Paradise Harbor. He kept the engines running, gracefully maneuvering around the bergs. At one point, two of our Zodiacs, with engines screaming, pushed a small berg away from the ship. As our ship circled, we took Zodiacs ashore to Waterboat Point. As we took our first steps on the continent, we were greeted by Chilean military personnel who man the site's scientific station. As the Chileans took us on an interesting tour of their tight living quarters, we could appreciate their daily challenge in surviving and fulfilling their mission.

When we had an opportunity to mingle with the local Gentoo and Chinstrap penguins, we experienced a natural Antarctic high. Penguins have the right of way in Antarctica. We were required to remain 15 feet away to insure their continued survival traits. If we weren't paying attention, the unthreatened penguins would try to sidle right up to us. Then, Mother Nature decided that the penguins should not upstage the nearby glacier — it caught our full attention as it calved a huge new iceberg. The incredible crash and splash action got an "OOH-AAH" from us all.
Cape Horn & Ushuaia
We spent one more incredible day in Antarctica exploring the shoreline around King George Island via Zodiac — viewing elephant seals, penguin rookeries, and numerous nesting birds. As we cruised away from Antarctica, we felt especially fortunate to have experienced such an undiscoved, primitively beautiful continent in such comfort. The captain informed us that in nine years of cruising this route, this had been only the third time that he'd been able to navigate the entire planned route. The "Ice Gods" had been kind!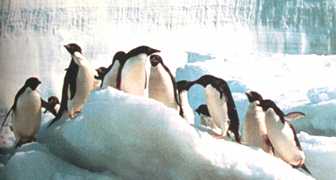 Penguin colony (photo: Orient Lines)
The next day, as we cruised around Cape Horn, we viewed a map marked with scores of sunken ships that had succumbed to the cape's tempests. Perhaps I was not quite as appreciative of these sailor's hardships and fate as I would have been if I hadn't been able to stand comfortably on deck as we cruised through the Tierra Del Fuego Islands onward to Ushuaia. At the very tip of South America, Ushuaia was a friendly frontier town, proud of its status as a starting/ending point for many Antarctica expeditions.
A First-Class Adventuring Operation
Throughout our spectacular explorations, the Marco Polo and its crew operated to the highest standards, insuring utmost precautions for safety and the fragile Antarctic ecology. The ship, which normally carries 800 passengers, was limited to 500 for the trip. No more than 100 were put ashore at one time, with excellent organization and skill utilizing our Zodiac transports. Each passenger was treated fairly, able to experience the entire environment, via a color-coding assignment that assured equity — "First on land today will be last tomorrow". Trained guides and lecturers were transported first to assure we understood the ecological frailties and had all the information we could absorb.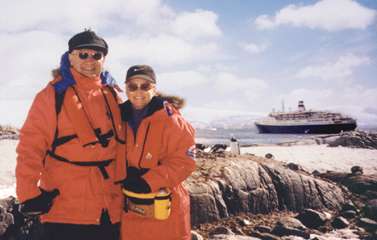 Gordon & Jan Grover and Marco Polo (photo: Orient Lines)
Fortunately, we "non-explorer types" have today's technologies that enable us experience remote lands such as Antarctica, previously only visited by the likes of Amundsen and Scott. For Jan and me, the choice to see Antarctica in comfort and enjoy a safe adventure was a perfect one. The only downside was the packing requirement — everything from tux and formals to snowpack boots in our suitcases! Be sure to remember to pack a few pairs of sunglasses when traveling to Antarctica. Even running sunglasses may be acceptable as long as they have UV protection. Sunglasses with side shields are the best option since they will help prevent snow blindness.
Click here for details to plan your own trip to Antarctica.
Gordon Grover