"Yonne" Love

Locked On Barging in the Heart of Burgundy
It had been another rewarding morning cycling Burgundy's Yonne province on quiet farmland and forest roads and exploring six captivating villages along the river. Now, as we sat at a lock awaiting our floating home, La Belle Époque, we rated the morning a perfect "10" and chatted about our discoveries.

In the smallest village, Pousseaux, population 100, a local farmer had driven a large tractor down the single street to plow a nearby field. In the largest village, medieval Surgy, population 450, we had toured the picturesquely flowered streets with half-timbered houses and visited the flamboyant style church with its unique hexagonal spire. When we pedaled past a field of golden sunflowers, we felt as if we'd entered a Van Gogh painting.


La Belle Époque, Captain Neal at helm, rounds canal bend
www.gobarging.com
Soon La Belle Époque rounded the bend and headed into the lock. We climbed aboard the comfortable barge and caught up on the explorations of the other ten guests while we dined over a sumptuous lunch of salmon, vegetables, and three distinct cheeses. We all agreed this was a morning to remember and toasted it with fine Burgundy wine.
The afternoon was filled with more discoveries. We were driven by van for a guided tour of 12th-century Bazoches Chateau, with a stop along the way to view the 2,000-year-old Roman bridge over sparkling Cure River — just another ideal day in the Yonne province of Burgundy, heart of France.
La Belle Époque
Originally built in the early 1900s to haul logs to Paris from Burgundy's Morvan forests, La Belle Époque, 126' long by 16' wide, just barely fits the region's canal locks. She has been retrofitted exquisitely for her cruise barge role, with six comfortable double guest cabins, salon/dining room, and spacious outdoor decks.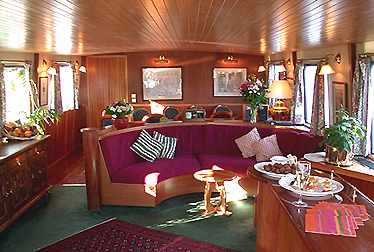 La Belle Époque's salon and dining table (rear)
Our bilingual crew spared no effort for a first-rate guest experience. Neal, captain and pilot, informed us of each day's itinerary and options, ensuring that we could debark or embark independently. Lynn, the tour hostess and guide, led interesting daily afternoon tours to wineries, chateaus, villages, and other sites a few miles from the canal. Darren, the first mate and general deck hand was always there to help, including loading or unloading the barge's mountain bikes. Jane and Helen, our capable housekeeping staff, doubled as excellent table servers and commentators on the menus. Jean Sebastian, chef de cuisine, offered up incomparable meals with incredible interpretations of the best dishes from France's five major culinary regions where he had studied and practiced his art.

Chef Jean-Sebastian
prepares luncheon salmon

La cuisine…incroyable!

Unbelievable it was! Each meal was uniquely exquisite. An example dinner menu read: Bourgogne Epinevil, Domaine l'Abbaye du Petit Ournay (local sauvignon blanc wine, a new one for each meal), Bourgogne Cote d'Auxerre, Bersan (local pinot noir wine, a new one for each meal), croustille de crabe aux legumes vinaigrette de betteraves (Crab pastry with vegetables in sugar-beet vinaigrette), filet de canard ci l'orange (duck filet with orange), les fromages - Langres, Picodor, St. Agor (yes, tasty cheese plate with three new selections at each meal), gateau du chocolat (chocolate cake par excellence). With such a great week of culinary delights, we were thankful to have the beautiful countryside begging to be explored on foot or bike for burning off the tasty calories.
Barging Basics 101
It wasn't long before we fell into the La Belle Époque's "barge routine." In our five days of floating the Yonne River's Canal du Nivernais, we averaged seven locks and eight miles of travel per day. Captain Neal would start motoring around 9 a.m. Guests were welcome to leave the barge on foot or mountain bike at any of the locks, with the understanding they were to rejoin the barge at a lock further en route. A maintained pathway, an old towpath, bordered the canal for easy travel. The barge required fifteen minutes to pass through a lock, allowing time to explore on shore or lounge aboard.
A guided half-day van tour left each day, usually after lunch, for an interesting historical site or village. During the afternoon the barge would continue on its route before docking for the night at around 3 or 4 p.m. The tour van returned to the barge soon thereafter, leaving plenty of time for guests to relax and enjoy a cocktail before a delicious dinner.
| | | |
| --- | --- | --- |
| La Belle Époque in a lock | Leaving the lock | Lounging on deck |
"Locked In"
Each lock (écluse) was an experience in its own right, as the lock keeper lived there in a small stone house with his family. Conversations with a couple of the lock keepers revealed that they could handle a load of fifty barges per day during the busier summer months, but they were much happier with our October traffic level of twenty barges per day.
Once free of a lock, Captain Neal willingly allowed all interested guests to have their own spin at piloting La Belle Époque…and "spin" it was. A heavy dual tiller and large helm wheel with sixteen revolutions of play made for heavy work keeping the barge on course at 3-4 knots. Those of us who "gave it a spin" certainly appreciated our captain's ability.
"Yonne Love" - the Heart of France, a Fascinating History
| | |
| --- | --- |
| The Burgundy region, southeast of Paris, is steeped in France's culture and history. The Yonne province occupies the northwestern corner of Burgundy, bordered by its three other provinces: Nievre, Saone-et-Loire, and touristy Cote d'Or with the city of Dijon. Yonne's attraction is its array of villages and towns that so well preserve their long history yet remain undiscovered by the crowds of tourists that frequent France. Our itinerary ran through the center of the Yonne, from beautiful provincial capital Auxerre to Clamecy, just over the border in Nievre. Along this forty-mile stretch are no less than 25 villages bordering the river and canal. The nearby chateaus, vineyards, wineries, and the treasure of the medieval hilltop village, Vezelay, add up to one of France's most interesting areas. | Yonne River and Auxerre's St. Germain Abbey |


Roman bridge spanning Cure River


Burgundy's history runs deep. Gauls ruled the region until Julius Caesar defeated Vercingetorix here in 50 BC. The Romans established and maintained trade routes into the 5th century. Then the Burgundii from Scandinavia settled the region. In the 9th century Richard d'Autan established the Duchy of Burgundy which prospered until defeated by French king Louis XI in 1477. During its medieval heyday Burgundy was a bulwark of Catholicism and birthplace of two of the 12th century Crusades to recapture Jerusalem.

In the 1600s Burgundy became a timber center for Paris, utilizing spring floods to float huge timber rafts to the Seine. Canals were constructed in the early 1800s to improve the process, however, the industrial utility of the canals has since been replaced by roads and rails.
Since the 1980s the canals have experienced a tourist barge renaissance and Burgundy remains to this day a region primarily of farming and vineyards, with its famous wines growing yearly in significance.
On Tour
Our barging week in Burgundy provided many of our best memories from years of travel in France. The short list below covers just a few of the trip highlights beyond the wonderful experience aboard La Belle Époque.
Auxerre: Yonne's largest town with narrow streets, half-timbered houses, clock tower, 9th century Abbey, and St. Étienne Cathedral.
St. Bris-le-Vineux, Bersan: Ancient wine cellars under the church.
Caves de Bailly: Historical caves; tasting room full of bubbly brut.
Cravant: Village with 9th century belfry, church, gate, and dungeon.
Accolay: Where barge guests found fun with locals in the tavern and enjoyed a great restaurant dinner (our only meal off board).
Ste. Pallaye: Where the church caretaker showed us the ancient crypt and shared knowledge of village history back to Roman times.
Chateau Domaine de la Tour: A true "work in progress" of medieval reconstruction; great owner's car collection and artist studio.
Mailly-le-Chateau: Where we walked up a cliff stairway separating the interesting lower and upper village; Yonne valley views.
Vezelay: Walled hilltop village with Ste. Madeleine Basilica, a beautiful mix of Romanesque and Gothic styles; seat of two crusades.


Ballooning above Vezelay's Basilica
Photo courtesy: www.franceballoons.com
Ballooning: Absolutely the apex of the week for those guests who opted to float above the Yonne Valley and the beautiful village of Vezelay — a truly adventurous experience.

Place St. Nicolas
Auxerre


Cycling along the canal
Photo: Larry Thomas


Bersan wine cellars
St. Bris
Click here to view additional village and countryside photos of Burgundy.
Party On
It was tough for us guests to say goodbye to La Belle Époque, her crew, and each other after such a glorious week of pampered care, great food, and unforgettable experiences in the heart of Burgundy. Docked in Clamecy, the last night's celebration at the Captain's Dinner was our chance to express our appreciation to each other, and we "danced the night away," crew included, to the salon's stereo selection of "oldies, but goodies." It may have been "Goodbye" for then, but there were many declarations of "I'll Be Back!" One of the guests, Susie, summarized it best, "This has been the most relaxing and wonderful vacation I've ever had!"
Click here for details to plan your own barge trip in Burgundy.
Click here for additional European barge excursions: www.gobarging.com.
Click here to view additional village and countryside photos of Burgundy.
Les Furnanz
Photos by Rita Furnanz