Cruising, Not Crewing

Catamaran Sailing the British Virgin Islands
You could be an avid sailor, a sometimes crewperson, an infrequent "bare-boat" charterer, or someone who has always wanted to sail but hasn't yet found the time or opportunity. No matter your situation, sailing the British Virgin Islands on a crewed catamaran may just be the best vacation of your life…a true vacation.

The two-person crew of captain and mate do all the work and leave the day free for you to really enjoy the sailing experience and the best that each anchorage has to offer. There's sunning, swimming, snorkeling, kayaking, and wind surfing, or taking a dinghy to shore to enjoy the beach and the local shops, restaurants and taverns. On top of that is the joy of sitting down to great on-deck meals with the other guests and the crew who has just prepared the feast. The table discussion always seems to float around to the day's highlights and what's in store for the next day, saluted with a hearty toast.


Sunset in the BVIs
My wife and I recently returned from a crewed catamaran sail of one of the Caribbean's best sailing locations, the legendary British Virgin Islands. The BVIs enjoy consistent Caribbean trade winds, plentiful sunshine, line-of-sight sailing, and crystal clear waters teeming with marine life. We are now singing the praises of these islands and this unique means of enjoying the best that sailing has to offer. Come along!
Catamaran and Crew
We joined our yacht and crew at the marina in Road Town, Tortola. The friendly island is the largest of the BVIs and has the international airport and a good lodging selection. We had booked a stateroom on a scheduled crewed sailing with Moorings, the worldwide charter company with a large BVI fleet offering bare-boat and crewed charters. The weeklong land/sea package included three nights in a hotel and 5-days/4-nights sailing aboard a roomy Moorings 4500.
Our captain, Richard, and our first mate and cook, his wife Rachel, were a fun-loving duo with years of experience sailing in their native New Zealand and around the world. They greeted us heartily, immediately making us feel at home. Although we three guest couples were meeting for the first time, in short order we became real sailing mates who enjoyed the beautiful boat, casual environment, and tropical sailing to the hilt.
| | |
| --- | --- |
| Moorings 4500 (courtesy: Moorings) | Capt. Richard (rt.) and Mate, Rachel |
The 45-foot Catamaran had four identical air-conditioned guest staterooms with en suite bath (head, basin, shower). It was a perfect sailing home for eight: large galley and salon, spacious covered deck for dining and piloting, roomy front trampoline net, and stern steps for easy water access on both hulls. Gear aboard included the 8-seater motorized dinghy, snorkeling masks and fins, double ocean kayak, and windsurfer. We were ready to sail!
Rachel served up incredibly tasty meals, always unique. With the perfect weather, we enjoyed breakfast, lunch, and dinner on deck. And we never went thirsty! Richard and Rachel kept the coolers filled to the brim with a good choice of soft drinks, beer, and bottled water, and they served up an excellent cocktail hour as well.
Ideal Sailing Circuit
In five days we made a complete circuit of the islands, anchoring for the night at Great Camanoe (1), Virgin Gorda (2), Jost Van Dyke (3), and Norman Islands (4). The map shows the 75 nautical miles cruise route with the night anchorages indicated (1-4). Each sailing day we covered 10-25 miles. Interim stops allowed for lunch and snorkeling or other activities before our sail into the afternoon's final anchorage where guests had plenty of sporting activity choices as well as beachcombing and happy hour at a bar or club ashore.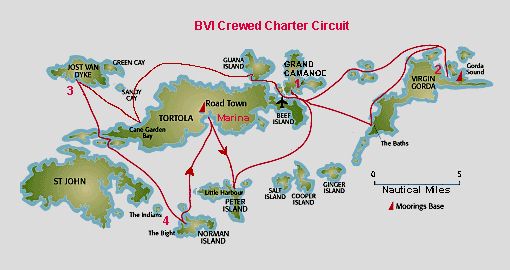 British Virgin Islands (courtesy: Moorings)
Cruise Highlights
Sailing: The legendary Caribbean trade winds provided great sails between each anchorage, but two specific legs really stand out in our minds. One morning we raced an identical Moorings catamaran across Drake's Passage from Grand Camanoe Island to The Baths on Virgin Gorda Island with strong 24-knot winds. Richard and Rachel showed their stuff and pulled into The Baths ahead of our friendly competitors. On another day we sailed from Jost Van Dyke Island to Tortola and Pelican Island as brief squalls floated through. The gusts and brief rains made for exciting and fun whitecap sailing. On every leg of our cruising adventure, our Moorings catamaran sailed at a good 6-10 knot clip.
| | |
| --- | --- |
| Sailing across Drake's Passage | Anchorage at Bight, Norman Island |
Sporting: We snorkeled every day, with each spot unique from the others. "The Indians" site near Pelican Island had a deep wall full of coral, fans, and large fish. "The Caves" site off Norman Island had three long caves that extended up to 200 feet from blazing sunshine to complete darkness, displaying a fascinating array of light-sensitive corals and fish. Kayaking was excellent along the shoreline of Norman Island, with the diving pelicans, gulls, sea anemones, and crabs. Windsurfing was best near Eustacia Sound Reef, off of Virgin Gorda.
Anchorages, Beachcombing, and Bar Hopping: The night anchorages ranged from isolated Cam Bay, Grand Camanoe Island with no other boats in sight and the beach all to ourselves, to bays with lively beachfront bars for music, drinks, and socializing. Even in the livelier anchorages, Richard and Rachel ensured that our boat was in a calm and quiet spot for the night aboard. The most memorable land activities included: The Baths, Virgin Gorda where we hiked nature's Stonehenge by the sea, a maze of granite rocks interspersed with pools; The Bitter End Yacht Club, Virgin Gorda with a friendly beach and array of bars; Cane Garden Bay, Tortola with a 300-year-old rum distillery and gorgeous beach; Great Harbour, Jost Van Dyke with Foxy's Bar where legendary Foxy played his guitar and had fun with the crowd with his raunchy, improvised Caribbean songs; The Bight, Norman Island where we took a starry night dinghy ride to Willie's Floating Bar and wild Billy Bone's Bar for calypso dancing.
| | | |
| --- | --- | --- |
| Kayaking at Jost Van Dyke | Pool at The Baths | Foxy at his bar, Jost Van Dyke |
Sailing Away
Every guest came away from the cruise with comments like, "This was the most relaxing vacation I've ever had." We couldn't have missed with the pampering, fun-loving crew and guests, friendly islanders, and incredible British Virgin Islands.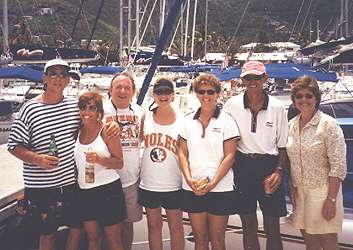 Guests and crew debark at Road Town Marina
Click here for details to plan your own cruise in the British Virgin Islands.
Les Furnanz
Photos by Rita Furnanz