Island Hopping Through Stockholm

The Scandinavian Capital Sports Its Old Town, Royalty, and Heritage
Islands stretched to the horizon in every direction — golden outcroppings, stands of spruce, and cliffs with nesting seagulls. Ernes circled in the crystal-blue sky as our boat's wake spread in the calm sea. Although it was only 6 a.m., the sun had risen three hours before. "I'm glad we made the effort to rise early this morning," said my wife. "We've been viewing islands for an hour now, yet still no signs of humanity."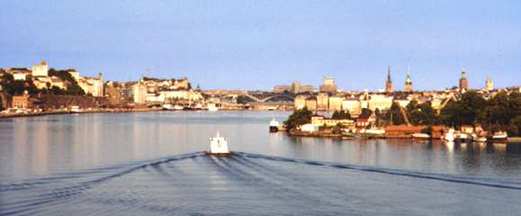 Entering Stockholm Harbor
As we neared the coast, lone fishing cabins, isolated summer homes, and light-beacon landmarks appeared. Here in this archipelago of 24,000 Baltic Sea islands, a number of fortunate Swedes had laid claim to their own piece of heaven. When a harbor encircled by beautiful homes appeared, we sensed Stockholm's nearness. Soon we sighted the city's medieval stone towers rising in the distance. The earliest settlers had chosen an incredible site — 14 closely spaced islands connected by beautiful bridges and waterways. Stockholm was quickly proving its reputation as a radiant and vibrant world capital. "Let's go island hopping!" we shouted.
Gamla Stam — Historic "Old Town"
It was our good fortune to end the Baltic Sea cruise in the heart of Stockhom. We'd booked a room on the island of Stadsholmen, known as the medieval old town of Gamla Stam, where the maze of pedestrian-only cobbled lanes beckoned exploration. The main street was lined with restaurants and boutiques with unique collections — wood crafts, pottery, tapestries, and more. After a browsing orientation, we climbed a narrow lane to the central square, Stor-torget.
| | | |
| --- | --- | --- |
| Osterlanggaten, Gamla Stam | Stor-torget, Gamla Stam | Royal Armory Museum |
Warm sunlight, friendly bustle, and a terrace café invited snacking, lounging and enjoyiing the sights: the nearby town well, continuing its tradition as a prime meeting spot; Stockholm's famed Alfred Nobel Museum; and the clock tower of the 700-year-old Cathedral. "This just may be my favorite European square!" I offered. Before continuing our explorations, we surveyed the nearby restaurants and picked one for dinner that evening.
Other Old Town discoveries included the German Church with its brick steeple and melodic carillon; peaceful Prastgatan Lane with its Viking rune stone; and the Osterlanggatan district with quaint squares, shops, and restaurants. At the Royal Palace we caught the fanfare of the "changing of the guard" where a blue-coated troop marched from post-to-post around the Italian-Baroque-style complex. A worthwhile treat was the Royal Amory Museum with its medieval armor display and an exhibition of royal coronation coaches.

City of Islands


Changing of the guard at the Royal Palace
On other days we cycled on rented bikes, crossing stone bridges over magical waterways to explore Stockholm's other islands: Hegeandsholmen, containing the Riksdaghuset Parliament; Riddarholmen, with early government buildings and the burial church for 600 years of Swedish royalty; Kungsholmen, sporting the town hall and "towering" clock tower; Norrmalm, with pedestrian-only Drottninggatan shopping boulevard and café-lined Kungs-trad-garden; Skeppsholmen, with its modern art museum and Op art outdoor sculptures.
| | |
| --- | --- |
| Drottninggatan shopping | City of waterways |
Djur-Garden, Stockholm's playground island, became our favorite with its many sites and activities: canoeing the Djurgardsbrunnviken waterway; clycling forest and meadow pathways, and visiting the Vasa and Skansen heritage sites. The Vasa Museum's restored sailing vessel was recovered after 350 years at the bottom of Stockholm harbor, where it had sunk 20 minutes into its maiden voyage. Now the restored ship makes for one of the world's most arresting nautical museums, recounting the fascinating story of 17th-century maritime Stockholm and the ill-designed Vasa.
Djur-Garden's major highlight was Skansen Open Air Folk Museum, first opened in 1891. It is organized perfectly to display Sweden's cultural history. The 200-acre park contains more than 150 transplanted historic buildings, staged as a living museum of settlements and farms spanning Sweden from south to north. Most captivating was the early Stockholm display, where glass-blowers, furniture makers, bakers, and merchants ply their trades today as they did in days of yore.
| | | |
| --- | --- | --- |
| Skansen, country church | Old-time baking tradition | Furniture making display |
On the Inland Sea to Viking Digs
A two-hour ferry ride west from Stockholm on Lake Malaren took us to Birka, the ancient Viking settlement. Island-filled Lake Malaren had been part of the Baltic Sea in Viking times before a natural dam formed in Stockholm.We hiked the island's pathways to a number of Viking mounds, stone formations, and dig sites where archaeologists explained their work and discoveries. The Birka Museum's numerous artifacts, overviews, and town models laid out the site's history. The town of 700 residents had flourished as a trading post from its inception in 760 A.D. until it was abandoned in 980 A.D. for a settlement in nearby Sigtuna. Today's Swedes with their hardy love of life and "can do" spirit are living legacy to Birka's adventurous Vikings.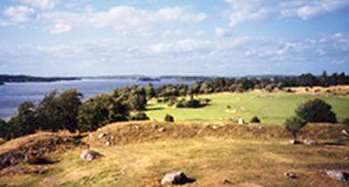 Viking fortification mounds at Birka, Bjorko Island
Stockholm Summer Summons
Although we had stayed only a few days, stunning Stockholm had already crept into our hearts and minds. We treated ourselves on the last afternoon with a return visit to Gamla Stam's central square. Basking in the sun, sights, and sounds, we sat as entranced as we had that first day. "What are we doing next summer? I hear there's a Stockholm Jazz Festival every July!" offered my wife, as we entertained ideas on when we might return to this magical Scandinavian capital for some more island hopping..
Click here for details to plan your own trip to Stockholm, Sweden.
Les Furnanz
Photos by Rita Furnanz