Another Tough Day in Paradise
Sea Kayaking in Baja California
We were kicked back and relaxed, slurping pina coladas, swallowing fresh raw oysters and savoring fresh ceviche, a Mexican-style sushi, when the dolphins glided past, swooping and diving in the bay that separated our island from Baja California's mainland. Not long afterwards, the setting sun flashed a panoramic burst of hues, evolving combinations of reds, crimsons, pinks, and lavenders that colored the sky and its layers of high lathered clouds — another tough day in paradise.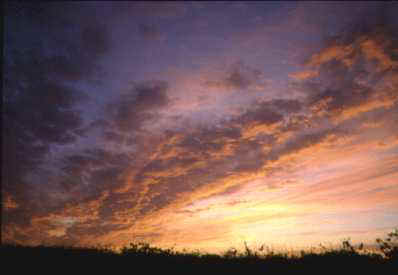 Brilliant evening colors light up the Baja sky
Kayaking Baja's Magdalena Bay
My wife, Mary, and I were part of a group of sea kayakers enjoying six days of easy paddling in Magdalena Bay on the Pacific Ocean side of Baja California. We pitched our tents on sandy hummocks on Isla De Santo Domingo, a needle-thin desert island that faces the sheltered bay and its web of lagoons. The ocean was an easy 15-minute walk over flowing sand dunes. During the days we angled our 21-foot, two-person kayaks north and south along the island or crossed the bay to weave through narrow estuary passages flanked by thick groves of mangroves.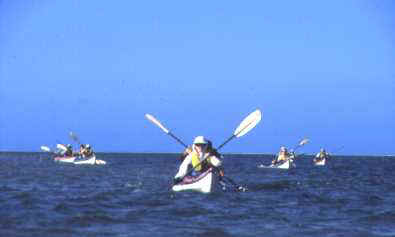 Kayakers paddling across Magdalena Bay
One day we glided past a boisterous colony of sea lions. On another we passed sandbars lined with rows of brown pelicans and double-breasted cormorants. Paddles along slinky lagoons revealed the sounds and sights of a cornucopia of birds, including great blue herons, eared grebes, white ibis, mangrove warblers, yellow-crowned night herons, brant geese, magnificent frigate birds, American oyster catchers, and green-backed night herons. Some of the mangrove's log-like roots reluctantly yielded delicious oysters that, along with freshly caught groupers and cervina, supplemented our already sumptuous meals.
| | | |
| --- | --- | --- |
| Kayakers glide in close to birds | Brown pelican trolls the bay | Paddling mangrove estuaries |
Although the variable weather didn't cooperate with all of our plans (Mary's hoped-for sunshine and heat was diluted by cool breezes, clouds, and even a raucous, hard-soaking thunderstorm), each day we celebrated our good companionship, savory food, and the bay and island surprises.
Good Guides Make It Easy
Our group of well-traveled paddlers, two from Austin, Texas, and singles from Seattle, San Diego and Winnipeg had first met in Loreto, a historic town fronting the Sea of Cortez. Guides from Sea Kayak Adventures retrieved us at the airport, shuttled us to a downtown hotel and provided us with an orientation talk before we piled aboard two vehicles for the drive over the Sierra De La Giganta mountains and along bumpy, single-lane desert roads past makeshift fishing villages to our put-in location.

While there are many kayaking outfitters, we learned that not all are created equal. Some careful investigation can make a trip more rewarding. Sea Kayak Adventures proved to be an excellent choice. Unlike many outfitters, it provided tents, sleeping bags, other critical camp gear (including a pack-in/pack-out toilet), tasty meals, and high quality kayaks.


A great feast to end a paddle day
Sea Kayak Adventure's experience and judgment was also in evidence when our guides aborted a planned crossing to Boca Santo Domingo and a south bay island. An unfavorable tide and whipping winds made the outing too risky. Our guides' decision was later verified when a kayaker from another group flipped and had to be rescued.
Whales, Wrecks, and Other Wild Surprises
Hikes along the Pacific side of the island yielded impressive views of spouting gray whales. Even more impressive were the bones and skeletons of sea lions, dolphins, sea turtles and whales. From a distance we watched as one of the island's many coyotes tore into a relatively freshly deposited turtle.

Unloading after a paddle

One morning, while most of the others took a short cross-island stroll, Bob, a professor from Manitoba, and I followed the island five miles north before crossing to the Pacific side through exposed cactus patches. On the return ocean-side walk we found whale bones the size of large tents, watched turkey vultures rip apart a dead sea lion, and circled the rusty skeletal remains of a wrecked ship, half-buried in the sand.

A few days later, on our paddle back to Baja's mainland, we glided past sunning waterfowl, a slumbering coyote, and fishermen who had lined a mangrove outlet with fishing net. A brown pelican glided close as we unpacked our kayaks and loaded them on the trailer.
Loreto and La Venta Canyon
Our Baja time included some pure relaxing and exploring around Loreto. Walks around town easily filled an enjoyable day as we strolled streets lined with shops and restaurants. Loreto's main streets radiate back from the busy harbor along the Sea of Cortez. Our explorations included a worthwhile visit to Mision Nuestra Senora de Loreto at the center of town.
On a more adventurous day we took a daylong trip to Mision San Francisco Javier, including a hike in La Venta Canyon, a geological mélange of volcanism and fault block desert in the Sierra de La Giganta Mountains. Our taxi dropped our guide, Javier, and us off at the head of the canyon and drove ahead to a pick-up point at the other end.
From the gravel roadway starting point, the trail quickly dipped into a verdant canyon and curled alongside a weepy stream flanked by spiring palm trees. It wasn't a trail in a classic sense. At various points it followed an abandoned road, was swallowed by the stream, disappeared up boulder slopes, passed through a ranch decorated with wacky carvings, detoured to a ledge above a deep pool, and meandered through Rancho Las Parras, a fruit ranch where we picked succulent oranges — quite a route!
On a Mission
Finding our taxi, we continued on to greater California's second oldest mission, formally known as Mision San Francisco Javier de Vigge-Biaundo. Built from blocks of volcanic stones by Guaycara Indians, it sits apart from other buildings in San Javier, a village with fewer than 100 residents. Although originally constructed in 1699 by the Jesuit priest, Father Maria Piccolo, at nearby Rancho Viejo, it was moved to its present site in 1720 and completed in 1758.

The towering church features its original walls, floors and venerable religious artwork, relics of Mexican Colonial art. Inside and out, it is an impressive, inspiring structure. Its walls and ceilings are decorated with elaborate woodwork, paintings and handiwork. The golden altar and artwork were carried by ship and burros from Mexico City. An outside graveyard includes the tombs of the early priests. The church has three bells, two dated in 1761 and another in 1803.


Mision San Francisco Javier
Within easy walking distance of the church are Jesuit-built canals that still water the village's fields and gardens, including a fig tree planted more than 300 years ago. We ended our interesting Baja tour with a stop at the village restaurant, Palapa San Javier, where we refreshed ourselves with simple and tasty Mexican food, sodas, and beer.
We had been on a mission to enjoy ourselves in Baja, and, dios mio, we succeeded.
Click here to plan your own sea kayaking trip to Loreto and Baja California.
Story by Lee Juillerat
Photos by Mary and Lee Juillerat