Grand Grand Targhee
Powder Heaven in Wyoming's Grand Tetons Susie Barnett-Bushong, Grand Targhee Ski Resort's director of marketing, was looking for excuses to remain cat skiing with us rather than go back to her office. Excuse ideas ranged from a flat tire (rather dubious since ski cats have tracks) to "we're lost." "We haven't finished the wine" and "we need to squeeze the grapes" didn't seem plausible either. She settled on the most believable excuse: "The powder skiing was divine and my fellow skiers refused to take time out for my return." End of mulling over excuse potentials…next run please!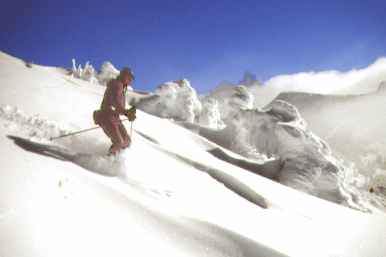 Powder Day -- Grand Targhee
We temporarily died, transcending to cat-skiing heaven. A full resurrection would find us in two feet of fresh powder, blue skies and a descending flotilla of rime ice two days later. It was definitely a religious experience…transcendental, new age, heavenly, Mother Nature at her finest with divine skiing and boarding for the heart and soul, Grand Targhee style.
Tulelake resident Dave Krizo and I visited Grand Targhee for four days during an extended western ski trip with included Sun Valley, Snowbird, and Jackson Hole. Due to the rapturous snow conditions, Alta, Wyoming's Grand Targhee provided by far our most memorable experience of the voyage.
Grand Targhee's Impressive Stats
Grand Targhee is located in the Targhee National Forest, 42 miles west of Jackson Hole, Wyoming and 87 miles northeast of Idaho Falls, Idaho. It is reached via Driggs, Idaho, situated twelve miles west. Its base is at 8,000 feet in the magnificent Grand Tetons, often referred to as America's Alps. Targhee is famous for consistently superb snow conditions. "Snow from heaven, not hoses," is the resort's official logo. With over 500 inches (40 feet) annually, Targhee rivals California's Kirkwood Ski Resort and Utah's Alta Resort for record snowfalls.

Targhee's two mountain peaks offer over 3000 acres of skiing. Fred's Mountain has 300 acres of groomed runs and l200 of powder, serviced by three chairs. Peaked Mountain's l500 acres are reserved for snow cat skiing seven days a week, weather permitting. The unsurpassed Grand Targhee scenery and excellent snow conditions are making Targhee into one of the Holy Grails of skiing. Two years ago, Mountain Sports and Living Magazine voted Grand Targhee #1 Best Resort in North America for Snow Quality and #1 Best Resort in North America for elbow room.


One of Targhee's famous slopes
Cat Skiing
Thirty-nine-year-old Australian Ian Honey is Targhee's director of operations and an unabashed Targhee groupie. "Some of the best snow in the world…reminds me of the Andes," he exclaimed. With a build more suitable for a Baltimore Raven's linebacker, Honey strapped on his "fat boy" Atomic CT Cruise skis and cut perfect curves through the light powder on Peaked Mountain. Our group of eight, including Susie, followed his trail. Hoots and hollers filled the air as we descended into the silky velvet white powder zone. It was a pristine ski world of floating and sinking, turning, "oohing" and "aahing" -- a feeling of sublime poetry mixed with the rush of energy, athleticism, and a precise focus.
| | | |
| --- | --- | --- |
| Ski Heaven | Targhee cat skiing | Two feet of fresh powder |
Beaver Dick's Drop Off, Instant Karma, Summit Plummit, Naya Nuki, Tickle, Dreamweaver, Corn Flake…these are off-piste snow cat powder runs that you've gotta love. Skiers can expect seven to ten snow cat runs a day, totaling up to 20,000 vertical feet of skiing. Skiers who are new to the powder skiing experience can obtain lessons from the excellent instructional staff.
Fred's Mountain
I experienced another powder day on Targhee's lift-served Fred's Mountain, which singularly has been the finest ski day of my life. First light filtering into my Teewinot Lodge room window unveiled a glorious sight never to be forgotten. Two feet of fresh powder, blue bird skies, brilliant sun and rime ice like fairy snow dust floating in the air. Rime ice is a hoarfrost phenomena caused when a cloud's minute water droplets freeze and fall to earth, enveloping skiers and the landscape in auras likened to glistening mica flakes or diamonds.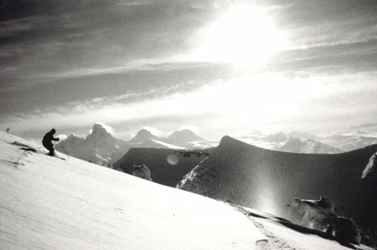 Grand Tetons, Grand Targhee, fresh powder and rime ice
I was among the first skiers on the high speed Dreamcatcher Quad chair that empties onto Fred's Mountain's top elevation of l0,200 feet. The Atomic fat skis escorted me to nirvana that day. Powder up to my waist, the beckoning call of untouched snow, the Teton landscape and heavens pulsating with exalted beauty. Crazy Horse, Wild Willie, Nasty Gash, Lost Groomer's Chute and the Teton Vista Traverse are runs forever carved in my mind.
Many Other Activities
Although renown for its powder skiing, Grand Targhee is a full service resort offering a variety of activities and amenities usually associated with larger resorts. There are l5 kilometers of groomed Nordic ski trails for traditional and skating techniques. Available activities include ice skating (admission free), tubing (another of my fun and exhilaratingly memorable experiences), dogsledding, sleigh ride dining, snowmobiling, and enjoying the full-service spa. The heated outdoor pool, hot tub, and sauna made for a perfect après ski dessert. The aromatherapy massage was also a first-rate experience. The spa menu included a mineral mud wrap, sea salt glow, massage facial, and an aromatherapy steam.
| | | |
| --- | --- | --- |
| Grand Tetons Elk | Grand Targhee ski village | Ski village scene |
Teewinot Lodge
Cozy, charming Teewinot Lodge fits like the perfect ski boot. Near the base of Bannock Lift #1, it views the mountain like a sentinel views the gates of heaven. The lobby has a large river rock hearth, tiled floor, and a roomy half circle, green cushioned couch. To the left of the hearth, on the wall, is a St-Anton Arlberg Tyrol print by B. Czeglea depicting an early day skier with long wooden skis and poles with large leather baskets. Pipe in mouth, the tall, dark haired skier is surrounded by rabbits on skis, each in a different state of ski readiness. Old wooden sleds, snowshoes and game mounts decorate the room. After a hale and hearty day of skiing, the lobby is filled with guests partaking in the après ski hors d'oeuvres of crackers, cheese, wine, and beer. Guests often leave pastries and birthday cakes with signs "help yourself." Conversation is lively and everyone seems to have a seraphic look in their eyes. Skiing the grand "Ghee" is indeed an angelic experience.

Click here for details to plan your own trip to Wyoming's Grand Targhee Ski Resort.
Larry Turner
Article and photos