Tasty Times in the Yukon


Great adventures and good eating at Tincup Lodge and Whitehorse

I knew I was in for something special as the floatplane lifted off from the hidden roadside lake. We flew between abruptly towering mountains, cruised above a braided river, and soared over an indigo colored lake, miles from the nearest road.

"That's Tincup," announced Larry Nagy, my pilot and owner of the Tincup Wilderness Lodge, our destination. Dogleg-shaped Tincup Lake lies in the shadow of the Yukon's mighty St. Elias Range near Lake Kluane. At the midway crook in its 8-mile length sits Tincup Lodge, a covey of toffee-colored cedar cabins in the alluvial plain where a stream enters the lake. Since the 1960s fishermen from around the world have visited Tincup for its renowned fishing — trophy sized lake and rainbow trout, grayling, and pike. Those fish remain plentiful, but in recent years an additional reason to visit has become Tincups's wilderness lodge luxury.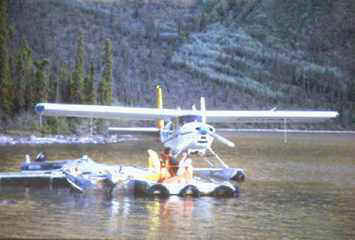 Floatplane docking at Tincup Lake
Hardly Roughing It
Knowing the lake's reputation, Larry and his brother Ernie bought the property sight-unseen in 1991. The old lodge had burned ten years earlier, so they built a new, stylish lodge and an accompanying set of cabins, along with a wood-fired sauna and under-the-stars hot tub. There's room for up to ten guests, but Larry prefers eight as being "more comfortable." Staying at Tincup is not roughing it.
It's the Fishing!
Fishing is Tincup's main attraction, and during my stay no one was disappointed. Several guests said their expectations were exceeded after only two days of joyful bouts with hard-battling trout. I learned what they were talking about one afternoon when I hooked onto a snorty rainbow trout that had my rod flexing like an upside down "U."

Rods and reels
await guests at lodge


Majestic scenery
and hard-fighting fish


Large lake trout
make for great dining
From mid-June, when the lake "ice off" provides some of the best fishing, to mid-September, when the lodge closes, fly fishing is excellent for lake trout and grayling. The peak season for spin casting and trolling is mid-July to mid-September. Given the fishing success that others and I experienced, Tincup is quite a catch.
Tincup Cuisine and Other Joys

Most of the fishing is catch and release. However, Larry and his partner, Jose Janssen, ask fishermen to save a few fish for the cuisine — smoked fish hors d'oeuvres, trout omelettes, and Jose's gourmet, European-style dinners. Tincup cuisine is renown to the point that Martha Stewart, accompanied by a film crew, spent a day catching fish with Larry and cooking with Jose. However, you don't have to be Martha Stewart to get special treatment. Jose offers private cooking instruction and demonstrations for his guests in the lodge's spacious kitchen.


Jose Janssen pours wine
while guests fill their plates
| | |
| --- | --- |
| Canoers enjoy lake reflection on Tincup Lake | Other joys at Tincup include hunkering down in an easy chair with a book or VCR movie from the lodge's library, or listening to the tales of Ron Chambers, the Indian guide and storyteller. More adventuresome options include day hikes, overnight backpack trips, or floating the mostly lazy stream that drains Tincup into Kluane. Depending on the destination, return trips can be arranged by motorboat, canoe, or floatplane. The lodge provides a selection of fishing motorboats, sea kayaks, canoes, and a rowboat. Two-way radios are provided for the outings. Trails from the lodge or drop-off points along the lake amble alongside streams, up and down mountains, and along high ridges. |
The "Metropolis" of Whitehorse
| | |
| --- | --- |
| The Yukon's vastness flaunted itself the day I hitched a floatplane ride from Tincup to Whitehorse. During the hour-long flight I didn't even see a backcountry rode until reaching the outskirts of town. After the isolation I had experienced in the immense Yukon, Whitehorse, with 27,000 of the Yukon's 31,000 residents, seemed a metropolis. I enjoyed a town walk, and even better, a tour of the S.S. Klondike, a sternwheeler that traveled between Whitehorse and Dawson City from1937 to 1955. Most guided tours leave me restless, but the stroll around the Klondike was fascinating and informative as I imagined it plying the river through hundreds of miles of wilderness. | The S.S. Klondike in Whitehorse |
Whitehorse Adventures
One day I ventured outside Whitehorse with Leo Boon, the owner of Big Bear Adventures, specializing in mountain bike and canoe trips. We spent the morning on a rambling 20-mile mountain bike ride through the Ibex Valley. Parts of the road had been completely obliterated by a storm, while other sections were buried under a thick coating of sand-like muck. The prettiest sections flanked the Ibex River, including a panorama across a burn of distant snow-fringed peaks. The route weaved and bobbed, sometimes on roller-coaster grades, other times across narrow streams and up grades too steep to pedal. When Leo's bike became hobbled with a flat tire near our destination, I rode on to hold the waiting vehicle until Leo could complete the trip on foot.
After gobbling a quick lunch, Leo and I climbed in a canoe and paddled down the Takhini River. At the toughest rapids, the "Jaws of Life" where we had scouted a route, Leo suddenly changed from our set course, heading directly into the heart of the froth for a thrilling ride. "They were, after all, great rapids," Leo later explained with a grin.
| | |
| --- | --- |
| Takhini River paddlers | Adventurer, Leo Boon |
More Tasty Times
Dining in Whitehorse proved to be another trip highlight. Leo and Sheila Dodd, the town's indefatigable tourism director, invited me to dinner at two excellent restaurants. At the Klondike Salmon and Rib Barbecue, a framed-in canvas wall tent, the delicious musk ox was one-upped by some incredible mussels. At the Kopper King, with its truck-stop-like exterior and plush interior, my steak and mushroom stroganoff was huge and delicious…hmm.
Huge and Delicious — that's the Yukon in a nutshell!
Click here to plan your own trip to Tincup Lake and Whitehorse in Canada's Yukon Territory.
Story by Lee Juillerat
Photos by Lee and Mary Juillerat