Pity Poor Fargo
North Dakota's Largest City Is More Than A Movie
Pity poor Fargo. It's a city that seems to always take a bum rap. No, it's not a destination that families are clamoring to visit. About all that most people know about Fargo is the 1996 Academy Award winning movie of the same name. Just say the name, "Far-GOOOO," and watch folk's faces contort into a silly grin. My wife was born in Fargo. Some of her family still lives there. When she tells people that, yep, she's from Fargo, she grimaces as the inevitable question follows - "Did you like the movie?" When the movie was previewed at the Fargo Theater, most of the audience yelped "Uffda," then walked out. People remain resentful because they think it created an image of a Midwestern hick town populated with people who speak strange English. Worse, only a small part of the movie actually takes part in Fargo. Most of it was set across the border in Brainerd, Minnesota. "It doesn't claim to be a documentary," answered producer Ethan Coen to the criticism.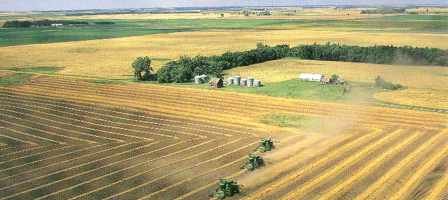 Harvesting wheat, Steele County, near Fargo, ND
(Courtesy: Fargo-Moorhead Convention and Visitor's Bureau)
"Uffda mia!"
It didn't help the city's self-image when a recent "Most Photogenic Cities" survey by Fuji Photo Film, USA, placed Fargo dead last among 190 cities - even behind drab places like Houston, Texas, Gary, Indiana, and even Newark, New Jersey, which placed 22nd. "It may be a little on the negative side, but it just gets us more publicity," said Cole Carley, executive director of the Fargo-Moorhead Convention and Visitors Bureau of Fargo's rank ranking. "Any publicity is good publicity."

Bonanzaville
(Courtesy: Visitor's Bureau)

With such notoriety, I wasn't expecting much when I made my first visit. Surprise! While Fargo will never be confused with San Francisco, Honolulu, Boston or Seattle, it boasts its own charms -- riverside trails great for biking or running, a dazzling stadium that's a laid-back place to enjoy minor league baseball, a funky exhibit that features a replica Viking ship, the Bonanzaville pioneer village, a museum that honors one of baseball's most poorly treated stars, and miles and miles of fields with acres of dirt so dark and so fertile looking that Jack could plant magic beanstalks anywhere he wanted.

Fargo is a place where people really do say things like "Uffda" and "Ya, you betcha" and where Hornbacher's supermarket is stocked with "Freddy's Homemade Potato Lefse," the Scandinavian version of tortillas that natives serve with lutefisk and pork links or lather with butter, sugar, jelly and cinnamon.
North Dakota's largest city is actually three cities. Fargo, named for William G. Fargo, a partner in the Wells-Fargo Express Co., counts more than 77,000 residents. But the metropolitan area is pushing 160,000, which includes Moorhead, the Minnesota city that's attached to Fargo like an umbilical cord across the Red River, and West Fargo, a hub of shopping and increasingly sprawling residential subdivisions. The largest metropolitan area between Minneapolis, Minnesota and Spokane, Washington, Fargo self-promotes itself as "stress free."
Fun at the ball park
| | |
| --- | --- |
| That kick-back attitude is possibly best reflected on summer evenings at Newman Outdoor Field, an upscale baseball stadium on the North Dakota State University campus that's the home of the Fargo-Moorhead Red Hawks. Opened in 1996, the stadium has an official capacity of 4,635 but holds standing-room crowds of more than 7,200. The league's self-imposed $85,000 a year salary cap per team helps keep the play competitive. Players earn between $750 and $3,000 a month during the five-month long, 86-game season. Most will never make it to the big leagues but some have, like J.D Drew of the St. Louis Cardinals and former Met-Dodger-Yankee Darryl Strawberry. | Newman Field and the Fargo-Moorhead Red Hawks |
During a Fan Appreciation Night, fans walked off with the Red Hawks jerseys along with pennants, T-shirts and other souvenirs. Another night the play on the field was supplemented with games of musical chairs, with the last left man standing receiving Uncle Larry's Lemonade for half-price.
Another sort of appreciation is featured at the West Acres Mall, the strange but oddly emotional setting for the Roger Maris Museum. A mall wall honors Maris, a Shanley High School graduate who earned local fame with athletic feats like returning four kickoffs for touchdowns in a single game and leading the local American Legion team to a state championship.
| | |
| --- | --- |
| Roger Maris Museum at West Acres Mall | Maris was a forgotten, under-appreciated slugger who smacked 61 home runs in 1961 to break Babe Ruth's legendary home run mark. The glassed-in exhibit features several of his major awards, including the 1960 Sultan of Swat crown, along with several of the home run balls from 1961, and uniforms Maris wore as a member of the Kansas City Royals, Cleveland Indians, New York Yankees and St. Louis Cardinals between 1967 and 1959. A black and white video narrated by Mel Allen features Maris slamming his last dozen home runs. Even four decades later, Maris T-shirts do steady sales at the mall sport shop just around the corner. |
A short walk away from Newman Outdoor Field is the FargoDome, an indoor arena that can seat up to 28,000. It's been filled for concerts by the Rolling Stones, Yanni, Bill Joel, Garth Brooks and Fargo's unlikely connection to the blues, young Johnny Lang. The dome is also used by football, basketball and hockey teams along with festivals, rodeos, trade shows and circuses.
Sod houses and mighty Wurlitzers

Among Fargo most interesting attractions is Bonanzaville, USA, a 15-acre area that features historical buildings, from sod houses to old churches to a salvaged country store, and a turn of the century Main Street. The Historic Fargo Theatre, built in 1926 and extensively remodeled in 1997 to Art Deco period, is a vintage movie house that features films and live theater and the "Mighty Wurlitzer" pipe organ. The Trollwood Performing Arts School in the lush 28-acre Trollwood Park offers summer musicals. A converted warehouse in downtown Fargo is now the Plains Arts Museum, the largest fine arts museum between, yes, Minneapolis and Seattle.


Plains Art Museum (Credit: Visitor's Bureau)
Moorhead has some of the area's most curious sights, including the Heritage Hjemkomst Interpretive Center. The tent-shaped building is the location of a 76-foot long Viking ship replica that sailed across the Atlantic Ocean in 1982. On the grounds, too, is the Stravkile Norwegian Stave Church, a replica of a church built in the late 1100s in Hopperstad, Norway. Also in Moorhead is the Berquist Pioneer Cabin, built in 1870 by Swedish immigrant John Berquist. Scandinavian influences remain strong in the region. The Scandinavian Hjemkomst Festival is held annually in late June at the center. Other sites in Moorhead and Fargo feature arts, crafts, foods, music, dance and activities of Iceland, Denmark, Sweden, Norway and Finland.
So how does Fargo figure being dead last? Uffda! Call Fargo the Rodney Dangerfield of the Midwest. Maybe the folks at Fuji only saw the movie.
Click here to plan your own trip to Fargo, North Dakota.
Story by Lee Juillerat
Photos by Lee and Mary Juillerat