WHEN YOU GO

Theodore Roosevelt National Park
Getting There: Theodore Roosevelt National Park is divided into the North and South Units. The more visited, larger south unit is located off Interstate 94 in western North Dakota near the Montana state line. Entrance to the park is through the rustic western town of Medora, which offers a variety of visitor services. The wilder north unit is located off Highway 85, 15 miles south of Watford City, the nearest town with relatively few visitor facilities. For people traveling by airplane, the nearest airport is in Dickinson, North Dakota, which is 30 miles east of Medora and 77 miles southeast of Watford City. Dickinson is served by United Express. Car rentals are available at the Dickinson Municipal Airport. Bismarck Municipal Airport, 132 miles east of Medora and 179 miles south of Watford City, is served by United Express and Northwest. Phone numbers and WWW links to these airlines and the major auto rental firms can be found in this magazine's Airlines and Autos pages.
Staying There: Medora, the entrance city to the park's south unit, offers a variety of overnight facilities, from campgrounds and RV parks to motels, hotels, and a bed and breakfast inn. A limited number of accommodations are available near the north unit in Watford City. Both the north and south units have National Park Service campgrounds. For lodging information for Medora contact the Theodore Roosevelt Medora Foundation at (800) Medora-1 (633-6721) or www.medora.org.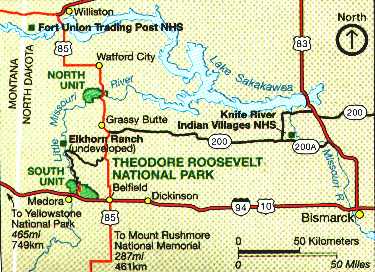 Map Courtesy: National Park Service
To learn more about the area request information from the Theodore Roosevelt National Park. Call (701) 623-4466 for the south unit or (701) 842-2333 for the north unit. A wide selection of books are available from the park's natural history association. Useful books include Hunting Trips of a Ranchman & The Wilderness Hunter, and Ranch Life and Hunting Trail, by Theodore Roosevelt, and Aristocracy on the Western Frontier: The Legacy of the Marquis de Mores, edited by Virginia Heidenreich-Barber.
Useful WWW Links:
Theodore Roosevelt National Park
Theodore Roosevelt Medora Foundation
North Dakota Tourism Department
State Historical Society of North Dakota
Return to Where the Bulls Run Amok article.