Sun Peaks Resort
No Longer Canada's Best Kept Winter Secret
When Sun Peaks Resort's Skiing Director, Nancy Greene talks, people listen. I knew I wouldn't be disappointed when Nancy told me, "Sun Peaks is the best kept secret in North American skiing. When my husband Al [Al Raines, former head coach of Canada's ski team] and I left Whistler five years ago to help develop this destination resort, we knew that the mountain [previously called Tod Mountain] was big, challenging and had incredible snow. It still offers all the tough black diamond terrain, but now it has slopes for all skiing levels."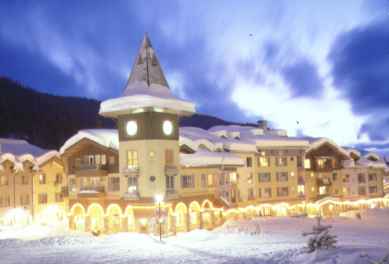 Twilight view of Sun Peaks Resort
Sun Peaks Resort was fortunate to land Nancy Greene as its Skiing Director. She has devoted her life to the slopes. Her remarkable racing skills earned her the l968 Olympic Gold in Giant Slalom and the Silver in Slalom at Grenoble, France. Her Gold Medal victory margin of 2.68 seconds remains one of the largest in skiing history. Canadian Press and Broadcast News named her Canada's top female athlete of this last century. So when I had a chance to share some ski time with Nancy, I jumped at the opportunity.
Let's Go Skiing
A day skiing with Nancy revealed to me the diversity and sheer beauty of Sun Peaks. We cruised Sun Catcher, Grannie Greene's and Cahilty, we let the afterburners go on Five Mile and Exhibition, then tightened up our turns for the challenging runs on Peak-A-Boo and Tighten Yer Boots. Snow ghosts ruled the Top of the World run at 6,824 feet altitude. Nancy was a delight to ski with, a rare, approachable prominent figure. She skis nearly everyday and is often the first person on the lifts. She freely offers advise on ski technique, going out of her way to help Sun Peaks patrons. She's not above ribbing someone, as she did to me in calling, "Nice face plant Larry. You might work on avoiding that next time."

Nancy Greene in fresh
powder with "snow ghosts"


Nancy Greene and her medals,
author on left
Blessed with abundant snowfall, sumptuously light powder, diverse terrain and plenty of skiing elbowroom, Sun Peaks is a must for the adventurous skier or snowboarder. A small group of friends and I made the most of a multi-day stay to experience the best that the mountain had to offer. One morning we woke up to a foot of feather-light powder. We felt as if we had died and gone to ski heaven as we cut fresh tracks for run after run through the light, untracked covering.
In 2,89l vertical feet, Sun Peaks has over a thousand acres of trails, conneted by six lifts. The longest trail runs for five miles. Eighty runs, including six glade areas, offer a varied ski mix from groomed to champagne powder. There's also a 30-acre snowboard terrain park. A second ski peak, Mount Morrisey, will be added to the ski acreage in 2002, along with a winter tubing park, an l8-hole golf course, and a new Delta Hotel. The Sun Peaks ski area permit covers 10,000 acres, so more exciting mountain development is planned for the future.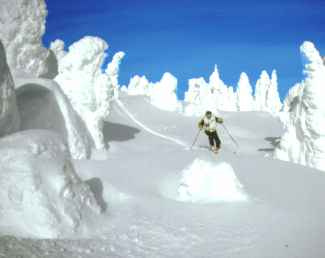 Skier Curtis Fong making first tracks
The Village
A European-style village, complete with bell tower, frames the base of this picturesque winter area situated near Kamloops in Canada's British Columbia province. Sun Peaks Village is charming, cozy, cordial and beautiful. The narrow streets are great for strolling and are lined with restaurants, lodges and shops exuding warmth and invitation. The village has a low-key, relaxed feeling, capitalizing upon its beautiful natural setting.
Original development was started here in 1961 with the opening of Tod Mountain. But much has changed since then. Christopher Nicolson, the Sun Peaks public relations director, says, "This new resort is unique because it has been literally built from scratch in the last five years to become the premier ski destination in interior B.C."

Apres-ski life may include a hot tub soak, a glass of gluwein, a hearty post-ski-day conversation with friends at Macker's lively bistro and bar, or a delectable dinner at Freddy and Lisa Strub's Valluga Restaurant. As the day closes, the blue afterglow of the sky frames the warm glow of the village, leaving one with the feeling that life could be no more perfect.


Sun Peaks night life scene
Plentitude of Winter Activities

Mushing at Sun Peaks

The fun does not stop with just skiing and snowboarding. A well rounded Sun Peaks vacation could also include ice skating, dogsledding (my personal favorite), broom ball hockey, swimming, snowshoeing, snowmobiling, sleigh rides, paragliding, heli-skiing, fine dining, shopping, and some of the finest cross-country skiing anywhere

Dogsledding: One of the most endearing treats of my weeklong stay was dogsledding, mushing my own team across the silent and pristine Sun Peaks landscape. This traditional Canadian wintertime activity with Malamute and Canadian Eskimo dogs is fascinating. The second team of Tia and Viko followed my lead team of Cognac and Macho. I learned that female dogs are generally smarter than the males. The dominant alpha-personality female is the "top dog." When the dogs fight, don't get in between them. They'll settle it themselves, thank you very much. My dogsled journey was delightful as the late light falling on the dogs' luxurious coats glowed. I fell asleep that night with the mushing commands dancing in my head: "hike"(go), "whoa"(stop), and "easy"(slow down) exhaled with foggy condensed breath.
Take a Helicopter: Legendary Tod Mountain offers the adventurous skier one of the Holy Grails of skiing, heli-skiing in pristine terrain above and out of bounds from the resort's terrain. Helicopter rides are also available to those not inclined to ski. Two alternatives are the Heli-Peak tour or a Heli-Lunch tour with a gourmet lunch prepared by the extraordinary chefs at the Stumbock Hotel, champagne included.
Sleigh Rides, Cross-Country Skiing, and More: Have you ever ridden in a one- or two-horse open sleigh? This is your chance, as you enjoy the snow covered Sun Peaks trails accompanied by the jingle of sleigh bells. If snowmobiling is your cup of adventure snow, Sun Peaks offers a variety of tours. Snowshoeing, ice-skating and a variety of cross-country ski trails are available, including skiing to McGillivray Lake where one can warm up and eat lunch inside the lake's cabin.

While eating lunch inside the Village Cafe one day, I watched cross-country ski racers as they weaved through the tight village streets toward the finish line. Men and women racers of all ages passed, their bright colored attire vibrant against the snow. The bewitching bell tower stood before the ski mountain, freshly crowned with a mantle of powder snow. Yes indeed, as I enjoyed the Warmsteiner beer and Thai noodles it felt that everything in that moment was right with the world.


Cross-country ski racer
Exciting Events, Awards
A unique dine-and-ski experience takes place every Wednesday and Thursday evening. It's the Torchlight Ski and Dinner. After taking the chair lift to Sunburst Lodge, diners enjoy a fondue or western style meal, complete with the relaxing sounds of local musicians. Diners must remember though to not get overly comfortable...they still have to make it down the mountain. When the evening festivities are complete, torch carrying ski guides lead the way back along a ski trail lit by torches. Each January, Sun Peaks has their Annual Icewine Festival, combing superb skiing with some of British Columbia's best red, white and icewine. Icewine is rich, sweet Canadian wine made from frozen grapes, and it has won many international and national awards.
| | |
| --- | --- |
| Sun Peaks pool at twilight | Speaking of awards, after several wonderful days I fully appreciated why Sun Peaks has recently received so many cherished ski resort awards. Snow Country Magazine and Ski Canada Magazine awards for Sun Peaks include Best Village Development in North America, Best Weather in Canada (2,000 hours of sunshine average per year), Best Terrain Variety in Canada, Best Lift-to-Skier Ratio in Canada and Best Trail and Slope Design in North America. I'm certainly adding my vote of support for returning to Sun Peaks Resort! |
Click here for details to plan your own trip to Sun Peaks Resort, Canada.
Larry Turner
Article and photos