Dazzling French Polynesia
Tahiti and Neighboring Isles Exceed Their Fame
| | |
| --- | --- |
| As we motored in the large outrigger along the shore, beckoning views called from every angle. Moorea's green, needle-like peaks soared into wispy clouds. We cut a riffled line across the placid aquamarine lagoon, heading toward a palm-studded reef islet. After slowing to a sandy anchorage, we eased ourselves into the water and followed our guide toward the lagoon's tidal channel. Snorkeling slowly, we gasped on first sighting the beautiful creatures we'd hoped to find. Several rays glided effortlessly toward us, lazily flapping their six-foot-span fins. They circled our guide, awaiting a shellfish snack. Taking care to avoid their long tails, we approached and stroked the rays' velveteen backs. Their large gill spiracles pulsed behind searching eyes as they grabbed handouts with flat, narrow mouths. | Cooks Bay, Moorea |
We had not imagined that these magnificent animals were so accustomed to humans in their eons-old environment. The rays held our interest for uncounted minutes. Only when they flapped out of view, did we realize that the nearby coral formations and colorful fish were also deserving of our attention. Then the guides got our small group back into the outrigger and beached us on the nearby islet (motu, in Tahitian). We walked up shore against the tidal current, and then drift snorkeled back in the tidal surge past colorful coral formations with numerous butterfly fish, tangs, urchins, parrot fish, and sea cucumbers... the perfect cap to an unforgettable day in French Polynesia.
More Polynesian than French
The dazzling above- and below-water scenes of Moorea were but a small portion of the enchanting experiences of a 10-day cruise in French Polynesia's Society Islands. Although its name belies that French Polynesia is a territory of France, it is uniquely Polynesian. Once clear of Tahiti's bustling population of 130,000, we were seemingly transported centuries back in time. The four islands that we visited have only 4,000-8,000 residents. Residents speak primarily Tahitian and live the same basic lifestyle as their Polynesian ancestors. Although today their lagoon-view bungalow homes sport TV antennae, the islanders' primary occupations remain shoreline fishing and farming. Besides Tahiti, our ship visited the islands of Moorea, Huahine, Raiatea, and Bora Bora, all within 125 miles of Tahiti. Each of the densely vegetated, mountainous isles is fully ringed by a barrier reef and dazzlingly blue lagoon. Fortunately, each has a narrow deepwater passage enabling ship access. It is easy to understand why the first Europeans, including Captain Cook's expedition and the H.M.S. Bounty's mutineers coined these islands "Paradise."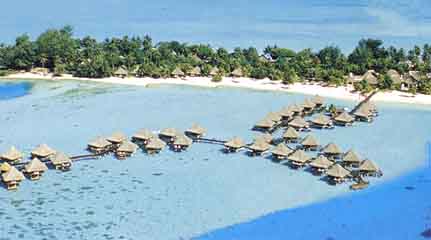 Lagoon bungalows (Courtesy: Renaissance Cruises)
An Ideal Bunk
We had often dreamed of traveling to French Polynesia, but the distance and reputed expense of lodging, restaurants, and inter-island logistics had seemed prohibitive. When we discovered a "Tahiti & South Pacific" cruise tour, we knew we had hit upon the right combination. We had a 684-passenger floating luxury hotel with an attentive staff, casual atmosphere, four open-seating restaurants, fitness center, pool, theatre, sports lounge, casino, and library. The nightly entertainment was surprisingly varied, including a comedian, and talented singers, dancers, and musicians. Most importantly, the French Polynesian itinerary was ideal, with two-day stops at each island, interspersed with nighttime cruises to the next location. The ship anchored each day in an island lagoon, and the large, continually running tender boats allowed for maximizing our time ashore or in the lagoons.
Island Highlights
Tahiti: Papeete, French Polynesia's only large town, deserves a walking tour from the port to the lively municipal open-air market, then through downtown, past numerous parks and small churches. Sunset views west to Moorea's ridgeline, 12 miles distant, are deservedly renown. Also worthwhile is an island loop excursion that stops at the small Gauguin Museum, where the famous French artist lived and worked, and at the unprotected eastern shore with views of the local surfers and the geyser-like phenomenon of Arahoho blowhole.
| | | | |
| --- | --- | --- | --- |
| Tiki Village | Nose Flutist | Dancers | Coconut Demo |
Moorea: The island's stunning beauty resulted from an ancient volcanic explosion and erosion, resulting in shark's teeth ridges rising above narrow, deep-water Cooks Bay and Opunohu Bay. Several resorts line the northern shore, many featuring bungalows sitting on stilts above the lagoon. The best cultural experience in French Polynesia can be found at the Tiki Theatre Village, where local artists, sculptors, and dancers live and work. When we visited, the friendly residents gave demonstrations on pearl oyster farming, nose flute playing, tool crafting, clothing production, and Polynesian dance.
Huahine: Laid back Huahine features needles of rock and scattered palms bursting through the dense vegetation. A single small village, Fare, and six resort hotels are sprinkled around the island. Huahine served up incredible snorkeling. An outrigger canoe provided access to a long stretch of tidal drift snorkeling off of Motu Murimaora. In an hour-long snorkel we encountered literally hundreds of species of coral and sea life. We later beached at a smaller motu and enjoyed a demonstration of coconut harvesting and a snack. There's nothing like fresh coconut and tropical fruit after a day in the lagoon.
Raiatea: The stretch of lagoon between Raiatea's port and the nearby island of Tahaa provides some of the best sailing in French Polynesia. We sailed to a motu just off of Tahaa, walked through the palms to the seaward shore and enjoyed another great snorkeling day before catching the lively afternoon winds back to Raiatea. On a second day we rented bicycles at the port and rode to a friendly hotel, Raiatea Pearl Resort, where we enjoyed the most colorful snorkeling we'd experienced along coral beds that stretched downwards into the 60 foot deep lagoon -- just another day in Paradise.
| | |
| --- | --- |
| Lone Bora Bora paddler | Polynesian sunset |
Bora Bora: The exotic name alone makes the journey here worthwhile. Bora Bora's unique geography lives on in the minds of anyone who has visited. Mount Otemanu sits at the center of the island like a giant tombstone in the sky overlooking its multihued lagoon. Huge reef motus ring the entire lagoon. At one of the motus we swam with well-fed reef sharks and large manta rays in a fenced area of the lagoon. On another day we caught a taxi with friends to the Moana Beachcomber Resort Hotel, which rewarded us with snorkeling among the water-stilt bungalows and surrounding coral and sea life on the southern point of the island.
As You Like It
Since my wife and I are like joyful kids when it comes to water sports, we took almost every opportunity to take boating and snorkeling excursions throughout the cruise itinerary in French Polynesia. Other passengers opted for more of the land-based excursions and activities. We can honestly say that we did not meet a single cruise passenger who wasn't ecstatic about the islands and the cruise… paradise was realized in French Polynesia!
Click here for details to plan your own trip to French Polynesia.
Les Furnanz
Photos by Rita Furnanz