Dreams of Provence
Weeklong Sojourn Maximizes Joys in Southern France
France's beautiful region of Provence seems to pop up constantly in articles and conversations: "the open air market in Aix," … "Did you read Peter Mayle's A Year in Provence," … "quaint hillside villages like Gordes" … "the Pope's Palace in Avignon," … "the Roman theatre in Orange, " … "Chateauneuf du Pape wine." Well, you're going to make your travel dreams come true. You've cleared your calendar for a European vacation that includes a week in Provence! But now the hard part -- with so many possibilities, how do you decide where to stay, what to see and do? My wife and I have faced these tough decisions multiple times, attesting to our own love of the region. The following weeklong itinerary, with stays in two towns, is culled from visits to Provence over several years … Toujours Provence!
Avignon -- Ideal Provencal Base Town

Avignon sits beautifully on the Rhone River, at the very center of Provence's major attractions. You'll need a car and four nights / three days here for an unhurried appreciation of Provence's variety. After your arrival, spend a relaxing afternoon and evening in the medieval center of Avignon. Enjoy its cafes and choose a restaurant for dinner along place de l'Horloge, near the city hall and the evening-illuminated Palais des Papes. You'll feel the history around you, beckoning your explorations.

The next morning visit Avignon's historical highlights. Palais des Papes is a fortified castle that housed a succession of nine popes, 1309-1417. Wander the huge barren rooms with brilliant tapestries and frescoes, and then climb to the wall towers. This palace was full of intrigues when contesting popes fought for Catholic Church supremacy between 1378 and 1417, until Rome's pope finally prevailed.


View across the Rhone to Palais des Papes
(Courtesy: Avignon Office de Tourisme)
Spend the rest of your day enjoying Avignon's ambiance. Climb a short distance up from the Palais to the beautiful park that overlooks the Rhone River and Pont St. Benézet, the bridge constructed by a local shepherd after a religious vision in the 1100s . Meander along narrow pedestrian-only streets near place de l'Horloge and rue de la République to enjoy Avignon's boutiques, cafes, and flowered plazas. You'll soon appreciate why Avignon is called the style and cultural capital of Provence.
Southwest Loop: Pont du Gard, Arles, Les Baux, St. Remy
| | |
| --- | --- |
| Pont du Gard | This exciting day tour runs west and south from Avignon, 80 miles total, to visit some of the most enthralling sites that Europe has to offer. Drive west 30 minutes on N100 and D981 to Pont du Gard. This best-preserved Roman aqueduct, over 2,000 years old, towers above the Gard river. It once supplied water to the large Roman city of Nimes. Next drive 45 minutes southeast along D981, D99, and N570 to the fantastic city of Arles. Follow signs to the parking lot past the train station and walk through the narrow streets of the old city to the Roman arena. Over 1,900 years old, today the arena is the site of weekend bullfights. Wind your way along rue des Arènes to place du Forum, originally the Roman center of town, now a café-crammed plaza bursting with energy among shady sycamore trees. It was here that Van Gogh hung out in the 1880s and painted Starry Night. This is a great place to soak up the ambiance and enjoy a plaza lunch. The nearby place de la République and St. Trophime Cloisters and Church are also worth a visit. |
Drive northeast 45 minutes on D17 and D5 to Les Baux, the isolated ruins atop a craggy lunar-like rock outcropping in the hills called Les Alpilles. This ghost town sits above a small pedestrian village at its entrance. Les Baux dates from the 1100s when it was home to an independent population of 6,000 residents. King Louis XIII razed the town in the 1600s out of fear of the town's power and independence. The ruins, views, and landscape make this an unforgettable site. Continue driving 30 minutes over the hills north on D5 to the lovely town of St. Remy. Walk the town center and enjoy its typical Provencal ambiance. Choose a restaurant for an enjoyable dinner before heading north 30 minutes back to Avignon. What a day!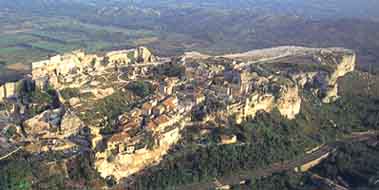 The ruins of Les Baux in Provence
(Courtesy: Societe de Sauvegarde de la Citadelle des Baux)
Northeast Loop: Orange, Chateauneuf-du-Pape, Gordes, Rousillon
This pleasing day tour starts with a 45-minute drive north on N7 to Orange (parking near the tourist office) to visit its best-preserved Roman theatre. It still seats 9,000 people for concerts with near-perfect acoustics. An impressive stage wall building, over 100 feet high, was used for stage effects and contains a niche with a statue of Caesar Augustus. From Orange, drive south on D976 and D17 through vineyards to the hillside village of Chateauneuf-du-Pape, founded by the popes in the 1300s to supply their wines. Several vintners offer grand-cru tasting here. You can also obtain inexpensive local wines and a good lunch at the restaurant, La Mule du Pape on rue de la République. Now you're ready for a relaxing and beautiful hour-long drive into the Vaucluse and Luberon hill town region. Drive southeast along D17 through Sorgues, taking D6 to N100 east to D2 and the hillside-perched village of Gordes. Fifteen minutes further along D2 is the hilltop, ochre-stoned village of Rousillon. You could easily spend hours and rolls of film on each of these picturesque Provencal hill towns. Consider a relaxing patio dinner in Rousillon before your hour drive west back to Avignon. Another day, par excellence.
| | |
| --- | --- |
| Orange's Roman Theatre | Village of Gordes |
Aix en Provence
A great location to spend your last three nights and two days is Aix-en-Provence. The French have voted Aix as their "best town." You'll love discovering why. From Avignon, Aix is less than a 90-minute drive, south on N7 to expressway A7 and A8 (take the second Aix off-ramp to the center). It's convenient to stay in a central hotel, such as the 18th century Grand Hotel Negre Coste on Cours Mirabeau. The touristy, café-filled, sycamore-lined avenue is Aix' energetic main street. It divides old Aix in two, with winding, narrow medieval lanes to the north, and high-class 18th century mansions to the south. Start by losing yourself in the northern maze of cobbled streets. Enjoy the daily open-air market at place de Richieme and the second-hand bookstalls at nearby place de l'Hotel de Ville. Then explore the south section of town, centered on the place des Quatre Dauphins and its fountain. Aix' open-air cafés and restaurants stay open well into the warm, beautiful evenings. Don't miss a visit to painter Paul Cézanne's studio, north on avenue Pasteur. The studio remains as he left it at his death in 1906. Cézanne's beloved Mt. Sainte-Victoire, subject of many of his paintings, sits five miles to the east of Aix.
| | | |
| --- | --- | --- |
| Cours Mirabeau | Market vendor | Girls of Provence |
It won't take long to get into the slow "enjoy the morning", "enjoy the afternoon," pace of Avignon along with its life-loving residents, including numerous college and university students. When it comes time to end your Provence vacation, you won't believe how quickly the time has flown; you won't want to leave. Well, this year it was "A Week in Provence," maybe next year it will be "A Month in Provence." It didn't take long for Peter Mayle to decide that he needed to obtain his own "Year in Provence."
Click here for details to plan your own trip to Provence, France.
Les Furnanz
Photos by Rita Furnanz