Aberdeen Centre
Folks come FROM Asia for the Asian food here just south of Vancouver, BC in Canada.
And it's easy to understand the lure, with 220 restaurants, food stalls and whatnot along a three block (yes, three block) stretch of Alexandra Road in Richmond.
But it's not the better-known restaurants of Food Street, as Canadians call it, that they want. They're after the little hole-in-the-wall places. Places only the locals know but adventurous travelers should visit. Places where Asians fill every seat, which, frankly, is how you can tell that the food is really good.
So the two of us, along with a couple of local friends, made the ultimate sacrifice and hit a dozen cafes, stalls and mall food court stands. In two days!
This area has more kinds of Asian food than many outsiders even know. There's the expected Chinese, Thai, Vietnamese, Indian and Japanese, but also Malay, Korean, Cambodian, Sri Lankan, Singaporean, Filipino, Mongolian and Indonesian.
| | | | |
| --- | --- | --- | --- |
| | | | |
| | Making fresh dumplings at R&H Chinese Food | Cash only at many Richmond food stalls | |
For us, mostly, it was Chinese, though we did make two Japanese diversions.
The Asians who come from across the Pacific say they are searching for "tsen" or proper cuisine. And yes, they find it.
But first, some background.
The Vancouver area of British Columbia has long been known for decent Asian food because of its connection to Hong Kong, which was once part of the British Commonwealth. Since Canada is also part of that Commonwealth, when Hong Kong was handed back to China, a flood of Hong Kong's citizens moved to the place it considered its sister city.
Today Richmond, a half hour south of Vancouver, has a population that's 65 percent Asian, mostly from China, Hong Kong and Taiwan. It's not only food but shops, grocery stores, street signs. It's really a trip to Asia without the jet lag. The malls, especially, are brighter, noisier, flashier than home. There's a LOT of gold jewelry, gold plated good luck statues and Hello Kitty stuff.
The center of all this is a few-block area known as the Golden Village. But don't expect some kind of grand entrance—say, a gateway or banner or Chinese lanterns. This area was never intended to be an Asian district. It just happened. And then, there's that food.
| | | | | |
| --- | --- | --- | --- | --- |
| | | | | |
| | Best soup dumplings, dim sum | | Entrance to Parker Place with great bbq | |
DAY ONE
Parker Place BBQ Meats and HK BBQ Master
You can't miss eating Chinese BBQ. We're not talking southern ribs smothered in red sauce but, rather, duck, chicken and slices of pork, all done with a bit of soy sauce. They even have their own version of cracklins.
Parker Place BBQ is strictly take out, which you grab and head about 300 feet down the mall to food court tables. Lines can run 30 minutes, so you might want to call in an order in advance.
Like Parker Place, HK BBQ Master opens at 11am and its handful of tables fill fast. It's located in the parking garage below Richmond's Super Store (like Costco). And the day we visited, some chap parked his grocery cart full of soda, food and diaper boxes outside the door while he went in to eat.
We compared the two BBQ places. Parker Place has the better soya duck with a more complex taste. HK BBQ won the contest for the rest. The soya chicken was fork tender and tasty. The sliced pork had a crispy rind. And the pork cracklins (which they call cracklings) were both crisp and tender at the same time, with a flavor that made your mouth water, even as you were biting into them.
| | | | | |
| --- | --- | --- | --- | --- |
| | | | | |
| | Chicken and more at BBQ Master | | Parker Place means best duck | |
Claypot Rice at James Snacks in Empire Centre Food Court
Another dish you won't find in your local Chinese restaurant. This is rice made to order in clay pots with an assortment of toppings. We had one with spare ribs and one with sausage. What makes all this stand out is the way the rice along the sides and bottom of the pot crisp up while cooking. Again, order in advance so the semi-burnt crust forms properly.
It was a mix of savory soy with a hint of sweet but best of all were the hidden bits of crunchy rice.
As for finding this place, Empire Centre is a strip mall. You need to walk along the sidewalk towards the back and look for the food court door on the left. Once inside, turn right.
Xiao Long Bao (pork soup dumplings) at R&H Chinese Food, Lansdowne Centre
Pork soup dumplings are something we know well. We have eaten them across the Seattle area where we live. And these, really, are the best we've ever had.
The dumplings look like little round gift packages. You use your chopsticks to put one on a spoon and bite carefully so the tasty soup inside doesn't spill. Then you eat the meat. The wheat flour wrappings here are not too thick or too thin. The minced pork's flavor rolls along your tongue with a hint of salt, sugar, pepper, rice wine, soy and, especially ginger. They're made in a bamboo steamer basket.
But what is seriously neat is they are made fresh to order. The husband and wife team fill the wrappers, pinch them shut and steam them as you watch. All this in a shopping mall at a stall you might easily walk by—if you didn't know.
Hand pulled noodles at Xi'An Cuisine in Richmond Public Market
Owner and cook, Duan Ya Min, has several dozen (no exaggeration) kinds of noodle soups featuring everything from lamb, beef and pork to eggs, beans and assorted vegetables, done in a variety of ways.
| | | | | |
| --- | --- | --- | --- | --- |
| | | | | |
| | Hearty soups at Xi An Cousine | | Honey Toast Box chocolate ice cream dessert | |
This is, literally, another hole-in-the-wall shop. You walk up to the counter and order just like fast food and if you're lucky, you'll get to watch Duan hand stretch the noodles, which are served properly al dente. We could taste western China in his lamb soup, which was hearty and infused with a mystery of Asian spices that ranged from cardamom and ginger to star anise.
Xin Shun Spicy Crab Hot Pot in Park Village
Dinner here is a true adventure. You open a plain, gray glass door in an underwhelming strip shopping center, pull aside heavy brown velour curtains to find bright, simple booths, and a huge, head-shaking menu. Best to order the $35 crab bowl which is then augmented with an assortment of extras that range from $4 to $8 each.
Along with our pre cracked crab, we had mushrooms, rice cakes, fish balls, lotus root and various vegetables. The "heat" starts with very mild and works up to "really spicy," which might, as one person remarked, require fire trucks on standby. And along with the huge bowl of food come plastic gloves so you can dig in and find all the little scrumptious treasures.
This is a dish for a group of folks who truly like to share.
DAY TWO
Breakfast at Happy Date Restaurant and Bakery in Park Village
Back to Park Village. This cafe has LOTS of signs on the windows and a dozen or so crowded tables and booths inside. The most popular Chinese breakfast is a rice porridge called congee which can come with any number of ingredients. Our favorite is pork and preserved eggs. You add a touch of soy sauce, some green onions and push a couple of crispy (not sweet) Chinese donuts into the bowl. Our friends dug into a bowl with shrimp ginger, squid and peanuts. YUM!
The donuts (youtiao) here are perfect - crisp on the outside, soft inside. If you get some elsewhere that are chewy and hard, they're too old.
Hainanese Chicken at Prata-Man
There are three parts to this meal, our local friends told us. There's the broth, the rice and the chicken. Very, very few places get all three right and Prata-Man is one of them. The restaurant has only nine tables and is at the end of a small strip of stores. Inside, the huge menu offers a confusing array. But just stick with the Hainanese chicken.
First comes the broth, hot and rich with chicken flavor and a touch of ginger. Then the chicken, which is cold and bowls of rice that are warm and have been cooked with chicken broth.
The idea is to put strips of chicken on the rice, add ginger shreds and a bit of the green onion-oil sauce that is flavored with spices and a pinch of sugar.
It looks gelatinous but it is beyond delicious. Actually, it was our favorite main meal dish of our trip.
Shibuyatei attached to Richmond Car Wash
| | | | | |
| --- | --- | --- | --- | --- |
| | | | | |
| | Richmond shibuyate tiny ramen shop by car wash | | Shibuyate inside | |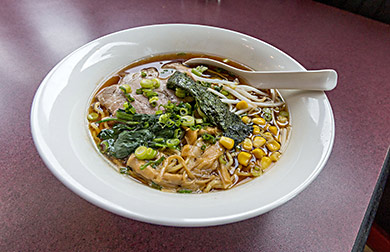 Shubayate bown of speial ramen
Of all the weird locations we visited, Shibuyatei, a Japanese ramen shop, is perhaps the strangest. It's attached to the side of a car wash and so close to the Vancouver airport, you can see heat vapor coming out of the engines as jets land.
The ramen, called "larmen" here, is not your grannie's college dorm stuff. It's made with broth that has been simmered six hours. The broth base is "dashi," as opposed to the more popular miso and is less salty and greasy. It's billed as one of the best ramen shops outside of Japan and the owner, Takeo Sato, also does all the cooking.
We had the egg and pork ramen, which came with kale, corn and all sorts of other tasty veggies.
Sushi Hachi in Pacific Plaza
And finally, one of the absolute best sushi dinners we've ever had. We admit to only tasting at the other eateries. But here, we ate EVERY bite.
| | | | | |
| --- | --- | --- | --- | --- |
| | | | | |
| | Suski Hachi salmon skin hand roll | | Digging into spicy crab bowl at Shun Spicy Crab | |
"Omakase" or Chef's Choice, leaves the selection up to the chef, who knows what he has that is best for that day. In high end Vancouver sushi restaurants, this can run $75 a person. Here, it's $25 per person for 10 kinds of fish (each person gets one of each kind) and a hand roll.
All we can say is, for Yvette, it was perhaps the first time she's not put soy sauce and wasabe on her sushi. The flavor of each fish came through and each was melt in your mouth tender.
Sugarholic Cafe in Aberdeen Centre
Okay, this Pan Asian dessert shop is nowhere near being a hole-in-the-wall place. But, good grief, you if you're not Asian, you've NEVER seen desserts like this. Over the top doesn't begin to describe the Honey Toast Box we had. It's a loaf of sweet Chinese bread, hollowed out in a square shape, toasted and filled with just about anything you could imagine.
We got the "Banana Chocolate" with chocolate chunks, chocolate ice cream, chocolate candies, toasted bread cubes, yes bananas and topped with an Oreo cookie. If you've had any other food that day, it will take four of you to demolish this.
And so, sated and more than stuffed, we said goodbye to Richmond's little known eateries. We've already made plans to come back. There's a Hainanese Chicken and BBQ pork crackling in our near future.
| | | | | |
| --- | --- | --- | --- | --- |
| | | | | |
| | Richmond Empire Cenger sign for more good eats | | Enjoying clay pot rice special dish | |
INFO BOX
Richmond is a city of just over 200,000 people, 10 miles south of Vancouver, BC in coastal western Canada.
Last we checked, the US dollar was worth $1.30 Canadian, which means an instant, huge discount for visiting Americans.
This is the kind of foodie adventure you could add onto a longer trip to Vancouver. Richmond's Aberdeen Station, the center of the Asian district, is nine stops from the Vancouver City Centre stop on the Skytrain's Canada line. The "Golden Village" is fairly small, only four or five blocks across. There are some two dozen hotels in Richmond including several in the Asian district. Though the Skytrain is fast and cheap, some of these lesser known places are better reached by rental car.
Or stay over one or two nights.
* Tourism Richmond - http://www.tourismrichmond.com/
* Four Points Sheraton, located right along "Food Street" and minutes from Vancouver's airport - 8368 Alexandra Rd, Richmond, BC, 604-214-0888, http://www.fourpointsvancouverairport.com/
None of the restaurants we visited have websites.
* Parker Place BBQ Meats - 4380 No 3 Rd, Richmond, BC. 604-233-1138.
* HK BBQ Master - 4651 No. 3 Rd, Richmond, BC. 604-272-6568
* James Snacks in Empire Centre Food Court - 1160- 4540 No. 3 Rd, Richmond, BC. 604-716-1328
* R&H Chinese Food - Lansdowne Centre, 5300 No. 3 Rd, 778-297-5668
* Xi'An Cuisine - Richmond Public Market, second floor - 2370-8260 Westminster Hwy, Richmond, BC. 604-279-9727
* Xin Shun Spicy Crab Hot Pot - 8111 Park Rd, Richmond, BC, 604-278-270
* Happy Date Restaurant and Bakery - 8135 Park Rd., Richmond, BC, 604-273-3308
* Prata-Man Singapore Cuisine - 9060 Capstan Way, Richmond, BC, 604-278-1348
* Shibuyatei - 125-2971 Sexsmith Rd., Richmond, BC, 778-297-1777
* Sushi Hachi - 888 Odlin Crescent, Richmond, BC, 604-207-2882
* Sugarholic Cafe - Aberdeen Centre, 1008-4151 Hazelbridge Way, Richmond, BC - 604-285-6199
Richmond Photo Diary: https://goo.gl/photos/tPWT7k3NSW8RkysM8