A friend from Southern California put it bluntly: "Why would I fly over the Sierra Mountains, bypass the Wasatch range, and skim across the peaks of the Rockies to ski Vermont?"


Because it's all part of the Ski Experience, and how can you pass up hitting the slopes at the largest destination resort east of the Rockies? And there must be bragging rights for a Western-born-and-bred skier heading East to explore their playground.


Then there's Vermont's scrumptious maple syrup, enough of which I can never manage to bring home.
Killington's stats wouldn't impress someone used to the lift count at, say, Heavenly Valley (29 versus Killington's 22) or the vertical drop of Blackcomb (5,280 feet versus 3,050). And Mammoth's 3,500 acres of terrain would swallow Killington's 1,509. But putting on my gear and hiking to the lift from a 2,200-foot elevation is a breeze compared to Taos, where I huff and puff at 9,000-plus feet getting to the lifts.
Yes, I was ready to meet The Beast of the East.
Killington's network of uphill conveyances and downhill choices cover the front side of six mountains (left to right): Sunrise Mountain, Bear Mountain, Skye Peak, Killington Peak, Snowdon, and Ramshead Peak.

Sunrise illuminates the slopes of Snowdon Mountain and Killington Peak, while Skye Peak still lingers in the shadows.
(image by Vicki Hoefling Andersen)
Since I arrived well after dark, I didn't catch my first glimpse of The Beast until the next morning from my room at the slope-side Killington Grand Hotel. A bridge (far right, above) spans the snowshed pond, source of water for Killington's massive snowmaking system. Keep the right amount of well-controlled speed coming through the Snowshed base area and you can glide all the way across, snow conditions permitting.
At the western edge of the resort, the Ramshead Lodge caters to families with child care and a kid-friendly food court. Two Magic Carpets service terrain perfect for the young ones' lessons. I encountered few snow sliders on the upper slopes of Ramshead Mountain, and found myself drawn again and again to arcing lazy, banked Mambo turns on the nearly empty slopes of Header.
With trees perfectly spaced (okay, perfectly thinned), Squeeze Play takes the stress out of tree skiing. At the western boundary of Ramshead Mountain, and thus the resort, Easy Street terrain park is designed to progressively develop skills and move up to more demanding parks such as Timberline, tucked between Header and Squeeze Play.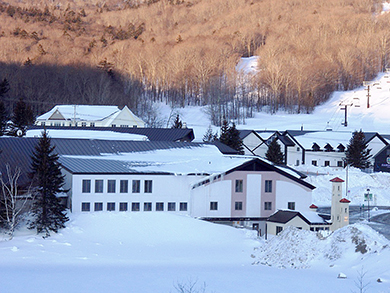 Snowshed Lodge base area (image by Vicki Hoefling Andersen)


Slope-side of the ski bridge is the Snowshed Lodge base area, a great starting point to rent gear, sign up for adult lessons or store your equipment. Grab a quick bite at the Vermont Fresh Café, or head upstairs to the Long Trail Pub to enjoy a libation, pub grub and live entertainment.
Snowshed is the access point to Killington Peak. The lower mountain includes gentle learning slopes and a boardercross course. At mid-mountain, the K-1 Lodge is the launching point for the K-1 Express Gondola and Superstar Express Quad and their array of black and double-black diamond delights.


If a less daunting run is more to your liking, the "Easier" rated Great Northern winds its way east across Killington Peak and down Snowdon Mountain, making it one of the area's longest runs. Or take skier's right off the top and follow Juggernaut as it skirts the eastern boundary of the resort. At just over six miles in length, it is the longest trail in the East.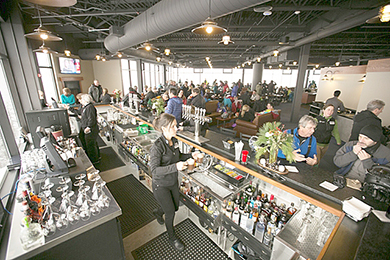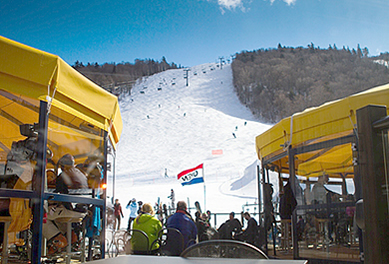 Kick back in front of a fireplace in the Mahogany Ridge Bar in the K-1 Lodge (left), or pull up a chair
under one of the bright yellow canopies of the Roaring Brook Umbrella Bars, situated a snowball's throw from the Superstar Express Quad with an in-your-face view of Ovation's double-diamond slope.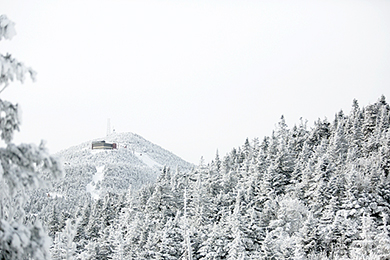 The Killington Peak Lodge opened in 2013 with killer
views of five states, Canada, and three mountain ranges.


Atop Killington Peak is the aptly named Peak Lodge and an expansive view of Vermont, New Hampshire, Maine, Massachusetts, New York and Canada, as well as glimpses of the White Mountains, Adirondacks and other ski areas carved into the surrounding Green Mountains. This upscale day lodge features chef-served food stations and a locally-sourced salad bar, while the Peak Bar menu includes fine wines and signature cocktails.


Want the ultimate in recycling? The Peak Lodge is part of Killington's Cow Power Program, which converts a bovine's undesirable byproduct into coveted electricity.
| | | | | |
| --- | --- | --- | --- | --- |
| | | | | |
| | Glade skiing | | Ski Bear Mountain | |
Moving eastward across Killington's terrain, Skye Peak offers a selection of greens, blues, blacks and short glades. Cruise Great Eastern the entire five miles to the bottom of the Skyeship Express Gondola, then ride both Stage I and Stage II back to the top. You've just lapped a huge chunk out of the middle of Killington's terrain, so stop in at the SkyeBar (Friday through Sunday) for a hot lunch and local brew to celebrate.
Bear Mountain claims one of the longest and steepest bump runs east of the Rockies. I first read about the infamous Outer Limits shortly after the area opened in 1958. Exact statistics on this slope seem to vary, but consensus puts it at an average angle of over 29 degrees. Running straight down the liftline for a third of a mile, it provides endless entertainment for folks in the quad overhead.
Devil's Fiddle is her twin, curving skier's right around an island of towering evergreens. These decently wide trails would be fun were it not for thigh-high moguls, which are a curse on my knees.


| | | |
| --- | --- | --- |
| | | |
| | | |
Other Bear Mountain options include The Stash and Dream Maker Terrain Parks, an 18-foot high 500-foot long Superpipe, and a deck on which to soak up the sun and views, while refueling with a healthy bison or turkey burger.


Sunrise Mountain's triple chair accesses a couple of green runs and the Sunrise Café and Sunrise Village Condos.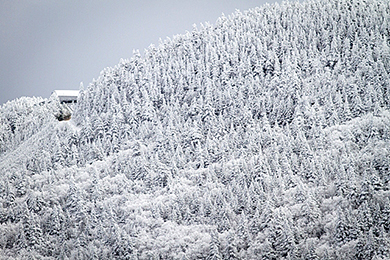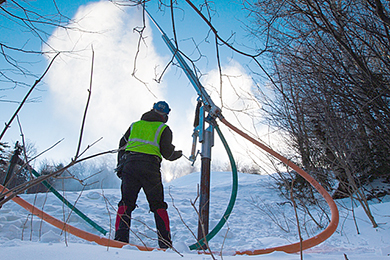 Mother Nature is usually good for 250 inches of snow each season, but snowmaking ensures 600 skiable acres will be among the East's first to open and last to close.


Under prime conditions, Killington's snowmaking system can propel over 720,000 gallons of water an hour through 240 snow guns to lay a foot-deep layer of freshies across 80 acres. The mountain-spanning system includes 88 miles of pipe feeding 1,700 guns. With the huge snowshed pond as its reservoir, a nearly endless supply of water is available for what is called the "world's most extensive snowmaking system."
| | | | | |
| --- | --- | --- | --- | --- |
| | | | | |
| | Every night a fleet of 17 snowcats, including three winch cats, spruce up more than 40 miles of trails. | | Downhill sliding is the focus at Killington, but visitors also enjoy cross country skiing, snowmobile and snowshoe tours, and a tubing park. | |
| | | | | |
| --- | --- | --- | --- | --- |
| | | | | |
| | A sleigh ride through the woods to the Ledgewood Yurt and a scrumptious five-course dinner: romantic heaven | | (image courtesy of Killington) | |
As evening settles in, head down the Killington Access Road for a nice selection of dining establishments and aprés ski activity. Two not-to-be-missed Access Road experiences are the Pickle Barrel, known for its lively nightclub scene and killer meat pies, and the Wobbly Barn, a steakhouse that holds its own with most major metropolitan eateries. Yes, the Barn appears a bit wobbly, but only because it was hammered together with material from ten former New England barns. Come hungry so you can take advantage of the great salad bar.


Killington may not have the most awe-inspiring mountains or most snowfall in North America. They might not count as many lifts or trails as other areas. But they do have the longest and toughest runs in the East, and one of the longest seasons thanks to enormous snowmaking capabilities. Killington is the Beast of the East, deserving of respect. If you haven't been there yet, put it on your bucket list – high up there, near the top.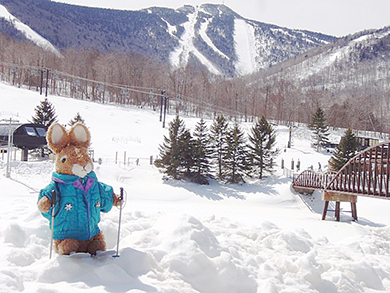 Truffles enjoying the Bunny Slopes of Killington
(image by Vicki Hoefling Andersen)


Killington 411
Terrain: 155 trails stretching 73 miles across 1,509 skiable acres (28% Green, 33% Blue, 39% Black); 7 terrain parks, 2 pipes
22 Lifts: 6 surface (including 3 Magic Carpets, 1 poma, 1 tubing handle tow), 2 doubles (Snowshed Doubles I and II), 3 triples (Sunrise Village, Northridge and Snowdon), 9 quads (Bear Mountain, Skye Peak Express, Needle's Eye Express, Northbrook, Snowshed Express, Superstar Express, Canyon, Snowdon, and Ramshead Express), 2 gondolas (two-stage Skyeship Express and K-1 Express)
Elevations: Base/Skyeship 1,165', Bear Mountain 3,262', Killington Peak 4,241', Ramshead Peak 3,610' , Skye Peak 3,800', Snowdon 3,592', Sunrise Mountain 2,456', Vertical Drop 3,050'
Average Annual Snowfall: 250 inches
Contact: 802-422- 6301, Killington.com, info@killington.com