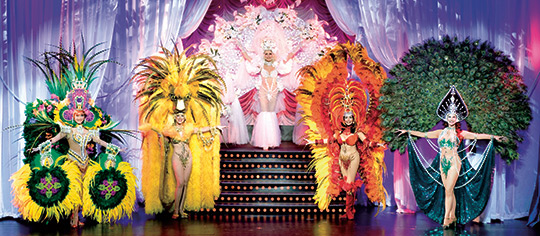 Pretty girls at the Palm Springs Follies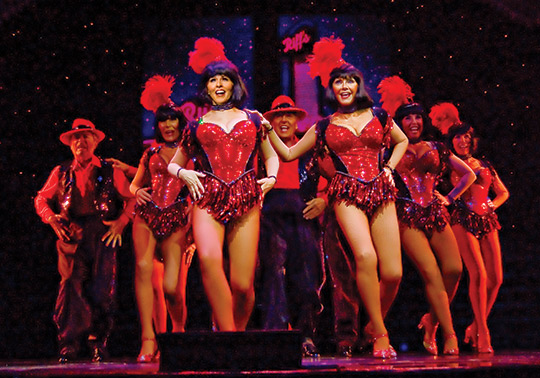 It's a Good Day
Think you' re over the hill? Got some notches on your cane? Want to experience a true adventure? These performers will give you a new lease on life. People are booking like mad to make the pilgrimage to the Fabulous Palm Springs Follies to re-visit the fountain of youth before it closes its doors for good. This 2013 -14 season is called The Last Hurrah and it's going to be a spectacular review of their 23-year history. The Fabulous Palm Springs Follies opens November 1, 2013, and will close its legendary doors on May 18, 2014, going out on a very high note.
Such a show! The Fabulous Palm Springs Follies' cast of 17 performers had careers on Broadway, in Hollywood, New York City, Las Vegas, TV, movies and with ballet companies around the world. Now in Palm Springs, the show is a sold-out performance two times a day, five days a week. But if you want to join the cast, you have to be at least 55 years old to even audition. Come out front and venture back stage at The Fabulous Palm Springs Follies at the Historic Plaza Theatre in Palm Springs, CA, for an adventure of professionals who, from 55 to 84, just couldn't stop singing and dancing.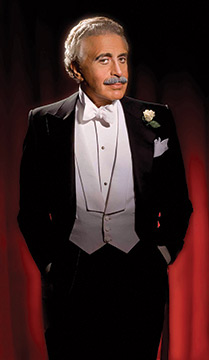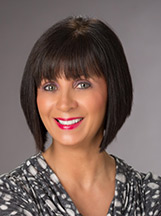 Riff Markowitz, founder Mary Jardin, founder
The Follies is the creation of impresario Riff Markowitz, age 75 in December 2013, a former television producer, who seamlessly MCs the show, and his colleague, Mary Jardin, who is in charge of marketing. They took over the then-vacant, historic Plaza Theatre in 1992 and turned it into the home of one of the most successful shows of its kind in the world. Markowitz, who started First Choice, the Canadian version of HBO, and created "The Hitchhiker," now master of this show, is funny, sexy, attractive, naughty, sweet and impeccably dressed. He engages with his audience members from teenagers to octogenarians. He has never missed a show in all those years. Needless to say, it's THE show to see if you're anywhere near Palm Springs.
These performers must be in great physical shape for more reasons than just being able to kick and tap. The costumes, which are all made in their own costume shop, weigh 15 to 35 pounds. One of what are called the "back-pack" costumes has 1,000s of hand-applied sequins.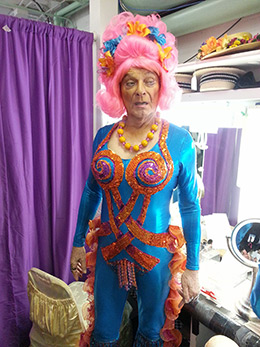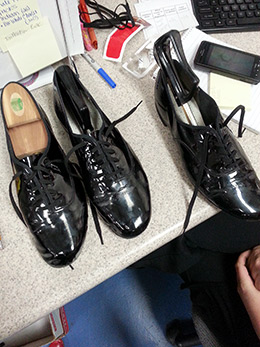 Each female dancer has custom-made 4" heels. And the males in drag have
their own heels as well. All the performers' shoes are custom made.
These are just a few of the many pairs of Riff's shoes.
The costumers are exquisitely finicky about fit, spit and polish. Every costume elegantly fits every performer. Just for fun, let's go backstage for a look at what it takes to make this happen.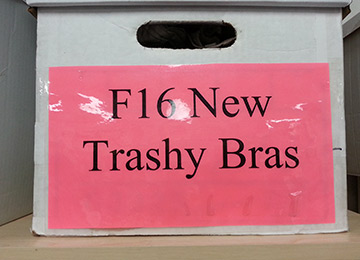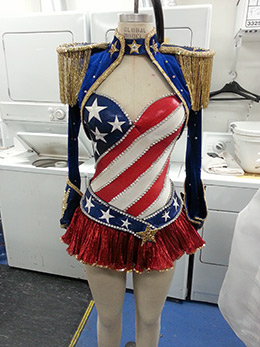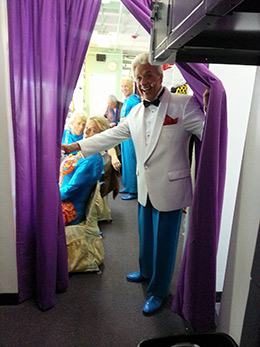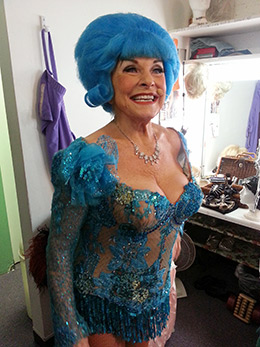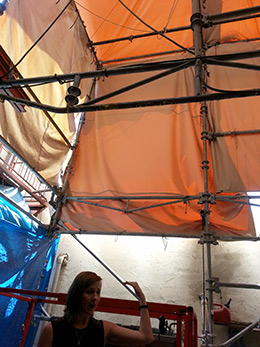 | | | | | | | |
| --- | --- | --- | --- | --- | --- | --- |
| | Welcoming us into the dressing room | | Judy Bell, 75, who worked 35 years in Vegas performing The Judy Bell Show with the Rat Pack | | | |
The Plaza Theatre, originally a movie house, has no wing space, no fly space, no back stage. Their back stage is the outdoor alley behind the theatre which is covered in tarps secured over scaffolding. Such a challenge. How do they do this!
There are cast members who have been with the company for 21 years. The current cast is always asked if they want to stay. Some do, some don't. But remember, these pros refuse to stop singing and dancing.
Currently there are 11 women and 6 men in the cast. While 55 is the minimum age, the oldest cast member is 84 and does a mean tap dance or two or three.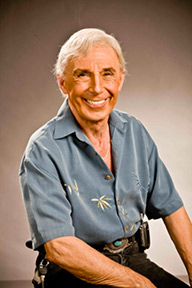 Dick France

This is Dick France's12th year with The Follies. Here since the mid-90s, France danced with the Chicago Ballet and on Broadway. His pedigree mirrors most everyone in the cast. They have all spent many hours in the dance and voice studios, on tour and on stage.
The Follies performs two three hour shows five days a week from November 1 through Mid-May. It's your last chance this year. Don't miss it.
But get your tickets soon for the 189 shows this season. The Follies is closing forever on May 18, 2014. Founder Markowitz is going out on a very high kick and note. He's failed at retirement before, so stand by for his next event, wherever it takes all of us.
SIDE BAR

The wardrobe for each season's Follies contains 1,500 individual pieces. Costumes now reach up to 11 feet in diameter and cost up to $35,000 each. Twelve backstage dressers are required to assist the ladies and gentlemen of the Follies with their changes, which can be as short as 75 seconds. The Follies has a staff of over 100 people, making it one of the largest employers in the Palm Springs area. The Fabulous Palm Spring Follies is performed at the historic Plaza Theatre - a charming, neon-encrusted, storybook movie house - which is an attraction unto itself. Located in the heart of the Village of Palm Springs, it opened in 1936 for the gala world premiere of the motion picture, Camille. The film Still Kicking: The Fabulous Palm Springs Follies was nominated for a 1997 Academy Award for Best Documentary Short Subject. The Follies is the holder of two Guinness World Records: "World's Oldest Professional Chorus Line" and "World's Oldest 'Still Performing' Showgirl." The Follies web site is www.psfollies.com, and the box office phone number is (760) 327-0225.
Be sure to have a meal at another Palm Springs legend, Peabody's Cafe & Bar, where you can order the "Best Bloody Mary Ever," right next door to the theatre. Breakfast is also one of their claims to fame, but you can't go wrong with anything on the menu. The wait staff is attentive and and the restaurant is pet friendly. http://www.PeabodyCafePalmSprings.com
http://www.psfollies.com
http://www.peabodycafepalmsprings.com