When You Go

France's Normandy Coastline
Getting There: Paris is the closest international gateway to the Normandy coastline. Depending on your U.S. departure city, airlines serving the two airports of Paris, Charles de Gaulle and Orly, are: American, Air France, British Airways, Continental, Delta, Lufthansa, Scandanavian, Swissair, TWA, and United. Web links are listed in this magazine's Airlines page.
It is recommend to rent a car from the United States before traveling. Most major car rental agencies service both Orly and Charles de Gaulle airports. The 1-800 phone numbers and Web links are listed in this magazine's Autos page. The road map, Michelin France, is recommended for your driving in France and Normandy. It is available through the amazon.com ad link below.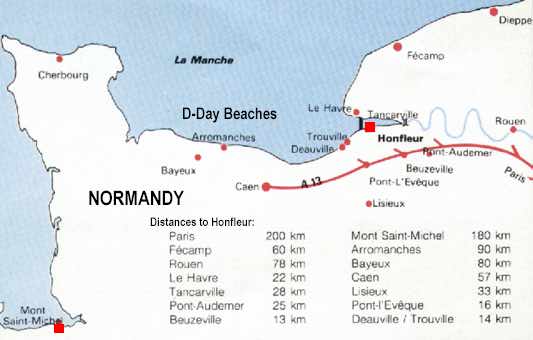 Courtesy: Honfleur Office de Tourisme
Staying There: There are a variety of hotel and B & B (chambres d'hotes) establishments in the various towns and villages along the Normandy coastline. An excellent resource for lodging and exploring there is Rick Steves' France. His book provides advice for those traveling by either car or train. This guidebook and others are available via the amazon.com ad link below.
Fast Facts: The region of Normandy borders on the English Channel, and is comprised of the departments of Seine-Maritime, Eure, Orne, Calvados, and Manche. Today it is largely an agricultural region known for its dairy industry. Normandy's largest city is Rouen. The region came to be known as Normandy in 911, when Charles III, king of France, turned it over to Rollo, leader of a band of Viking raiders. In 1066 a descendant of Rollo, William II, duke of Normandy, led an invasion of England and established himself there as king of England. Normandy remained an English possession until 1204. During the Hundred Years' War, the region was held at various times by both French and English forces; it was finally recovered by the French in 1450. Normandy was the site of the Allied invasion of German-occupied France during World War II.