WHEN YOU GO:

Cruising
Getting There: Transportation to various cruise lines depends on the ship's itinerary and initial destination port. On overseas trips, travel to and from departure and arrival ports is the responsibility of the cruise participant, although some group packages are offered. Some cruises are round-trips, but many are point-to-point. The cruise itinerary for the 14-Day Royal Vintage Tour cruise by Royal Olympic Cruises, Ltd. which is referenced in the article is shown in the attached map.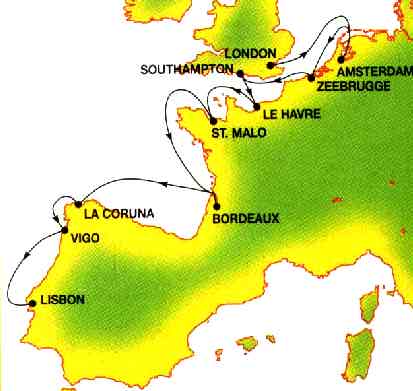 Courtesy: Royal Olympic Cruises, Ltd.
Staying There: Cruise rates include room and meals. Plans vary, but individuals generally pay extra for ship-provided alcohol and soda. Optional shore excursions are offered for an extra price, although travelers can often save money by handling their own arrangements.
Shipboard rooms vary with single beds often provided. Suggested clothing can range from very informal to formal, including tuxedos and evening gowns. Shipboard facilities vary but can include swimming pools, gymnasium, spas, saunas, exercise rooms, beauty parlors, boutiques, and gift shops.
On board entertainment typically includes nightly shows, bands, guest lecturers and programs about shore excursions.
Fast Facts: Cruises can range from a day to several weeks. Ship sizes vary from a 100 to several thousand passengers. Popular cruises include trips along the Inland Passage to Alaska, Southern California to Mexico, passages through the Panama Canal, Greek Islands and waterways of Russia. Speciality or theme cruises are increasingly popular and cover a range of interests. Information and arrangements can be made with travel agents, through the Internet or, less often, directly with cruise lines.
A useful site for finding cruises is Expedia.
Royal Olympic Cruises, for example, can be contacted toll-free at
1-800-872-6400 from the U.S. or 1-800-368-3888 from Canada.
A Useful WWW site
Jazzed on Theme Cruising the Caribbean: article on music and sports theme cruises