When You Go

Traveling by Amtrak
AMTRAK FACTS:
Tickets and Questions -- Call your travel agent, or Amtrak at 1-800-USA-RAIL (1-800-872-7245) and request a 1999 Travel Planner and the National Timetable. Alternatively visit the web site www.amtrak.com, for details on the routes, schedules, etc.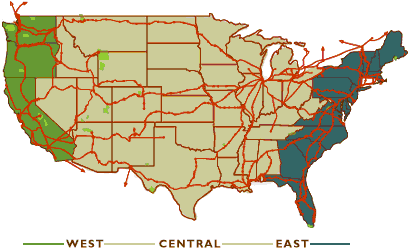 Amtrak routes overview (Courtesy: Amtrak)

Recommended Guides for U.S.A. Train Travel:
USA by Rail (Bradt Guides), by John Pitt, 1999.
(You can learn more about this guide by linking directly to the USA By Rail Web site.
All Aboard!: The Complete North Americain Train Travel Guide (1998 Edition), by Jim Loomis.
Specials -- Amtrak has several types of specialty trips:
Ski Amtrak.
Auto Train (available from Washington D.C. to Orlando, Florida: a service where you can take your car safely in an enclosed car carrier).
Travel Options (the American Orient Express, a luxury vacation with the fines amenities similar to the European trains of the 1940's and 1950's, 1-800-727-7477).
Charter Services for the ultimate in group travel--exclusive occupancy of your own rail car or an entire train, or a privately-owned luxury rail carriage.
Cruise/Rail -- experience the romance of train travel and the luxury of a cruise, 1-800-321-8684.
Tours -- including the historic East, heritage of the deep South and the heart of the Canadian Rockies (1-800-321-8684).
Vacation Packages --Amtrak Vacations makes it easy to visit America's favorite destinations for the lowest prices, with travel in the off-peak season January/February. Call 1-800-321-8684 and mention Sampler Code TP98.
Air/Rail -- Travel one way by train, the other by plane.
Amtrak Adventures-- Pick a route and Amtrak will fly you there and back.
Accommodations--Coach features spacious, reclining seats with overhead lights, plenty of legroom, foldout tray tables and overnight pillows. First Class features private sleeping bedroom, accessible bedroom for passengers with special mobility requirements. A feature of the Amtrak Viewliner cars for families is a deluxe suite, accommodating up to four, complete with two bathrooms. Custom Class and Club Class Service information is available by calling 1-800-USA-RAIL.
Baggage--Up to three bags per ticketed passenger (not exceeding 50 pounds). Up to three additional bags may be checked, subject to a surcharge. Bags over 50 pounds are subject to a surcharge.
Children--Children under two travel for free but are expected to sit on their parent's laps. With children on long distance trips, it is recommended that one bring books, paper and crayons, games, favorite blanket, etc. A CD/cassette player is permissible, used with earphones.
Amtrak Discounts--Children aged 2-15 ride half-price when accompanied by a full-fare paying adult. Each adult can bring two children along with this half-price discount. Senior citizens, aged 62 and over, receive 15% off regular one-way coach fares. Junior or senior high school and college students receive 15% off coach fare when they join Student Advantage program (1-800-USA-RAIL). Persons with disabilities recieve 15% off coach prices. Military Furlough Discounts are 25% off regular one-way coach fares. Convention goers and Group Travel (20 or more) discounts also available.
Amtrak Travel Tips--
(1) Make your hotel and rental car reservations through Amtrak Vacations (1-800-321-8684).
(2) Amtrak Explore America Fares are a great way to see more of America for one low fare. For no extra charge, you can also stop and visit up to three cities and take up to 45 days to complete your travel.
(3) If traveling long distance coach, bring a night mask to cover your eyes, ear plugs when needed, a cassette-radio with headphones, and a selection of your favorite music.
(4) Small binoculars, a good writing tablet and reading material. At certain station stops where one has time to disembark, I recommend gathering brochures of that region (or a regional travel book) for future travel references.
Family Food Tips
Aboard Amtrak, we found the meals interesting and delicious. Consider taking along a small cooler for perishable items and a large picnic basket filled with food. This will save on meal costs, especially if traveling as a family. Meals in the train's diner come with the sleeping berth package. If traveling coach, I would recommend splurging at times in the dining car as it is a unique traveling experience and the meal prices are reasonable. Special menu selections, including kosher, low sodium, and low fat/low cholesterol menus are available with 72-hour notice before the start of the train's journey: Call Amtrak at 1-800-USA-RAIL for advance arrangements and information.