British Columbia ski story
by Steve Giordano and Lynn Rosen
Canada is a prime destination for a ski or snowboard vacation. Generally, the giant mountains and vast snowfields are in the West, while the narrow trails and quaint ski towns are in the East, just as they are in the U.S. Here we feature two mountains in the British Columbia interior, Silver Star and Big White.
<![if !vml]>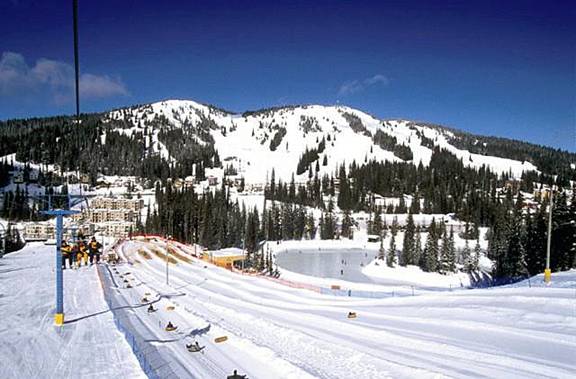 <![endif]>
Silver Star tubing park and ice skating lake.
Photo courtesy Silver Star Mountain Resort Ltd., by Don Weixl
SILVER STAR MOUNTAIN
Snow Report Number: 250-542-1745
Reservation Number: 800-663-4431
Phone: 250-542-0224
Website: http://www.skisilverstar.com
Silver Star mountain and its village are highly rated for family skiing and village living. It's the fourth-largest downhill ski resort in British Columbia, after Whistler Blackcomb, Sun Peaks and Panorama. The resort gets an average of 23 feet of snow with an average snowpack of 9 feet and it's usually the first British Columbia ski resort to open.
Silver Star Mountain Layout
Silver Star's terrain covers two very different mountain faces. For families we recommend the Vance Creek area served by the Summit Chair and the Comet Six-Pack Express. The new Silver Woods area extends the Vance Creek area by 54 percent. For the more adventurous, the Putnam Creek area can be accessed by the Powder Gulch Express and the Summit Chair.
The backside is steep and challenging; the front side is beginner-friendly. From the top of the Summit Chair and the Comet Express, you can see Sun Peaks and Big White. From here, it's a 5-mile run to the bottom of Aunt Gladys at the Putnam Creek station.
<![if !vml]>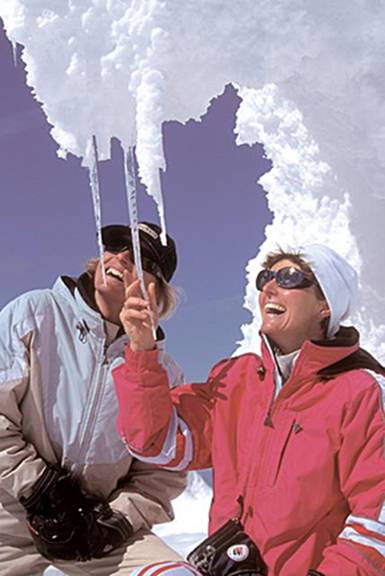 <![endif]>
Icicles dripping from a "snow ghost."
Photo courtesy Silver Star Mountain Resort Ltd., by Klaus Gretzmach
Advanced skiers and riders head straight to the Putnam Creek side and scout the Back Bowl for Free Fall, Where's Bob, Black Pine and Kirkenheimer. Three Wise Men, White Elephant and Holy Smokes will smoke your thighs.
Intermediates enjoy Gypsy Queen, reached via Aunt Gladys from Paradise Camp. It's the most popular blue run on the mountain. Another really great run on the opposite side of the Powder Gulch Express, is Sunny Ridge. It takes off to the left just before Paradise Camp.
Beginners can't go wrong taking the Powder Gulch Express. From the top, Bergerstrasse, which becomes Aunt Gladys, makes a nice long 5-mile green run. You can also grab the Home Run Tee from there and take the Main St. Skiway straight to the village. Discovery Park is served by the moving carpet and is fenced to keep out the speedy interlopers, so it's a good place to make those initial first-timer turns.
<![if !vml]>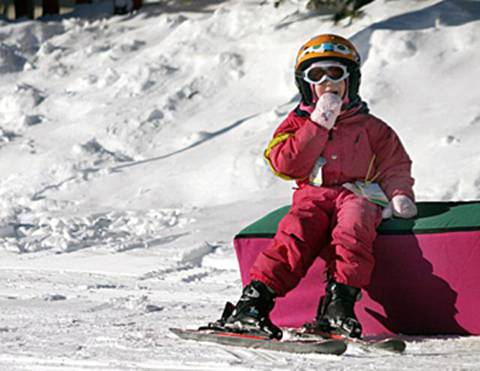 <![endif]>
Thinking about what to do next.
Photo courtesy Silver Star Mountain Resort Ltd., by Tim Fitzgerald
Snowboarders should watch out for the Bergerstrasse flats above Paradise Camp. Once beyond it though, there are plenty of single- and double-black runs that will keep your inner freerider happy. The runs all are served by the Powder Gulch Express. Just take Aunt Gladys to the left and pick your chute off to the left.
TELUS Park Silver Star is a halfpipe and terrain park on Big Dipper, reached by riding down Little Dipper, Middle Dipper or Whiskey Jack. The park has features for all riders and skiers, from small lanes with fat boxes to learn-to-slide and mini-hits to learn how to catch your first air. For advanced riders, long boxes and killer s-rails are coupled with large hits for big air.
Adult lift tickets cost C$68 per day, ages 13-18 and seniors 65+ pay C$56, and ages 6-12 pay C$33. No charge for children 5 and younger.
Silver Star Cross Country Skiing
Part of the High Altitude Training Center, Silver Star's cross-country trails attract skiers from around the world. Many of them are Olympic athletes in training. The network of trails includes the adjoining Sovereign Lakes Cross Country system, for a total of 100 km of groomed and track-set skiing heaven, with several warming huts along the way. There are two fully certified biathalon ranges here. Lessons are available daily. The 38 miles of trails at the resort are skating and classic groomed, and 2.5 miles are lit for night skiing. Guided snowshoe tours also are available.
Nordic day passes cost C$20 for adults, C$14 for ages 13-18 and 65+. And C$10 for ages 6-12. Children 5 and younger ski free.
<![if !vml]>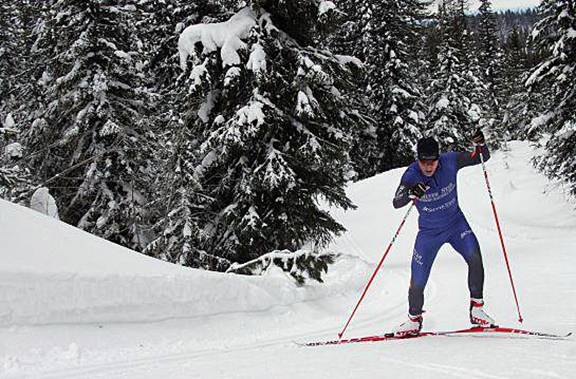 <![endif]>
Cross country skier working on his uphill technique.
Photo courtesy Silver Star Mountain Resort Ltd., by Tim Fitzgerald
Other Silver Star Activities
Silver Star's Adventure Park has a lift-served Tubetown, skating pond, Mini-Z snowmobile park for kids, horse-drawn sleigh rides, snowmobile tours and snowshoe excursions.
<![if !vml]>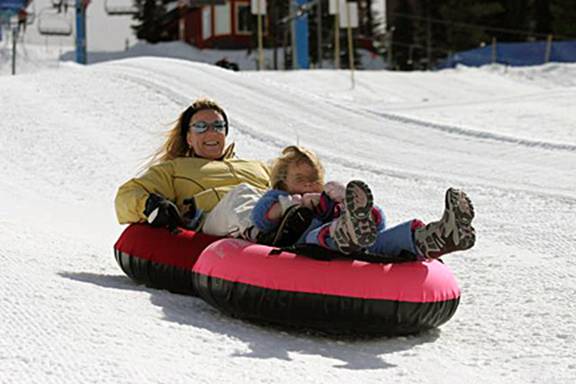 <![endif]>
Doing the tubing course in tandem.
Photo courtesy Silver Star Mountain Resort Ltd., by Tim Fitzgerald
Via Snowmobile Safaris, you can tour the resort perimeter on a snowmobile by cruising down Silver Woods, around Putnam Creek, and then back to the summit of Vance Creek. The machines are new Arctic Cat Touring sleds with smokeless, quiet four-stroke engines. For juniors ages 7-12, there is a specially built motocross style course for scaled down Arctic Cats. Advanced bookings must be made through the Information Desk: Phone: 250-558-6019. Guided snowmobile tours are available.
<![if !vml]>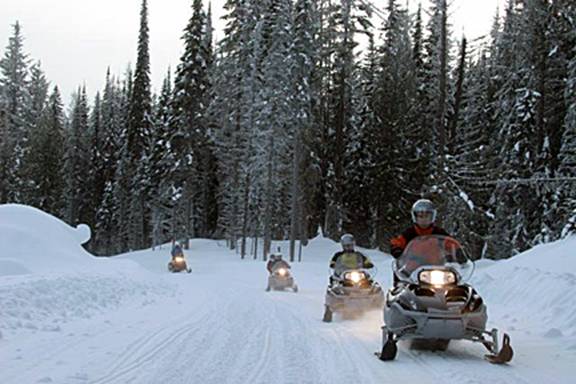 <![endif]>
Snowmobiling at Silver Star.
Photo courtesy Silver Star Mountain Resort Ltd., by Tim Fitzgerald
The National Altitude Training Center has a climbing wall (lessons available), wax rooms and a fitness center. On Thursday nights in the auditorium, the locals and staff put on an extravaganza of music, comedy and entertainment called Silver Star Snow Show--don't miss it!
You can also take a ride through the village in a horse-drawn carriage. For shopping, the village has a liquor store, ski & snowboard shop, clothing & gifts shop and a grocery store.
Silver Star Night Life
Be sure to check out the Weekly Events Calendar when you check in. It lists the special apres-ski activities that vary from week to week.
Meanwhile, head over to the Vance Creek Saloon where there's entertainment to be had Wednesday to Saturday. Charlie's Bar is quieter and cozier. It's off the Silver Lode Inn Dining Room. In the lower level of Putnam Station is a fantastic little Wine Cellar featuring various wines and meals. Long John's at the Lord Aberdeen Hotel has live entertainment four nights a week.
Silver Star Dining
The Bulldog Grand Cafe, formerly the Putnam Station Inn, is an extension of the Bulldog Amsterdam with the feel of an Austrian ski resort. The Silver Lode Inn Dining Room features Swiss and international cuisine and a buffet dinner on Thursday evenings. In the Silver Star Club Resort you'll find the most upscale restaurant, Clementine's Dining Room with special prime rib Thursdays and buffet Sundays.
The Italian Garden, with pick-up and delivery, and the Vance Creek Saloon serve light meals and snacks until midnight. Don't miss the Lord Aberdeen Bistro where soups are a specialty and there's a wide variety of homemade fare. Long John's Pub at the Lord Aberdeen Hotel offers pub fare, lunch, dinner and drinks; families are welcome.
Bugaboos Bakery Cafe, noted for its award-winning strudels and coffee, is a European-style cafe beside the Town T-Bar on the Vance Creek boardwalk. Francuccino's Mountain Bakery & Cafe, owned by the same couple, also serves delicious European baked goods, plus gourmet dinners three nights a week (reservations required).
Paradise Camp, at the Powder Gulch Express midstation, is good for an informal lunch or snacks. In the Town Hall day lodge, the Town Hall Eatery is the locals' hangout featuring soups, sandwiches, burgers and more.
Silver Star Accommodations
All Silver Star hotels are centered around the main village. Lodging can be booked through Silver Star Holidays, 800-663-4431.
BIG WHITE
Snow Report Number: 250-765-7669
Reservation Number: 800-663-2772
Phone: 250-765-3101
Website: http://www.bigwhite.com
Big White says, "We use only dry, natural Okanagan Powder." The village sits at 5,706 feet (B.C.'s highest base area) and lifts carry skiers up to 7,606 feet. That's about the same elevation as Whistler/Blackcomb but conditions differ as the air and snow are considerably dryer this far inland. One of Big White's signature features is its tree skiing.
<![if !vml]>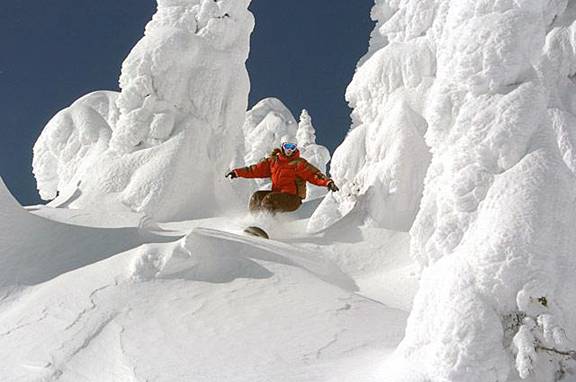 <![endif]>
Nice moves in the "snow ghost" forest.
Photo courtesy Big White Ski Resort, by Gavin Crawford/QuickPics
Big White is big and getting bigger. The newly built Snow Ghost Express, paralleling the current Ridge Rocket Express, services Big White's most popular runs and terrain from the main base near the Ridge Day lodge. A free gondola carries guests down from the main village plaza to Happy Valley with its day lodge, rental shop, high-end gift shop, a skating trail and rink, Nordic center, beginner's learning center and a humongous tubing park.
Night skiing with 1,600 vertical feet is open Tuesday through Saturday (only C$5 on Friday nights), the largest in the West. The terrain park is lighted as well.
Big White Mountain Layout
Expert skiers and riders gravitate to the long and inviting Gem Lake Express runs. Goat's Kick, skier's right off the Ridge Rocket Express, is an especially fun challenge. Skier's left from the Alpine T-bar leads to Parachute Bowl. Don't miss Big White's Pegasus and the double-black extreme playground, The Cliff, off the same lift. There's quite a ski-out to the bottom of the Black Forest Express, but the initial double-black rush is worth it.
<![if !vml]>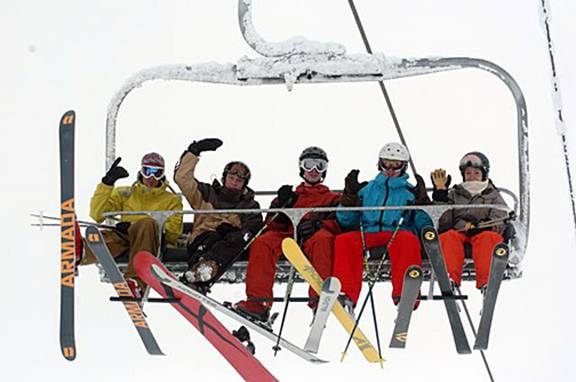 <![endif]>
Five riders on the 6-pack chair.
Photo courtesy Big White Ski Resort, by QuickPics
Intermediates can enjoy the Sun Run from the top of the Alpine T-bar, Exhibition, Highway 33, Serwas and Sundance. There's also fine terrain off the Rocket and Powder chairs. An entire area off Gem Lake Express is dedicated solely to intermediate runs, making it worthwhile to venture to this out-of-the-way part of the mountain.
Beginners, even first-timers, gravitate to Millie's Mile, a gradual cruiser named after the owner's granddaughter. It runs alongside the Black Forest Express. All lifts serve at least one green run. A complete learn-to-ski facility, in a private and secluded teaching area, is located at the base of the free Happy Valley gondola, a short ride down from the Village Plaza. Hummingbird, served by the Plaza Chair, is designated for first-timers only. Woodcutter is also excellent, but mind the faster traffic.
Snowboarders have a good time most anywhere on the mountain. Particularly popular is the Sun-Rype Bowl and the adjacent Black Bear run, both reached by the Gem Lake Express. The bowl is a big gentle swoop of a run that can get you into some trees known as the Black Bear Glades. Also reached from Gem Lake Express is the single-black Blackjack, a good long fall-line run. The only double-blacks are reached by the Alpine T-bar, which many snowboarders find difficult to ride.
<![if !vml]>

<![endif]>
Nighttime rail jam at Big White.
Photo courtesy Big White Ski Resort, by QuickPics
Big White invested $2.5 million to build TELUS Park, with an on-mountain lodge and chairlift, so it can be used as a training and competition facility for snowboarding and freeskiing. But don't worry, ordinary folks can also use it.
The 50-acre park area centralizes the terrain parks, rail garden, pipes, boardercross and family fun-race area. An Olympic-sized, 500-foot-long superpipe, with 17-foot transitional walls, meets World Cup FIS and X Games standards. If that's too intimidating, try the 400-foot-long halfpipe with 12-foot walls. Look for an intermediate terrain and rail park, an advanced terrain and rail park and a boardercross course capable of hosting Olympic FIS qualifying events. Within the terrain parks, you'll find assorted mailbox sliders, step-up jumps and hips. Rails include minis, flats, rainbows, kinks and wide rails.
Current lift ticket prices before taxes are C$68 per day for adults, youth 13-18 and seniors 65+ pay C$56 and children 5 and younger ski free. Night skiing Tuesday – Saturday costs C$28 for adults, except for Friday nights when tickets cost C$5.
Big White Cross Country Skiing
Big White has 25 km. (15 mi.) of world-class scenic cross-country trails. Skiers can choose from groomed and trackset trails or wilderness routes. The beginners' trail is a 4.3-km. loop from the Plaza Chair. Tickets and maps are available from any ticket window. Cross-country skiing is included free with lift tickets. Otherwise, Nordic day passes cost C$20 for adults, C$14 for ages 13-18 and 65+. And C$10 for ages 6-12. Children 5 and younger ski free.
<![if !vml]>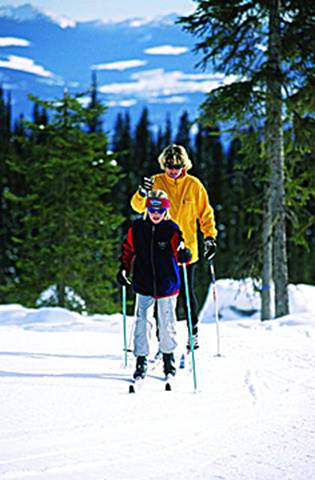 <![endif]>
Cross country skiing at Big White.
Photo courtesy Big White Ski Resort, by Lindsay Bennett
Other Big White Activities
The Happy Valley Adventure Centre at the bottom of the gondola offers a number of exciting adventures including the Mega Snow Coaster tube ride with 10 lanes and two lifts, snowmobile tours, sleigh rides, ice skating and snowshoeing. The Happy Valley area also features a large lodge with live entertainment. At Quickpics (250-491-6104) in the Village Centre Mall, helmet cameras are available for rent for $C60 (half day) or $C100 (full day). The camera can also be attached to a toque or your head. For more information or to book other activities, visit the Activities Desk in the Village Centre Mall or call 250-491-6111. Weekly activities include A Taste of Big White Welcome Party every Monday, Torchlight Parade and Fireworks, Carnival Night and Bingo Night. The Whitefoot Medical Clinic (250-765-0544) operates in the village from 3-6 p.m. for medical services. Appointments are preferred but not required.
Big White Night Life
Big White has seven lounges and bars where live bands perform regularly. Snowshoe Sam's is commonly thought of as the best ski bar in Canada and we agree. It has DJ entertainment, live bands, dancing and games of chance. Their legendary "Gunbarrel Coffee" show is a must. Raakel's Ridge Pub, in Das Hofbrauhaus, has dancing and a nightly party atmosphere. Happy Valley Bar, just a gondola ride down from the village, parties with live DJs and theme nights. It's a great place for family groups and get-togethers. In Whitefoot Lodge, there is a market (250-765-7666) with everything from liquor to video rentals.
Big White Dining
Unlike most other ski resorts, you don't have to drive or even walk more than a block or so to find a great meal. All restaurants are in or near the village center and represent a swell variety of offerings.
Beano's, in the middle of the main ticket/rental building, serves the best coffee, soup and sandwiches in the village. Beano's owners are usually on site waiting on friendly Big White owners, managers and ski school directors enjoying their morning javas. Big White's owners and family live just across the street and like to check out what's happening with their guests and staff each morning. Drop by and say hello, give a compliment or lodge a complaint. They'll be glad you did. Surf the Internet with your latte upstairs at the TELUS E-Loft.
Snowshoe Sam's is a legend at Big White. This multistoried establishment, up a flight of steps in the village, concentrates mainly on steaks and chops, although the seafood and pasta are quite good. You'll need dinner reservations, especially on the weekend when it gets packed. Their claim to fame is their Gun Barrel Coffee. It's as much of a show as it is an after dinner drink. Your waiter pulls up alongside your table with a double-barrel shotgun and pours flaming Grand Marnier down the barrel into a glass with brandy, cacao and whipped cream. The restaurant sells the most Grand Marnier in Canada.
<![if !vml]>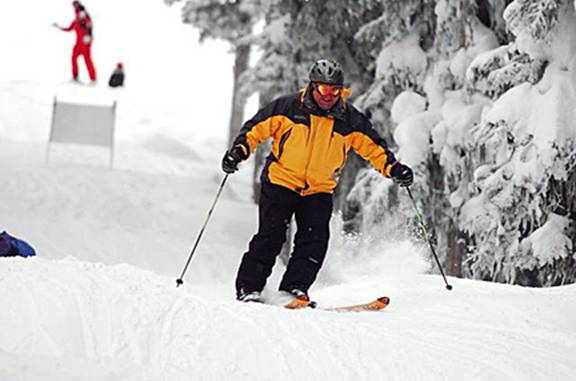 <![endif]>
Clear the course — man on the move!
Photo courtesy Big White Ski Resort, by QuickPics
The Swiss Bear Dining Room in the Chateau Big White serves authentic Swiss cuisine and specializes in fabulous fondues. Reservations are recommended. The Inn Restaurant, in the Inn at Big White, is a great family restaurant with a wonderful view that serves breakfast, lunch and dinner. It features an interesting and eclectic menu (some good veggie choices).
Coltino's Ristorante, at Das Hofbrauhaus, serves Italian fare as well as Alberta beef in a friendly family environment. Raakel's next door has apres-ski where they serve some mean salads, burgers and pizzas. They also offer the usual pub fare of wings, fries, even poutine--that typical French Canadian dish of French fries topped with cheese curd and steaming hot gravy.
Frank's Chinese Laundry in the Whitefoot Lodge prepares good Chinese food with a quick in-and-out lunchtime buffet. Ride the gondola down to the Kettle Valley Steakhouse, where you'll find a stylish wine bar, comfy surroundings and a menu with lots of steak that will satisfy your red-meat craving after a day on the slopes.
Big White Accommodations
Lodging in the Big White mountain village ranges from hostels, hotels and condos to private chalets, all ski-in/ski-out. Big White Central Reservations (800-663-2772 in North America; 250-765-8888) is a one-stop shop for accommodation and package vacation needs. You can also visit the website for accommodation details.
Getting to Big White and Silver Star
By air: Kelowna International Airport is about an hour's drive from Big White and Silver Star, and less than an hour's flight from Vancouver, Calgary or Seattle. For air travel, both the U.S. and Canada require U.S. citizens to carry a passport as of 1/23/07. As of 1/31/08, for land and sea travel, U.S. and Canadian citizens will need to present either a WHTI-compliant document or both a government-issued photo ID, such as a driver's license, and proof of citizenship, such as a birth certificate. Children 18 and younger may cross with just a birth certificate.
By car: Silver Star is in the heart of the Okanagan Valley, 40 miles northeast of Kelowna, and Big White is 35 miles southeast of Kelowna. The two resorts are 59 miles apart. The resorts are about 4.5 to 5.5 hours from Vancouver and Spokane and six to seven hours from Seattle.
Getting around: No car is needed at Silver Star or Big White unless you plan to explore. At Silver Star, a taxi loops continuously throughout the resort until 10 p.m. daily. Inter-resort shuttles provide transfers between Silver Star and Big White so you can ski for a day or split your stay between the resorts.
<![if !vml]>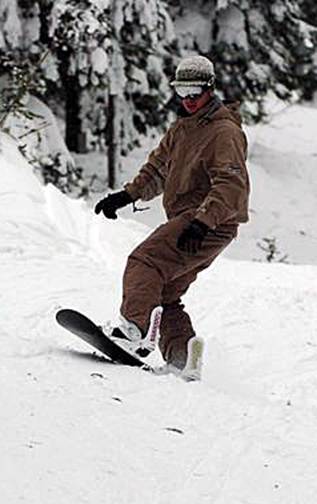 <![endif]>
Freerider swinging into a turn.
Photo courtesy Big White Ski Resort, by QuickPics